I am fighting real panic as the attendant straps me into the X-Scream, a ride that begins on a ledge atop the Stratosphere Tower in Las Vegas. In recent decades, the U.S. epicenter of legal gambling has also become a paradise for adventurers in search of extreme experiences.
There's this one, and also dune buggy odysseys, race car driving schools, and zip lines. You can fly a fighter jet for an afternoon or skydive off this very skyscraper, too. I've come here to explore the world of thrill seekers as an anthropologist might approach a baffling tribe.
I know the odds of the X-Scream malfunctioning are slim, but when we catapult off the edge of the building, I want to cry. The ride—essentially a gigantic seesaw that rises to 866 feet above the Strip—abruptly tilts, and all the cars slide earthward until we stop with a heavy thump. There is nothing between us and the street below except dry air. I shut my eyes and don't open them until the 30- to 40-second nightmare is over.
That my companions had a different experience becomes apparent only when I see a photograph later. Virtually everyone else is laughing, while I look like a child bracing myself for a flu shot. "I've bungee jumped off Victoria Falls in Africa over a river full of crocodiles," says Diane Simmons of Blue Springs, Missouri, who is in town to celebrate a friend's 60th birthday. "This is nothing."
It seems obvious to me why someone would hate the X-Scream. The question is, why do some people love it? David Zald, a neuropsychologist at Vanderbilt University in Nashville, says two discrete groups are drawn to radical experiences. Some people enjoy the exhilaration that comes with a burst of adrenaline—a hormone our bodies typically release when we're scared out of our wits.
Others, who have a robust production of the neurotransmitter dopamine, also enjoy rides like the X-Scream. For them, the motivation and pleasure come not from the giddy high, but likely from the sense of mastery and accomplishment they feel after they've succeeded at a new endeavor, whether that's stepping off a daredevil ride in one piece, starting a company, or making a bold scientific breakthrough. Sadly, my terror of the X-Scream suggests I'm not destined for greatness.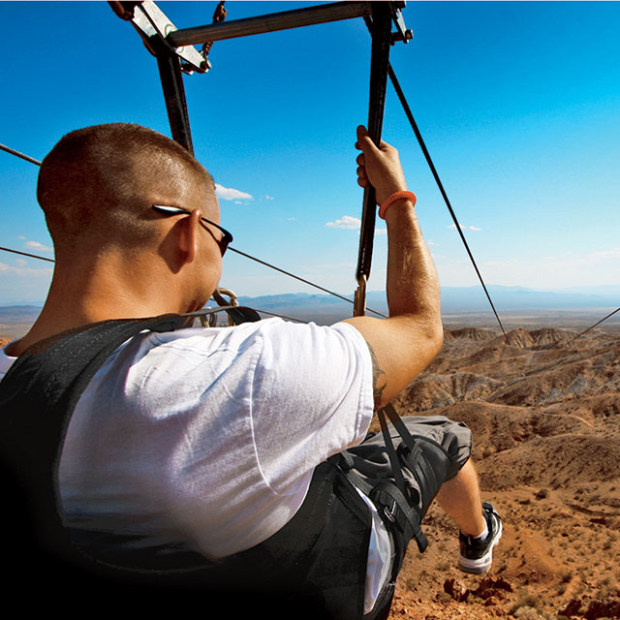 The next day, I decide to try a zip line with Flightlinez Bootleg Canyon in nearby Boulder City. After a short shuttle ride to the top of Red Mountain, I'm strapped into a harness latched to a cable that soars a few hundred feet above creosote bushes and jagged rocks. As I dangle like an infant in an old-fashioned bouncy chair, I want out. Too late. A guide launches me from the first platform and I fly down the mountain at 45 to 60 miles per hour toward the next station. After four seconds, I relax. With each of the three lines that follow, my anxiety lessens, and I tell myself to embrace the adrenaline, the dopamine, and whatever other cocktails my mind and body naturally create.
When I'm unhooked from the last cable three hours later, I can honestly say I enjoyed this. I concentrate on my sense of glory and triumph, knowing zip line is now crossed off my life list. I am also relieved it's over.
That's not the case for Las Vegas resident Mary Mosser, a fellow zip liner who is spending the day with a sister from California. "Now we've got to get back into town," Mosser says. "This afternoon we're swimming with sharks."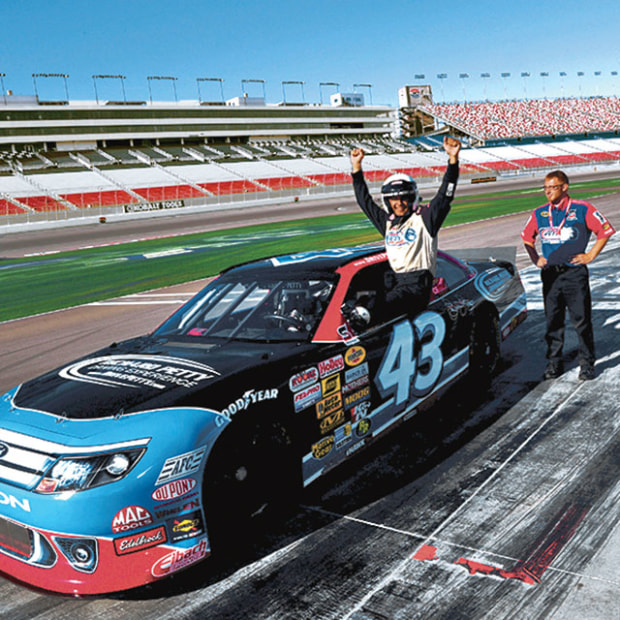 More Thrills
Whether your dream is to waft peacefully through the sky in a hot air balloon or to drive a full-size Caterpillar excavator, Las Vegas offers an adventure experience for you—and for just about every taste. Prices vary from $25 a ride on the X-Scream to $650 for scuba diving with 30 sharks. Most require advance reservations, so plan ahead.
High-Wire Act
An adrenaline rush isn't the only joy of this zip line at Flightlinez Bootleg Canyon. You'll get a fresh perspective on local fauna. Flying through the air, you might find yourself eye to eye with a hawk. Look down and you could spot some of the region's elusive bighorn sheep.
Crazy Kicks
In addition to the X-Scream, the high-elevation Stratosphere rides include Big Shot! and Insanity, which sends you spinning facing downward over the street 909 feet below. Insanity indeed. An unlimited daylong pass to all Stratosphere rides starts at $39.95.
Play Top Gun
Ride along in a 330-horsepower Extra 330LC aerobatic aircraft as a trained pilot from Sky Combat Ace does loops, rolls, and tumbles—or sign up for a lesson and fly it yourself. 
Desert Demons
At Sun Buggy, buckle yourself into a dune buggy, strap on some goggles, and floor it through the valleys, hills, dunes, and dry creek beds just outside Vegas.
Up, Up, and Away
For aerial views of the Strip and Red Rock Canyon from 1,500 feet, take a sunrise float in a gondola attached to a nine-story-tall balloon with Vegas Balloon Rides. 
Can You Dig It?
At Dig This Vegas, wannabe construction workers can climb into the cab of a full-size Caterpillar bulldozer or hydraulic excavator, dig trenches, and build giant mounds for 90 minutes. It's the adult version of playing in the sandbox.
Zoom like a Pro
Tear around the Las Vegas Motor Speedway in a Chevy Camaro ZL at speeds of up to 155 miles per hour at the Richard Petty Driving Experience. You can enjoy the ride as a passenger or get behind the wheel yourself.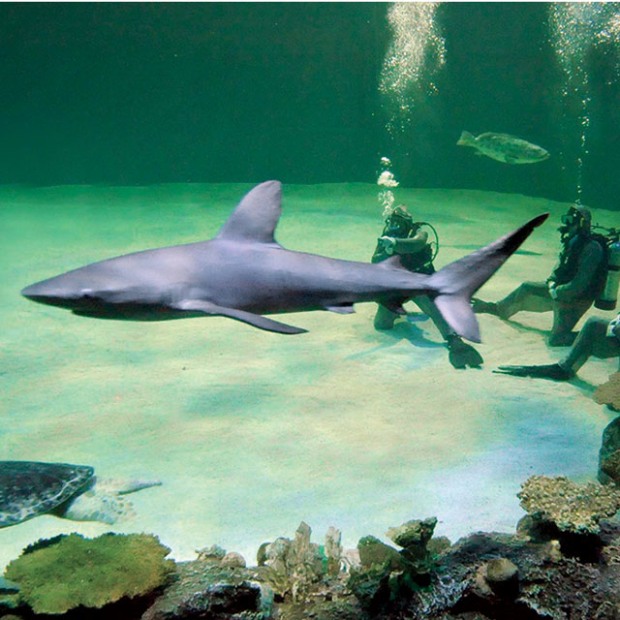 Look Ma, No Wings
Always wanted to leap off a building but lack special flying powers? At SkyJump-Stratosphere, fearless heroes are harnessed to a cable on the 108th floor of the Stratosphere and then sent plummeting straight down to a landing pad 855 feet below. Think vertical zip line.
Swim with the Fish
Scuba dive in an open saltwater tank with the resident stingrays, sea turtles, and sharks at Mandalay Bay Shark Reef Aquarium. Some 30 sharks call the tank home, among them the nine-foot sand tiger, a less fearsome cousin of the great white. Hotel guests only; scuba certification required.