Many roads lead to Yellowstone Park, but only one route follows the Yellowstone River as it braids its way through the aptly named Paradise Valley, a stretch of only-in-Montana bottomland country framed by the soaring Absaroka mountains to the east and the Gallatin Range to the west. It's a valley of ranches and retreats, drift boats and horses, snowy peaks and steamy hot springs. It's also home to communities still going strong after the river burst its banks and temporarily shut down Yellowstone National Park's northern entrance during the 2022 floods. The river retreated, the park reopened, and—happily for sightseers, anglers, and soakers—Paradise Valley wasn't lost. 
Livingston to Emigrant
At Livingston (population 8,240), a good-time river town, the Yellowstone leaves Paradise Valley and takes a hard turn east. A beacon to artists and novelists, river guides and guitar players, Livingston gets lively (cue the Jimmy Buffett song "Livingston Saturday Night"), but you can find plenty of quiet walking through the cottonwoods along the Myers' River View Trail. Local artists share their visions in paint, ceramics, fabric, and pixels at the Livingston Center for Art and Culture's Community Art Show, March 7 through April 1 this year. It's a mainly beer-and-burgers town, but you can also try the locally sourced lamb ragu or bison short ribs at Campione, an Italian-style eatery on historic Main Street.
Heading south from Livingston on Highway 89, it's 24 miles of river bends, mountain views, and trailheads to Emigrant, a town of just a few hundred people at the foot of Emigrant Peak, which soars more than a mile above the valley floor. (Stop along the way to hike the easy 2.5-mile round-trip trail to Pine Creek Falls.) In town, you can sign up for a guided float trip or pick up spring nymphs and the latest fishing info at the Angler's West Flyfishing Outfitters. On a day when the sun shines and the mountains sparkle, sitting on the patio at the Emigrant Outpost with a slice of pizza qualifies as fine dining.
From Emigrant, take the four-mile detour to Chico Hot Springs Resort and its two naturally heated outdoor pools, which have been steaming away stress since 1900. The Chico dining room—refined but relaxed—always lights up when someone orders the classic Flaming Orange dessert. Rockin' HK Outfitters can help Chico visitors explore their surroundings. Depending on the conditions, options vary from snowshoe rentals to guided trail rides on horseback. 
Emigrant to Gardiner
Fifteen miles south of Emigrant, Highway 89 passes through Yankee Jim Canyon, a narrow whitewater gorge that roils with kayakers and rafts in the summer. Watch for bighorn sheep, ambassadors of the wildlife ahead. 
It's just a few more miles down the road to Yellowstone Hot Springs, opened in 2019, an RV park and swimming spot warmed by the simmering geothermal activity below. The park's pools overlook the river; listen closely and you can hear the rush of icy water as you meditate and marinate at 103 degrees.
From there, it's eight miles to Gardiner (population circa 900), a gateway town eager for visitors after the flood. No matter where you stay or eat—the Wonderland Cafe on Main Street offers a baked elk chili mac—expect a warm welcome from everyone. Well, almost. The bison that graze along the highway and the elk that wander into town will likely remain indifferent.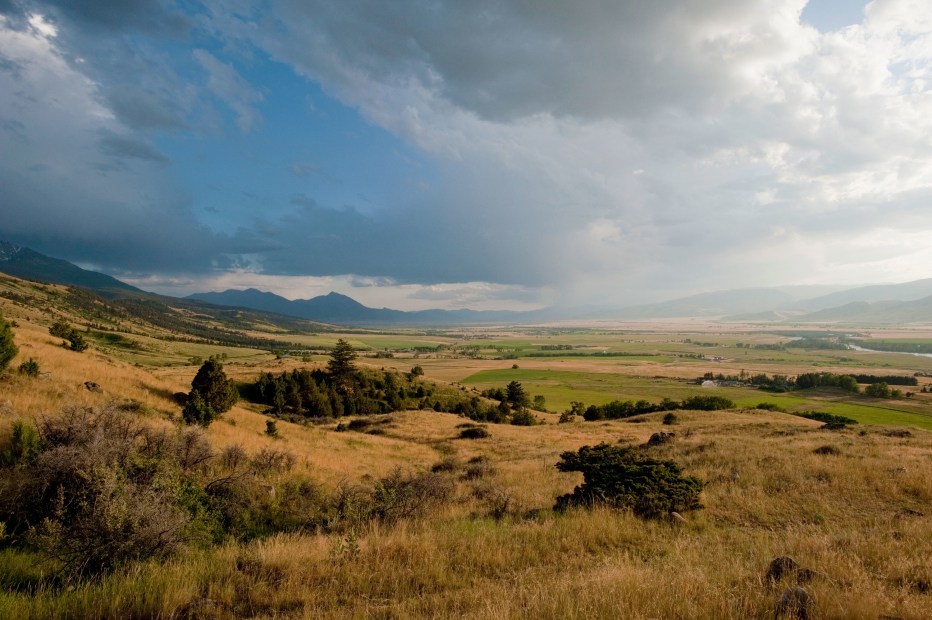 Gardiner to Mammoth Hot Springs and Beyond
Paradise Valley ends and Yellowstone National Park begins at Gardiner. A new road—a lifeline, really—completed in fall 2022 takes a steep, winding four-mile path from Gardiner to Mammoth Hot Springs, famous for its steaming mineral terraces. Spring in Yellowstone means reawakening bears and wobbly red bison calves. The spectacular 50-mile road between Mammoth Hot Springs and Cooke City which sits just outside the park's northeast entrance stays open year-round for sightseeing and wildlife viewing, but it's ultimately a dead-end drive until snowplows open connecting roads in late April. If you're seeing northern Yellowstone in March or April, you'll eventually have to backtrack through Paradise Valley, a place worth revisiting again and again.