Once wildflowers stretch their colorful petals toward the sky, the Sonoran Desert has officially awakened from winter. Because climate and rainfall vary from year to year, desert wildflower season can be inconsistent. But there's always something to see if you keep a watchful eye toward the ground throughout the year. Smaller bursts are still beautiful.
"It's not going to be like it is on Instagram,'' says Massimo Boscolo, horticulturist at the Arizona-Sonora Desert Museum in Tucson. "You have to be a little more active and creative."
Pack a field guide along with a magnifying glass to witness wildflowers big and small at these six parks between Flagstaff and Tucson. For the most current bloom reports, check desertusa.com and Wildflower Watch AZ.
Superstition Mountains
To the east of Phoenix, patches of flowers paint the Superstition Mountains rainbow all year round, but especially from March through May when it starts to heat up again. "Here in the Sonoran Desert, there's always something blooming year round, whether it's the shrubs, the cacti, the trees, or even some of the little perennials," Elliott says. Look for spindly honeysuckles, magenta paint brushes, delicate bluebells, and red and magenta bouquets on the hedgehog cacti. The 2.8-mile Hieroglyphic Trail is a guarantee for wildflower chasing.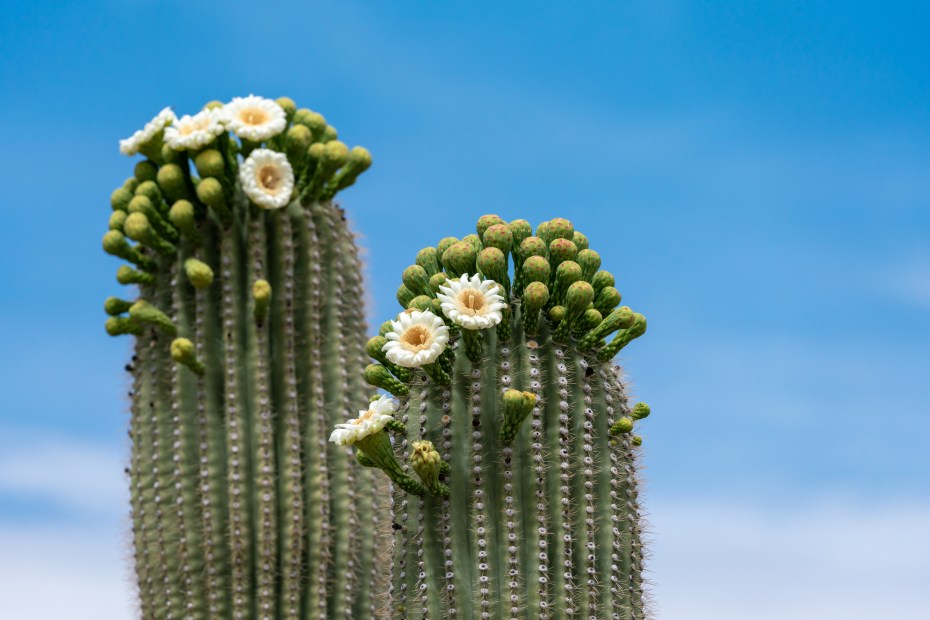 Organ Pipe Cactus National Monument
Even during drier years, showy poppies and purple lupines are a given at Organ Pipe Cactus National Monument on the state's southern edge. But Boscolo recommends also looking out for the smaller varieties, such as pale purple owl clover, silvery brittlebush, starburst-shaped fairy duster, and orange globemallow. "If you're going on a hike and you look for them, you're probably going to find some," Boscolo says. The organ pipe cactus unfurls white flowers with yellow centers in May and June, while the saguaro sprouts a similar white bloom the last two weeks of April.
Buffalo Park
In the heart of Flagstaff, Buffalo Park is one of the most accessible spots for wildflower viewing. The flat and easy 2.2-mile hiking trail loops around the mesa, offering panoramic views of the San Francisco Peaks and ponderosa pine forest. To extend the walk, take one of the offshoot paths that wind through the Coconino National Forest. Once the snow melts and temperatures warm up in spring, the meadows are speckled with patches of purple lupine, vibrant red gaillardia, and pink wild chrysanthemum. Then, starting in late summer through early fall, the fields turn into a sea of golden sunflowers at the base of the mountains.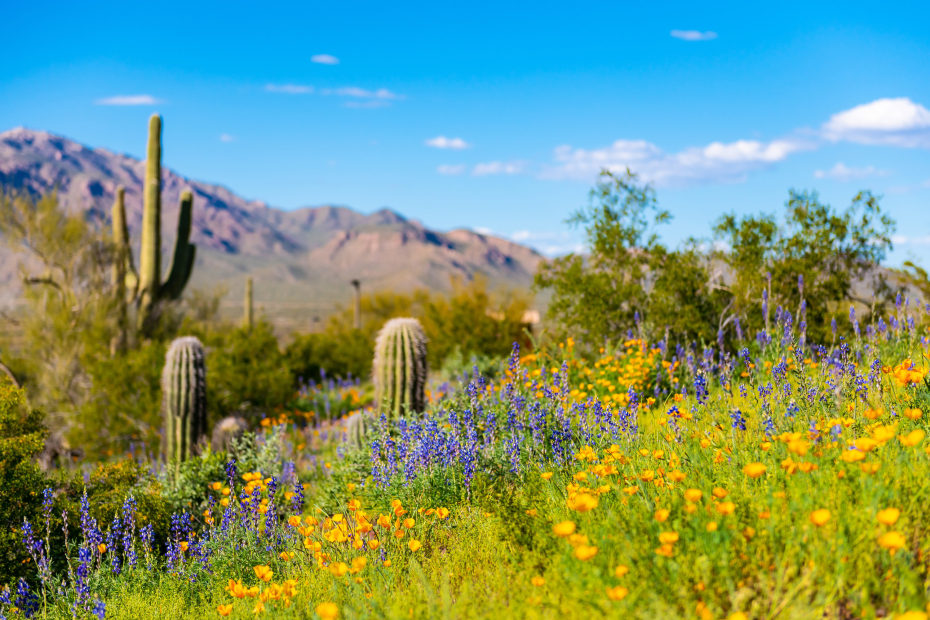 Picacho Peak State Park
About 40 miles northwest of Tucson, Picacho Peak stands 1,500 above the Sonoran Desert. Against the green and brown hues, wildflowers look like rainbow confetti strewn across the valley. In wetter years, Mexican poppies carpet the ground. But even during subpar conditions, watchful wildflower hunters will spot desert marigolds, pink penstemons, white desert chicory, and yellow fiddlenecks. The best flower walks are the 0.5-mile Nature Trail, which features interpretive signs, and the difficult 2-mile Hunter Trail that climbs to the summit for 360-degree views.
South Mountain Park and Preserve
One of the largest municipally managed parks in the nation, South Mountain in Phoenix contains three mountain ranges: Ma Ha Tauk, Gila, and Guadalupe. North-facing slopes in Pima Canyon and Beverly Canyon are speckled with blossoms from early March to May, with peak viewing in mid-April. "I don't think it's going to be these mass carpets this year," says Angelica Elliott, assistant director of horticulture at the Desert Botanical Garden in Phoenix, which has its own wildflower trail. "This year might be like little throw rugs here and there in the desert."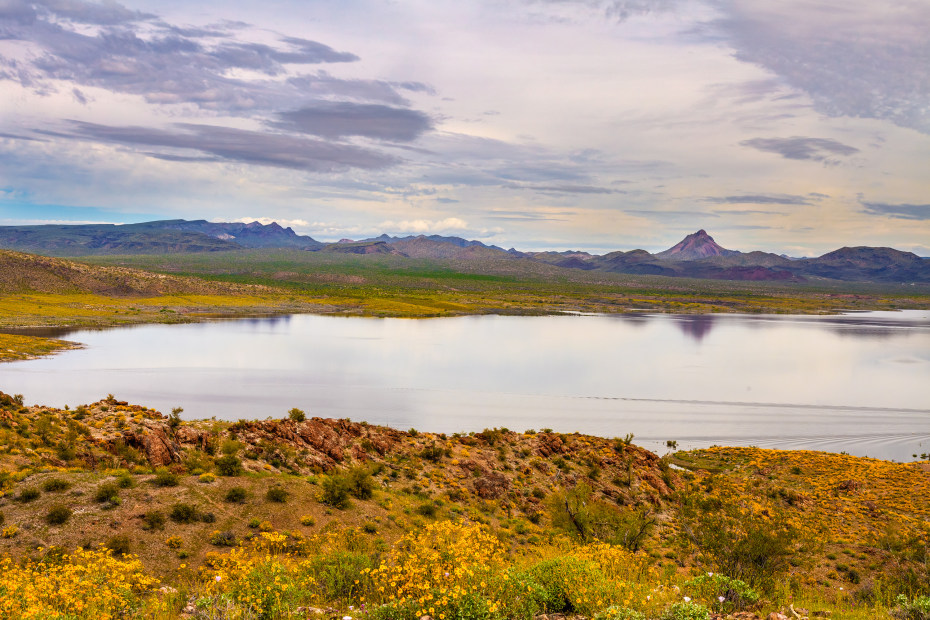 Alamo Lake State Park
Where there is water, there are flowers. In eastern Arizona near Wenden, Alamo Lake in the Rawhide Mountain Wilderness is the backdrop both for vivid sunsets and impressive blooms. Park officials have already reported fiddleneck, desert senna, and some sweet acacia, with more plants loaded with promising buds after rainfall. Along the shores and hills around the lake, the palo verde trees also burst with canopies of little yellow flowers, best experienced by hiking the trails such as the 3.1-mile Radio Towers Loop, just outside the park.