Mountains across the West have a hidden secret come July: alpine wildflowers bursting forth in virtual seas of vibrant hues. There are a ton of great spots and hikes for viewing these late bloomers, which delay their magic thanks to higher elevations and cooler temps. Just remember to stay on the trails, avoid touching or picking the flowers, and take only pictures. 
Here are 10 of the best places across the West to see these spectacular alpine delights. 
Tahoe, California
Expect a brilliant display of color at Tahoe's highest elevations, where flora such as purple lupine, alpine lilies, and golden mule's ear are profuse. The Big Meadows trailhead, which leads to multiple hikes of varying lengths, is an excellent starting spot for enthusiasts on the lookout for meadow penstemon and American bistort. In Palisades Tahoe you'll find alpine fields brimming with California snow flowers and giant red Indian paintbrush, especially along the moderately difficult Thunder Mountain Trail—perfect for a half-day trek.
Yosemite National Park, California
A vibrant palette of pink, purple, red, yellow, and white washes over Yosemite's subalpine meadows each July and August, with everything from ranger's buttons to monkeyflowers bursting forth in natural beauty. Tuolumne Meadows is home to shooting stars, cinquefoils, and little elephant's heads. From here, you can embark on a moderate eight-mile round-trip hike along the Mono Pass Trail, a historic trail once used by American Indians that winds across streams, past lakes, and through flower-filled meadows.
Mount Rainier, Washington 
Come early August, the slopes of Washington's tallest mountain are brimming with wildflowers, including lupine, paintbrush, and pink mountain heather. These stunners are easily visible around Sunrise Visitors Center, the park's highest drivable point. Or hike the 2.5-mile Sourdough Ridge Trail to the top of 7,006-foot Dege Peak for spectacular panoramic views of the flora-filled meadows below.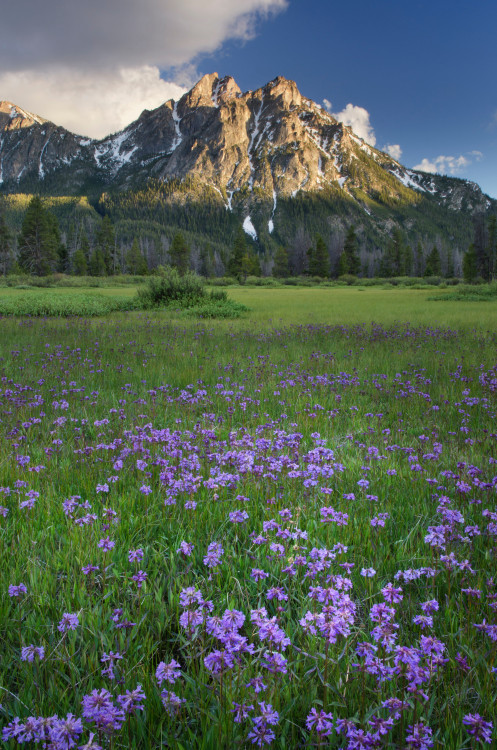 Mount Hood, Oregon
Oregon's legendary peak sports bright yellow blossoms of desert parsley and the pom-pom-like tufts of white and rose-pink pussypaws, as well as hillsides brimming with purple lupine. Its wildflowers are on full display in the meadows around Timberline Lodge. From there, you can also take the Zigzag Overlook Trail, a 4.6-mile round-trip hike that passes alongside yellow, red, and purple blooms en route to breathtaking views of Mt. Hood and the Zigzag Canyon.
Sawtooth Mountains, Idaho
Central Idaho's jagged Sawtooth range bursts with color each summer, with the lavender hues of shooting stars around the edges of alpine lakes, bright magenta elephant heads thriving in the marshy meadows, and delicate western columbine sprouting along rocky slopes. Pettit Lake is a popular and easy-to-reach spot for viewing, with the southern Sawtooth Mountains rising up in the distance. Or opt for a moderate hike along Fourth of July Lake Trail, a 5.5-mile out-and-back that's known for its sea of purple penstemons.
Flagstaff, Arizona
Flagstaff's high-altitudes makes it an ideal spot for alpine wildflower viewing. In late summer, Buffalo Park erupts in hues of yellow and orange, thanks to its vibrant flora. A flat 2.2-mile hiking loop winds among golden sunflowers that pop up sporadically atop this mesa-base, one with a picture perfect view of Mount Elden. The Flagstaff intersection of Schultz Pass Road and US-180 features a sunflower display that's even more robust.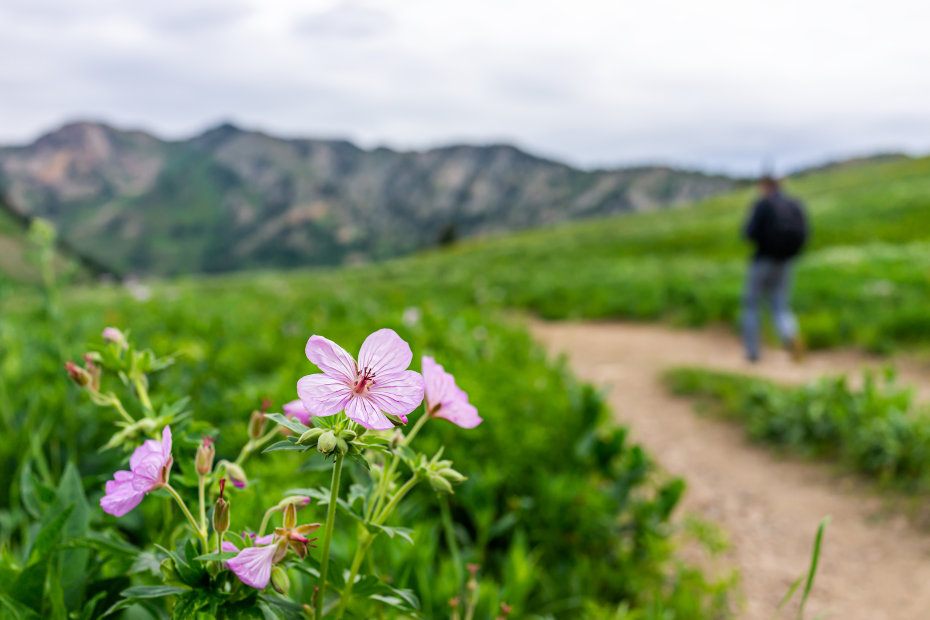 Wasatch Mountains, Utah
Indian paintbrush blooming in shades of pink, orange, and scarlet, yellow Rocky Mountain columbine, and sagebrush bluebell are all par for the course in the Wasatch Mountains. Look for these, as well as daisies and wild geraniums, along the 41-mile Logan Canyon Scenic Byway, which stretches from Logan City to Bear Lake. A seven-mile detour brings drivers to Tony Grove Lake, where you can stretch your legs on an easy 1.2-mile trek around its circumference that's often popping with alpine wildflowers. For something a little lengthier but just as colorful, try the 2.4-mile Horse Flat Trail in Wasatch's American Fork Canyon. 
Cedar Breaks National Monument, Utah
This half-mile deep natural amphitheater is like a plein-air painting in summer months, when it fills with colorful pops of blue flax, lupine, and columbines, all set against a red rock backdrop. In the park, the 2.2-mile Alpine Pond Nature Trail passes alongside meadows blanketed with wildflowers, while the four-mile out-and-back Ramparts Trail via Spectra Point offers a greater workout alongside your flora viewing. July's multi-day Wasatch Wildflower Festival highlights the mountains' wildflower diversity with guided hikes and multiple locations.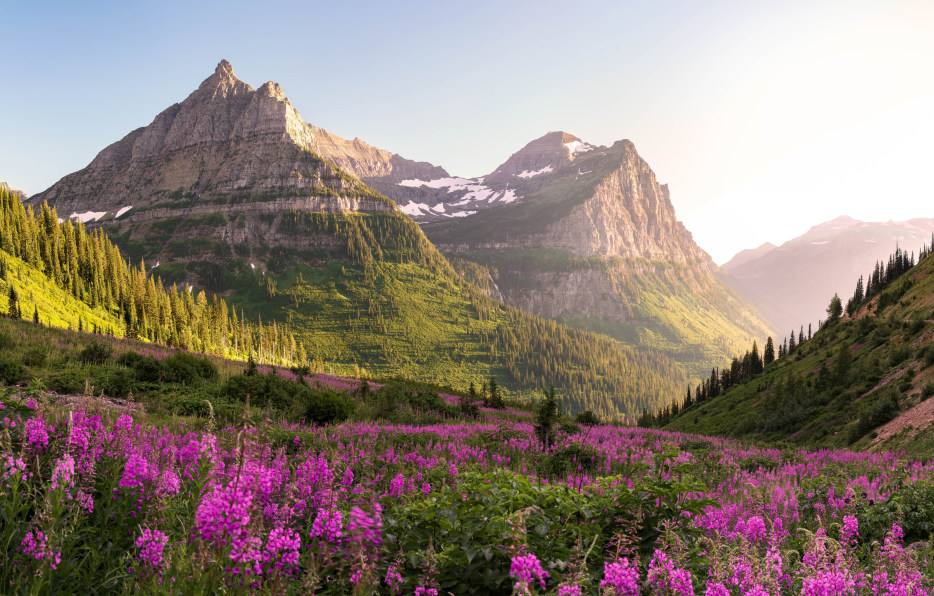 Glacier National Park, Montana 
A short but prolific wildflower season greets Glacier visitors each summer, with more than 1,000 different species, including plenty of beargrass and glacier lilies. Purple asters carpet the meadows around the park's Two Medicine area, while the legendary Going-to-the-Sun Road is typically bursting in colorful blooms in July and August. Paintbrush and beargrass brighten the meadows around Iceberg Lake, a body of turquoise water reachable via a 9.3-mile round trip hike from the Many Glacier Valley.
Denali National Park and Preserve, Alaska
Bluebells, woolly geraniums, and Alaska poppies proliferate across the mountain meadows, forest floors, and roadside of Denali National Park each summer. Wildflowers especially flourish among the brush and scattered trees that surround the easy half-mile Mountain Vista Trail. If you have more energy, the park's 5-mile round-trip McKinley Bar Trail passes over streams and tundra, and bogs in which flowering plants like round-leaved sundew thrive.