Most mountain towns are known as winter destinations, places where people flock for downhill skiing and tubing across snow-covered fields. But some of the best become even livelier during summer. With monthly art walks, outdoor farmers' markets brimming with local produce, and concerts beneath the stars, our favorite mountain towns have even more to offer visitors once the weather turns warm. To discover charms from quiet hiking trails to craft food and drink, here are nine mountain towns to escape to during summer's long, laid-back days.
Sheridan, Wyoming
Whether it's shopping for cowboy boots along Sheridan's low-slung Main Street or embarking on a guided fly-fishing trip with Fly Shop of the Bighorns, there's something for everyone in this Old West mountain town. The Bighorn Mountains serve as Sheridan's backyard playground: a remarkable stretch of peaks offering supreme hiking—including the picturesque 4.7-mile Tongue River Canyon trail, winding across rushing waters and amid towering limestone cliffs—and horseback-riding adventures. For a day trip, drive 70 miles west of Sheridan and walk the three-mile round-trip trail to the sacred Medicine Wheel, a stone structure near the summit of Medicine Mountain that's only accessible during summer months.
Back in town, Sheridan's polo heritage takes center stage from June through early September, with Sunday matches held at the city's Big Horn Equestrian Center. To get an up-close look at regional wildlife, visit creekside Wood Kendrick Park, where bison and elk reside full time. The popular green space also boasts a swimming pool and waterslide, as well as a seasonal kiosk serving dozens of ice cream flavors, from cotton candy to cookies and cream.
If you're up for something more filling, swing by the Welcome Market Hall, a curated food concept space (the prosciutto fig pizza is delicious) occupying Sheridan's former railroad depot, or opt for pints of Copper Mule cream ale at the always bustling Black Tooth Brewing Company. For whiskey and ribeye, LeDoux Saloon is your place.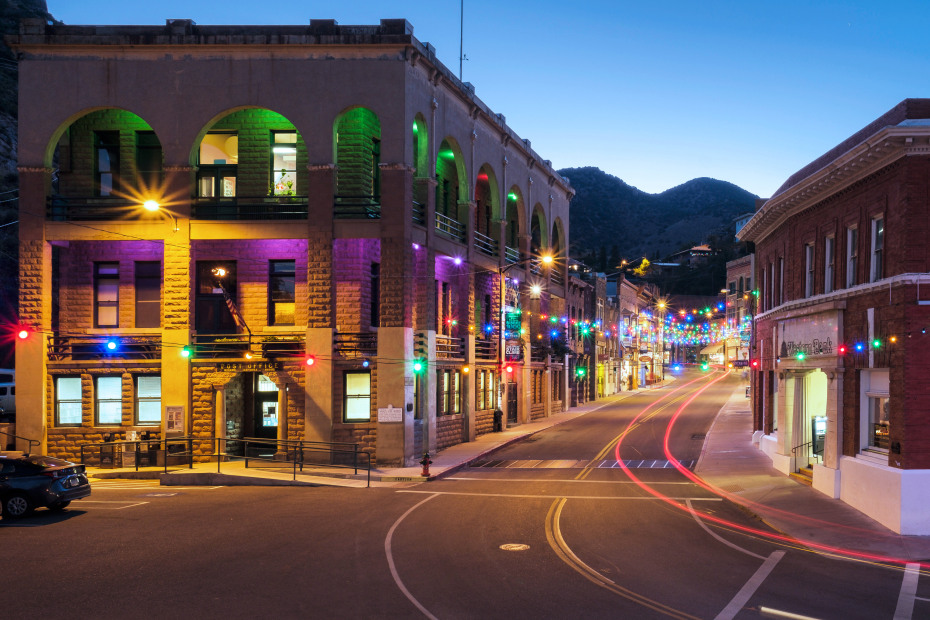 Bisbee, Arizona
Creativity thrives in Arizona's southeast corner, especially in Bisbee, a former mining center now known for its spirited arts scene. Draped along the slopes of Tombstone Canyon in the heart of the Mule Mountains just north of the Mexican border, Bisbee is wholly original. The town is made up of hundreds of concrete staircases and dozens of colorfully painted homes, ranging in style from Italianate to baroque revival, and shops selling everything from wild desert honey to jewelry handcrafted from tumbleweeds. Take a fun dive into Bisbee's haunted side at the Bisbee Seance Room, or browse random thrift-store artworks along the outdoor Broadway Stairs Gallery. For a real mind-bender there's Erie Street, a ghost-town-ish strip lined with vintage Ford cars and nearly abandoned department stores that seem frozen in time.
Explore further remnants of the past on the subterranean Queen Mine Tour (close-toed shoes required) and Lavender Jeep Tours mining landscape excursion. Bisbee's summer events include Burnerella, a communal blowout of artistic self-expression (think glowing kinetic sculptures and massive interactive installations) in early June, and August's town-wide Pirates of the High Desert, a weekend of treasure hunts, costume contests, and rousing sea chanteys.
Hungry? Try Poco Restaurant and Market's vegan and vegetarian eats, or Café Roka, which offers Arizona wines and weekly live jazz.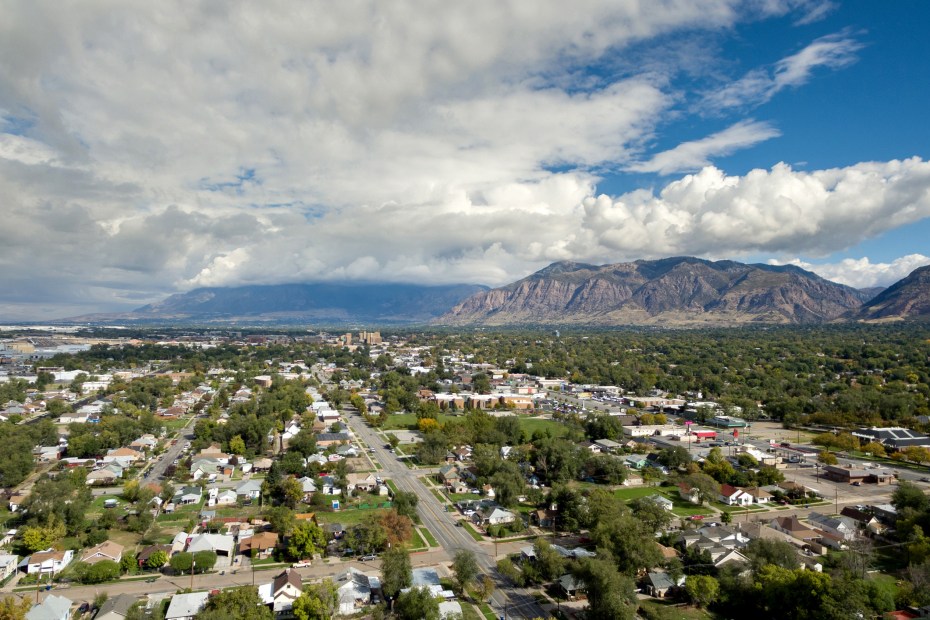 Ogden, Utah
U.S. frontier spirit is alive and well in Ogden, a mountain town 35 miles north of Salt Lake City. Filled with dozens of locally owned shops and restaurants—where you can find everything from beer-soap lotions at Beehive Naturals to mini burgers at Electric Alley Sliders, tucked inside the Yes Hell bar—this once lawless settlement remains an outpost of the adventurously inclined. Colorful murals grace the downtown streets, including Historic 25th Street, at one time a haven for gamblers, lined with speakeasies, still graced with turn-of-the-century art deco-style structures. The 25th Street Museum shares the sordid tales behind this notorious street with hour-long guided tours. Delve into the town's railway history and get an up-close look at some enormous locomotives at the Utah State Railroad Museum, one of a handful of interesting museums at Union Station, Ogden's former train depot.
If you're up for a stroll around town, head to the Ogden River Parkway, which follows the Weber River through downtown, leading to kayaking parks, Ogden Botanical Gardens, and Eccles Dinosaur Park, where full-size T-rex and Triceratops sculptures greet you.
Greater Ogden's ski resorts and reservoirs offer their own summertime excitement, from gondola-accessible hiking and downhill mountain biking trails that reach 8,000 feet in elevation to wakesurfing—catching the trailing waves of a boat. Nearby North Fork Park is an International Dark Sky Park, affording epic views of the Milky Way and starry skies after sunset.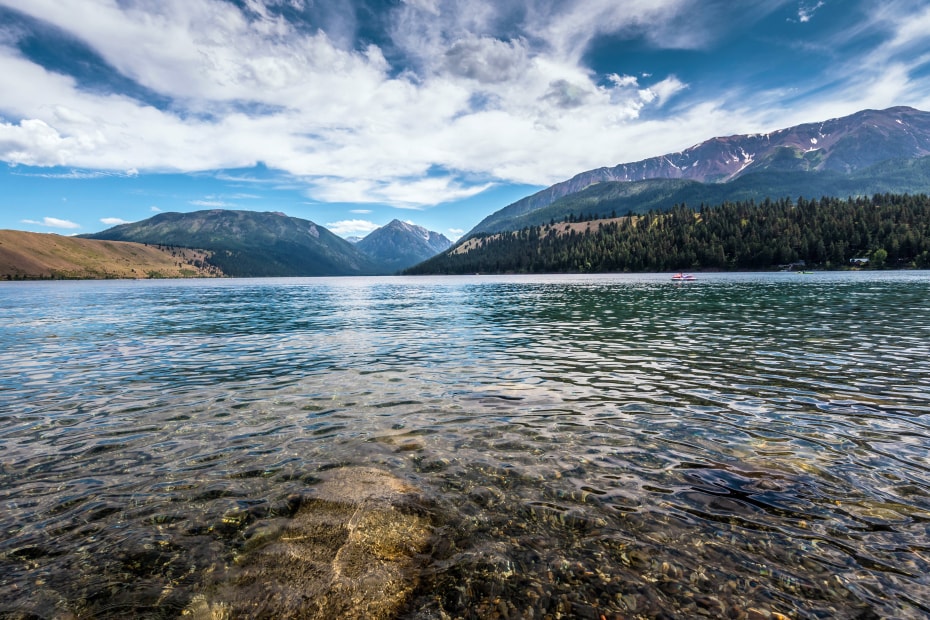 Joseph, Oregon
Tucked away in the remote reaches of Oregon's northeast corner, Joseph remains off the radar for many—a quality likely preferred by those already in the know. With the bare granite peaks of the spectacular Wallowa Mountains as its backdrop and Hells Canyon, North America's deepest river gorge, to its east and north, this one time logging community now thrives in its role as an adventure outpost. It's also home to a flourishing arts scene. Enormous bronze sculptures line Main Street, thanks to the area's foundries, including the world-renowned Valley Bronze of Oregon. Here, daily tours highlight the sculpture-making process, from casting to creating a finished piece. Galleries filled with landscape paintings and wildlife busts can also be found along Main Street, interspersed with shops selling huckleberry truffles and innovative restaurants such as the tiny Dog Spot, where a series of rotating menus showcase made-from-scratch dishes in everything from Basque to Chinese cuisine.
In July, Chief Joseph Days Rodeo draws the largest crowd, though other events and activities abound throughout the summer. On glacier-formed Wallowa Lake, swim, kayak, or camp the shore. Hop aboard the Wallowa Lake Tramway to the top of 8,261-foot-high Mount Howard for panoramic views and a wealth of hiking trails. Or join Joseph Branch Railriders on a pedal-powered four-wheel-bike adventure along abandoned train tracks.
Joseph is also the heart of the ancestral homeland of the Nimiipuu, or Nez Perce people. Its 62-acre Iwetemlaykin State Heritage Site is a sacred, quiet space perfect for reflecting on this history.
Genoa, Nevada
Situated at the base of the eastern slope of the Sierra Valley—just 20 miles east of Lake Tahoe—this former Mormon trading post boasts a pioneer spirit and loads of Western charm. While the community's biggest event, the century-plus-old Candy Dance Faire, takes place in September, summer offers its own attractions. Mormon Station State Historic Park is the site of Nevada's first permanent, non-Indigenous settlement (1851), as well as the perfect spot for picnicking. View American Indian art and an exhibit on Sierra mail carrier John "Snowshoe" Thompson at the Genoa Courthouse Museum, or dine on cheese and charcuterie at The Pink House, a late-19th-century Gothic revival–style landmark that's nearly as old as the town itself. Genoa Bar and Saloon, a lively space chock-full of quirky paraphernalia, is the state's oldest watering hole—and one that has seen some famous patrons, from U.S. President Theodore Roosevelt to humorist Mark Twain.
Genoa's 16 miles of area trails include the 6.2-mile round-trip trek to Genoa Canyon Waterfall, a moderate hike through lush conifer forest. Afterwards, soak in the five mineral hot springs at historic David Walley's Resort, where water temperatures range from 98 to 104 degrees.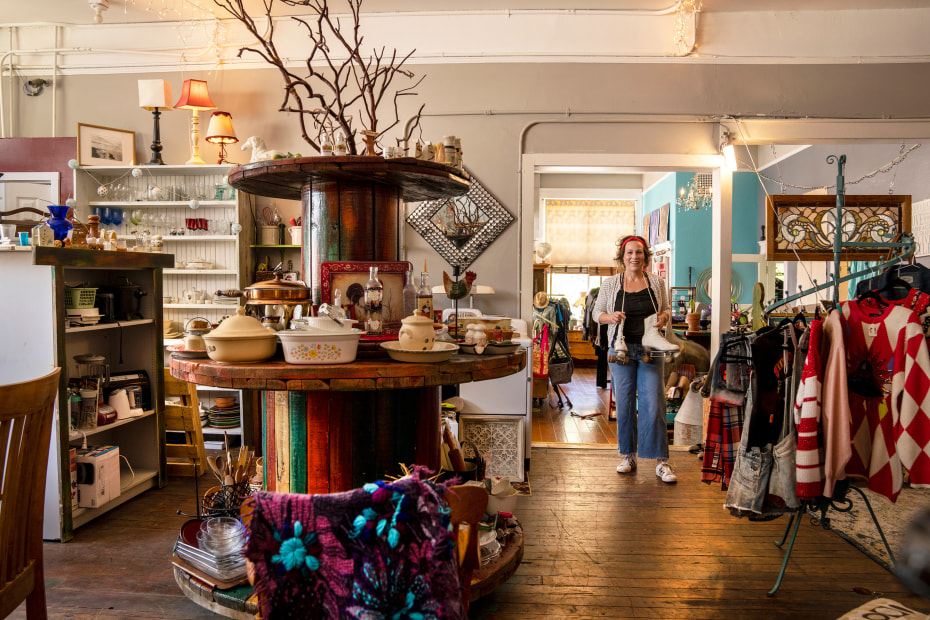 Dunsmuir, California
Just a nine-mile drive to the legendary Mount Shasta, quirky Dunsmuir is a destination all its own. With its river canyon setting and convenient locale along Amtrak's Coast Starlight route, this railroad town offers plenty to explore, but the don't-miss draws are the nearby waters rich with fish for anglers and the RV resort where guests can bed down in historic cabooses and dine on steak and seafood in a vintage train car.
Downtown is a mix of Victorian, art deco, and fire-adverse concrete architecture, and proffers antique and collectible stores, the Siskiyou Arts Museum—which displays works from local and regional artists—and restaurants serving up an array of dishes from chicken mole to vegan BLT.s.
The Upper Sacramento River runs right below town. There you'll find Tauhindauli Park, a river restoration project luring picnickers, kayakers, and swimmers. You can also hike the 1.4-mile round-trip Dunsmuir trail, which cradles the river from the park to the Dunsmuir Botanical Gardens, where early summer blooms include Japanese maples and Shasta lilies.
The area surrounding Dunsmuir is known for its waterfalls: The four-mile round-trip McCloud Falls hike alone passes three of them on an easy trek through a basalt lava canyon. Nearby Castle Crags State Park offers 28 miles of hiking trails, including a portion of the Pacific Crest Trail, through a landscape teeming with ancient 6,000-foot-tall granite spires.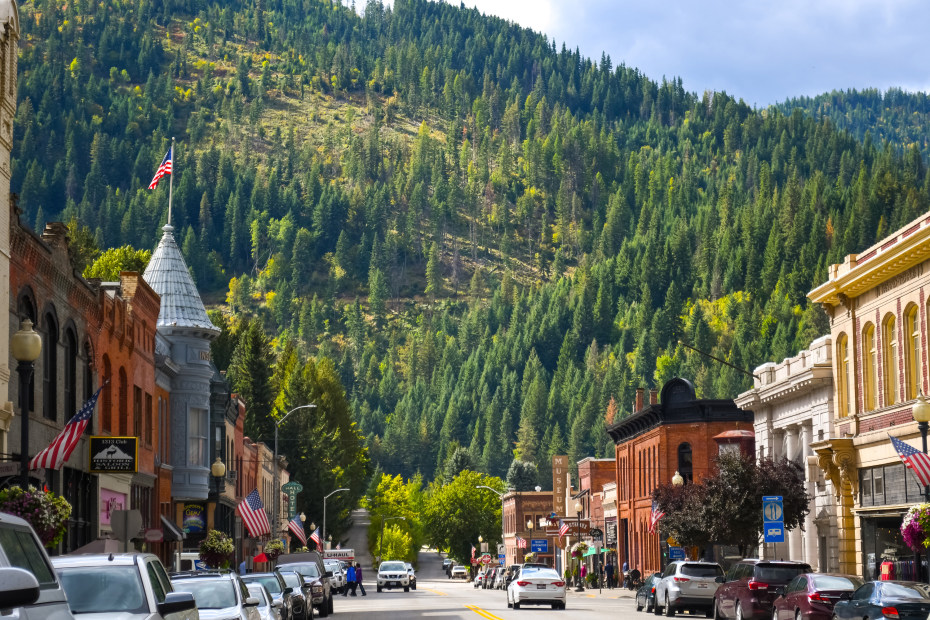 Wallace, Idaho
A town of fierce resilience and Old West lore, Wallace looks like the town that time forgot. But looks can be deceiving. Flanked by North Idaho's Bitterroot Mountains and copious lush forest, late-19th-century brick structures still make up its historic center, and silver mining—at the roots of this former boomtown—remains an active business, but its storefronts brim with modern-day shops selling sustainable T-shirts and handmade leather belts. Wallace's locally owned restaurants include Cogs Gastropub, a craft brew and gourmet food hub housed within the town's historical smokehouse, and The Fainting Goat Wine Bar & Restaurant, where brick-oven pizzas are served alongside glasses filled from the Enomatic Self-Serving Wine System, which offers 32 different wines to sample. The Silver Capital of the World's unique mining heritage remains on full display at the Wallace District Mining Museum. The Sierra Silver Mine even offers underground tours of a drift mine, which follows the vein of ore deep into the hillside.
Opportunities for aboveground adventure are also plentiful. History buffs and hikers can follow the Pulaski Tunnel Trail, a two-mile trek following a portion of forest ranger Edward Pulaski's life-saving route to escape the Great Fire of 1910. There's also the magnificent Route of the Hiawatha, a 15-mile multi-use rail-to-trail path that skirts waterfalls, crosses skyscraping train trestles, and travels through 10 different tunnels.
Summer festivities kick off the third week in June with Wallace's Gyro Days and Lead Creek Derby, a three-day street carnival that begins with the annual floating of a giant, multicolored ball for seven miles from Mullan to Wallace. Crowds line the creek, with many watchers following the ball's route from start to finish.
Whitefish, Montana
Just 27 miles southwest of Glacier National Park, perched within the Rocky Mountains, Whitefish is an outdoor enthusiast's dream. It's also a stop along Amtrak's daily Empire Builder line. Downtown is a walkable stretch of Western-style storefronts boasting everything from fine art galleries to shops selling natural soaps and custom-made wakeboards—but it's on the outskirts of Whitefish that the real action occurs. Each year, the Whitefish Mountain Resort transforms from a ski hub to a summertime magnet, with more than 25 miles of lift-accessed cross-country mountain bike trails that wind, dip, and roll above the Flathead Valley. Visitors can soar over ski slopes on a zip line over ski slopes, or careen around banked turns and under bridges on an alpine slide. There's even an aerial adventure park that involves cable bridge crossings and trapeze swinging.
At seven miles long, glacier-formed Whitefish Lake is the place for local watersports. Rent a kayak or paddleboard, or savor unbeatable mountain views while soaking up the sun on the lake's City Beach. Another popular option: an easy round-trip kayak along the Whitefish River between City Beach and downtown's Riverside Park.
After a day of adventure, savor a brew at the Great Northern Bar and Grill, or sip a wild huckleberry shake from family-owned Buffalo Café, where dishes include Montana elk tacos and bison meatloaf. For more casual fare, Jersey Boys Pizzeria serves up thin-crust pizza slices and Italian sandwiches.
End with a visit to the Stumptown Historical Museum, located within the Whitefish Railway Depot. Along with hosting exhibits on railway history, it's home to a locally legendary "fur-bearing fish" and an antique telegraph where you can try your hand at Morse code.