Colorado is known for its many tourist destinations, but one place that might be overlooked is Ouray (pronounced YOO-rai), a small town with big attractions for visitors of all ages. Summer is the perfect time to discover this family friendly getaway. Outdoor enthusiasts will especially enjoy opportunities to explore the mountains surrounding Ouray; the scenery is so spectacular that the town has been called the Switzerland of America.
Visitors approaching Ouray from the south will arrive via the Million Dollar Highway, a scenic mountainous stretch of hairpin turns with posted speed limits of 10 or 15 mph. Although it's only about 25 miles to drive from Silverton, Colorado, to Ouray, this road, which was rebuilt in the early 1920s at considerable cost (hence the name), requires navigating narrow lanes on the edge of steep cliffs—and no guardrails. 
Deep canyons and jagged rock walls form a backdrop for the winding road, but the scenery is especially spectacular on the 12-mile stretch through the Uncompahgre Gorge to the summit of Red Mountain Pass. Allow plenty of time to admire the crimson mountains, which glow at sunset, on this section of the San Juan Skyway.
Relaxing Hot Springs
Because Ouray is known for its hot springs, consider staying at Box Canyon Lodge & Hot Springs, one of the original accommodations in town. Built on a layered wooden deck, the old-timey, peaceful lodge features three levels of natural hot springs where you can relax and rejuvenate just as the Ute Indians did centuries ago.
The Lodge is walking distance from Box Canyon Falls Park, where an easy 500-foot hike leads to a plummeting waterfall that splashes into a small pool deep in the quartzite canyon. Multiple paths lead to the Perimeter Trail, which provides family friendly hikes around town.
Sightseeing by Jeep
Scenic Jeep tours through the San Juan Mountains are so popular that Ouray has earned another nickname: "Jeeping Capital of the World." It's a great way to see wildflowers blooming in summer or amber-colored aspens in autumn, to learn about mining and ghost towns, and to find hiking trails from easy to rugged.
A Jeep tour to Imogene and Yankee Boy Basin is an 8-mile drive from Ouray through forests of aspen, spruce, fir, and pine trees. You can rent a vehicle and drive yourself, or leave the driving to an expert so you're free to admire and photograph the majestic landscape. You'll have views of towering Mt. Sneffels, the local fourteener (a mountain peak that exceeds 14,000 feet elevation) and a popular climb for hard-core hikers.
On the way, you'll drive under Hanging Rock, a sturdy canopy above the road surrounded by towering rock walls. Just below the timberline, you'll pass the Ruby Trust Mine and a sign delineating the Alpine Tundra Ecosystem. At 11,300 feet altitude, there's a turn-around to stop and meander on paths through meadows filled with a rainbow of flowers — mountain bluebells, silvery lupine, purple asters, yellow alpine sunflower, pink sticky geraniums, and orange sneeze weed.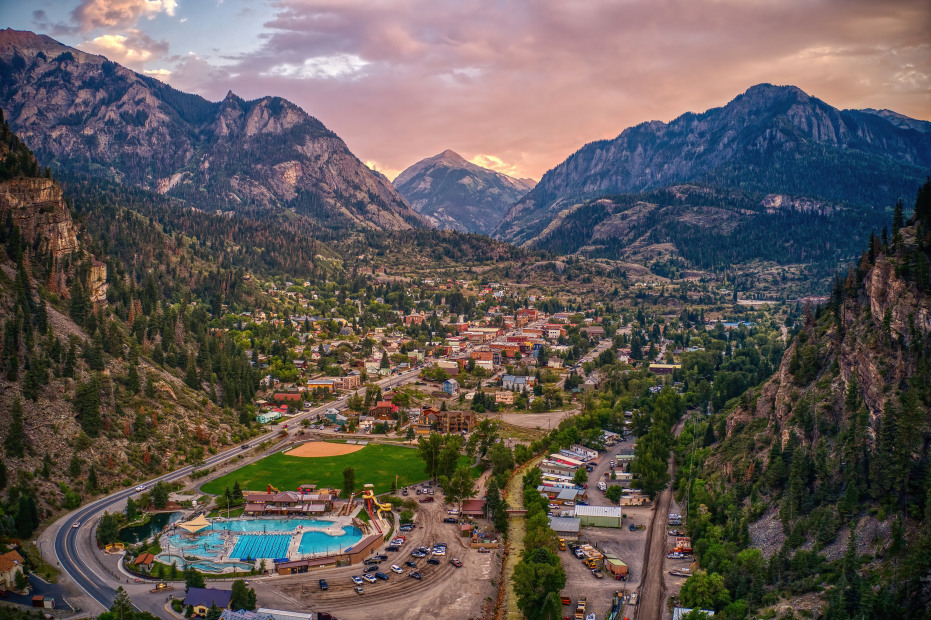 Ghost Towns and Outdoor Adventure
Tour the remnants of ghost towns such as Sneffels and abandoned gold and silver mines like Atlas Mine. A current revival in mining is proving that there's still plenty of ore in the San Juan Mountains. 
Spend some time soaking in the healing waters of the public, sulfur-free Ouray Hot Springs, which have been in operation since 1927. Then take a quarter-mile hike to dramatic Cascade Falls where you or the kids can shed shoes and climb over rocks in the water.  
More adventurous visitors might choose to take a four-wheeler on established trails in the mountains or explore on foot, horseback, or mountain bike. Rafting, mountaineering, and canyoneering also are popular activities during the summer for those who like to get their adrenaline flowing. 
Ease into history on a walking tour down Main Street, and stop at the Ouray County Museum on Sixth Avenue to learn more about Ouray's colorful past. Craft fans can watch beautiful works of art created at Ouray Glassworks and Pottery Company. Then stop at Maggie's Kitchen for the notable best burger in town. The Wright Opera House on Main Street features films, concerts, plays, and lectures.
If You Go
Dress appropriately: Located in the San Juan Mountains of southwestern Colorado, Ouray's elevation is just under 8,000 feet. Early mornings and evenings can be cool in summer.
Around the area: Explore more of the area on day trips to Ridgway, Silverton, and Telluride. Black Canyon of the Gunnison National Park is 50 miles northeast of Ouray.
Mine time: Step back in time and learn Old West history at mining ghost towns including Ironton, Animas Forks, Red Mountain Town, and other abandoned cities in the Red Mountain Mining District.