Ridgway is an old railroad town in southwestern Colorado, less than an hour north of Telluride. It can be easy to miss unless you are looking for it. In the middle of town, on a dirt road, visitors are greeted by an enormous eagle sculpture beside an old fire station with an antique red fire truck parked in front. 
With its 19th-century buildings and unpaved roads, Ridgway is the archetypal old Western town. It's a throwback to a simpler time, a fact that—along with the authentic buildings listed on the National Register of Historic Places—has made the town of 1,000 a favorite location for filming Western movies. 
Founded in 1890, Ridgway was the headquarters of the Rio Grande Southern Railroad, which served the area's gold and silver mines, ranches, and farms. Today, you can find artifacts and historical information about the famous railroad at the Ridgway Railroad Museum. 
Ridgway Culture
Built along the Uncompahgre River at the foot of the San Juan Mountains (some of the most photographed mountains in the world), Ridgway has become a hub for recreational activities. The palpable energy of this quiet town attracts visitors year-round, thanks to 300 days of sunshine. Deep canyon pools, high country lakes, roaming wildlife, abundant trails, and magnificent scenery provide opportunities for all ages and ability levels to enjoy outdoor adventures.
The town also has a growing arts community featuring galleries and studios offering jewelry, art glass, pottery, paintings, and more. Locally made sculptures, murals, and public art, including a St. Bernard, red fox, and three eagles (look for the American bald eagle with a 21-foot wingspan in Weaver Memorial Park), reflect the creative side of Ridgway.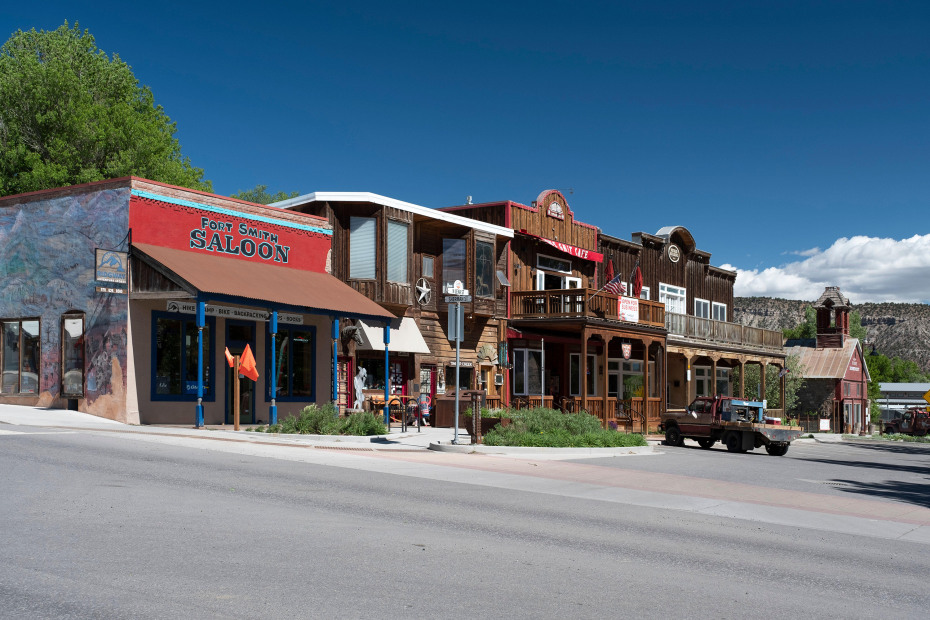 Natural Playground: Outdoor Activities Near Ridgway
Ridgway State Park has many hiking and biking trails, along with opportunities for viewing bald eagles nesting in cottonwoods along the river. At the park, you can swim at the beach, fish, and windsurf, and around Ridgway you also can golf and ride horses or ATVs.
Blue Lakes Trail, a local fitness challenge, leads up to three glacial lakes at the foot of Mount Sneffels. For a lesser challenge, hike 6.6 miles round trip to the Lower Lake and skip the more difficult trek to the Upper Lake. Bicyclists like Ridgway Area Trails, a series of interconnected trails with more than 40 miles of single-track riding through splendid scenery. 
Ridgway also is the starting point for world-class fishing and water sports on the Uncompahgre River. Local outfitters arrange fly-fishing trips according to current water conditions. If casting a line isn't your choice, kick it up a notch and go whitewater rafting on the Lower Gunnison River.
When you're ready for a less active pace, soak in natural Orvis Hot Springs or take a sunset drive along the San Juan Scenic and Historic Byway, one of America's most spectacular highways. 
Daytrip to Black Canyon of the Gunnison
You won't want to miss the opportunity to take a daytrip to Black Canyon of the Gunnison National Park, located just 39 miles from Ridgway. The lightly visited park's immense, ancient rock walls shadow the Gunnison River's path through the narrow, half-mile-deep canyon.
Start at the Gunnison Point Overlook Visitor Center and continue on South Rim Drive, a 7-mile paved road that goes from Tomichi Point (the first pullout with canyon views) to High Point, where the wilderness area begins. Twelve overlooks, each reached by walking a short trail, offer different views of nature's amazing handiwork.
Explore more on Cedar Point Nature Trail, an easy walk with guideposts describing plants along the way and two overlooks with breathtaking views of the Gunnison River below. The 1-mile round-trip Rim Rock Nature Trail is another popular walk that offers beautiful views of the river and the sheer walls of the canyon.
If You Go
Average temperatures: In the summer months, Ridgway's temperatures average in the mid 70s to low 80s for highs and in the low 40s to 50s in the early mornings and evenings, so dress in layers. 
Old Westerns: Dennis Weaver Memorial Park (named for the Gunsmoke actor) features a magnificent bronze sculpture of an eagle with a 21-foot wingspan.