Think skiing and snowboarding have gone too glam? Check out these affordable ski areas, where pricing is just one throwback: All preserve a homegrown spirit and unpretentious vibe. So bring your sack lunch to these seven western ski centers and explore slopes ranging from mellow to extreme.
Bogus Basin, Idaho
Non-profit status lets Bogus Basin (located 16 miles from Boise) invest all revenue into mountain operations and improvements, so some amenities match glitzier resorts. Located just east of Simplot Lodge, the Glade Runner alpine coaster hits 27 miles per hour (which feels as fast as space travel, especially on the curves) and a one-ride pass costs $15 ($25 for tandems). Double R Ranch BBQ Smokehouse turns Snake River meats into warming grub at the base. Don't miss the BBQ bowl combining slow-roasted pork, slaw, and macaroni and cheese. But the vibe is inviting, runs are long (thanks to 1,800 feet of vertical rise), and the slopes appeal to everyone, with beginner boulevards for never-evers and extreme terrain for rippers. Day ticket from $73.
Smart tip: This year, 5th and 6th graders can ski for up to three days for just $18 at 18 mountains in Idaho, including Bogus Basin. Go to skiidaho.us/passports to register a child or find out more.
Donner Ski Ranch, California
Approachable in both cost and location (an hour and a half from Sacramento and 45 minutes from Reno), family-owned Donner is 30 to 90 minutes closer to the Bay Area than Lake Tahoe resorts. All runs trickle down from one central peak. Beginners snowplow down the frontside bunny slopes off chairs #1 and #6, experts rip backside steeps such as The Gully below chair #3, and even non-skiers zoom down snow on two tubing lanes ($35 for two hours) located beside the parking lot, adjacent to the ski runs. Go Tuesday through Thursday for Old School Days (when lift tickets cost $49) to eat pie for breakfast at the Old 40 Bar & Grill, located within the base area lodge—Donner owner Janet Tuttles bakes pies from scratch daily, using tons (literally) of apples and other fillings that she buys in season, freezes, and tucks into hand-rolled crusts. Day ticket from $89.
Yosemite Ski Area, California
California's first and oldest downhill ski area (established in 1935 as Badger Pass) retains yesteryear's charm and scale: Lift lines are non-existent, even on weekends. Beginners thrive on comfortable slopes (only a few runs qualify as "difficult") and even the terrain park appeals to learners. Non-skiers can spectate from the lodge's snowside deck, or take to the Nordic trail network that surrounds the runs (look for the ranger-guided snowshoe trips to Dewey Point and its views over El Capitan and Yosemite Valley). A tubing lane at the base area rounds out the fun. And free shuttles (in the morning and afternoon) connect the ski area to Yosemite Village, 45 minutes downhill, where you can sip wine in the Ahwahnee Hotel's iconic lobby or skate across the ice rink for incomparable views of Half Dome and s'mores at the fire pit. Day ticket from $52.
Beaver Mountain, Utah
Septuagenarian Beaver Mountain–owner Marge Seeholzer dispenses lift tickets at the walk-up window. Inside the day lodge, you can feast on burgers (including the ​​Big Beav Double Bypass Burger, topped with two patties, cheese, bacon, barbecue sauce, and fries) and sandwiches or grab items to go. Yet many devotees of "the Beav" (as locals call it) arrive early to park in the upper lot for slopeside tailgating. Others take to the Sink Hollow trail network (across the highway from the Beav's parking lot) for cross-country skiing and snowshoeing on groomed trails. And with 1,700 vertical feet of lift-served skiing, runs are longer—and feel more big-league—than those at many family-run areas. Day ticket from $60.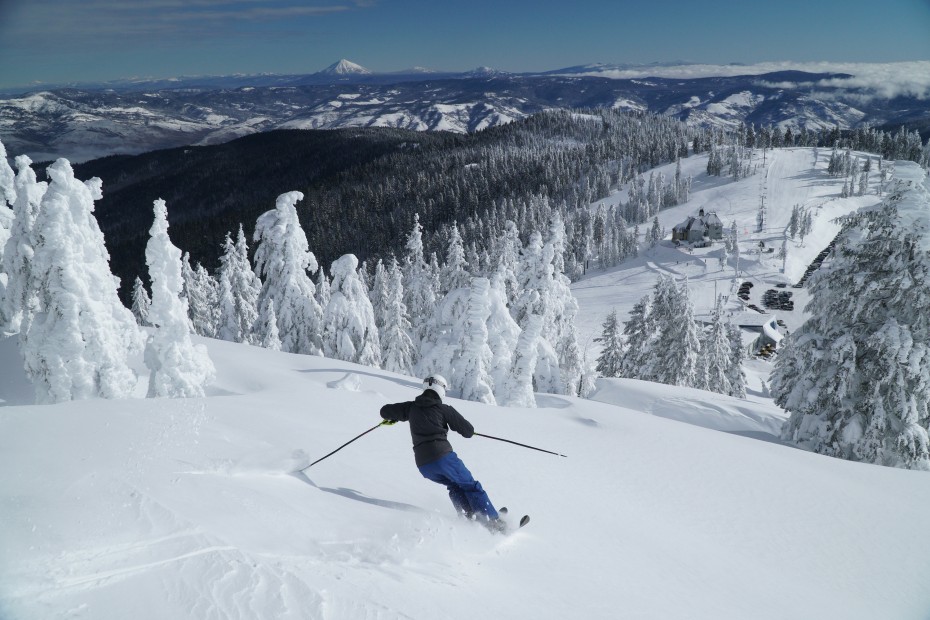 Mt. Ashland, Oregon
When southern Oregon residents heard in 1992 that their beloved Mt. Ashland was folding, they spent a year raising $1.7 million to buy it and keep it operational. Now run by the non-profit Mt. Ashland Association, these slopes include a high-alpine cirque with steep chutes and bowls, but learners also find their wings. Families can carry sleds to the Grouse Gap toboggan hill, a half-mile walk beyond the resort's back parking lot before heading back to the city. Day ticket from $64, free for kids under six and seniors 70 and older.
Powderhorn, Colorado
Let Aspen and Vail have the big spenders; Real Janes and Joes head to this Western Colorado gem on Grand Mesa, 50 minutes from Grand Junction. Powderhorn's widely-spaced aspen glades offer some of the West's best tree skiing, while the Mission: Affordable program provides beginners with three days of free rentals, lift tickets, and lessons. Non-skiing parents can watch their kids log laps from the lodge's sprawling deck, where sack lunches are A-OK—though the aroma from the on-site smoker (and its locally-raised beef, chicken, and pork) makes Powderhorn's BBQ seem more appealing than any PB&J. Day ticket from $79.
Snowy Range, Wyoming
Owned and operated by the Maddox family (and a small team of investment backers), Snowy Range keeps prices low with old-school amenities. Slow, fixed-grip lifts serve friendly runs suitable for beginners and intermediates. A small Nordic trail network makes it convenient to explore the snow-laden spruces sans chairlifts. You can find the trailhead at the northeast corner of the ski area's overflow parking lot. A popular hangout for nearby residents—not just day-tripping lift-riders—the day lodge feels more like a community fish-fry than an impersonal resort. Its kitchen simmers up homemade chili and the taps feature local beers (really local, as the crowd-pleasing Virginia Pale Ale is brewed on-site). Day ticket from $49.