You could say that Winter Park and I grew up together. I first touched its hallowed snow at age 3. Since then, I've returned time and again.
Winter Park holds countless memories for me: from fledgling attempts on the bunny hill, to magical excursions into Gnome Forest, to the mortifying incident when I skied all the way down Cheshire Cat—on my bum. And, as I grew—from safety vest-wearing toddler to college ski racer to (full disclosure) resort employee—so did the mountain.
Winter Park has always been a popular ski area, highly favored among Colorado locals, in part due to its unpretentiousness. In fact, Winter Park takes its name from its origin: The resort was founded as a winter sports park for Denverites.
In 1938, the city of Denver obtained a special permit from the US Forest Service that allowed them to develop the ski area. When Winter Park Resort opened two years later, skiers came in droves, enjoying a day on the slopes for the price of a lift ticket—$1. For the next six decades, the city of Denver operated Winter Park. After that, the city leased the resort to private companies: first to Intrawest in 2003, then to Alterra in 2017.
With these companies operating the mountain, my childhood playmate did some growing up of its own. Given time (seventeen years) and money (more than $92 million), Winter Park got a little work done.
While I had visited the ski area in the last decade, I had never truly explored one of the resort's more recent additions: the Village at Winter Park. On my last visit, after putting in several hours of skiing, I wanted to show my boyfriend—a first-time visitor to Winter Park—the highly touted base area. And so, we hopped on a shiny gondola, which ferried us over pine trees and parking lots into the beating heart of the Village at Winter Park. I marveled. I had walked through the village before, but now I felt like I was seeing it for the first time. Condos. Shops. Restaurants. Condos. Condos. CONDOS.
People bustling to and fro: James grinned. He pulled me into The Columbia Store, where we learned about the latest innovations in keeping warm with 3-D Omni-Heat technology. Then James took me into James and Parry's, where he bought his friend the unbelievable: a souvenir hoodie so fashionable that she might actually wear it. The giant Coca-Cola bear guarding the skating pond was irresistible to James, who ran over for a picture. As I clicked the shutter, I began to wonder if I had been so wrong about the new Winter Park after all. Maybe the village—different though it was—actually added something to the resort.
Walking down the village's main street, I saw children skating on a frozen pond, friends laughing over pints at the Vertical Bistro and Tap, families cozying up around a fire pit. Was I some kind of Grinch? These people were enjoying themselves. After all, over the years, I had grown and changed. Was Winter Park not allowed to do the same?
Where to Eat Around Winter Park
Packed with meatloaf, Muenster, jalapenos, and caramelized onions before being fried, the Yeti sandwich isn't messing around. Neither is the chorizo-piled breakfast sandwich nor any of the other hearty dishes on offer at the Back Bowl Soup and Bistro. The tiny eatery, tucked in a cozy white-and-yellow house in the heart of the village, traffics in house-made stews, hot sandwiches, and hoppy beers. With its chill vibe and classic rock playlist, Back Bowl has become a favorite with the Grand Valley locals. Swing by after the lifts close, and you might find yourself savoring a bowl of chicken green chile soup alongside your snowboard instructor.
Carver's didn't open in 1940 when the ski area did. But, with roots stretching back to 1982, the busy bakery-and-breakfast spot is a Winter Park institution. In 2012, Carver's moved into a bigger, brighter, sleeker space, but don't worry: The beloved eatery is still slinging its greatest hits—spicy breakfast burritos, face-sized cinnamon rolls, and, of course, Frito pie—beneath the metal-edged skis and vintage Colorado photos that adorn the walls.
No matter what you order at Tabernash Tavern—from buffalo Brussels sprouts to chicken marsala—your dish will be so balanced, you won't need extra seasoning. Which means that you could easily leave without noticing that each table is graced with a pair of vintage salt and pepper shakers: a car and a trailer here, a candy-shaped pair there, a couple of sharp-eyed foxes in the corner. Owner David McKnight and Chef Alberto Sapien put this level of love into everything here, such as the building's century-old façade—perfectly preserved, down to the peeling paint—and the silky-smooth Manhattan, made with Colorado Breckenridge whiskey, and the steaks, hand-cut daily by Chef Alberto. Does all this make the six-mile drive to the tiny town of Tabernash worth it? You bet.
Where to Drink in Winter Park
Step inside The Perk Coffee Company and, as you look around at the white subway tiles, Edison bulbs, and potted succulents, you might think that you've stepped straight out of Winter Park and into San Francisco's hipster Mission District. But look closer, and you'll find that this coffee shop is all Colorado. The gooey cinnamon rolls and nutmeg-tinged pumpkin bread are baked in-house, the small-batch Teakoe teas hail from Denver, and the espresso drinks are brewed with beans roasted by Denver's Commonwealth Coffee. Curl up with a latte and one of the shop's coffee table books—packed with Rocky Mountain highlights—and drink it all in.
It's a truism that mountain towns and beer go together, and the numbers don't lie. Winter Park (population 1,030) is home to three breweries. For a taste of some of the local suds, dip into Hideaway Park Brewery, opened five years ago by corporate refugees from Denver. Brewer Andy Brumenschenkel and his team are always trying new things, so you never know just what will be on tap here: choo choo chai milk stout? Oak-aged vanilla IPA? Or perhaps an experimental IPA? For the best of all possible worlds, you should probably just try a flight of six beers. And while Hideaway Park doesn't serve food, you're welcome to bring your own in. According to Brumenschenkel: "Nothing goes with a beer better than a hot dog from Fraser Valley Hot Dog."
Walking past Rudi's Deli in downtown Winter Park, you might notice the faint, sweet scent of fermenting grains. Follow your nose down the steps nearby, and you'll arrive at Idlewild Spirits Distillery. Opened in 2016, the distillery turns out whiskey, bourbon, gin, rum, and vodka, all available by the taste, by the glass, and by the cocktail. Thanks to the picture window on the tasting room's back wall, you can see the big copper stills where it all happens. You can't go wrong with the Hibiscus Gin & Tonic, which melds the lightly floral gin with house-made tonic water.
Where to Shop Near Winter Park
At the B. Jammin'/Imaginations store in downtown Winter Park, a sign above the baseball caps reads: "Show us your bald spot…we'll take $1 off any hat." It's not the only indication that the lively shop doesn't take itself too seriously. There are also the faux palm trees toward the back, jutting up from the swimsuit-and-flip flop section. And, of course, there are the plush, neon-hued snakes, which lounge lazily atop store shelves. Imaginations, the toy shop portion of the store, is overflowing with rainy day activities, ranging from classic games (Candyland, Scrabble) to delightful DIY pursuits (a snowball press, a crystal growing kit).
Years ago, when you drove into Fraser from Winter Park, you would pass a highway sign reading: "LEAVING PLANET EARTH." Though the placard has come down, you can still experience a full dose of Fraser's wonderful weirdness at Fraser Thrift. Housed in the 1904 Fraser Mercantile Building—once the purveyor of hardware and cloth, and more recently of specialty fireplaces—the shop is full of treasures. Stroll the aisles, and you might stumble on a one-piece DayGlo ski suit, a VHS copy of Top Gun, or a Batman-shaped cake pan. Be sure to pop into the back area to check out the watercolors and black-and-white prints in owner Elizabeth Kurtak's art gallery.
Named for two prominent peaks along the nearby Continental Divide, James and Parry's is stocked with enough gear to supply a trip across the Rocky Mountains…and then some. Located in the Winter Park Village, the shop has the tactical and practical (headlamps, carabiners, snow pants), along with those delightful you-never-know-when-you'll-need-it sort of items (silver cufflinks, pinot noir-scented candles, socks adorned with rainbow-riding unicorns). Don't miss the Colorado food corner, featuring chili from Parker, mustard from Paonia, and jars of Outlaw Honey, made just down the road by local Grand County bees.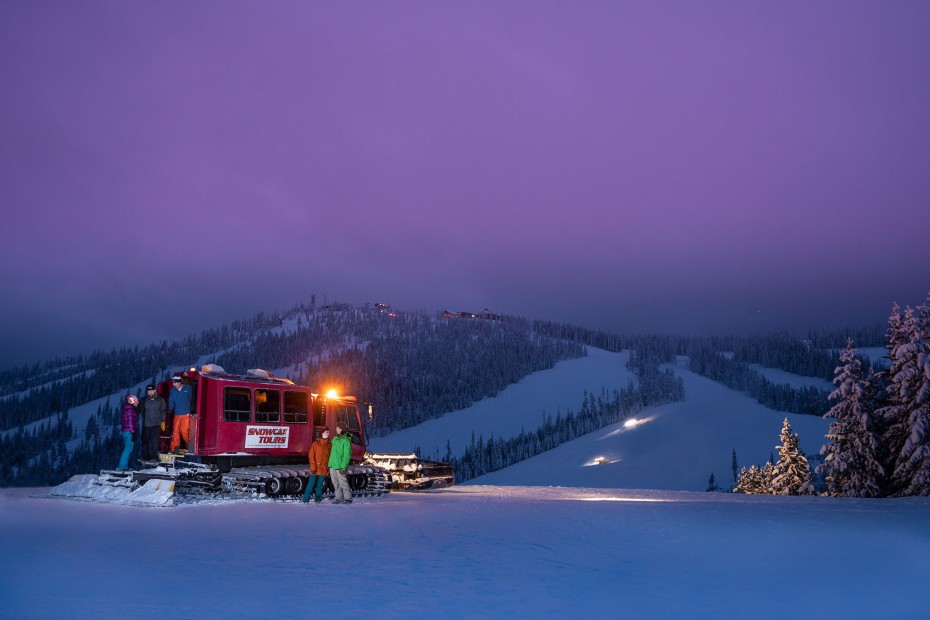 Fun Things to do Around Winter Park
Just picture it: You're nestled under wool blankets, gliding across soft snow, the wind singing quietly at your back. Now, imagine that your sleigh ride also includes a visit with friendly horses and once it's over, hot cider in the barn's cozy sitting area. That's the sleigh ride playbook at Devil's Thumb Ranch, a working ranch near Tabernash. On the horse-drawn rides, ranch hands take passengers into a large pasture where the property's 30 horses live. Along the way, the horse handlers often share tales of their charges, such as Oatie, the troublemaking Grand Canyon mule who retired here, and Butter, the sweet-natured cow who is convinced he is a horse.
Want to go flying down a slippery slope without putting on skis? The folks at Fraser Tubing Hill have you covered. While tubing spots have recently proliferated in and around Winter Park, nothing beats this OG spot. Founded by an area rancher in 1971, the historic Fraser Tubing Hill is said to be the first paid tubing hill in America. And even after four decades, they've still got it. The tubes are specially made and, on a cold day, you can hit 35 mph as you're sliding down the hill. Once you're ready to go again, an attendant will hook you and your tube onto the rope tow, so you can ride back up to the summit and fly down the slope again.
On a group trip, it can be hard to find an activity that pleases everyone. Fortunately, the snowcat tour on Winter Park mountain really does have something for everyone. Thrill seekers will relish riding in the heaving, multiton Piston Bully as it pulls its way straight up (and down) the mountain slopes, and they will be the first to volunteer to sit up front with the driver as co-pilot. Meanwhile, ski nerds can geek out, as the snowcat driver explains what a snow dragon is, how fake snow is made, and where the ski runs in the Alice in Wonderland Valley got their names. And for the scenery lovers? The two hour-long ride provides jaw-dropping views of the mountain, the town, and the entire Continental Divide.