Perhaps best known as the snow-covered setting for the annual celebrity-stocked Sundance Film Festival (January 24-February 3, 2019), Park City, Utah, located just over 30 miles from Salt Lake City, is one the top ski areas in the West. But there's plenty of appeal even for those who can't—or simply don't want to—hit the slopes.
Here are five no-skis-necessary reasons to visit Park City this winter. 
Shopping and Strolling on Historic Main Street
Park City has a rich history, from its days as a booming mining town in the late 1800s to its modern-day status as an upscale year-round resort. See some of that history on display at the Park City Museum, which features exhibits on the area's early settlement, life as a miner, and the city's transformation from rough-and-tumble mining town to posh vacation destination. Today, more than 60 of downtown's original Victorian buildings still stand, and there are more than 50 restaurants and 100 retail stores selling everything from artisanal olive oil to fine art and more. The free Main Street Trolley runs up and down its dozen blocks every day from 10 a.m. until 11 p.m.
Hot Springs and Heavenly Spas
A half-dozen hot springs simmer in the greater Salt Lake area, all within a one- to two-hour drive from Park City. Among the easiest to reach is the Homestead Crater, a 65-foot-deep geothermal pool encased in a beehive-shaped limestone rock dome, located about 30 minutes from Park City. Its mineral water remains a consistently toasty 90 to 96 degrees, which means visitors can soak all year round. Standup paddleboard yoga, snorkeling, and scuba diving are hairpin activities, as is simply floating in the warm water as snow flurries fall down from the opening above. Entrance fees start at $13 and reservations are required.
Another option is Fifth Water Hot Springs (also known as Diamond Fork Hot Springs), which requires a bit of a trek, but rewards with multiple natural pools and stunning canyon views. To get there, follow I-5 south past Provo to the town of Spanish Fork where you'll detour onto US-6 East and then Highway 89 (Diamond Fork Road). Once at the trailhead, about 10 miles down the road next to the Diamond Fork Campground, it's a 2.5-mile hike, which doubles to 5 miles when there's enough snow on the road that the U.S. Forest Service closes the gate. (Call 801-798-3571 for current road conditions.)
Those not into roughing it don't have to venture out of town to have a similar experience thanks to Park City's many luxurious spas. For example, the spa at the Stein Eriksen Lodge has a sauna, steam room, Jacuzzi, and cold plunge pool for an experience that's equal parts relaxing and invigorating.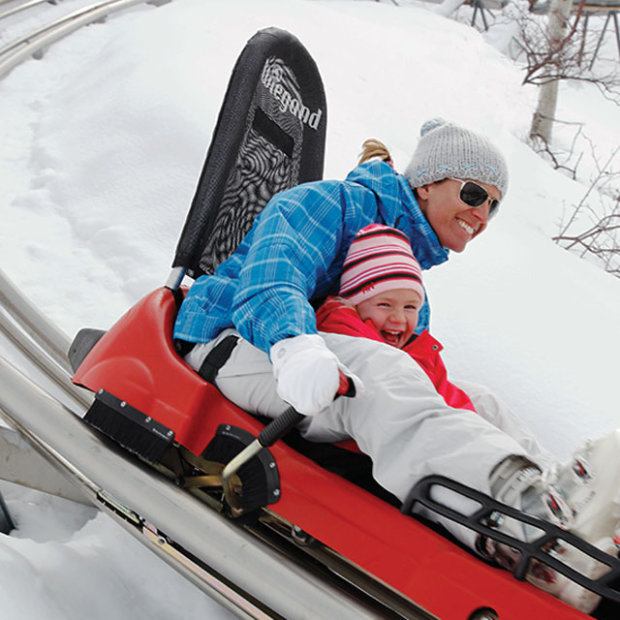 Outdoor Adventures That Don't Require Skis
If it's just the idea of strapping two thin boards to your feet that makes you avoid the slopes, there are other ways to enjoy the rush of flying down a mountain. Park City Mountain Resort offers an Alpine Coaster—Utah's longest—which takes riders along a mile of hairpin turns on a tree-lined elevated track at speeds of up to 30 mph.
At the Utah Olympic Park—a year-round U.S. Olympic training site which was built for the 2002 Olympics—visitors can take a thrilling 60 mph Bobsled ride down the original Olympic track.
The World's Only Ski-In Distillery
In 2006, High West Distillery opened as Utah's first legal distillery since 1870; a few years later the High West Saloon opened in Park City in an old stable and adjacent 1907 house just off Main Street. Known as the world's only ski-in distillery thanks to its proximity to the Town Lift—a chairlift that whisks skiers from the center of town up the mountain—High West's menu is a post-slopes hit. Folks flock for the carefully crafted cocktails (made with the distillery's own bourbon, rye, and vodka) and Western mountain cuisine such as bison burgers and tomahawk pork chops served with cheesy grits. Spirit flights and half-ounce taster pours are also available, and tours are offered daily at 1 p.m. and 2:30 p.m., with additional tours Friday–Sunday at 11 a.m. Bonus points for the cozy, outdoor fireplace.
Après All Day
There's no rule that says you have to ski in order to indulge in the après-ski ritual of a few drinks and a hearty meal with friends after a long day on the mountain, and Park City does après particularly well.
On Main Street, Wasatch Brewery serves its cheekily named beers such as Polygamy Porter and First One Down Winter Warmer Ale alongside classic pub grub: Think tater tots, burgers, and mac n' cheese. On the more upscale end of the spectrum, Riverhorse on Main (Utah's first restaurant to win a DiRōNA Award from the Distinguished Restaurants of North America) serves refined, seasonally influenced dishes such as local rainbow trout with a pistachio crust or a trio of wild game—buffalo, venison, and elk—with port reduction, wild huckleberry, and sweet potato.
And up in the mountains at the Stein Eriksen Lodge, the Troll Hallen Lounge, offers roaring fireplaces, a mountain view, and a Nordic-influenced menu of bone-warming, hearty dishes like whiskey-spiced onion soup, Swedish meatballs, and a soft pretzel with caraway mustard.