Winter's most coveted destinations are touted for good reasons: access to glorious skiing and other snow-centered activities, breathtaking views of frosted trees and mountaintops, and cozy dining and shopping. But what if you could find those perks and more in a place that's a little quieter? These are some of the best lesser-visited destinations to enjoy during the winter months.
Instead of Reno: Ely, Nevada
On the opposite side of the state from Reno's hustle and bustle, Ely is a winter hamlet. Temperatures hover in the 40s but can drop below freezing, and the average 48-inches of snowfall is put to good use during the Fire and Ice Winter Festival, an annual three-day snow sculpture festival featuring artists and competitions. Look for snowmobiling and snowshoe hiking at Cave Lake State Park, which is also available for cross-country skiing and ice skating. Experienced visitors with their own snowmobiles can access backcountry skiing and snowboarding in untouched powder fields.
For a slower-paced alternative, try ice fishing for brown trout or largemouth bass on the town's frozen-over lakes. Illipah Reservoir covers 70 surface acres and receives the most ice each year, while Comins Lake boasts some of the thickest ice in the area because it has an average depth of just 8 feet across its 410 acres. Before bundling up and lugging over your fishing tackle, check with Nevada Department of Wildlife's thorough fishing reports on conditions and expectations.
After a full day outside, warm up over a steaming cup of tea at Taproot Coffee and refuel at The Cellhouse Steakhouse, where you can dine in a unique Wild West atmosphere.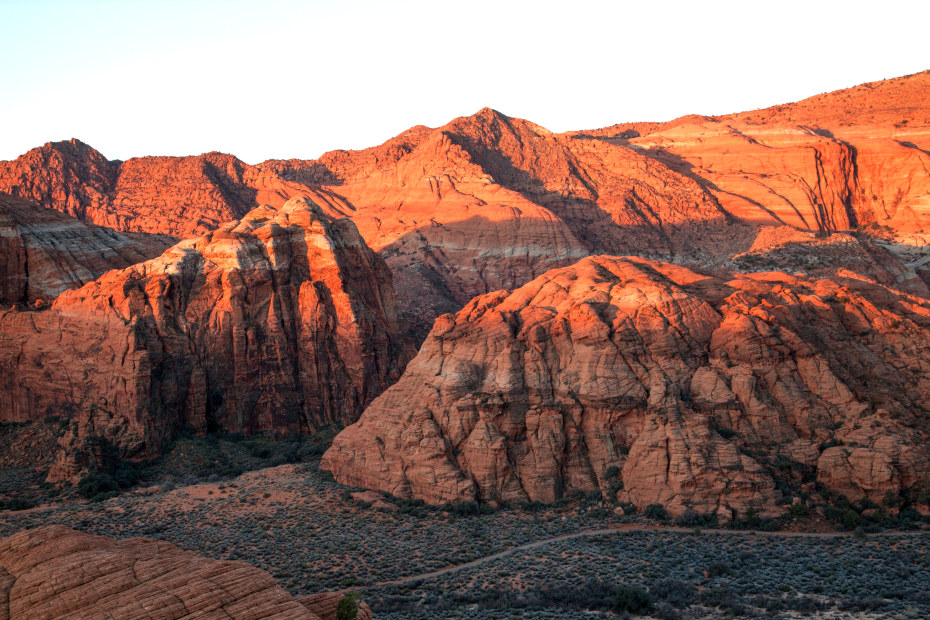 Instead of Park City: St. George, Utah
Bunker down far away from the busy slopes in Park City and the greater Salt Lake City area in St. George's red desert expanse. While there's lots to do in town, St. George is also the perfect basecamp for more outdoor adventures just a short drive away. Go day or night skiing at Brian Head Resort, cross-country ski or snowshoe in Pine Valley, or explore slot canyons by hiking to Kanarra Falls.
To the east, Zion National Park offers quiet respite, and the popular Narrows in Zion Canyon remains open (although you'll need to rent a drysuit and other gear to stay warm, the water in the canyon can drop into the 30s). Snow Canyon State Park is a 20-minute drive from downtown, and you can take a scenic drive or hike among the uniquely-shaped lava flows and sandstone formations. Just about an hour southeast, Coral Sand Dunes State Park offers sandboard rentals and—as promised—glows pink, especially at sunset.
Back in town, visit the St. George Children's Museum for interactive activities for the whole family, golf at one of the many luxury resorts such as the Sunbrook Golf Club, or explore the cafes, breweries, pastry shops, and interesting eateries. Try the salad topped with grass-fed steak and avocado at Xetava Gardens Cafe, or indulge in layered buttermilk biscuits at Wood Ash Rye.
Smart Tip: Don't be fooled by the desert. The average temperature here in winter doesn't get above 60, so you'll still want to pack your jacket and hat.
Instead of Tahoe: Pinecrest, Northern California
When it takes hours to navigate traffic and crowds, the allure of skiing fades. But in Tuolumne County's Pinecrest, you can find less crowded runs at Dodge Ridge Mountain Resort, the closest ski hill to the Bay Area and Central Valley. Spend a whole day or a weekend exploring the 67 trails, 10 lifts, and 1,600 vertical feet. Rates for daily lift ticket and season passes are nearly guaranteed to be less expensive than any of the resorts in Tahoe. On-site equipment rentals, lockers, and dining take care of all your needs. On your way back, grab a pizza down the road at Mia's for a filling dinner. 
One of the more underrated benefits of this quaint town is the accessibility for winter photography and stunning scenery. Pinecrest Lake, a 300-acre body of water with a 4-mile perimeter hiking trail that's navigable even with snow, ices over in the winter and offers a dazzling backdrop for landscape shots, family portraits, and wildlife spotting. Don't forget to pack your camera.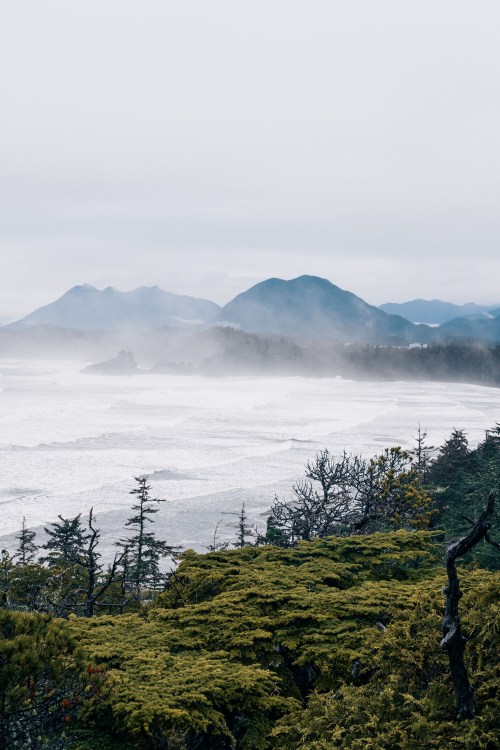 Instead of Banff, British Columbia: Vancouver Island
Many places on Vancouver Island shut down in the winter because it's the off-season for beach towns. But Tofino and Ucluelet welcome visitors for a whole season's worth of storm-watching over the Pacific Ocean. Peek at the crashing waves through the windows of your accommodation, walk along the shore of Chesterman Beach or Cox Bay Beach in a raincoat, or join the ocean's chaos from a surfboard (experts only).
Even if it's rainy, it's worth venturing into Pacific Rim National Park Reserve, which spans 197 square miles along the churning coastline. Near Long Beach, you'll find the trailhead for the Rainforest Trail, a gravel and boardwalk loop through a forest of cedar and hemlock trees dripping with moss. A little farther south, the Wild Pacific Trail in Ucluelet leads to rocky bluffs, lighthouses, and ancient forests. When you're done adventuring, the Tacofino taco truck is a local hotspot for fast and casual dining, while Shelter Restaurant, also in Tofino, serves bistro fare in an upscale space.
Smart Tip: On your way into either town, stop at MacMillan Provincial Park two hours to the east, where you can easily access the old-growth forests the island is famous for.
Instead of Mammoth Lakes: Big Bear, Southern California
Surf in the morning, ski in the afternoon. Within a morning's drive of Los Angeles, Big Bear is more crowded than the desert in winter, but it's more of a locals' mountain than Mammoth Lakes or even Tahoe. At 8,200 feet, Big Bear Mountain Resort has learner slopes and terrain parks for all levels of skiers and snowboarders. There's even designated spots for tubing at the Alpine Slide, Big Bear Snow Play, and Snow Summit.
In the surrounding San Bernardino National Forest, snowshoers wear down pathways along the expansive network of trails. Follow in their footsteps or hire a guide through the Big Bear Discovery Center, an educational center with interpretive programs and special events. Just make sure to grab an Adventure Pass at the Visitor Center to park at the trailheads.