Southern Surf Town: Encinitas, CA
Thanks to Baja-blue water and golden bluffs, the coastline of Encinitas, 26 miles north of San Diego, conjures Mexico's best beaches. So do the tacos.
"Living here is about creating a life that you absolutely love," says Lauren Duke, a yoga instructor with a surfboard strapped to her Volkswagen. To get a taste, drop in at her studio, Yoga Bergamot, then savor a sandwich under a Big Lebowski silk screen at Solace & the Moonlight Lounge, and head for the sand.
Some 200 steps descend a cliff from Swami's Park to a beach known for its surf break and tide pools. At the gently sloping Moonlight State Beach, families buzz around the snack bar, playground, and water as watchful lifeguards look on. Close to the beach, Juanita's Taco Shop offers a fresh take on a corn tortilla, crispy fish, lettuce, and crema. Surf. Eat. Repeat.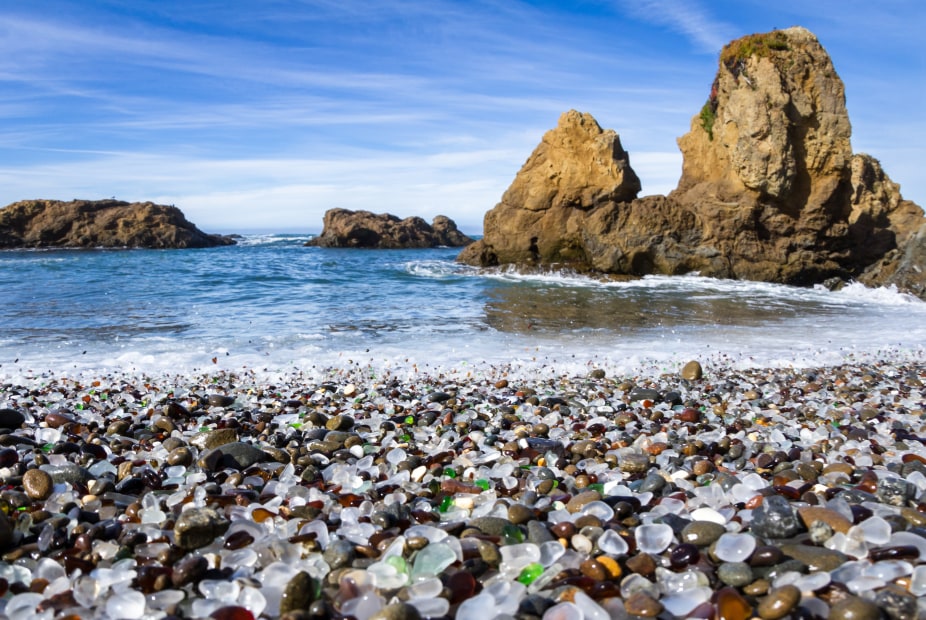 Up-and-Comer: Fort Bragg, CA
The Fort Bragg Mill closed in 2002, and since then the town has been busy reinventing itself, starting with the lumber mill's former company store. Trimmed in redwood, the century-old building now bustles with local businesses, from the At One Yoga studio to the Fort Bragg Cyclery. Wheel a lightweight hybrid out the door to pedal to Pudding Creek Trestle—a spindly span on the original log-hauling road, now a paved path to MacKerricher State Park that passes cliffs and sandy stretches.
For contrasting oceanscapes, visit Glass Beach, where waves have worn glass and porcelain fragments from a former dump into a field of glittering, smooth pebbles. Or wander footpaths at the Mendocino Coast Botanical Gardens, where heritage roses scent the air and the teal Pacific seems almost tropical.
Back in town, the Bookstore & Vinyl Cafe's owners have expanded the 30-year-old institution, adding an upstairs record shop and listening room. When you're done browsing, head over to Piaci Pub & Pizzeria for a New Yorker, a pleasantly salty, thin-crust pepperoni pie, and barstool banter within view of the old mill.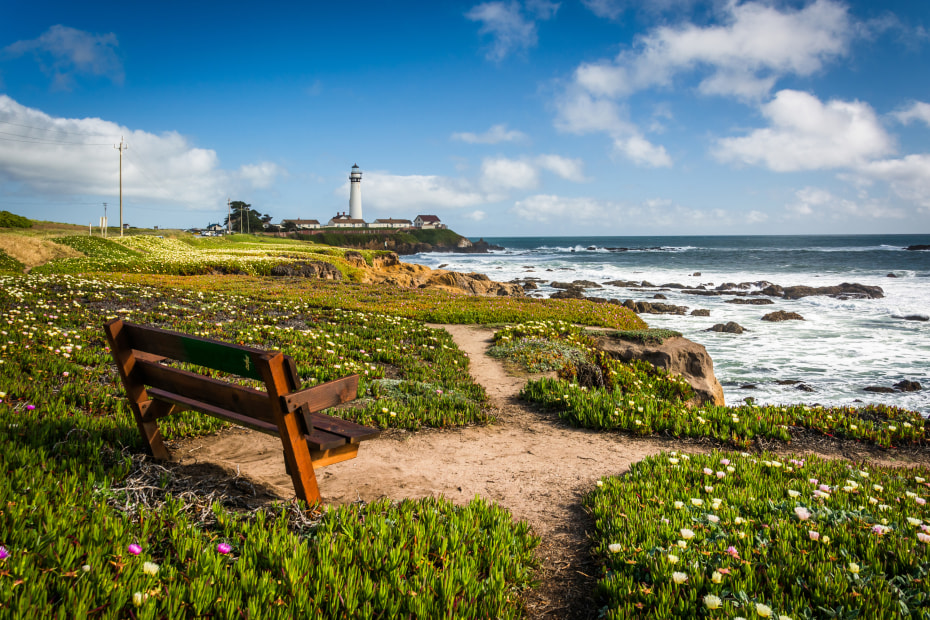 Farm-Fresh Detour: Pescadero, CA
So captivating are the sandy inlet beaches, flat-topped bluffs, scruffy sea stacks, and roiling surf along the beautiful coast of California's San Mateo County that travelers could be forgiven for missing the petite inland town of Pescadero. Two miles from the ocean and an hour south of San Francisco, the village's eateries serve up the best produce of the region's farms.
Hungry visitors can begin a food-themed foray right at the gas station mini-mart. Inside, Mercado y Taqueria de Amigos sells juicy charred, tangy pork al pastor and fresh, sweet carrot-orange juice. Just up the block, the Arcangeli Grocery Company bakes steaming loaves of garlic-artichoke bread every 10 minutes to keep up with the demand.
Get even closer to your food's source on a walking tour of Harley Farms Goat Dairy, an immersive look at cheese making and goat raising complete with free tastes of honey-lavender chèvre. July is strawberry season, when visitors can pick and pay by the pound at Swanton Berry Farm. To keep from devouring your haul on the drive home, stop into Duarte's (say DU-arts) Tavern for a bowl of green chile soup. Some say it's best savored at Pescadero State Beach, with a view of the setting sun. Or go straight for a slice of the ollalIieberry or strawberry at Pie Ranch.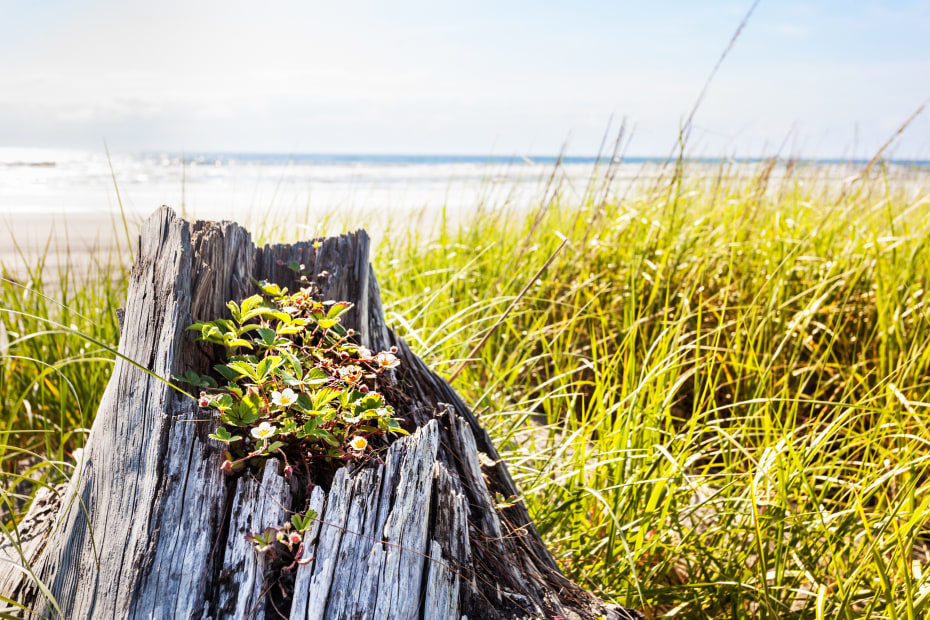 Place of Discovery: Long Beach, WA
A frying pan that's nine feet six inches wide is no joke. The original, used in a 1941 clambake, was greased by women skating on slabs of butter. A replica now stands in the center of Long Beach as an object of civic pride and a reminder of past culinary feats.
Just north of the Columbia River, with the Pacific on one side and shellfish-rich Willapa Bay on the other, the town sits on a peninsula that takes seafood seriously. Ramble north to Oysterville, where Kumamoto oysters and Manila and razor clams are harvested daily at Oysterville Sea Farms. 
To better understand the geographical singularity of this near-island that lies like a finger beside the coast, rent a bike from Skookum Surf Co. and explore the eight-mile Discovery Trail. Traversing grassy dunes, you'll pass a gray whale skeleton and markers with excerpts from Lewis and Clark's first descriptions of the Pacific before you enter the forested reaches of Cape Disappointment State Park. Take the Bell's View Interpretive Trail past ferns and spruces to a deck that overlooks the full 28-mile-long ocean beach. In August, high fliers provide colorful drama during the Washington State International Kite Festival. Watch the experts or launch your own.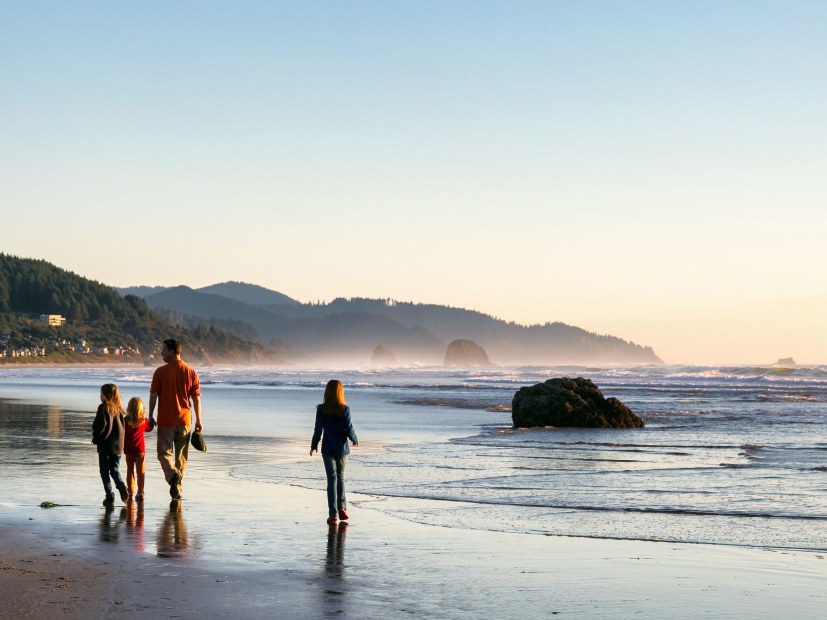 Family Retreat: Pacific City, OR
Arcing south from Cape Kiwanda, Pacific City's shore is a sandy arm hugging the town's trademark sea stack, Haystack Rock. Surf conditions here, two hours west of Portland, lure beginners, and Moment Surf Company (at the cape) has wet suits and boards. "There is a sand break that's perfect for learning on," explains Travis Ellis, who owned the now closed Haystack Coffee Roasters, near the southern beach access point. 
On solid ground, Bob Straub State Park is a day-hike adventure, with trails through the dunes that cut between river and ocean. Nearby, the Nestucca Bay National Wildlife Refuge offers a single paved path to a viewing platform for a chance to spy bald eagles, falcons, and pelicans.
On the cape, the Pelican Brewing serves fresh-caught fish with chips and a spectrum of specialty brews on the patio. Folks also line up at Ben & Jeff 's Burgers and Tacos for bacon cheeseburgers and strawberry slushies. Welcome to summer in the city.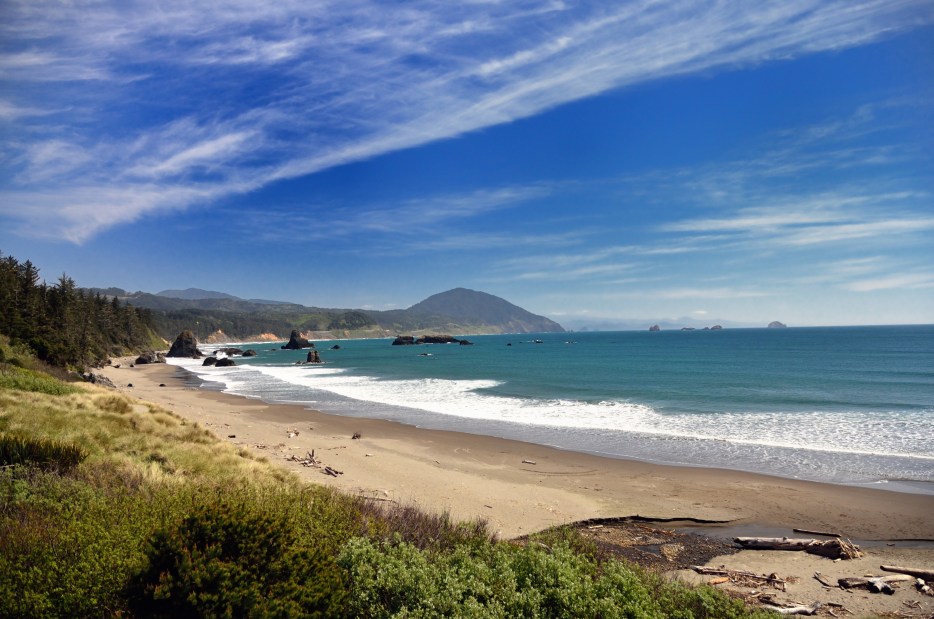 Quiet Retreat: Port Orford, OR
At Battle Rock Beach, a breathtaking stretch of cliffs, conifers, and rock formations make a perfect sampler of the raw beauty of Oregon's southern coast. With the silhouette of Humbug Mountain as a backdrop, surfers persevere in frothy waves while beachcombers collect bits of agate. In Port Orford you can comb through the beadwork, seaweed jewelry, and contemporary art at the Freshwater Gallery.
Trails cross wooded slopes and windswept outcroppings at Port Orford Heads State Park. A view from an old lookout takes in Cape Blanco Lighthouse, perched on the westernmost point in the state. From April through October, get a sweeping view of the coast by climbing 63 steps of the lighthouse to the watch room and the second-order Fresnel lens, which was installed in 1936.
You can fish and swim in the gin-clear Elk River and kayak on Garrison Lake, but at day's end the best spot in town is a table at Redfish—a sleek restaurant and bar overlooking the sand and sunset.