Blessed with huge swaths of public parkland, farms, forests, and ranches, the San Mateo County coastline packs a wallop of natural beauty. Dramatic bluffs and pristine beaches dot roughly 50 miles of Highway 1, along with heart-stopping views, fascinating wildlife, and tide pools brimming with tiny wonders of the sea.
Fitzgerald Marine Reserve, Moss Beach
The extensive tide pools at Fitzgerald Marine Reserve rank among Northern California's most beautiful. Located in Moss Beach, seven miles north of Half Moon Bay, this rocky shoreline teems with intertidal life—from spiny purple urchins and undulating green anemones, to sea stars, chitons, and scuttling crabs. Check tide tables before visiting: Pools are visible only when low tide is one foot or less.
Devil's Slide Trail, Between Pacifica and Montara
For mesmerizing, edge-of-the-world vistas, head to Devil's Slide Trail. Perched high above an endless ocean just south of Pacifica, the 1.3 miles of paved, multi-use trail with overlooks and observation scopes were part of Highway 1 before two bypass tunnels opened. On clear days, the views extend north to Mt. Tamalpais and Point Reyes. Note: The small parking lots at either end of the tunnels fill quickly.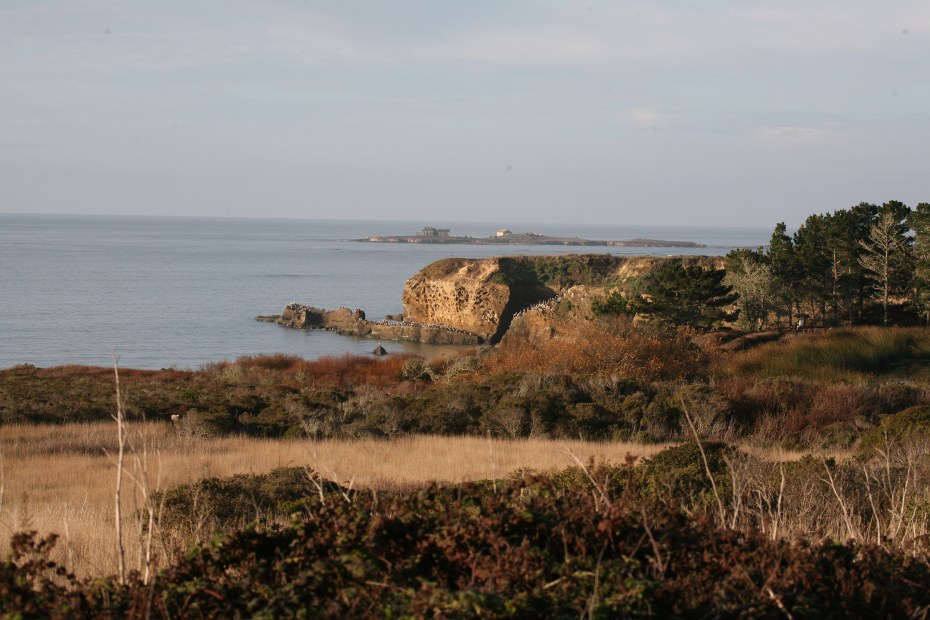 Año Nuevo State Park, Pescadero
Año Nuevo State Park is famed for its elephant seals, with upwards of 10,000 residing here during the height of the December–March breeding season. But the gorgeous beaches, dunes, and coastal marshes of this 4,209-acre park, about 20 miles north of Santa Cruz, are also a major bird habitat whose resident and migratory species range from imposing ospreys to the pert little purple finch.
Pomponio State Beach, South of Half Moon Bay
A beachcomber's dream about 20 minutes south of Half Moon Bay, the driftwood-strewn sands of Pomponio State Beach are bracketed by roaring surf and sandstone bluffs topping out at 190 feet high. At low tide, you can stroll for miles to the north or south. More of a sedentary type? Plop down on the soft sand for a picnic by the lagoon at the mouth of Pomponio Creek.
Cowell-Purisima Trail, Half Moon Bay
Skirting farm fields that might be planted in pumpkins or Brussels sprouts, the Cowell-Purisima Trail offers a stunning ramble atop coastal bluffs. Pelicans glide offshore at eye-level, and sleek harbor seals frolic on wildlife reserve beaches (closed to the public). The northern trailhead is at the parking lot for Cowell Ranch Beach off Highway 1, about three miles south of Half Moon Bay.