Harvest is high time to visit the coastal community of Half Moon Bay. During the second weekend of October, the town rallies around the annual, ever popular Half Moon Bay Art and Pumpkin Festival*, a harvest homage that plays out as one big street fair along Main Street downtown. But the area locals call "the Coastside" offers a cornucopia of ways to embrace fall all season long.
There are a handful of bakeries around town, but Half Moon Bay Bakery, which has been open since 1908, is one of the best. During October the bakery is renowned for its pumpkin goodies: ultra-moist pumpkin bread, super-thick pumpkin pie, and even sometimes pumpkin cookies. Other worthy treats include custard-filled donuts, crescent moon-shaped chocolate chip cookies, and focaccia bread topped with artichoke and pesto.
House-made ravioli might come stuffed with butternut squash and mascarpone at Pasta Moon, where the Italian offerings showcase local produce, fish, and goat cheese.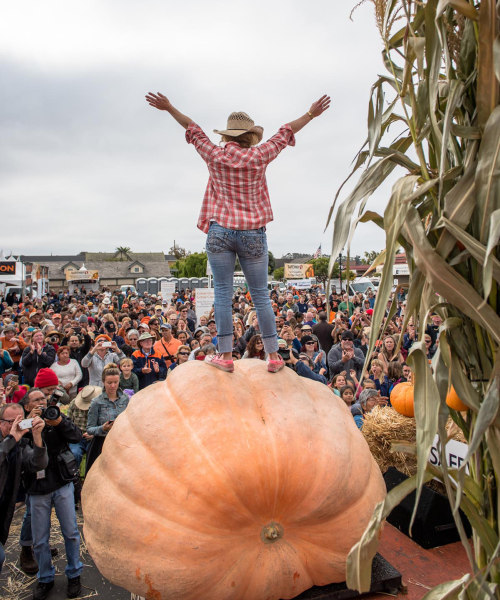 While the formal Pumpkin Festival is held downtown, there's always Farmer John's Pumpkin Farm less than a mile north of town on Highway 1 for anyone looking for a gourd time. John Muller and his wife Eda raise dozens of different varieties of the squash, including Atlantic Giants, which can grow up to 500 pounds apiece. From late-September through Halloween, the Mullers also put together a harvest village complete with a teepee, a corn room, haystacks, and tractor rides.
The protected waters of Pillar Point Harbor are perfect for paddling, and Half Moon Bay Kayak Company offers guided tours and a variety of kayak and stand-up paddle board rentals by the hour or day. Out on the water, watch out for pelicans dive-bombing for anchovies or California sea lions foraging for larger snacks. If you're lucky, you might even spot a porpoise. All rentals include paddles, paddle jackets, wetsuits, and personal flotation devices. The outfitter also sells dry bags to keep cell phones from taking on water.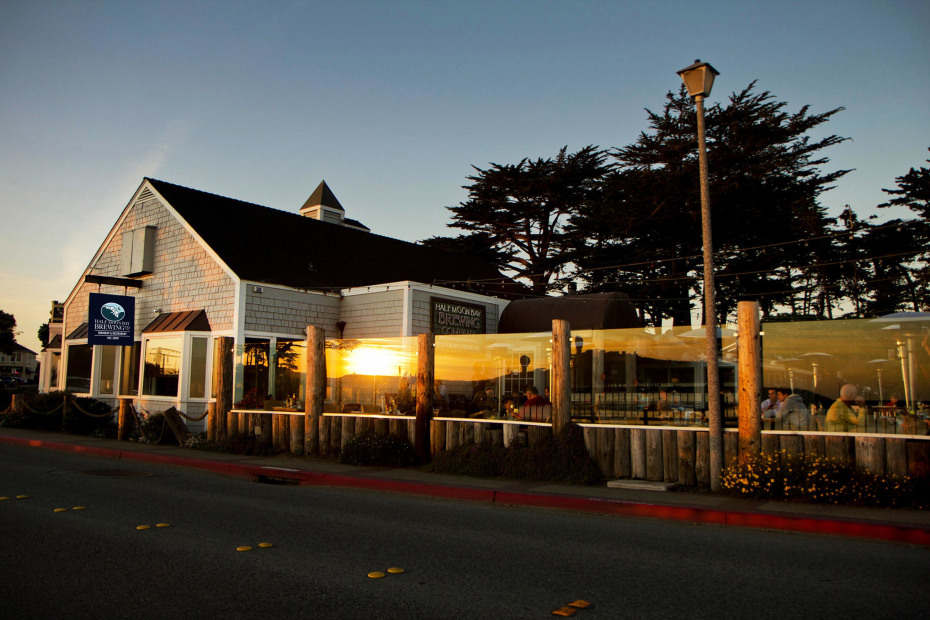 Pillar Point is a great spot for another activity: An epic pub crawl. Start with a Bloody Mary at Ketch Joanne Restaurant and Harbor Bar, the closest bar to the marina and (not surprisingly) a favorite among fishermen. Next hit Hop Dogma Brewing Company inside Harbor Village mall and try one of 20 beers on tap, such as a special jalepeño pepper pilsner. From there walk to Old Princeton Landing, where the patio is a great spot to cocktail-and-cornhole while listening to live music and munching on grilled artichokes from the garden and calamari dipped in sriracha aioli. Wrap up the crawl at Half Moon Bay Brewing Company, where you can throw back a special Pumpkin Harvest Ale and kick up your heels on a fire pit as you watch the sun set over Mavericks Beach.
Just north of Half Moon Bay, the tiny town of Moss Beach is home to one of the best tide pooling spots in the world: Fitzgerald Marine Reserve. At low tide, the rocky reefs that line the 3-mile shoreline reveal a world of wonder featuring colorful sea stars, chitons, anemones, and more. No matter how cute those hermit crabs might look, it's important to remember the golden rule of tide pools: Look but never touch.
*Note: Traffic can be heavy during the Pumpkin Festival weekend. Leave early and expect delays along Highway 1 and CA-92 in and out of Half Moon Bay.