Daffodils in pots and acres of tulips. Bright purple pansies and sweet-scented lilacs. Cherry tree blossoms that flutter like wings. These are a few of our favorite spring things! Find them blooming at a gorgeous garden near you.
Filoli, Woodside, California
Once an ornate summer home for a wealthy Gold Country family, Filoli is a scenic respite from the hustle of Silicon Valley. Wander the manicured grounds in March to see spring bulbs in bloom, which are joined by fragrant lilacs, wisteria, and azaleas in April. In May, find lavender and towering larkspur and delphinium.
Idaho Botanical Garden, Boise, Idaho
These 15 acres include a dozen specialized gardens for exploration. Pause for quiet contemplation in the Meditation Garden, or partake in a history lesson in the Lewis & Clark Native Plant Garden, featuring more than a hundred plant species collected during the monumental expedition.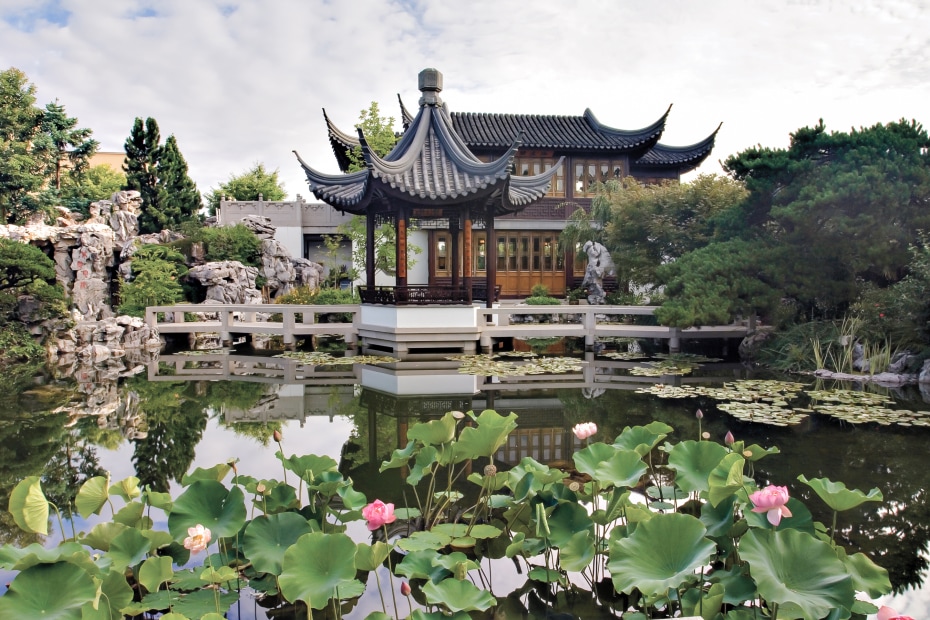 Lan Su Chinese Garden, Portland, Oregon
Trees, shrubs, and perennials native to China, including fragrant bursts of gardenias and a collection of delicate orchids, wow visitors to Lan Su. The elegant teahouse offers a unique way to enjoy the garden's splendors.
Oregon Garden, Silverton, Oregon
At this verdant, 80-acre collection of unique gardens, spring season officially begins in late March. Kids will delight in the Children's Garden with its fantastical Hobbit House, while adults might discover their own magic at the Amazing Water Garden.
Heritage Rose Garden, San Jose, California
Discover 2,600 rose varieties, including an extensive collection of antique roses, at the Heritage Rose Garden in San Jose. Download a detailed catalog to navigate the garden and learn more about specific varieties. And don't forget to stop for a sniff now and then!
Red Butte Garden, Salt Lake City, Utah
The Red Butte Garden offers more than a few classes, lectures, and events for flora lovers of all ages. But you don't need a lesson to appreciate the springtime Bulbs & Blooms event (mid-March through early May), when nearly a half million bulbs, including daffodils and reticulated iris, burst forth into vibrant blooms.
Rogerson Clematis Garden, West Linn, Oregon
Surrounding a historic farmhouse, two acres of displays showcase nearly 1,000 species or cultivated varieties of clematis at the Rogerson Clematis Garden, a 30-minute drive from Portland.
Schreiner's Iris Gardens, Salem, Oregon
Every spring, huge flower beds at Schreiner's Iris Gardens burst into bloom with more than 1,000 shades of deep blue, intense purple, bright yellow, and pastel pink. Some types are even fragrant, a rare quality in irises. Pack a picnic and stroll 10 acres of display gardens, free and open to the public year-round. In the gift shop, visitors can choose among iris varieties— from Aardvark Antickz to Zinc Pink—and bring home bulbs (called rhizomes) or fresh-cut bouquets. —Mary Stutzman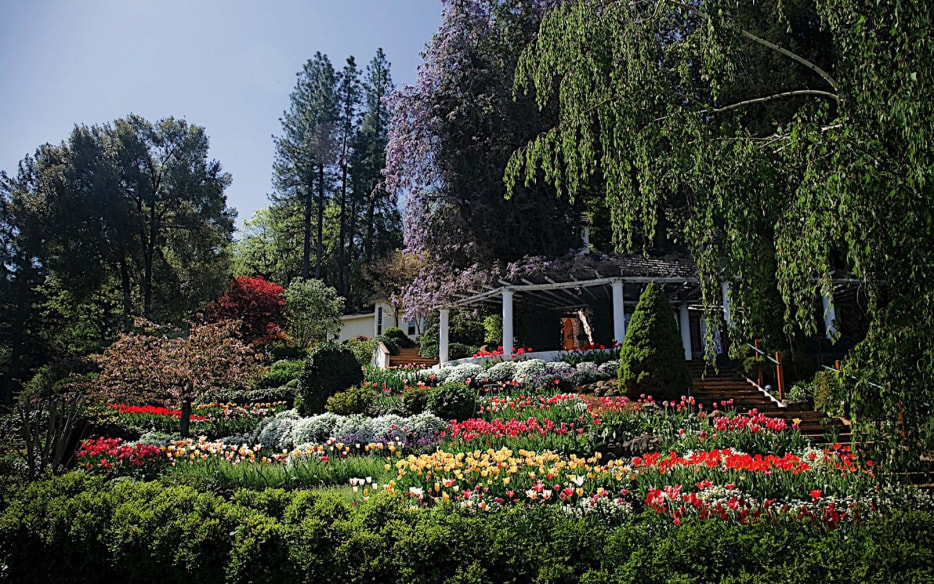 Crystal Hermitage Gardens, Nevada City, California
Bask in the transient glory of multi-hued tulips—around 100 different Dutch varieties—at Crystal Hermitage Gardens' Springtime at Ananda in Nevada City. The celebration lasts all April, but visitors during summer months won't be disappointed. In July and August, see begonias, impatiens, and geraniums while wandering the grounds, which overlook Tahoe National Forest.
Russian River Rose Company, Healdsburg, California
Discover more than 650 different varieties of roses at the Russian River Rose Company in Healdsburg, California. The idyllic setting includes an adjoining nursery, so green thumbs can experience the splendor—and the romantic fragrances—in their own yards. Both the garden and nursery are open by appointment only.
Springs Preserve, Las Vegas, Nevada
Native and adapted desert plants get their due in the botanical garden at Springs Preserve. Eight acres showcase more than 1,200 species, including a collection of Mojave Desert cacti and succulents. The natural garden offers nearly four miles of hiking trails among 110 acres of native habitat.
Wilbur D. May Arboretum & Botanical Garden, Reno, Nevada
Located in Washoe County, Nevada, between the Sierra Nevada and Great Basin Desert, this garden highlights the impressive adaptability of plants native to the high desert. Tickets must be purchased in advance online.
San Francisco Botanical Gardens, San Francisco, California
The San Francisco Botanical Garden may not have the same buzz as the nearby de Young Museum or California Academy of Sciences, but the grounds in Golden Gate Park are no doubt a destination-worthy sight. Escape the city while you learn about plants from the tropical forests of Central and South America and Southeast Asia.
Mendocino Coast Botanical Gardens, Fort Bragg, California
Since opening in the mid-1960s, the Mendocino Coast Botanical Gardens has showcased the popular, but not so easy to grow, rhododendron. The gardens' outpost along the foggy Northern California coastline and its acidic soil courtesy of the resident redwoods, allow the flower to thrive. Visit by April to witness rhododendrons in full bloom. In summer months, see colorful dahlias and sweeping swaths of heaths and heathers. Advanced tickets are required.
Adelman Peony Garden, Salem, Oregon
Picnic among the peonies at one of the flower's lead producers. Luscious multi-color blooms beckon from both the production fields and the two-acre display garden when they're open from May 1 to June 15.
Na 'Aina Kai Botanical Gardens
The property at Na 'Aina Kai Botanical Gardens includes 13 themed gardens, a plantation of 60,000 hardwood trees, a white sand beach, trails upon trails, and an impressive collection of bronze sculptures. Kids get their own garden, presided over by a 16-foot-tall Jack and the Beanstalk sculpture. To explore the gardens, you must make a reservation and join a guided tour, on foot or by cart, which can take anywhere from 90 minutes to five hours. —Carolyn Jung