When Michael Bonfante opened what was then called Bonfante Gardens in 2001, he was preserving work begun much earlier. Axel Erlandson's famous "circus trees," which he started creating with complex grafting techniques around 1925, are today only one attraction in what's now known as Gilroy Gardens, though they're every bit as fantastic as they were when Erlandson first grew them in the early 20th century.
While Gilroy Gardens is replete with informational kiosks and educational guided garden tours, Bonfante says, "We don't ever want kids to think this is a museum or an arboretum, because those are the last two places they want to go." Adding some 40 attractions and rides in addition to the gardens and circus trees ensures that everyone can have fun and learn a little something at the same time.
Gilroy Gardens's Circus Trees
The phenomenon that started everything was Erlandson's circus trees. Over nearly 40 years, he grafted 70 tree creations to create intricate, woven designs. Twenty of those circus trees are on display in Gilroy Gardens, including the very first one Erlandson made—the Four-Legged Giant. There's also a beautiful basket tree, an arch tree that visitors can walk underneath, and one Erlandson designed to look like an oil well.
In addition to the circus trees, Gilroy Gardens also has six different garden areas that, depending on the time of year, can be awash in color. The Camellia Garden's namesake flowers are at their best in spring, while the Japanese maples and hydrangeas take over later in the year. Explore the colorful Rainbow Garden from the seat of a round boat as it drifts around the various floral displays. The Monarch Garden is inside a semi-tropical greenhouse to keep plants that wouldn't appreciate the natural climate happy and blooming.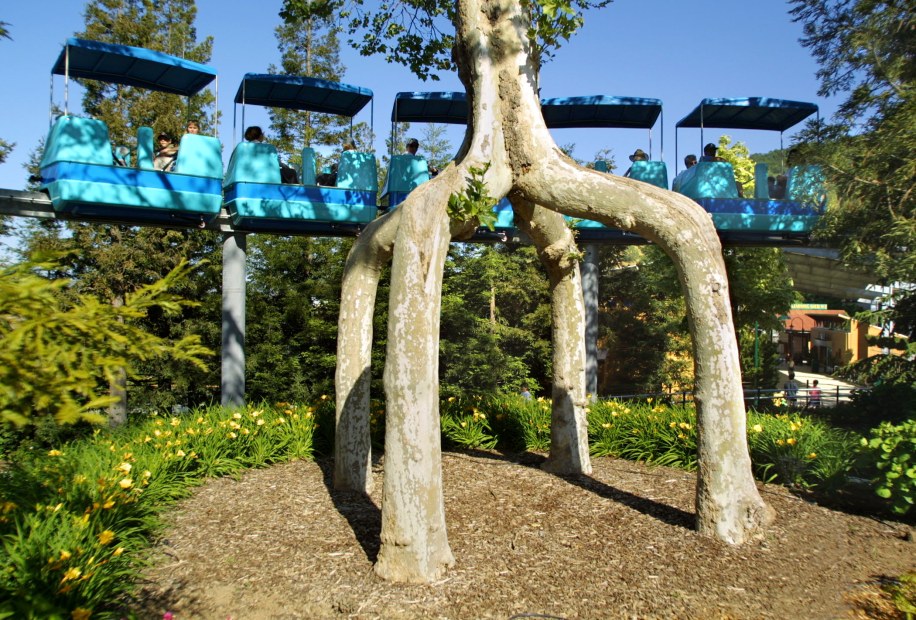 Gilroy Gardens Theme Park
The fairy-tale trees might have been the impetus for the gardens, but the theme park's rides and attractions are some of the most popular reasons to visit. There's something for everyone, with kid-friendly rides like the Artichoke Dip and Apple & Worm to thrill rides like the Mushroom Swing and Timber Twister Coaster.
Water features in the park are wonderful places to spend a hot summer day. The Water Oasis rents cabanas so the grown-ups can relax a bit while the little ones splash in the water or twist-and-turn down the water slides. For a quacking good time, hop in a pedal boat shaped like a swan or a duck to pilot your way around Coyote Lake.
Gilroy Gardens lights up throughout the year for the biggest holidays. Look for special night events such as trick-or-treating in October before Halloween, visits with Santa and ice skating in December, and a massive barbecue for the 4th of July. Other special events dot the calendar year-round; check the event listing to see what's coming up.
What to Eat and Drink at Gilroy Gardens
Spending a day at Gilroy Gardens means working up an appetite, and there are several dining options in the park to choose from. Sure, there are theme park standbys—hot dogs and funnel cake, anyone?—but that's not all.
Nine food stops throughout the park offer healthy, vegetarian, vegan, and gluten-free options in addition to the classics. Castroville Corners features Gilroy's famous garlic in their Gilroy garlic fries. Got Cha! Milk Tea refreshes with Vietnamese coffee and just-squeezed lemonade. Sugar Plum Farm has PB&J sandwiches for the kids and made-to-order sub sandwiches for the adults.