Whether you're eager to get off the Las Vegas Strip or you're looking for an alternative to Utah's Mighty Five, you have plenty of options throughout Utah. Even better, the options are gram-worthy, with spectacular views and fewer people crowding for photos.
Snow Canyon State Park
From Las Vegas, your road trip begins on U.S. 15 North. Take this nearly all the way to Snow Canyon State Park near Ivins, exiting north at State Route 18 for the final miles. Pro tip, the 16 minute detour (one-way) off Interstate 15 to Valley of Fire State Park is worth your time at the start or end of this trip for other-worldly landscapes and rock formations, such as Elephant Rock.
Set in high desert, Snow Canyon is not a big park—just 7,400 acres—but you'll experience vast views of stunning red rocks and towering sandstone cliffs, much like those at Zion National Park. Snow Canyon, however, is one of Utah's overlooked gems, so expect a fraction of the crowds.
Meander across sandstone mounds, over open lava flows, and past scrubby lowland brush on the rugged Butterfly Trail. The Lava Flow Overlook boasts 360-degree views of black lava fields. Soak in the beauty of the Red Mountains, which are carved from white and red Navajo sandstone.
Sand Hollow State Park
From Snow Canyon, backtrack to Interstate 15, then motor north to State Route 9, which delivers you to Sand Hollow State Park near Hurricane. Revel in the striking juxtaposition between the sparkling turquoise waters and red sandstone landscape.
At this 20,000-acre state park, the dramatic rock formations and red sand beaches beg visitors to soak up the majestic landscape. On fair-weather days, families sit and chat at picnic tables on the beach, with RVs and tents set up for the weekend.
Rent a kayak from Sand Hollow Rentals for a paddle on the crystal-clear reservoir. The calm breezes and gently lapping waves are serene. Refuel with burgers and salads at the dockside restaurant, then take a guided tour on Utility Terrain Vehicles across 6,000 acres of orange-red sand dunes.
Kodachrome Basin State Park
Make Kodachrome Basin State Park near Cannonville your next destination. This state park was named by the National Geographic Society after a photography expedition for the society's magazine in 1948. Yes, Kodachrome is a reference to the color film products made by Kodak.
Start north along Interstate 15. State Routes 20 and 12 take you the rest of the way, though you may be tempted to brake for Cedar Breaks National Monument in Brian Head and Bryce Canyon National Park in Bryce for hoodoos and spires galore.
Kodachrome Basin has spires, too. In fact, this small 2,240-acre state park is dominated by 67 monolithic stone spires and multihued sandstone layers that date back 180 million years. Hike the short and sweet Angel's Palace Trail across the lunar-like landscape to savor the colors of the small canyons and relish expansive views in all directions.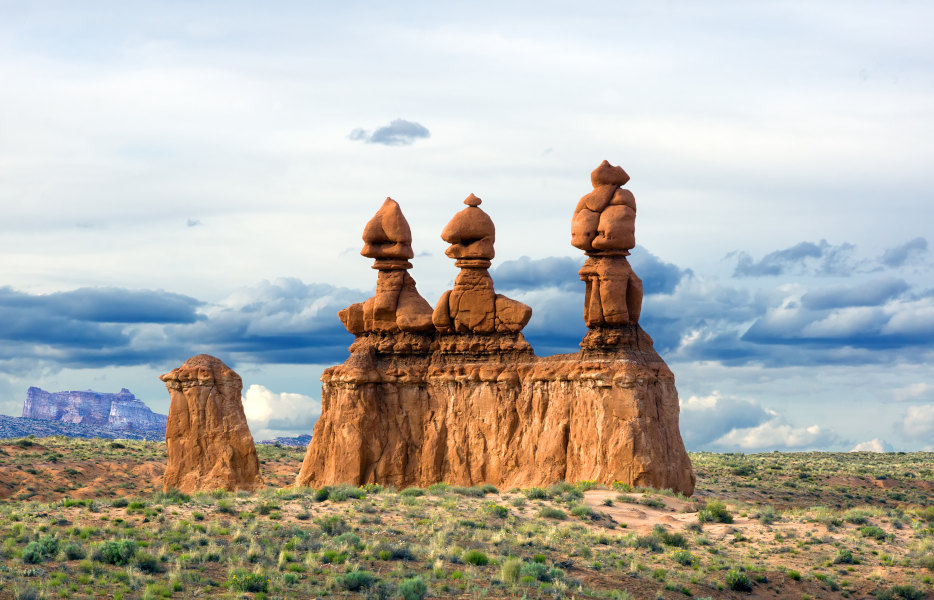 Goblin Valley State Park
Near Green River, just off State Route 24, Goblin Valley State Park lures curiosity-seekers thanks to the massive out-of-this-world valley of hoodoos that look like, well, goblins. Some say the hoodoos resemble mushrooms, so it's no surprise that the area was once dubbed Mushroom Valley.
Wind and water erosion have helped shape the sandstone formations that dominate a three-square-mile area at this state park. Take in the landscape from an elevated observation point or descend stairs to explore the aptly named Goblin Valley for up-close views of the hoodoos.
Five hiking trails at Goblin Valley State Park allow you to soak up every ounce of this park, including rock formations like Three Sisters. The most popular hike is Goblin's Lair, which includes scrambles up and into both Goblin's Lair and Goblette's Lair. The latter requires less use of hands, knees and elbows, a good choice for those hesitant about clambering across piles of boulders.
Dead Horse Point State Park
Dead Horse Point State Park on State Route 313 in Moab is among the most popular state parks in Utah, in part because of its red rock panoramas and deep canyons, but also due to its close proximity to Canyonlands National Park. (It's a short 15-minute drive between the two parks.)
Manageable crowds, jaw-dropping vistas and breathtaking hiking trails are the hallmarks of this 5,362-acre state park. Not a hiker? Not a problem. The stunning Dead Horse Point Overlook is steps from the parking lot and visitor center. Prepare to be overwhelmed by the buttes, mesas and gooseneck of the Colorado River far below in the canyon.
Stretch your legs on the nature trail near the overlook or revel in the best of this park by cobbling together the West Rim Trail and East Rim Trail into a neat six-mile loop hike. Several overlook stops, including Shafer Canyon Overlook and Rim Overlook, are just right for a lunch break. Before you set out, pick up a picnic lunch in Moab at Sweet Cravings Bakery + Bistro.