It's time to re-know Reno, Nevada. Once recognized only for its casinos, the city at the foot of the Sierra Nevada has evolved during recent years into a true hotspot, offering a multitude of diversions and epicurean adventures for just about everyone. That the city is a four-hour drive from San Francisco makes it a perfect weekend getaway for Bay Area locals and visitors alike.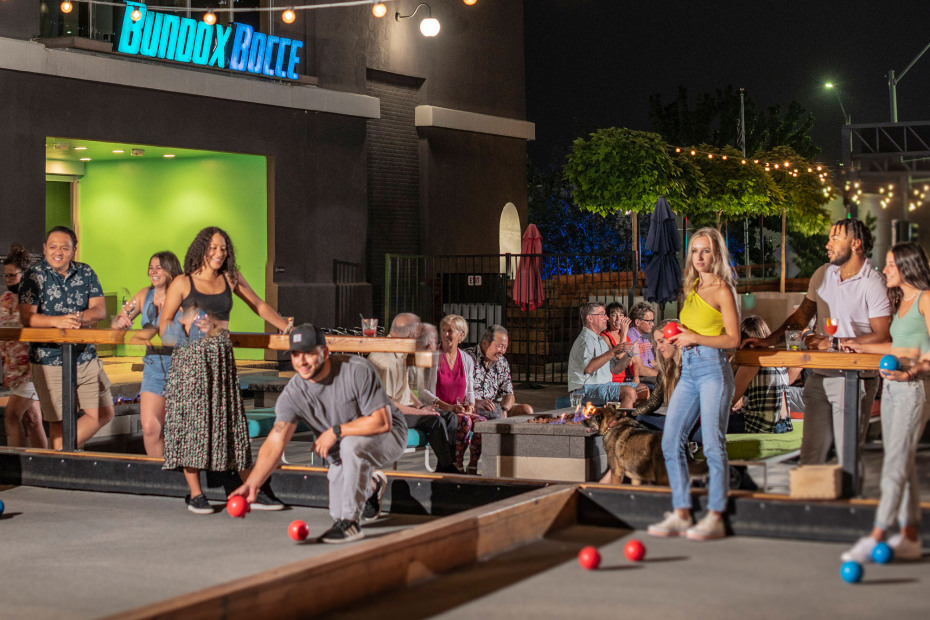 Things to Do and See
As gateway to Burning Man, Reno boasts serious alt-culture cred. Towering, original Burner sculptures dot downtown's still-expanding Neon Line art corridor along Fourth Street, among them a forbidding Mongolian warrior with a skull face and a rearing, kinetic stallion made of found objects. The giant steel lotus blooming outside the Nevada Museum of Art was created by Burning Man attendee and artist Kate Raudenbush, while on display inside the museum's enigmatic, black metal-clad building is Gianfranco Gorgoni: Land Art Photographs (through Jan. 22), 50 images by the country's premier documentarian of earthwork art. For more art, hit the streets south of downtown for the Midtown Mural Tour.
The sounds of laughter, chatter and bocce balls cracking into each other echo throughout family-friendly Bundox Bocce. Seven indoor bocce courts, a raft of games like skeeball and shuffleboard, and one of Nevada's longest bars fill a cavernous hall—once a casino gaming floor—while the fire pits near two outdoor courts are perfect for keeping hands toasty on crisp autumn nights.
Downtown Reno is teeming with other diversions, from casinos to live music venues and the Riverwalk District. Museum lovers will appreciate the sports history on display at the International Bowling Museum & Hall of Fame. If you're traveling with kids, the Terry Lee Wells Nevada Discovery Museum is a must, too—especially the three-story climbing structure.
Considering Reno's roost in the Sierra, there are no shortage of trails to hike and bike nearby. Locals love the Galena Creek Recreation Area, which adjoins Galena Creek Regional Park and is surrounded on three sides by the Humboldt-Toiyabe National Forest. The open space is situated at the confluence of high desert and alpine ecosystems, which means the types of terrain—and activities—are diverse. In winter, escape the city with a 3-mile, out-and-back  snowshoe out on the Upper Thomas Creek Trail. In spring, wildflowers explode along the 9.2-mile Jones Whites Creek Loop.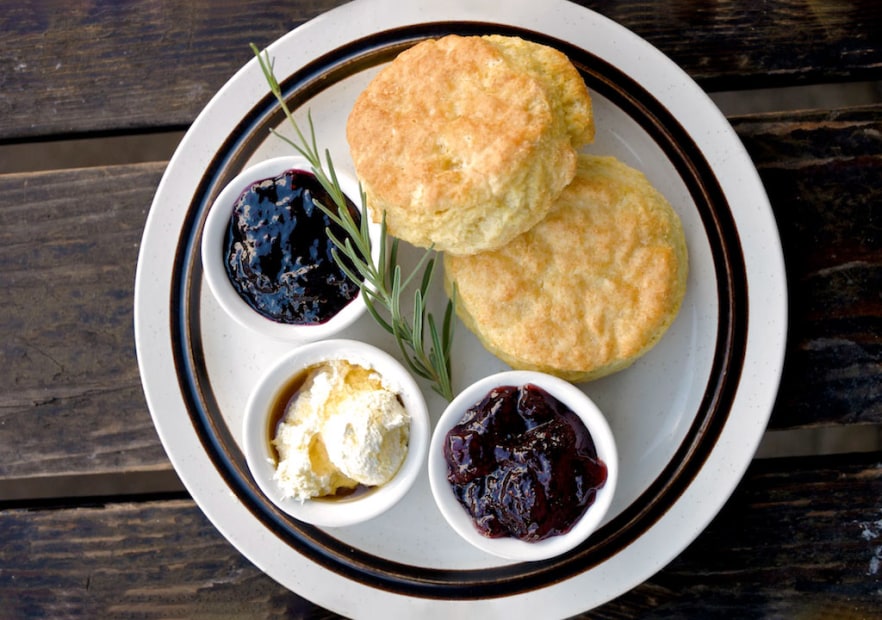 Where to Eat and Drink
Pine State Biscuits loads fluffy biscuits with mouth watering combos such as over-easy eggs and braised greens doused with hot sauce, and gravy-topped fried chicken, bacon, and cheese. You'll also find seasonal "Pop tarts" and pie in the industrial-chic space warmed with homey touches including vintage wooden rolling pins on the wall.
Dining options at buzzy Liberty Food & Wine Exchange run from its own butcher shop's fennel-kissed finocchiona salami to thin-crust pizza Margherita from the wood-fired oven and specials like a Moroccan-style, braised Bordad Ranch lamb shank. Afterward, for live music and a cocktail or a pull of local Tahoe Amber Ale, retire to Shim's Surplus Supplies, a onetime surplus supply store where the speakeasy vibe is enhanced by exposed brick walls, pressed-tin ceilings, and an alley entrance (marked deliveries only) at the back of the building.
Two Chicks, a bustling Midtown brunch spot started in 2014 by two female veterans of the local restaurant industry, has become one of the city's iconic eateries. The menu features elevated comfort food such as giant omelets, sweet potato fries, and local wood-fired coffee. The owners' first partnership was a grilled cheese truck, so it's a good idea to try one of the melts. The Wiseguy—with fontina cheese, salami, and artichoke hearts on sourdough—is a great place to start. Also worth sampling: the Bumble Brie, with sliced green apples, ham, local honey, and melted brie on cinnamon-apple bread.
Cocktail aficionados swear by Death & Taxes, a dark and dimly lit lounge that specializes in artisanal cocktails made with seasonal ingredients and house-made syrups and infusions. Mixologists here have been doing exceptional work with mezcal. For those who prefer brown liquor, the Bill & Ward—with Rittenhouse Rye, cocoa-infused Cappelletti, Cynar 70-proof amaro, Carpano dry, and house tobacco bitters—is smoky in a good way.
Reno has become a lively craft beer city, and the Brewery District, east of downtown, has many breweries worth exploring. Two of the best include Lead Dog, which offers unusual options such as peanut butter–chocolate stout, and Imbib, which specializes in sours. Another standout from this neighborhood is 10 Torr, where head brewer Melissa Test uses independently grown hops and malt and clarifies beer through a centrifuge to protect the aromas and flavor without adding chemical fining agents. (The folks at 10 Torr distill their own spirits, too.)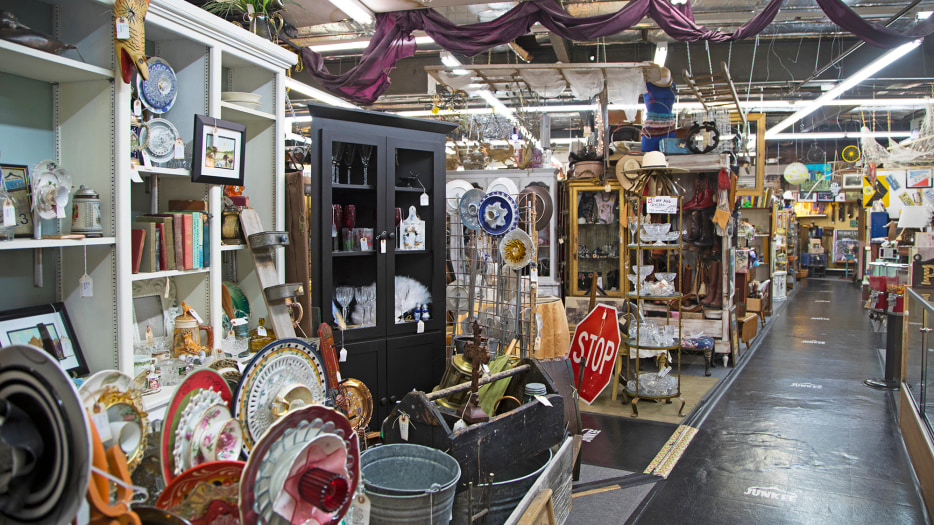 Where to Shop
Located in The Basement, a small marketplace of local vendors on the lower level of a historic 1933 art deco former post office, Nørdik brims with colorful, eye-catching housewares and gifts. From Iittala's iconic free-form, mouth-blown Alvar Aalto glass vases to Lapuan Kankurit linen tea towels and boldly patterned Marimekko ceramic mugs, virtually everything is designed and made in Finland or Sweden.
The Burning Man crowd has precipitated a quirky and eclectic shopping scene in Reno. Exhibit A: Midtown's Junkee Clothing Exchange, a 15,000-square-foot space that peddles costumes, vintage clothing, antique furniture, and more. There's so much packed into the aisles and racks here, you'll need at least two hours to make a dent. Owner Jessica Schneider is a bit of a local legend, having worked in Reno as an interior designer for more than 20 years before opening Junkee in 2008. Many credit her with kick-starting the resuscitation of the Midtown District as a whole.
Another odd-but-awesome spot is Natural Selection, a modern-day curiosity shop. This mother-and-daughter-owned natural history wonderland sells everything from exotic plants to bones, skulls, taxidermy, and preserved animal specimens, making it as much a museum as it is a functioning business. Some of the more unusual items on a recent visit included Venus flytraps, alligator heads, coyote claws, and a springbok skull plate. The shop also sells a host of books about gardening, taxidermy, and more.
Local pride runs deep at Home Means Nevada Co., a downtown boutique on Sierra Street that sells t-shirts and other apparel with designs and slogans that express adoration for Nevada. The creatives behind the shop started as tent vendors at the Reno River Festival in 2005, and have grown steadily ever since. The outfit also runs a flagship store at the South Creek Retail Center in South Reno.