The American West has always been a magnet for unconventional dreamers and visionaries. So it's no surprise the region has proudly made room for art and architecture that is, in a word, weird. 
Tucked away in small towns or down stretches of two-lane road, these curiosities often require a detour as you travel from point A to point B. In return, some of them will inspire deep thoughts, others will make you laugh, still others will leave you scratching your head. But each could add delight to your next road trip.
Bleu Horses, Three Forks, Montana
It takes a while to realize there's something not quite right with those 39 wild horses atop the hill. As you approach the team, along U.S. Highway 287 northwest of Bozeman, you see them silhouetted against the sky, immobile except for manes and tails blowing in the wind, a few heads slowly bobbing. Up close, it finally dawns on you: This is a herd of horse sculptures, some standing eight feet tall. It took Montana artist Jim Dolan 15 months—and his own money—to craft these impressionistic equines from steel, with unbraided polyester rope for manes and tails; some have ball-bearing mechanisms that allow their heads to move. Permanently installed in 2013 on private land, the statues have been adding unexpected grace to the Montana countryside ever since, in sun, rain, and snow.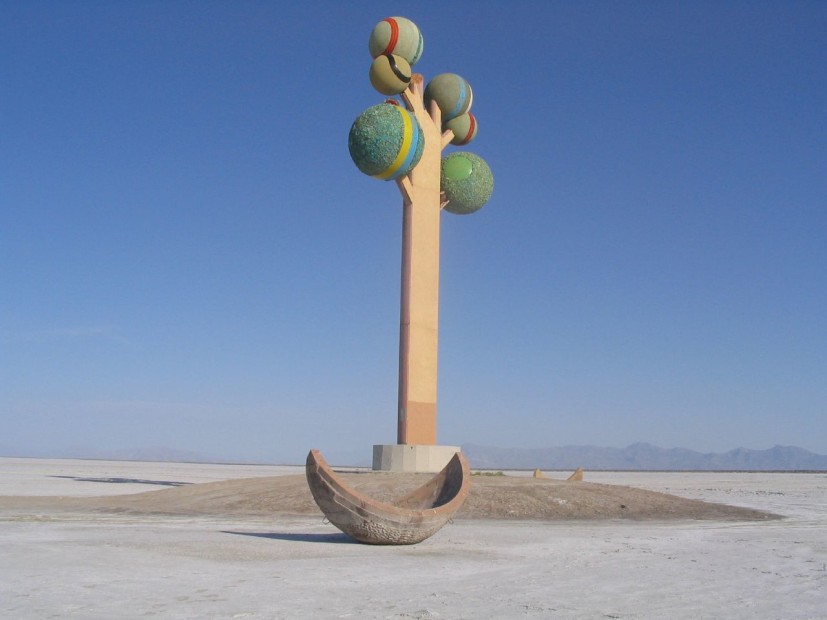 Tree of Utah, Bonneville Salt Flats, Utah
Any tree found in the 30,000 otherworldly acres of hard, white salt comprising the Bonneville Salt Flats is bound to be strange. Tree of Utah definitely qualifies. Located on Interstate 80 about 25 miles east of the Nevada state line, the 87-foot-high sculpture is the work of Swedish artist Karl Momen, who earlier in his career painted official portraits of Stalin and the last shah of Iran. The tree was completed in 1985 after 17 months of construction and later gifted to the State of Utah. Its steel-reinforced concrete trunk supports six precast spheres, the largest of which weighs 60 tons. Each is coated in minerals—chrysocolla and anhydrous copper silicate, to be specific—quarried in southern Utah. Some dismiss the piece as a mere oddity, comparing the spheres to oversize tennis balls. Yet there's something undeniably compelling about monumental art as surreal as the landscape that surrounds it.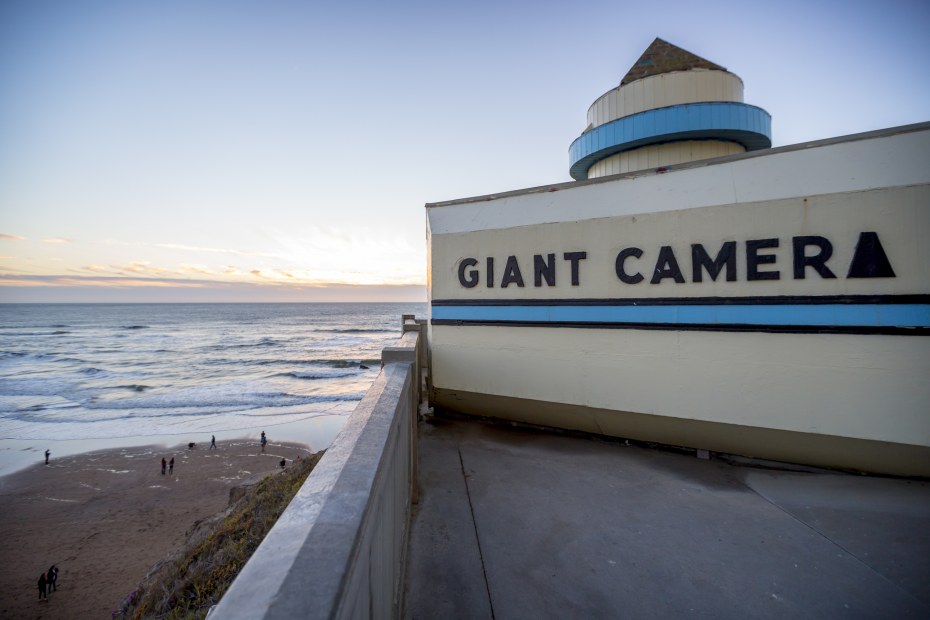 Giant Camera, San Francisco
The building itself—shaped like an oversize SLR, perched on the western edge of San Francisco—might not inspire much awe. But step inside and you'll encounter a true wonder. In a darkened room, on a circular parabolic table six feet in diameter, a rotating 360-degree view of the scene outside appears in startling detail: Sun glints off waves at Ocean Beach; surfers glide to shore; gulls alight on Seal Rocks; sightseers stroll the Cliff House plaza. Is it a video feed? Not at all. Built in 1946 as part of the long-gone Playland-at-the-Beach amusement park, the entire building is a camera obscura, an optical instrument of ancient origins that uses a roof-mounted mirror and a pair of lenses to capture and project live images. It's science, yes, but the effect is so mesmerizing you understand why 17th-century church figures denounced the camera obscura as sorcery.
International Car Forest of the Last Church, Goldfield, Nevada
It looks like a set from a Mad Max movie. On a desolate patch of desert outside a quasi ghost town sit 40 carcasses of junked, rusting vehicles—some of them stacked atop one another, others embedded in the ground at crazy angles. Mostly cars, with a few buses and even a milk delivery truck for good measure, they serve as canvases for phantasmagoric graffiti and paintings, like the one on the side of a '70s-era Lincoln depicting a man with a bluebird emerging from his mouth. Located about halfway between Las Vegas and Reno on U.S. Highway 95, the entire installation was completed in 2011 by artist Chad Sorg and landowner Mark Rippie; the latter operated the backhoe they used to "plant" the vehicles in the ground. What does it all mean? Who knows? Just revel in the strangeness.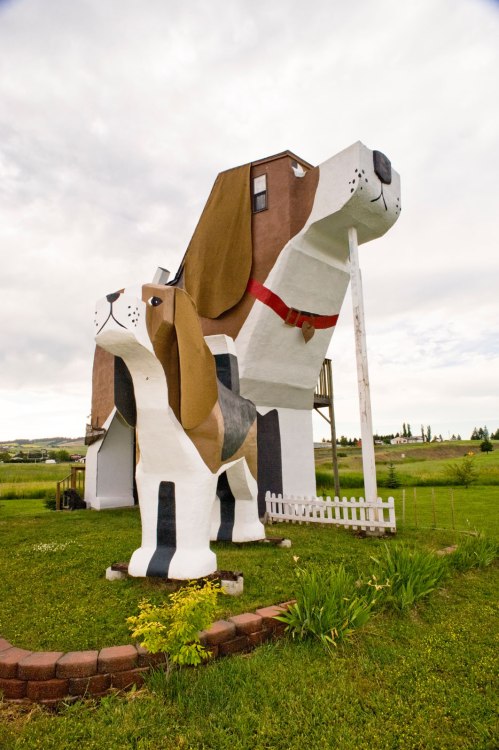 Dog Bark Inn, Cottonwood, Idaho
Only a doggone canine hater would sniff at the chance to sleep inside the world's largest beagle. Located off U.S. Highway 95 about midway between Boise and Coeur d'Alene, the Dog Bark Park Inn accommodates four guests in an eye-popping building whose exterior was built and painted to resemble a standing pup. The motif continues inside: Carved dogs cavort on the headboards, and guests can enjoy pooch-shaped cookies, a paw-print-patterned pillow, and a Beagle-opoly board game. The on-site gift shop sells wooden dogs crafted by the inn's owners, Dennis Sullivan and Frances Conklin, who are longtime chain-saw artists. And talk about dogged determination (or sheer folly): The couple spent 18 months carving nearly 10,000 canines, then selling them on the QVC television network to finance the inn's 2003 opening.
Ames Monument, Buford, Wyoming
This 60-foot-high pyramid of rough-hewn local granite commemorates brothers Oakes and Oliver Ames—depicted on the monument in bas-relief—who arranged funding for the first transcontinental railroad (and were later implicated in a national scandal about its financing). Designed by Henry Hobson Richardson, one of the premier American architects of the time, and dedicated in 1882, the structure once marked the highest point (8,247 feet) of the railroad's original route. It was seen by thousands of train travelers until 1901, when the transcontinental route was shifted south. The edifice was left in place on its windswept knoll about 19 miles southeast of Laramie and just a couple of miles off Interstate 80, an object lesson in the vagaries of fame and infamy. In the neighborhood this summer? Don't miss the July 8 ceremony to mark the monument's official recognition as a National Historic Landmark. 
Glockenspiel, Mt. Angel, Oregon
Who wouldn't prefer a whimsical glockenspiel to a plain old clock? That's what folks can enjoy in Mt. Angel, 18 miles northeast of Salem and about 15 minutes off Interstate 5. Back in 2006, the town—originally settled by Germans and famous for its huge Oktoberfest—debuted its 49-foot clock tower with music, chimes, and dancing wooden figures. There are four seven-minute shows daily (11 a.m. and 1, 4, and 7 p.m.), each starting with a half-dozen merrily spinning figures and finishing with a boy and girl singing on a swing. The theme varies by season: military regalia and a "God Bless America" finale from May through August, historical figures and "Edelweiss" the rest of the year. After the show, say ja to a frothy Bavarian beer or a plate of Wiener schnitzel at the Glockenspiel Restaurant and Pub at the base of the tower.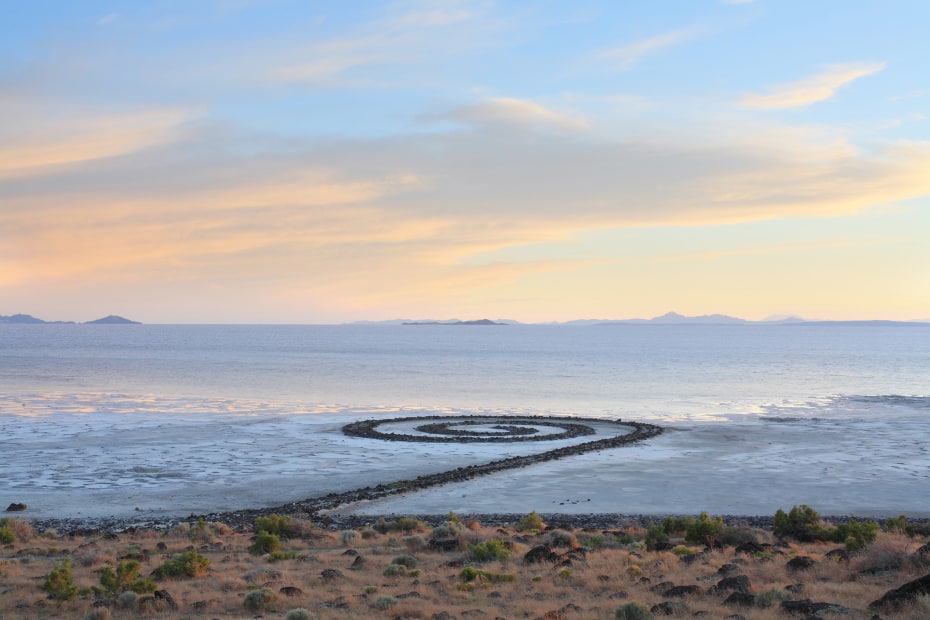 Spiral Jetty, Great Salt Lake, Utah
"Weird" doesn't necessarily mean "insignificant." Some roadside attractions are literally groundbreaking creations. Utah's Spiral Jetty is an icon of land art—the creative movement in which the earth itself is used to make site-specific works. Artist Robert Smithson chose a remote spot about two hours northwest of Salt Lake City and an hour from Interstate 15. For three weeks in 1970, he and his team used dump trucks, a tractor, and a front loader to shape over 6,000 tons of black basalt rock and dirt into a 1,500-foot-long, 15-foot-wide walkable spiral that winds into the lake. The result is a timeless and enigmatic colossus that is sometimes covered by water, sometimes exposed; it looks like an artifact of an ancient, long-lost people. "I like landscapes that suggest prehistory," Smithson once said. This one certainly does.
Aurora Ice Cream Museum, Chena Hot Springs, Alaska
Created by master ice carvers from more than 1,000 tons of ice and snow, this may be the only museum in the U.S. to lend parkas to visitors. Located at the Chena Hot Springs Resort about 60 miles from downtown Fairbanks, the museum is filled with supercool curiosities kept at a constant 25°F even when summer temperatures reach into the 80s. Chandeliers with gobs of dangling "crystals" change color every six seconds to mimic the aurora borealis. Orbs, columns, a balustrade, and sculptures such as a polar bear and life-size jousting knights on horseback glow in eerie shades of violet, pink, blue, or green, thanks to LED lights frozen into the ice. Post-tour, you can repair to an ice bar with caribou-hide-covered ice stools for an appletini, chilled to perfection in a martini glass made of—what else?—ice.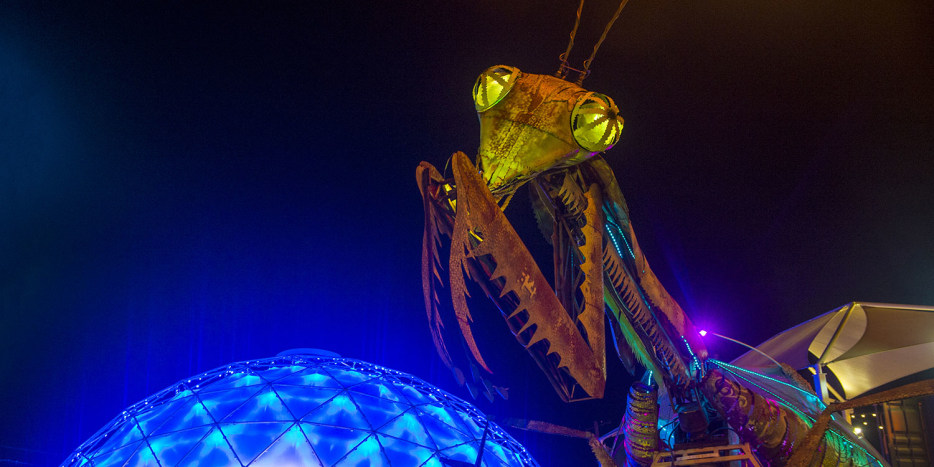 Giant Praying Mantis, Las Vegas, Nevada
Whatever it takes to get noticed in a city that boasts an ersatz Venice, Eiffel Tower, and volcano, among other over-the-top attractions, this insect has it in spades. Looming over the Downtown Container Park shop-and-dine complex, the Giant Praying Mantis (originally made for the 2010 Burning Man festival) is a 150:1-scale steel replica of the real thing, measuring a whopping 40 feet high and 30 feet long. But that's not the half of it. At night, equipped with a 4,000-watt sound system and propane canisters, the critter bobs its head and shoots towering flames from its antennae in time to songs like "Uptown Funk" and "Great Balls of Fire." Although this flaming boogie bug performs for free way off the glitzy Strip, it's still one of the best—and most bizarre—shows in town.
Swedish Coffee Pot Water Tower, Kingsburg, California
Swedes famously adore their coffee. But even for them a pot that could hold 1.28 million cups seems a tad excessive. Yet that's just what you'll find rising above Kingsburg in the San Joaquin Valley, about 20 minutes south of Fresno. While this 1911 water tower is filled with plain old H2O, it acquired a decorative metal spout, lid, and handle, along with a Scandinavian-style paint job, back in the mid-1980s. It was a nod to the Swedes who settled around this railroad flag stop in the 19th century. It also serves as a beacon for travelers zipping by on State Route 99, luring them off the busy north–south artery and into the village-like town center where eateries still offer Swedish specialties such as pork-potato sausages or egg- and butter-rich pancakes with lingonberry sauce. All washed down, of course, with steaming cups of kaffe.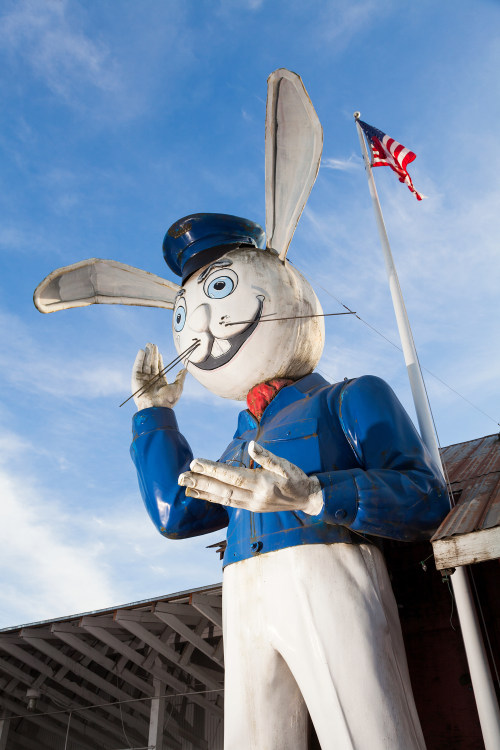 Harvey the Giant Bunny, Aloha, Oregon
This big bunny comes by his name honestly: Harvey the Giant Rabbit measures 26 feet tall. He's stood in front of Harvey Marine supply store since the 1970s, when his creator, Ed Harvey, grafted a rabbit head onto the statue of a gas station attendant who had lost his noggin in a storm. As if that's not weird enough, this fiberglass creature was inspired by the 1950 James Stewart movie Harvey, about a man with a six-foot-tall invisible rabbit for a friend. Harvey has become a beloved icon along SW Tualatin Valley Highway in Aloha, the western Portland suburb he calls home. For years, he's been getting honks and waves from motorists. He has held a pumpkin at Halloween, a turkey at Thanksgiving, and on Valentine's Day a huge heart that implores passersby to be mine. You bet your big blue eyes we will, Harvey.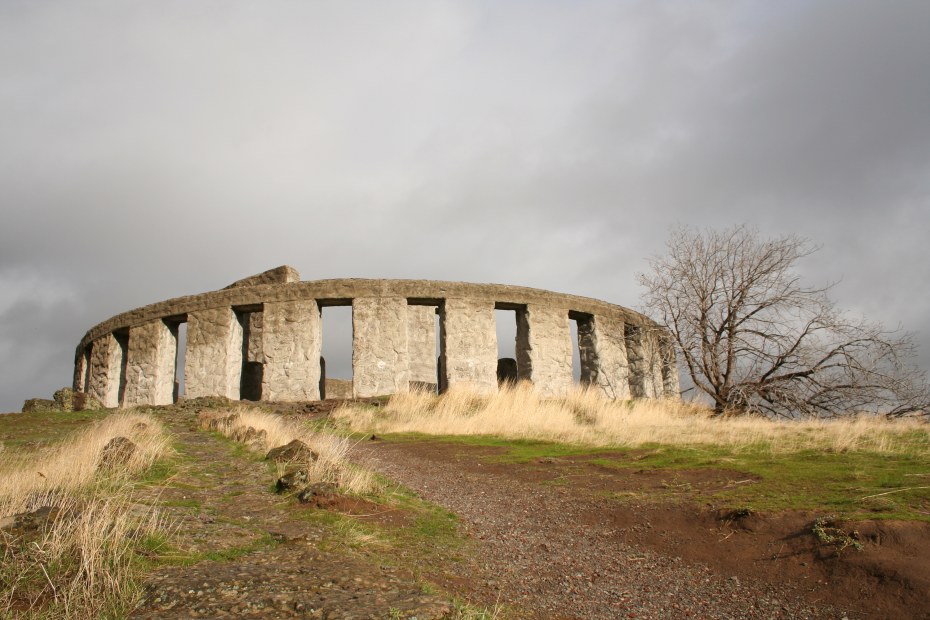 Stonehenge Memorial, Maryhill, Washington
Prehistoric stonemasons in Washington? You might think so at this startling site, an intact sister to England's ancient Stonehenge ruins. But the impressive full-scale replica on a bluff overlooking the Columbia River is actually a World War I memorial dedicated in 1918 and completed 11 years later. Its creator, an eccentric rail and utilities baron named Sam Hill, erroneously thought (as did many) that human sacrifice took place at Stonehenge; he saw a parallel between that and the loss of U.S. soldiers' lives in the Great War. Unlike the rock original, Hill's henge is made of poured concrete, which workers ingeniously crafted to look like rough-hewn stone by lining the forms with crumpled tin. Hill also founded the nearby Maryhill Museum of Art, which boasts a world-class collection of works by Auguste Rodin.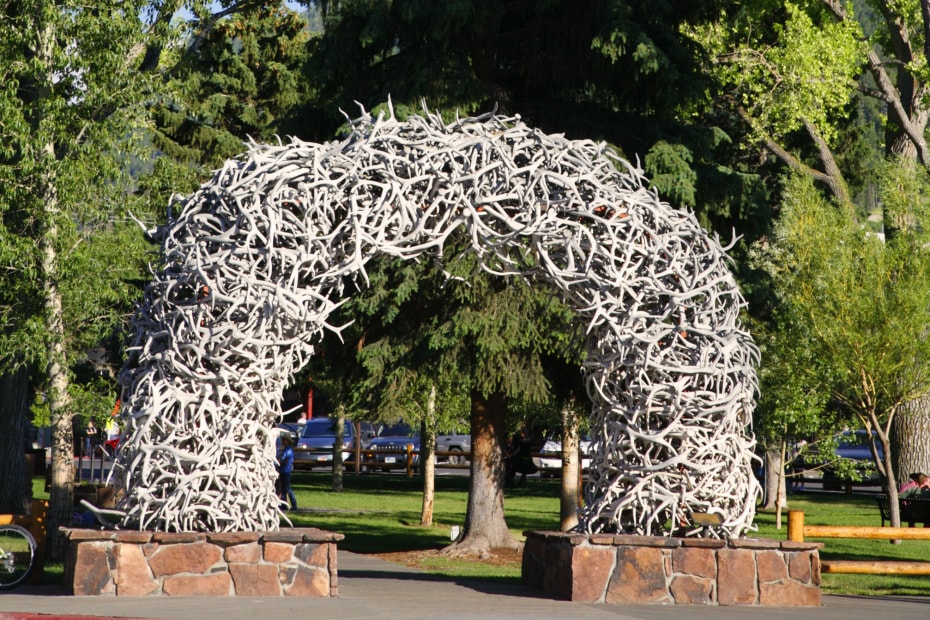 Antler Arches, Jackson, Wyoming
Got 8,000 spare elk antlers lying around? The folks in Jackson did, and they put them to astonishing use, building four 12½-foot-high, 22-foot-wide arches to festoon the corners of Town Square. The current arches replace earlier ones whose antlers had become brittle and unsafe with age. But given the 5,000-strong wintering herd at the nearby National Elk Refuge, and the fact that male elk naturally shed their antlers each spring, there's no shortage of raw material. Each arch has a steel frame to support its roughly 10,000 pounds of antlers, which Rotary Club volunteers and town employees intertwine like a three-dimensional puzzle. Screws are used only on outer sections to thwart the light-fingered—each arch contains upwards of $146,000 in antlers.
Paul Bunyan, Klamath, California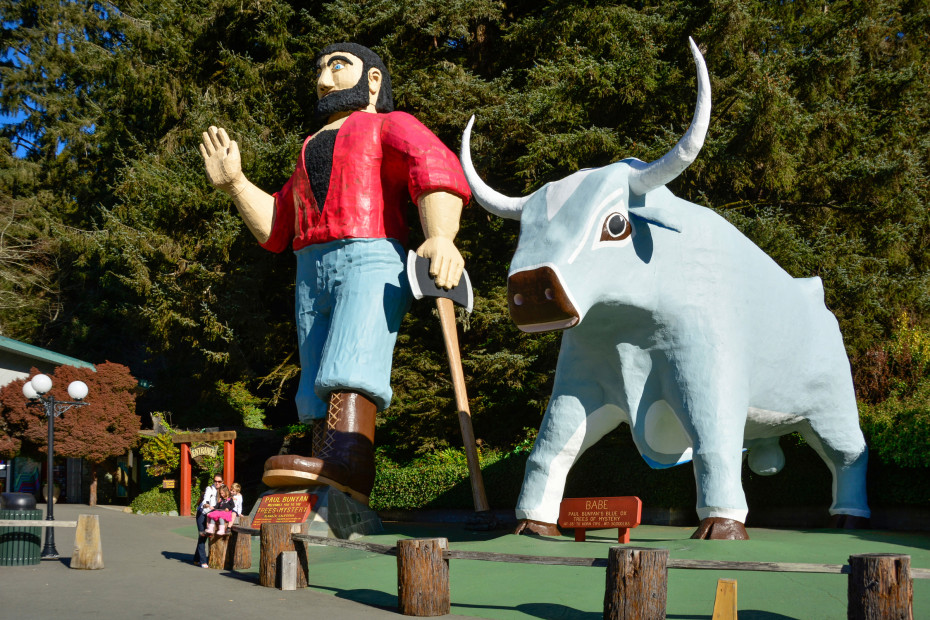 Sure, it measures nearly 50 feet tall and tips the scales at 30,000 pounds. But what's really weird about this statue of Paul Bunyan—the supersize lumberjack of American folklore—is that it talks. You'll find Paul standing at the entrance to the Trees of Mystery nature attraction on U.S. Highway 101 (about 35 miles south of the Oregon state line), alongside a 35-foot-high rendering of Babe the Blue Ox. Paul greets guests, comments on the weather, and cracks jokes, often at visitors' expense. (Rumor has it that a hidden employee with a microphone is involved.) You need a sense of humor up here: Life in the rainy forest can be tough for enormous figures made of wood, wire, and stucco. Paul has dropped an arm several times since he arrived in the early '60s; Babe's 1,000-pound head fell off in 2007. Lumberjacks being stoic types, you won't hear Paul complain. But he might make fun of your shirt.