No matter how often you've experienced it, there's something magical about snow. Cold, fat flakes swirling down—on mountains and valleys, houses and roads, your nose and eyelashes—blanketing the landscape in white, begging us all to come out and play. One great way to enjoy the soft stuff? Make like Charlie Brown and Snoopy, Calvin and Hobbes, and Citizen Kane, and fly downhill on a sled. Here are our favorite spots around the West to go sledding and tubing.
Lake Tahoe, California
Bluebird days. Comfortable winter temperatures. And, periodically, Pacific storms that pass through, dumping snow along the way. It's true: the same factors that make Tahoe a skier's paradise also make it a perfect place to tube and sled. Sliding options abound here, from public snow parks to fancy tubing operations at the resorts.
At Heavenly Mountain Resort, for instance, visitors are ferried to the tubing hill via gondola, drinking in glorious lake views on the ride up and, if they wish, from the Observation Deck. They can then fly down the 500-foot-long run, ride the surface lift back up, and repeat.
Just down Highway 50, family-owned snow park Adventure Mountain Tahoe charges visitors by the carload, drive-in movie–style. There is no lift here, but there are up to 18 tubing lanes—of varying length and steepness—to choose from. Adventure Mountain also has a beautifully renovated lodge, with restrooms and a big stone fireplace, plus a food window serving fresh-baked pizzas and hot cocoa to enjoy al fresco.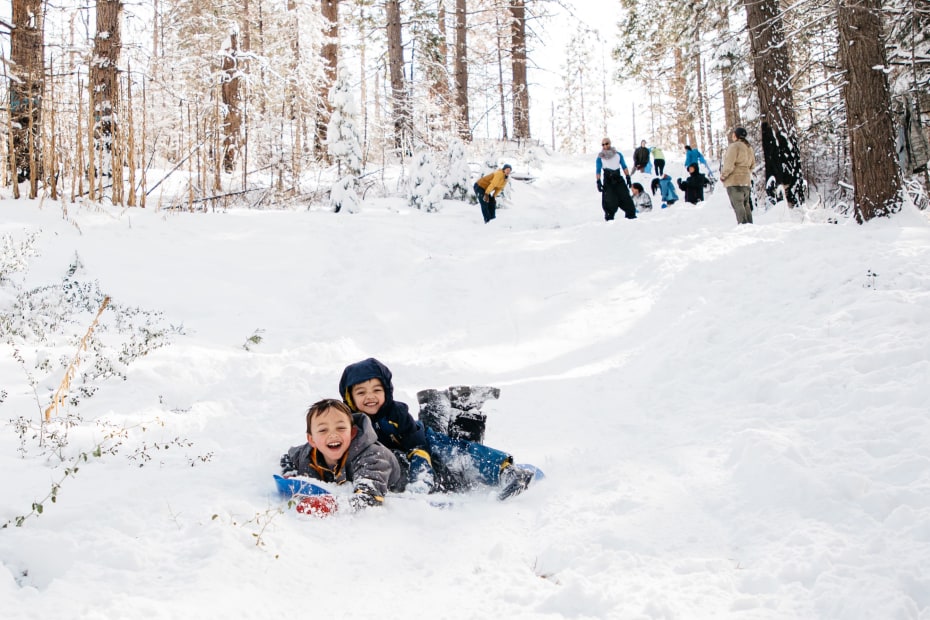 Yosemite National Park, California
Powdery flakes dust Yosemite's granite features and lure snow lovers to Badger Pass. Open since the 1930s, Badger is California's oldest ski area, and the tubing hill—a climb-it-yourself spot with a throwback price ($25)—feels aptly old-school. Here, you can take some runs, then relax in the lodge's Snowflake Room over a hot drink.
Goat Meadow, a snow play area between Fish Camp and the park's south entrance, feels similarly relaxed: Sledders carve their own paths in the wide, snowy expanse, as snowshoers hike into the surrounding Sierra National Forest.
Want to spend more time exploring—and sledding? Consider sleeping over at the nearby Tenaya Lodge. The resort has its own sledding hills, and sleds are available to guests for daily use through the concierge. Post-slide, riders can roast s'mores at the hotel's fire pit. But no matter where you played in the powder, don't miss Little Shop of Ramen when you leave the park. Newly installed on Mariposa's Main Street, the eatery turns out steaming bowls of triple-stock soup, packed with toasted rye noodles scratch-made by co-owner Melissa Takahashi.
Flagstaff, Arizona
Sitting pretty at nearly 7,000 feet—higher than Salt Lake City, Denver, and even South Lake Tahoe—Flagstaff averages more than five feet of snow annually. There are myriad places to play in it (city parks, Nordic parks, trails, forest roads), but for a one-stop spot, it's hard to beat Flagstaff Snow Park. Just a few miles south of town, the park has multiple groomed tubing runs, plus plenty of space to frolic in the soft stuff. FSP caters to visitors' every need, with parking, restrooms, food trucks, and a merch truck—in case you forgot your hat, gloves, or woolly socks. Take a few runs, then warm up at the outdoor fire pits. The park might soon welcome a new neighbor: in Williams, 35 miles west, Canyon Coaster Adventure Park aims to open their tubing hill by early December.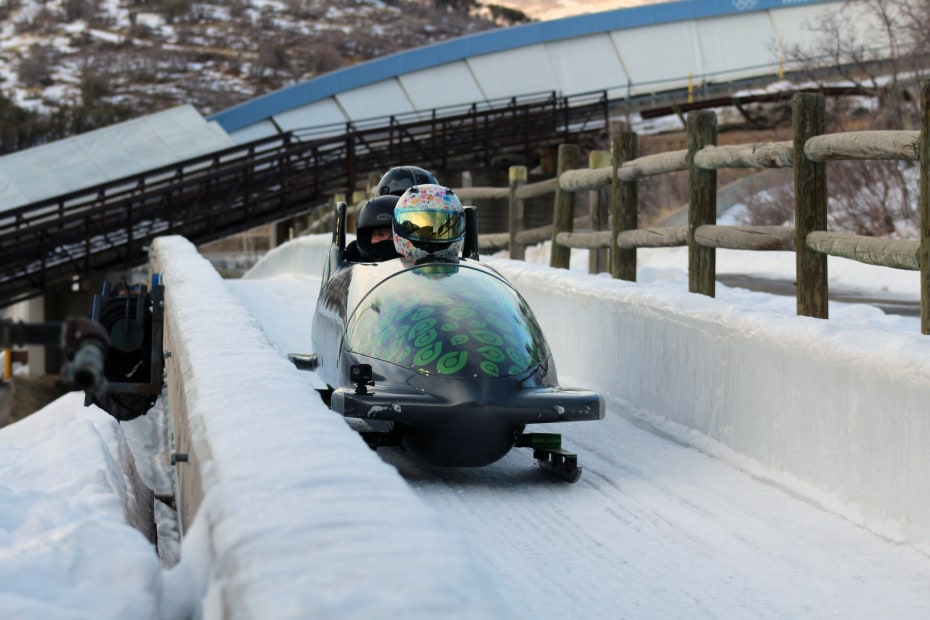 Park City, Utah
Utah's license plate advertises "the greatest snow on earth." It's a bold statement, but it's not without evidence: The state's geography, topography, and climate really do make for scientifically light, fluffy snow. And Park City, high in the Wasatch Mountains, gets a whole heap of that powder, some 300 inches annually. Ready to fly down it? Head for Woodward Park City, an "action sports hub" where a tubing ticket provides access not just to seven lift-accessed sliding lanes, but also to Woodward's ski and snowboard learning terrain.
Or, perhaps, in honor of the 20th anniversary of the Salt Lake City Games, you'd prefer to follow in the footsteps of the Olympians, and head to one of the former Olympic venues. Soldier Hollow Nordic Center, in Midway, hosted the biathlon, cross-country skiing, and Nordic combined events. Today, the area still sees lots of cross-country skiing, but they've also added a tubing hill with lanes that are an eye-popping 1,200 feet long. Riders can race one another, or latch together by holding hands to slide down even faster. The hill's sound system serves up classic rock, while the day lodge kitchen serves crunchy, pearl sugar–studded Le Waf waffles.
For a truly supercharged sliding experience, make a reservation and head to Utah Olympic Park, where you can ride in a bobsled down the exact same track the Olympians did. Piloted by a professional driver, you'll fly through the final 10 turns, hitting speeds of up to 70 mph. As you're whooshing down the ice, you'll swear you can hear the crowd roar.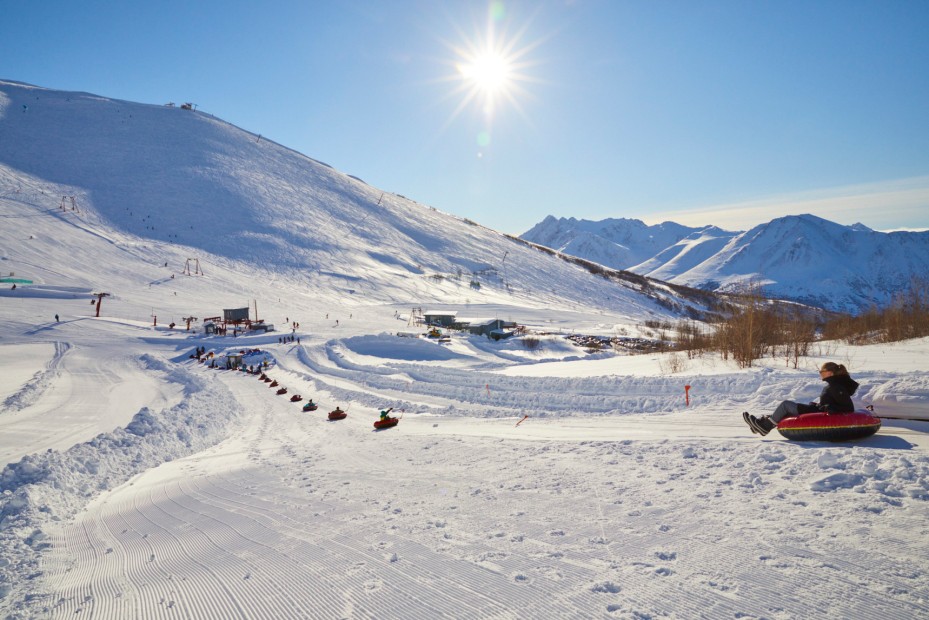 Anchorage, Alaska
Not every city can have a ski run in the middle of town. Then again, not every city sits as far north as Siberia, nor does every city average highs in the 20s from November through February. Welcome to Anchorage, an urban winter wonderland where you can sled without leaving town. Kincaid Park has a hill with a view: from the top, you can spy Cook Inlet, Mount Susitna, and jets coming into the international airport. Drink it in, then ride down the long, gentle hill. Russian Jack Park, meanwhile, has such a good slope, it used to be a ski hill. Though the rope tow is long gone, you can still trace its former path and sled down.
For a longer ride, head east of town to Anchorage's ski mountain, Arctic Valley, operated by employees and volunteers from the nonprofit Anchorage Ski Club. Arctic Valley also features a 400-foot-long tubing run with four lanes, served by a tow lift. One lane features a jump, while another has two 180-degree banked corners—if you've always wanted to feel like a pinball on snow, here's your chance!