When native Minnesotan Charles M. Schulz moved his young family to Sonoma County, California, in 1958, it marked the beginning of a new chapter in both his life and his career. Though his Peanuts comic had been running in newspapers nationwide for about eight years at that point, Snoopy, Charlie Brown, and the gang had yet to become the beloved (and ubiquitous) household names they are today. After Schulz moved to California, Peanuts entered what's considered its "golden age," with strips that spoke to the depths of the human condition and touched on everything from Little League baseball to the Vietnam War.
The rest of Schulz's life was spent in and around the Sonoma County region, with the cherished cartoonist living and working in Santa Rosa, California, until his death in 2000. These days, Schulz's fingerprints (and art) can be found all over the city, making it a magnet for Peanuts fans from all around the world. Here's a guide to six Sonoma County locations Snoopy lovers simply must see.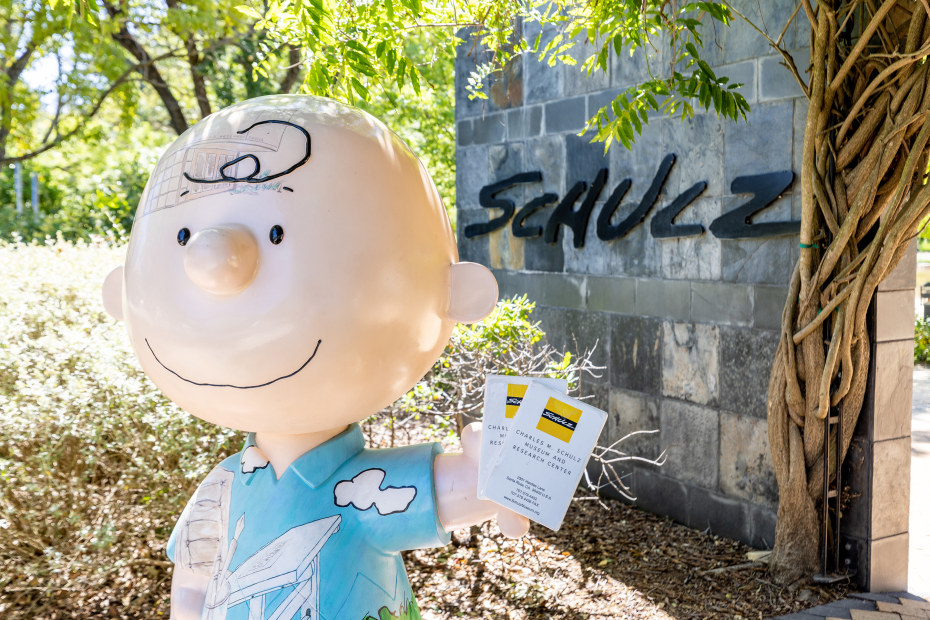 Charles M. Schulz Museum and Research Center
A family-friendly museum devoted to the life and work of the late cartoonist, the Charles M. Schulz Museum and Research Center boasts exhibits dedicated to Peanuts' legacy and Schulz's influences, as well as a re-creation of Schulz's studio, complete with his desk, drawing board, and personal effects. The museum also hosts frequent screenings and visiting lecturers, so it's worth checking the website before you pop in.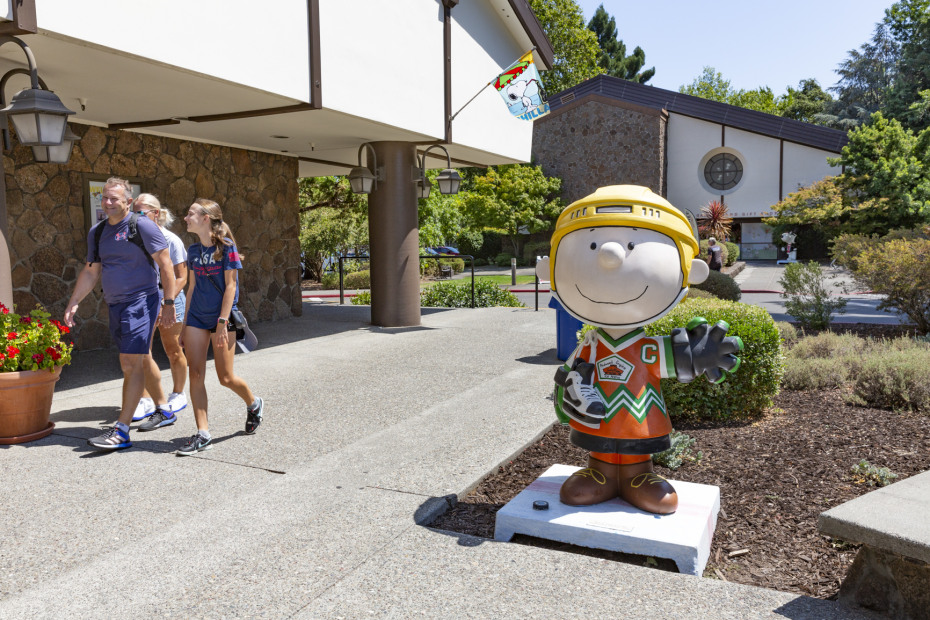 Snoopy's Home Ice
Located right across the street from the Schulz Museum, Snoopy's Home Ice was built by the cartoonist in 1969, in part because of his love of hockey and other winter sports. He had breakfast and lunch at the rink's Warm Puppy Café every day he was working, and played in senior hockey leagues well into his seventies. The delightful chalet-themed rink is still in use today, hosting hockey games, open skates, and plenty of Peanuts-themed birthday parties.
Snoopy's Gallery & Gift Shop
A combination pro shop and Peanuts emporium, Snoopy's Gallery & Gift Shop sells everything from Linus and Lucy stuffies to hockey jerseys. It's a great place to pick up a souvenir, and if you head upstairs, you'll find a mini museum with even more Schulz memorabilia.
The Snoopy Statues
If you've always wanted to take a picture with Snoopy, you're in luck: There are larger-than-life statues of the beagle and the rest of the Peanuts gang scattered all over Santa Rosa. The Sonoma County tourism board has a helpful online map of where they're all located, but if you just want a quick dip into the statue action, hit up Railroad Square Depot Park, where you'll find a lovely bronze statue of Charlie Brown and Snoopy standing arm in arm.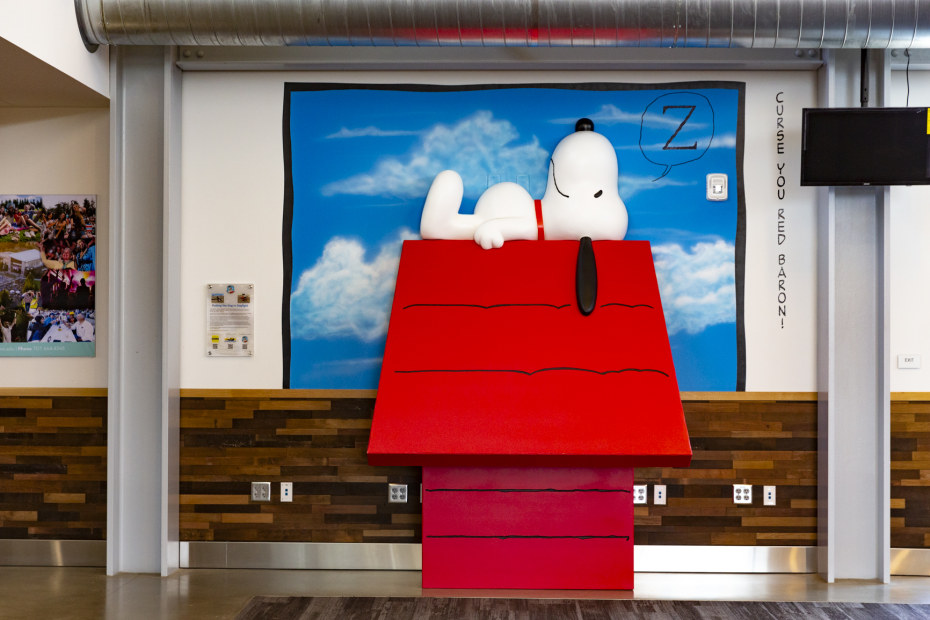 The Charles M. Schulz–Sonoma County Airport
The Sonoma County Airport bears Schulz's moniker, as well as hosting quite a bit of art dedicated to the Peanuts gang. The airport's logo even sports Snoopy, in his flight helmet and goggles, sitting atop his red doghouse as it jets off to parts unknown. Alaska, American, and Avelo Airlines all fly in and out of the small airport, making travel to and from of Sonoma County a relative breeze.
The Charles M. Schulz Gravesite
When Schulz died in February 2000, it was just one day before the final original Peanuts strip was published in newspapers. He'd decided to put down his pen the year prior, amidst a battle with colorectal cancer. He was buried in Pleasant Hill Memorial Park and Mortuary in Sebastopol, California, where his gravesite is marked with an oversize stone bench engraved with images of Charlie Brown, Snoopy, Linus, and Lucy, as well as Schulz's bold and distinctive signature, which fans came to know after years of reading the strip. It's not a bad place to sit in contemplation or with the Sunday comics, where you'll still find Schulz's work even now.