In Lake Tahoe, the fun doesn't melt away with the snow. Come July, a vibrant landscape is revealed, brimming with water sports and other outdoor recreation. For families, that means less time bundling up the kids, and more time kayaking crystalline coves and hiking tree-lined trails. Swap the ski boots for flip flops as you dive into these kid-friendly recommendations for an unforgettable family summer vacation in Tahoe.
What to Do as a Family in Lake Tahoe
Beaches
Lake Tahoe's turquoise waters are especially irresistible on hot summer days. While much of the lake can be chilly given its depths—Tahoe is the second deepest lake in the nation—shallow waters heat up quickly during warm weather months. On the western shore, Meeks Bay and Emerald Bay are scenic options, while eastern shore gems include Nevada Beach and Round Hill Pines Beach. Along the north shore, King's Beach refers not just to Tahoe's largest stretch of sand, but the small village of shops and eateries that surrounds it. Kings Beach State Recreation Area offers picnic facilities, a playground, and lots of options to get on the water with rentals from nearby North Tahoe Watersports.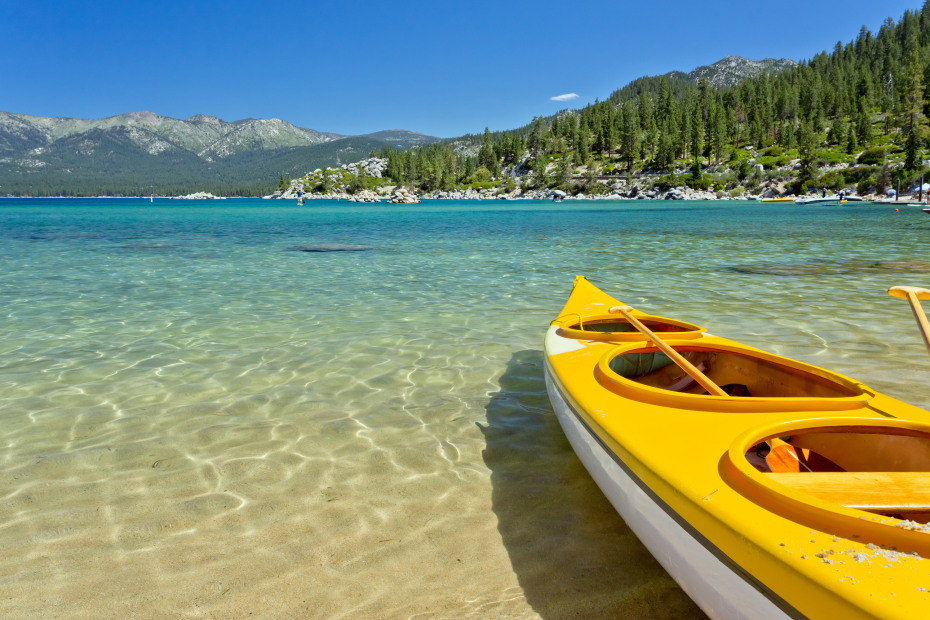 Watersports
Lake Tahoe is watersport nirvana with outfitters offering numerous ways to play on the lake with kayaks, stand-up paddle boards, pedal boats, jet skis, and more. Along the north shore, Tahoe Adventure Company rents SUPs, kayaks, and boats. Kayak Tahoe is your spot to paddle South Lake spots including mesmerizing Emerald Bay. You can also peer directly at Tahoe's deep blue depths with the transparent kayaks at Clearly Tahoe, which offers kid-friendly narrated tours of the lake's quiet coves.
River Rafting
One of the area's most thrilling water adventures is found not on Lake Tahoe, but on the adjacent Truckee River. Truckee River Rafting and Truckee River Raft Company can get you geared up for a gently paced, family-friendly journey that meanders through some of the region's most spectacular scenery. Or you and your kids who are at least 7 years old can get a splash of adrenaline with a white water rafting adventure outside of Truckee alongside guides from Tributary Whitewater Tours.
Summer Camp for Kids
During warm weather months, the popular ski resort Heavenly Lake Tahoe transforms into a drop-in summer camp with kid-friendly activities such as rope course challenges, 3,300 ft-long zip lines that soar above the treetops, and tubing down a slick 500-foot, hillside track. Plus, the gondola ride up to the mountaintop resort offers stunning scenery of Tahoe's dazzling alpine landscape and access to hiking trails.
Hiking
While not everyone may be up for the entire 5-mile trek from D.L. Bliss State Park to sparkling Emerald Bay, the Rubicon Trail delivers dramatic, waterfront scenery as soon as you step foot on the trail, offering a rewarding outing regardless of how far you choose to venture.
Just outside Tahoe City, even young hikers can enjoy breathtaking, bird's-eye vistas without breaking a sweat. Clocking in at roughly one third of a mile, Eagle Rock's gently sloping path leads to a volcanic outcrop with panoramic views of the lake ringed by forested granite peaks.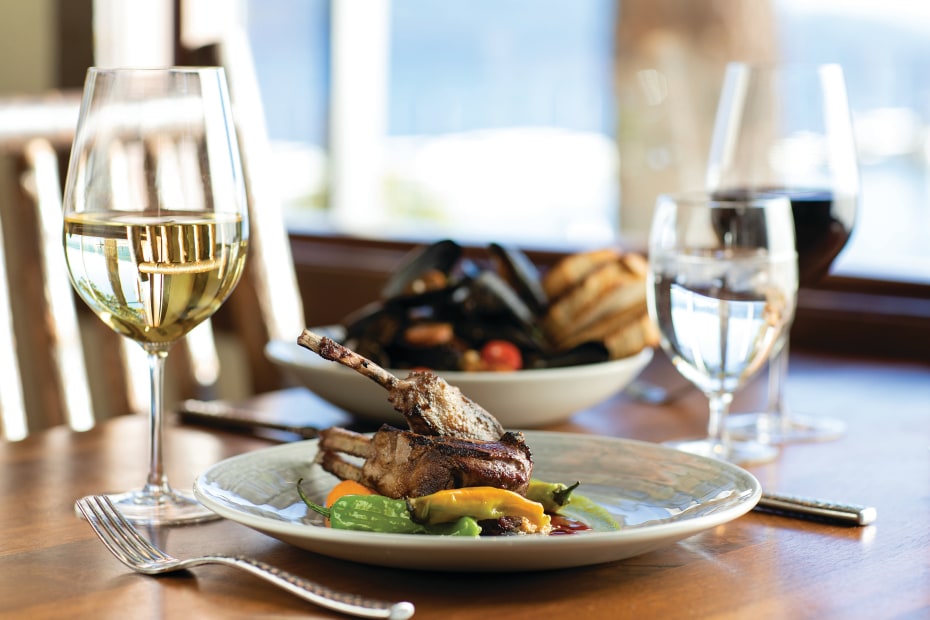 Kid-Friendly Restaurants Around Tahoe
Before opening her Crazy Good Bakery and Café in South Lake Tahoe, Christine Andersen-Smith gained a loyal following for the doughnuts and pies she sold at local farmers' markets. Her cozy, wood-paneled bakery still draws a crowd for fresh baked goods such as bagels, scones, quiches, and gluten free and vegan delights. For more inventive treats, nearby Glazed and Confuzed Tahoe Donut tempts with deliciously witty creations such as the starry-sprinkled Vincent Van Dough and toasted marshmallow-topped S'mortal Combat.
Behind glass doors plastered with skate and snowboard stickers, the north shore's popular Mexican BBQ joint T's Mesquite Rotisserie fills up at lunchtime for its succulent, slow-roasted meats. Hefty servings of tri-tip, pork, and rotisserie chicken fill tacos, burritos, and combo plates—with mini versions for kids—that can be taken to-go or enjoyed in the downhome, diner-like setting. For lighter fare, head to South Lake Tahoe's beloved Sprouts Café. Owned and operated by a native Tahoe family, the cheery cafe offers a lengthy menu of wholesome grub such as avocado and turkey-stuffed sandwiches and fresh smoothies that are easily picked up en route to the beach.
South Lake Tahoe boasts a craft beer trail comprised of nine local breweries, most of which welcome little ones. Especially family-friendly spots include South Lake Brewing Co. with a wall-high stack of board games, and Lake Tahoe AleWorx which dishes up kid-friendly staples such as build-your-own pizza and mac n' cheese. In Incline Village, the popular Lone Eagle Grille offers an upscale family-friendly experience with a waterfront locale and steakhouse fare—prime rib, local bison tenderloin—including a three-course kids menu. Families with restless kiddos may prefer the more relaxed adjacent lounge, or opt for a casual meal around an outdoor fire pit overlooking the water.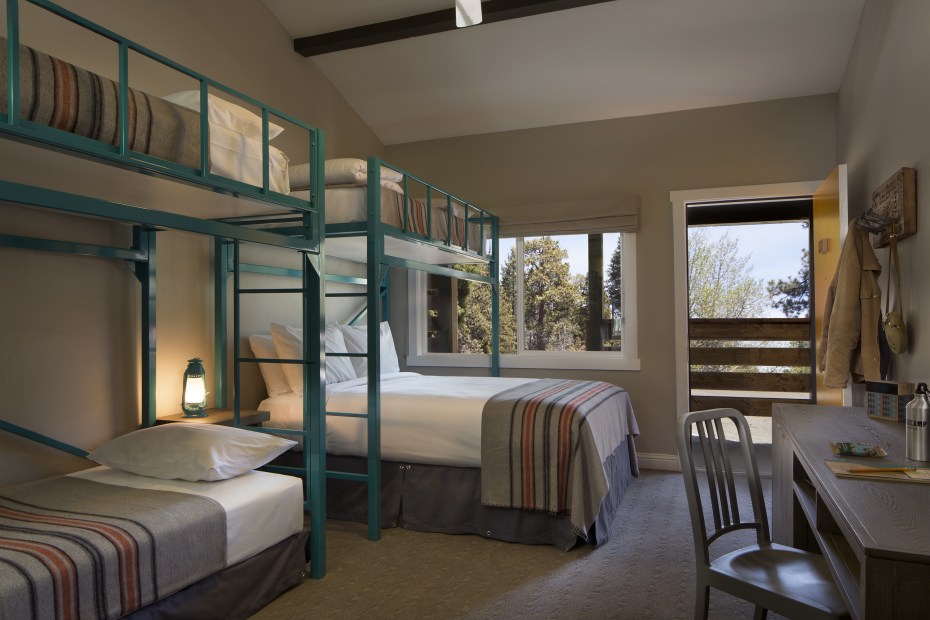 Where to Stay
With a variety of room configurations that include built-in bunk beds, the Hyatt Regency Lake Tahoe Resort Spa and Casino is an ideal homebase to explore the north shore. Yet, you're likely to spend most of your time at the gorgeous private beach with a shallow wading area, on chaise lounge chairs with food and drink service, and on the water thanks to the onsite rentals. If you can pull yourself away from the sand, a veritable lagoon of adult and kids' pools await, as does a kids camp that offers parents free time to hit the spa, ride mountain bike trails, or relax on a sunset cruise.
Set within a village of shops and restaurants at the base of the Heavenly gondola, Marriott Timber Lodge enjoys a central locale in South Lake Tahoe that's walking distance to the water. The grand, alpine-style hotel features condo-style rooms with multiple bedrooms, full kitchens, and living spaces with fireplaces. Parents can claim the master suite, while kids get a game-filled activity center and dedicated splash zone at the pool deck.
With outposts in Tahoe City and South Lake Tahoe, Basecamp Hotels offer families affordable lodging in a fun, camp-themed setting. Rooms are decked with stylish, outdoor-themed decor including a few with indoor tents and electric campfires. Plus, kids can nab s'more kits to roast on the real fire pits outside.
For retro-themed glamping, reserve a shining Airstream trailer at Zephyr Cove Resort on Tahoe's southeastern shore. Set amidst the pines at individual campsites, the newly built coaches sleep four and are outfitted with luxe amenities—fully equipped kitchen, lounge seating, bathroom—and include campsite upgrades such as a gas grill, Adirondack chairs, and free wood for the fire pit.
Often referred to as the crown jewel of Lake Tahoe, Emerald Bay is home not just to glassy waters, but also to one of the lake's most popular campgrounds. Set on a sugar pine and manzanita-forested promontory overlooking the bay, Eagle Point Campground at Emerald Bay State Park offers 100 campsites equipped with picnic tables, fire rings, and water spigots. For added serenity and adventure, book one of the remote boat-in sites that overlook the bay's centerpiece, Fannette Island. From either campground, you can follow the Rubicon Trail to Vikingsholm, a magnificent, Scandinavian-style former summer home that is open to the public with seasonal tours. Just book well in advance, and make sure to use onsite bear lockers as family campers aren't the only ones active during summer.