On a toasty afternoon in mid-September more than 30 years ago, Lake Tahoe spoke to me. "Take the plunge," the lake whispered, as I waded up to my ankles in its clear shallows at Nevada's Sand Harbor. Not having a swimsuit with me, and seeing that the beach was nearly deserted, I acted as any sensible person would act, or so I thought at the time: I stripped to my skivvies and dived in.
That impromptu, mildly indiscreet swim in bracing water took place during my first trip to Lake Tahoe, the Sierra jewel nestled at 6,223 feet on the California-Nevada border. I blame my impulsive action on the brashness of youth, which allowed me to imagine that tighty-whities really do resemble a Speedo. (They don't.) But I also blame that spectacular, cusp-of-autumn day. Golden, honey-thick sunlight warmed my face and arms, and the mountain air still carried the dry, piney scent of high summer in the woods. The lake's sapphire-and-turquoise-hued water sparkled as enticingly as a Broadway marquee. Rising above the opposite shore, oblivious to the imminent arrival of winter's snow, granite peaks basked in the sun. How could I not jump in?
In the decades since, I've traveled dozens of times to Lake Tahoe and its surrounding basin of deep forests, boulder-strewn beaches, and friendly towns. I love swimming and hiking here in summer, and skiing in winter and spring. But autumn remains my favorite time of year at North America's largest alpine lake.
After Labor Day weekend, the season announces itself in many delightful ways. Summer throngs and their cars evaporate, and skiers and snowboarders have yet to arrive, so traffic lightens and restaurant reservations are easier to score. Daytime temperatures drop but remain pleasant, softly popping fires make cooler nights cozy, and T-shirts give way to flannel shirts and down vests. The crisp weather calls for more substantial eats: a big stack at Heidi's Pancake House; a hefty short-rib burger and a house pint at Cold Water Brewery & Grill (both in South Lake Tahoe, California); or a prodigious smoked-salmon omelet at Fire Sign Cafe (in Tahoe City, California, on the lake's west shore). The pockets of aspens dotting Tahoe's mostly evergreen forests gradually lighten from green to brilliant yellows and golds, their leaves dropping along with the price of lodging. In autumn, Tahoe moves into the slow lane.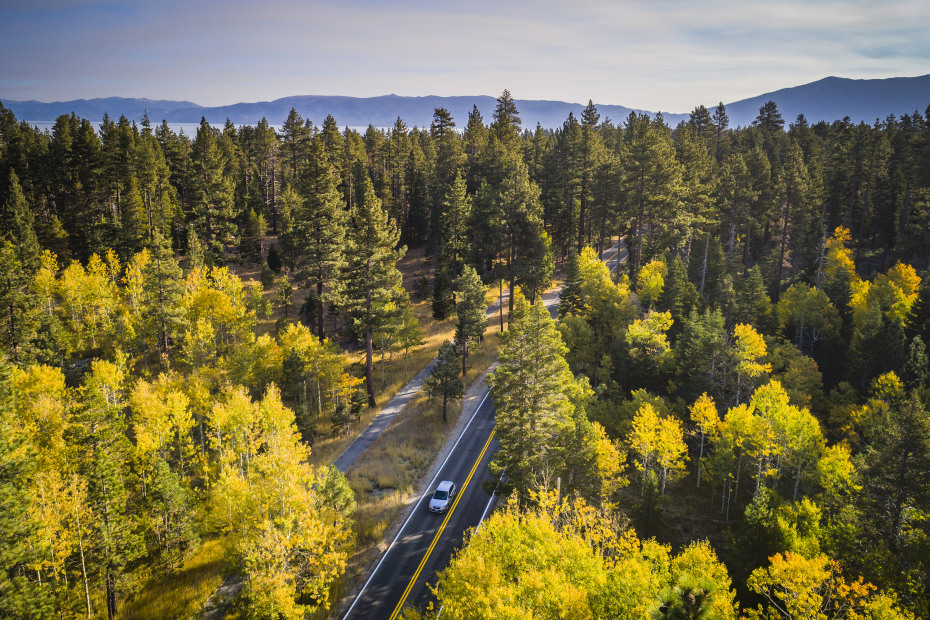 That wasn't always so. For countless generations, before 19th-century pioneers displaced them, the Washoe people spent the summer and early fall on the shores of Tahoe (a name derived from da ow a ga, Washoe for "edge of the lake"). "Autumn was probably the busiest time of year as they prepared to move to lower elevations for the winter," says Darrel Cruz, the tribe's historic preservation officer. "Meadows were burned to promote new growth, berries were gathered, and whitefish were harvested during their spawning." The Washoe no longer live seasonally by the lake, but Tahoe remains central to their culture: They still use its water in their ceremonies.
Euro-Americans arrived in the region in the 1860s, following the discovery of the silver- and gold-rich Comstock Lode around nearby Virginia City, Nevada. For them, autumn meant a rush to cut trees before the snow arrived. "Pioneers were awestruck at the sight of the lake and its magnificent forests," says Michael Makley, the author of A Short History of Lake Tahoe. But the newcomers were there to do a job: supplying the mines with timber. "Exploitation of resources took precedence over preservation," Makley says.
By the time a Lake Tahoe national park was first proposed in 1899, vast swaths of the basin were no longer scenic enough to merit protection. Though the park never materialized, the trees did return, thanks to concerted conservation efforts. Today, roughly 85 percent of the Tahoe basin is national forest or state parkland.
During my most recent autumn trips, I sampled yet again an ideal mix of outdoor and indoor pursuits, most of them low cost or free, with only an occasional splurge.
One sunny September afternoon, I watched sailboats tack across a blue lake frosted with small whitecaps while I lingered over lunch on the lakeside deck of the Beacon Bar & Grill (part of the south shore's Camp Richardson resort). At the adjacent Tallac Historic Site, I walked the grounds of imposing stone and timber lodges where prominent San Francisco families summered by the lake 100 years ago. In nearby South Lake Tahoe, at the Lake Tahoe History Museum, I lost a penny to a chrome-plated one-armed bandit, a 1961 relic of the gaming industry that still flourishes in Stateline and Crystal Bay, Nevada (at the southern and northern ends of the lake, respectively).
I spent one glorious October day along the north and west shores. In the morning, at Tahoe City's Marion Steinbach Indian Basket Museum, I marveled at gorgeous, early-20th-century Washoe baskets with intricate geometric designs worked in willow, redbud, and bracken fern root. That afternoon, with temperatures in the high 50s, I hiked a 6.5-mile loop of the General Creek Trail at Ed Z'berg Sugar Pine Point State Park. Gently ascending through a pine forest where the only other living beings I encountered were deer and woodpeckers, I rounded one bend to discover the trail blanketed with golden leaves from a stand of aspens.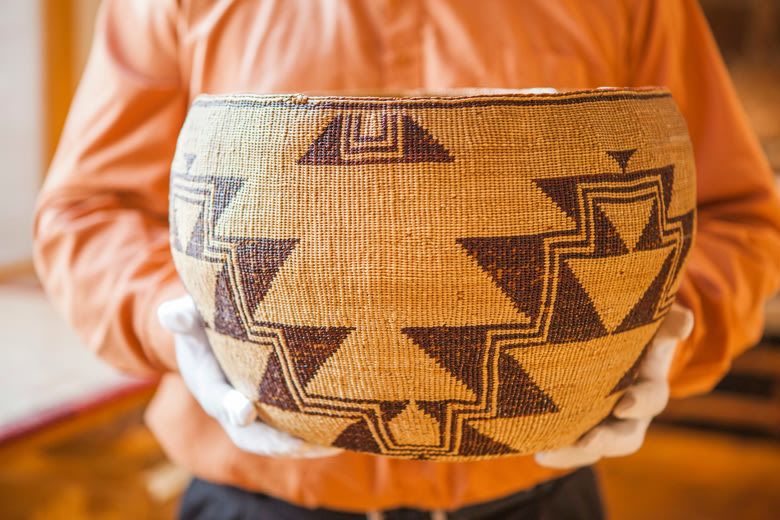 After the hike, I indulged in a blissful massage (for a discounted, autumn weekday price) at the hushed, elegant spa of the Ritz-Carlton Lake Tahoe, a 15-minute drive from the north shore community of Kings Beach, California. That night, at Christy Hill restaurant in Tahoe City, I dined on sophisticated fall comfort food—gnocchi with duck confit and chanterelles, and a luscious seared scallop with chestnut-apple puree and gingered brussels sprouts— while watching the light fade and a luminous canopy of stars emerge over the water.
Another October, I witnessed an utterly compelling natural wonder at the U.S. Forest Service's Taylor Creek Visitor Center outside South Lake Tahoe: the fall run of the kokanee, a dwarf freshwater salmon introduced to Tahoe in the 1940s. "In autumn, the fish return from the lake to spawn in Taylor Creek, where they were born," said Sarah Muskopf, a Forest Service aquatic biologist. We stood on a platform overlooking hundreds of fish schooling in a wide, still section of water set against a backdrop of turning aspens and distant peaks. "It will take some of them days to struggle all the way to the end, more than two miles from the lake," she said.
In an echo of the past, on a September afternoon not unlike that long-ago day when I first visited Tahoe, I found myself wading once more at Sand Harbor. The sun warmed me and the water sparkled, but again I had no swimsuit. And though the beach was far busier and I was much older—and presumably wiser—I still heard the lake call. I'll let you guess what happened next.