Jutting up from the desert like a wonky witch's hat, Picacho Peak is always a welcome sight on the drive between Phoenix and Tucson. The 1,500-foot mountain is so eye-catching it has been used as a navigational marker since prehistoric times. Today, when it comes into view, you know you're more than halfway to the Old Pueblo.  
Despite its intriguing distinctiveness, most travelers blast by at 75 mph. But those who explore 3,747-acre Picacho Peak State Park will find surprising history, heart-pumping hikes, and expansive views.
"This is a perfect setting to explore the variety of plants, birds, and animals that make this Sonoran Desert park so special," says Park Manager Carolin Miller.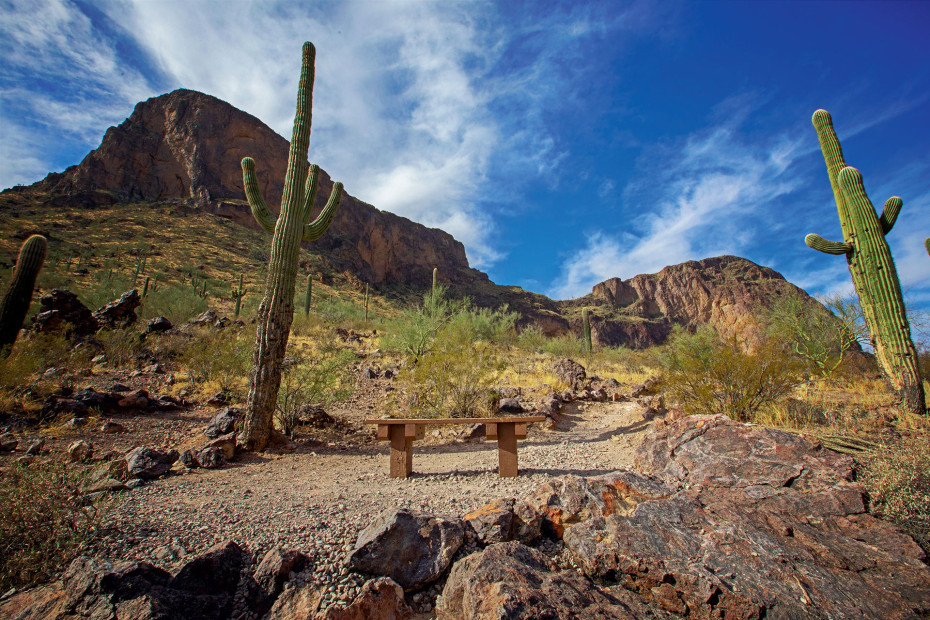 The most thrilling way to meet the peak is by hiking the vertiginous, four-mile round-trip Hunter Trail. In 1932, the Civilian Conservation Corps (CCC) carved the original Hunter Trail to the top of Picacho Peak, where it built a 40-foot-tall light beacon to help aircraft navigate amid  the landscape's protrusions. The CCC also placed the original steel cables that still line the trail. On parts of the trek, you'll use those cables to haul yourself up boulders, giving you jaw-dropping views of saguaro forests stretching toward the blue horizon. Miller recommends wearing sturdy footwear, bringing plenty of water even in cooler weather, and wearing gloves to protect your hands from cable chafing. 
If you're acrophobic or an inexperienced hiker, you'll want to give Hunter Trail a pass. Instead, saunter the first two miles of Sunset Vista Trail (before it joins Hunter Trail). This route through the foothills is spectacular in spring, when it blazes like a sunset with orange and yellow Mexican poppies. For even more leisurely options, the park offers three roughly half-mile paths, including the Nature Trail, dotted with interpretive signs about flora and fauna, and the Children's Trail, which leads to a mountainside cave. On any of the paths, keep an eye out for jackrabbits, coyotes, and—on rare occasions—bobcats, mule deer, and kit foxes. Birders can pick up a guide at the visitor center to help identify the park's abundant resident and migratory avian species.
As you hike, you can ponder the people who've seen these stunning views throughout history. From about 750 to 1450, Picacho Peak was home the Ancestral Sonoran Desert People who lived throughout the region. In what is now Phoenix, these skilled hydraulic engineers constructed the largest system of canals in the Americas north of Peru. In the Picacho Mountains, the Ancestral Sonoran Desert People created more than 4,000 petroglyphs—images of snakes, swirls, people, and more, that can still be seen today.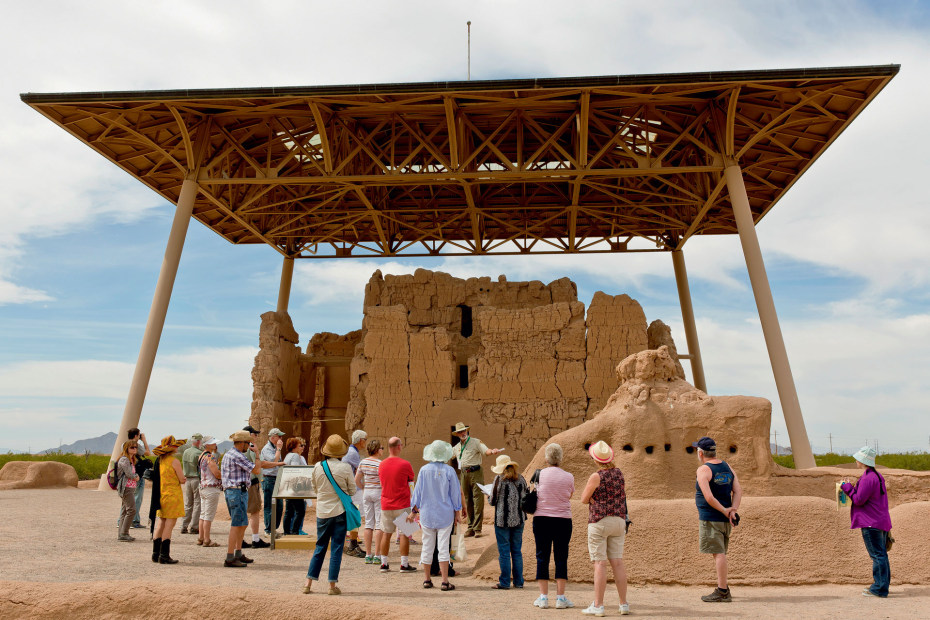 Visitors can learn about this remarkable culture at the free Casa Grande Ruins National Monument in Coolidge, about half an hour north of Picacho Peak. The nation's first archaeological preserve, Casa Grande Ruins protects what remains of Casa Grande, the "Big House." This four-story adobe structure, built around 1350, is considered sacred by the descendants of the Ancestral Sonoran Desert People, including the O'odham. 
"It's a place where you can really feel a connection to the past," says Kyle Woodson, director of the cultural resource management program for the Gila River Indian Community. "There really are not many places in Arizona that have this combination of historical, cultural and archaeological significance like Casa Grande."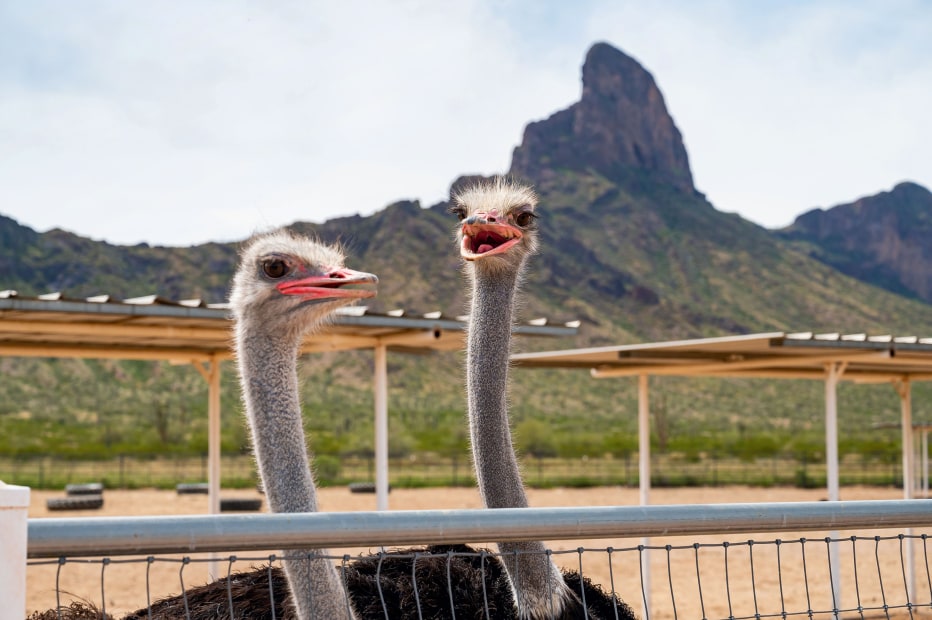 As the centuries went on, European settlers began to leave their mark on the area. In the mid-1800s, the Mormon Battalion built a wagon road through Picacho Pass that was later traversed by prospectors on the way to the California Gold Rush.
For those wanting to extend their stay, Picacho Peak State Park offers RV and tent camping complete with electricity and Wi-Fi. If you have kids or animal lovers in tow, consider a side trip to Rooster Cogburn Ostrich Ranch, a mile from the park. Naturally, visitors can feed ostriches. But they can also stroke stingrays, kiss Boer goats, nuzzle miniature donkeys, and become a human perch for rainbow lorikeets.