Some people swoon over the colors: cheery yellows, demure lilacs, sunburnt oranges. Others admire the forms: the swaying bells or showy sunbursts. But I've always been enchanted by the names of wildflowers—Johnny-jump-up, black-eyed Susan, fairy lantern, shooting star. On walks through the oak woodlands near my childhood home, my mother would point and identify, sharing names she'd learned from her own father. They felt like secret passwords, opening up the natural world.
Even then, I knew there was something special about wildflowers—the way they sprang from the earth with an indomitable will, thrusting color into the unlikeliest landscapes. "They're tough cookies," says Angelica Elliott, a program development manager with the Desert Botanical Garden in Phoenix. "Each flowering plant must be uniquely adapted to its habitat in order to survive."
In the deserts of the Southwest, this means flowers that flourish despite scorching days, frigid nights, and months without rain. "Most people think there's nothing out there," says Lili Singer, director of special projects and adult education at the Theodore Payne Foundation for Wild Flowers and Native Plants in Los Angeles. "Then suddenly the desert comes alive with spectacular carpets of color. An especially good year is something you remember your entire life."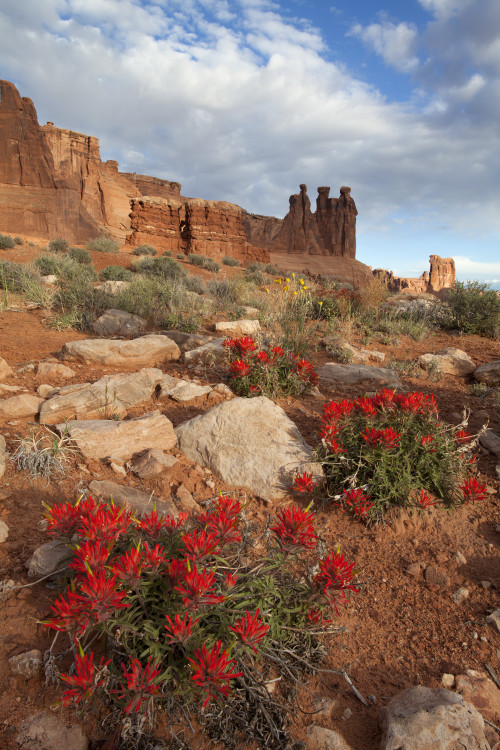 My own unforgettable experience occurred in 2005, the year Death Valley National Park—the hottest and driest place in North America—burst into show stopping bloom. Spurred by incredible photos of the display, friends and I packed our camping gear and left Los Angeles at dusk. We spent the night in a gravel overflow lot, surrounded by other "bloomers" from across the country. The crowd was amped and giddy, like concert goers awaiting a once-in-a-lifetime show.
At dawn, the curtain of darkness was raised, revealing vivid fields that stretched in all directions. Jaws dropped. Shutter fingers twitched. We spent hours amid the blossoms, bending low to discover unexpected details: the scalloped petals of a pale gravel ghost—like the work of some pixie with pinking shears—and the five red dots that give the delicate desert fivespot its name. Each time I looked up, countless flowers waved back in greeting.
In a matter of weeks, the bloom had faded. It would be more than a decade before Death Valley put on another show as amazing as this one. That unpredictability is a big part of the appeal of "super blooms" (the colloquial term applied to these rare, stunning displays). It also testifies to wildflowers' patient survival strategy. Like demanding celebrities, they refuse to make an appearance until their exacting requirements are met.
"That's the amazing thing about annuals," Elliott says. "Their seeds can lie dormant in the soil for decades, just waiting for the right temperatures and rainfall." In a perfect season, germination kicks off in early autumn with a triggering rain and cool temperatures. After that, the plants require steady, ample winter rainfall to grow, followed by temperate spring weather to stimulate blossoming. Even if all the check boxes are ticked, a freak freeze, an untimely heat wave, high winds—even hungry herbivores—can cause a promising bloom to fizzle. "Instead of massive carpets, you might get little area rugs," Elliott says. "It's hard to predict."
Even in years when the desert fails to produce phenomenal displays, it always offers something exceptional to those willing to look closely. For some wildflower devotees, this can mean communing with a single plant. "One of the most beautiful things I've witnessed in the outdoors was the birth of an evening primrose at a campground in northern Arizona," says photographer Colleen Miniuk-Sperry, coauthor of Wild in Arizona: Photographing Arizona's Wildflowers. "I watched the first blossom unfurl over 45 minutes. It was the most profound experience."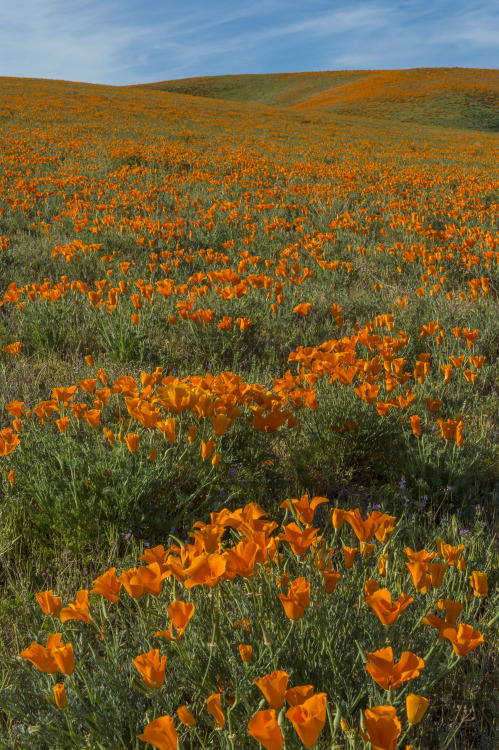 In spring 2017, the stars again aligned in the desert, thanks to generous rainfall across much of the Southwest. My family and I traveled to Joshua Tree National Park, where the rains had coaxed abundant color from the jumbled landscape. Between the red rock formations, beavertail cacti flashed fuchsia bouquets next to barbed bristles—an arresting mix of "come hither" and "keep your distance." In the park's southern section, clusters of indigo bushes hung heavy with deep purple flowers, while spindly ocotillos twisted skyward toward fiery, hummingbird-beckoning blossoms.
Our route home led past the Antelope Valley California Poppy Reserve, where the golden fields were so brilliant, they could actually be seen from outer space. Pictures of the displays had gone viral on social media, drawing record crowds.
"We were completely inundated," state park interpreter Jean Rhyne says. "The lot was full by 9 a.m., but we still had thousands of people walking in, climbing fences, and trampling the flowers." Many of those visitors arrived with a single objective: snapping a selfie with the blooming backdrop. Once posted, the images inspired even more selfie seekers—a feedback loop that left many poppies loved to death.
Frenzied fans aren't the only threats. While California poppies have adapted to extreme temperatures and wildfires, longterm climate change could threaten their sensitive habitats.
For now, desert wildflowers are still very much with us, reminders that in a world short on optimism, wonders can occur. My love of wildflowers also remains, though these days I'm the parent passing down their secrets. Already, my young son knows to hold a glossy buttercup beneath my chin, looking for the telltale yellow reflection. "Mama, do you like butter?" he asks hopefully. I always do.