On day one alone we saw enough to believe the hype. Fall really is southern Utah's moment of glory. The shimmering yellow cottonwoods in Zion National Park's Watchman Campground added a bright punch to the kaleidoscope of orange, salmon, and brick in the layered rock walls.
We scaled a steep incline on switchbacks chiseled into the vertical cliff, gripping a chain bolted to the sheer wall for safety. High above the valley floor we scrambled over boulders, gazed at freshwater pools, and ducked into Hidden Canyon*, an ancient, echoey ravine. *Editor's note: The Hidden Canyon trail is still closed as of September 2022 due to substantial rockfall.
When hearing my plan to pack my husband and our then elementary school–age kids into a recreational vehicle to witness autumn's spectacle in Utah's five national parks, friends had asked me, "Aren't you worried about your kids going stir-crazy in that RV for a week?" But on day two, having driven our hulking craft through the long tunnel cut into the rock that spit us out Zion's eastern side (oversize vehicles such as RVs require a permit to drive through the tunnel), I could tell it was not going to be a problem. We had barely come to a stop before they were out and scampering over the strangely striated pink hillsides. We spent a happy afternoon roaming a dreamy, labyrinthine landscape.
In the days that followed, the kids whittled sticks in the shadows of towering hoodoos at Bryce Canyon, cracked the morning ice off pools in the slickrock at Capitol Reef, tracked the cottontail bunnies that hide in the brush at Arches, tested the echo in every canyon they come across with yawps and whistles, and practiced their "desert parkour" at Canyonlands.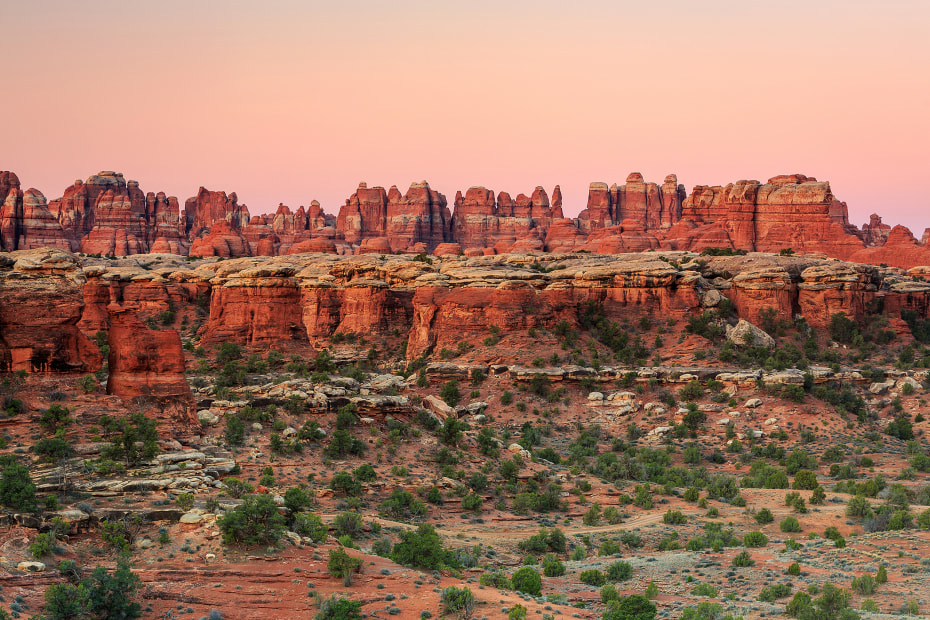 This left my husband and me free to fill our phones to bursting with snapshots of a constantly shape-shifting panorama. You'd sooner imagine these scenes were found on five different planets than in five parks along a 300-mile strip of a single state. Out there, geology is no dusty list of terms to memorize in a classroom.
Later as we drove through scenery that opened up into 360 degrees of sculpted red rock, then tightened into narrow canyons, and then revealed hardscrabble ranching valleys, we began to get the hang of RV life. We bumped our heads on open cabinet doors less often. We finessed the ballet of cooking a meal, changing clothes, and doing homework in close quarters.
With no tent to put up and no suitcases to lug, we could devote more hours to hiking or basking in the sun. We relished cruising right by the gateway scrum of inns and motels. We changed plans any time our whims shifted. Eventually we gained the confidence to bypass the full-hookup RV parks for the more rustic national park campgrounds, where you can wake up to cliffs glowing orange in the morning sun outside your window.
Which is exactly what I did in Capitol Reef's Fruita Campground. I was glad for the excuse to get out early to crunch through the fallen leaves, a hot cup of coffee in hand, as the land came to life. The kids soon tumbled out, begging to explore the adjacent orchard hung with apples so ripe it smelled like pie. Between the tidy rows of 3,100 fruit and nut trees planted by Mormon pioneers more than a century ago, dozens of deer and turkeys watched us, alert and wary. We circled around to a sunny pasture where two horses, their winter coats already growing in, clopped over to say hello. One of them thoroughly slimed our down jackets with an enthusiastic, slobbery whinny.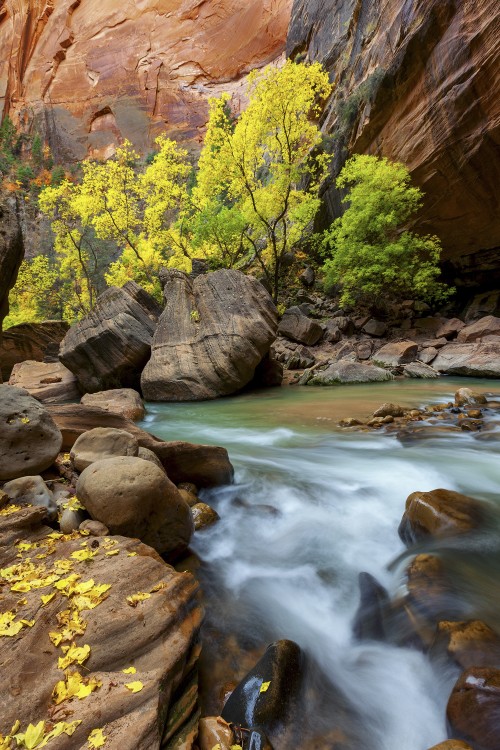 From that point on we gave up on cleanliness and adopted a frontiersy air. A couple days later, on the famed Devils Garden Trail in Arches National Park, we blew past the crowds lining up to see the implausibly spindly Landscape Arch and headed out on a primitive 7.2-mile loop. The path ventured upward along high, slender fins of rock and led to arches tucked into caves. At one point it left us strategizing how to get around a frigid pool of water bordered on both sides by near-vertical red rock.
We returned to our site covered in a layer of fine sand and feeling like heroes. As we swapped tales of glory around the campfire, unable to tear ourselves away from a sky thick with stars, we feasted on the ultimate reward from our home on wheels—cookies straight from the oven.