The types of places where you can park a camper or RV these days are seemingly endless. Some boast breathtaking views overlooking the sea, while others provide access to on-site breweries or animal sanctuaries. Online resources such as Hipcamp, Campendium, and membership-based Harvest Hosts can give you the pick of the lot, but in addition here are five great places in the West to park your ride.
Dark Sky RV Park and Campground, Kanab, Utah
Settle in beneath some of the brightest celestial bodies seen anywhere and enjoy a boutique van life experience in Southern Utah. Not only is Dark Sky RV park located less than 50 miles from Zion National Park and just a 30-minute drive from Grand Staircase–Escalante National Monument, its 40 acres offer plenty to do without ever leaving the premises. There's a zip line and dig pit for kids, a central gathering space with a pizza oven and community fire pit, and panoramic views of the nearby Red Cliffs and Vermilion Cliffs National Monuments that could keep you staring off into the wilderness for hours. The park also rents 4x4 vehicles and e-bikes to explore the area. There are 18 spacious full-service sites for larger vehicles and 10 electric-only sites for smaller camper vans. Each site boasts its own covered structure and furnishings for relaxing outdoors and includes access to the park's 24/7 market, which is sure to cure any late-night hunger cravings.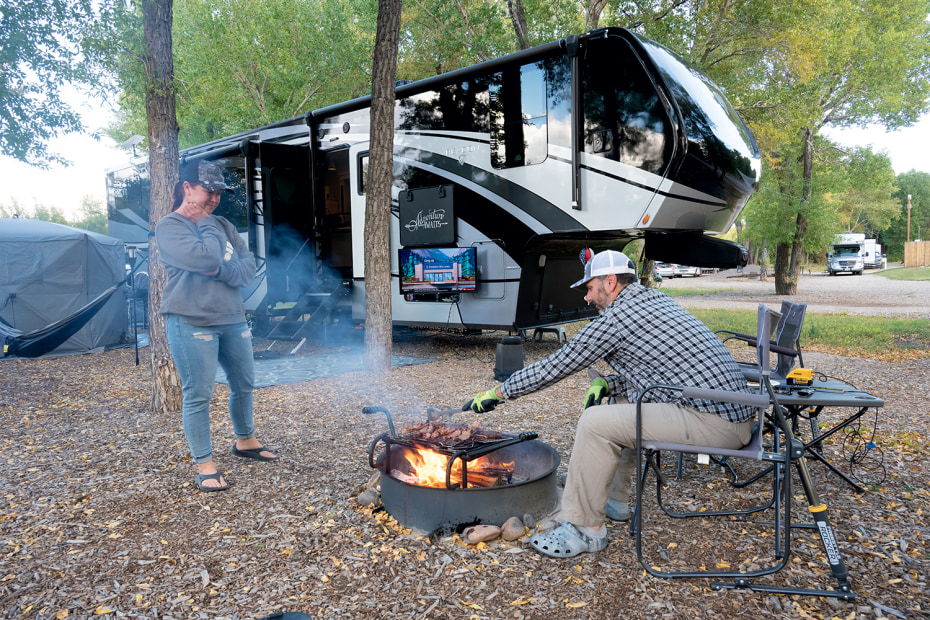 Longhorn Ranch Lodge & RV Resort, Dubois, Wyoming
Situated at an elevation of 6,917 feet along a nearly mile-long stretch of Wyoming's Wind River, the Longhorn RV Resort offers a comfy respite from city life. Each of the property's 50 RV sites (six of which can accommodate vehicles up to 100 feet long) are tucked among cottonwood trees that provide both shade and seclusion. Swing by the ranch's general store to pick up fly lines, fishing flies, and everything else you'll need for an angling adventure, or set out on a wrangler-led horseback ride (ranging from two hours to a full day) through the painted hills of the Dubois Badlands or the grassy lowlands of nearby Whiskey Mountain. The latter, which is part of the Wind River Mountain Range, is a good spot for hiking and will take you up open slopes scattered with sage and juniper. (Start early to avoid the sun.) Grand Teton National Park is an easy 56-mile drive northwest, with Yellowstone about 30 miles farther. The RV park is open seasonally from early May until October.
Thunder Mountain Alpaca Ranch, Hereford, Arizona
At this southern Arizona ranch overlooking the Miracle Valley, you'll wake to the sight of animals, including llamas, sheep, and the stars of the show: Huacaya alpacas, a type of alpaca breed known for its soft fleece. Classes in spinning or weaving, farm tours, and walks alongside alpacas are all available by appointment, and the ranch's Backyard Barnyard Boutique is your one-stop shop for hand-spun hats, scarves, and socks. The 80-foot driveway where you will park is perfect for one 38-foot (maximum-size) RV or two smaller vans, though be aware that drivers must back in or out around a 90-degree corner off a gravel road. The sites are available through Harvest Hosts or by contacting the property at least 48 hours prior to arrival.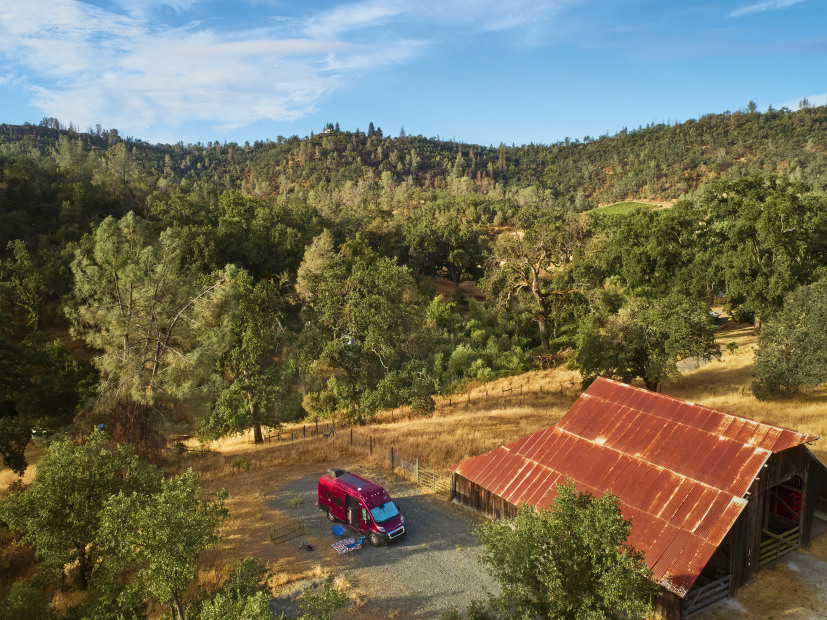 Six Sigma Ranch, Vineyard and Winery in Lower Lake, California
Indulge in wine tasting, have a picnic beneath oak trees, or embark on a property tour aboard an all-terrain military-style vehicle when staying at this 4,300-acre spread, a dedicated nature preserve with a ranch. Twelve RV spaces are set aside for boondocking members of Harvest Hosts or Six Sigma's wine club, and all have free access to the property's hiking and biking trails. Free-roaming wildlife can be seen amid the ranch's natural vegetation, so keep an eye out for deer, bobcats, and the occasional bear. Along with samplings of pinot noirs, cabernets, and sauvignon blancs, events such as Paella Night the first Wednesday of each month and guided treks during April are also par for the course.
Lake Shastina Golf Course in Weed, California
Start your golf game extra early by bedding down right next to the fairway. A level parking area can accommodate up to three RVs of any size at Northern California's Lake Shastina Golf Course, which sits nestled in the pines with 14,180-foot-tall Mount Shasta as its backdrop. Play varying combinations of 27 holes, including an 18-hole championship course and a 9-hole Scottish Links, then swing by the on-site bar and grill for brioche bun burgers and chicken parm sandwiches. The surrounding area is known for its hiking and climbing opportunities, though chances are you'll spend the entirety of your stay working on your swing.