At 81, AAA Member Mary Halter is no stranger to life lessons. Among the things this AAA Member has learned is how she likes to travel. A turning point in that education came in 2020, during the early months of lockdowns, with summer bearing down on Halter's home in Phoenix. In years past, Halter had escaped the desert heat by flying to the Midwest to visit family, but the pandemic dimmed her interest in getting on a plane. Instead, she bought a van, equipped it with a port-a-potty and a zero-gravity chair for sleeping, and motored on her way.
It didn't take her long to see the upsides. Some were economic: After her initial investment, a few tanks of gas cost less than airfare. But the biggest perk for Halter was peace of mind. She loved the flexibility, the freedom to take detours, to leave or linger without the hassle of packing and unpacking. She was also drawn to the spirit of adventure, and the beauty and newness of what she encountered.
"When I got out on the road, it was almost as if any anxiety I had just melted away," Halter says. "I realized that all my life, I'd been crisscrossing the country from the air, without seeing all the wonderful things in between."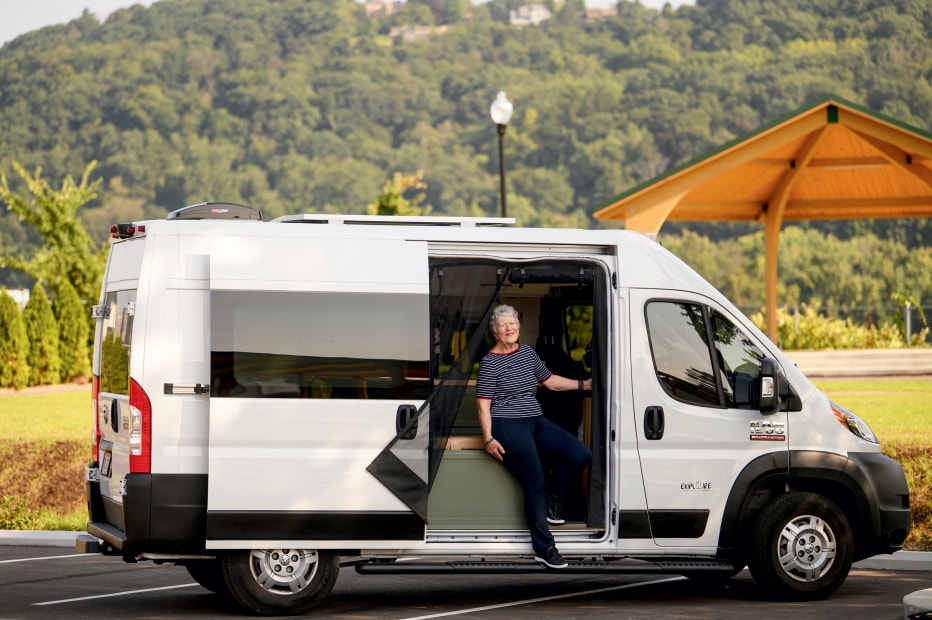 That first trip led to many others, which in turn inspired an upgrade. In 2022, Halter swapped out her van for a small RV, and she now roams six months a year. Though she travels solo, she is not alone.
Van life. Camper life. Call it what you will, the nomadic option has moved from the margins toward the mainstream. While exact figures are hard to come by (one estimate puts the number of U.S. van lifers at upwards of 3.1 million, a 63 percent jump since 2020), those who have embraced it—part-time or permanently—represent an ever-growing stitch in the social fabric. Their demographics are as diverse as the locales they visit. Retirees. Millennials. Gen Xers with kids. In recent years, their presence has been captured in Hollywood films and countless social media posts.
But real life is not the movies or Instagram. For a fuller picture of the charms and challenges of life on the road, Via asked a group of AAA Members who have gone mobile about their experiences: the vehicles they drive, where they take them, the motivations behind their travels, and tips they've picked up along the way. Here are the chief lessons learned.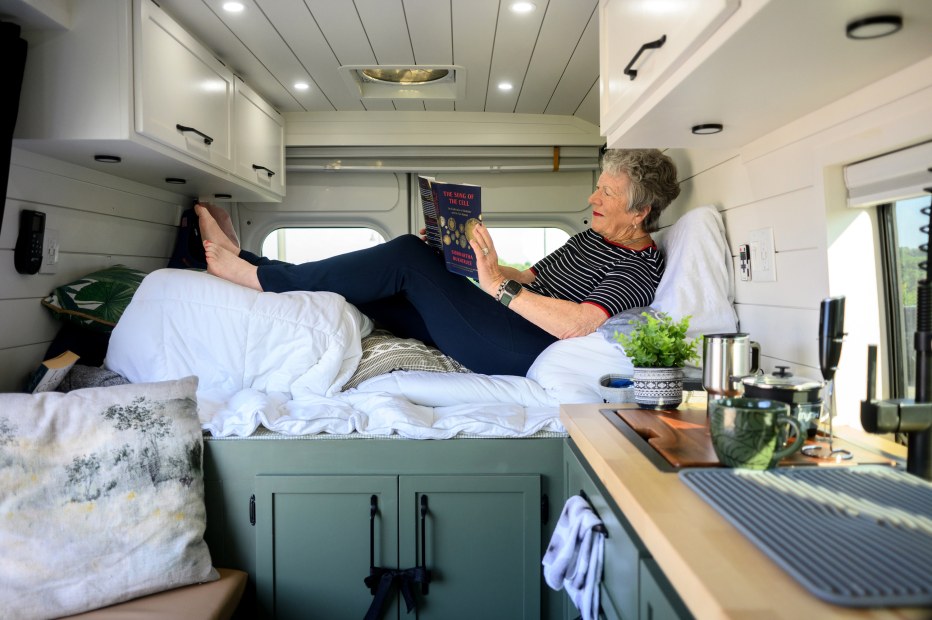 Test-drive the lifestyle.
Prior to the pandemic, Halter had done enough car camping to know that she enjoyed it, which made it easier to take the leap of purchasing a van. That Ford Transit Connect ran her $28,000, a relatively modest investment that provided her with invaluable intel. "I loved traveling in it, but in hot weather, I discovered that it was like sleeping in a tin can," says Halter.
Her next acquisition was a Dodge Ram ProMaster, furnished with a fridge, a fan, a bed, and other creature comforts. Customized, the small RV cost her $110,000, but Halter didn't blink because she knew she was committed to the lifestyle.
Vans and campers come in myriad makes and models, at price points that range from a few thousand bucks (for a used one) to mid-six-figures (for a luxury rig). Options abound. But life on the road is not for everyone, Halter says. "Whatever you're considering, I recommend you rent the vehicle first and take it on trips to a variety of places before you buy."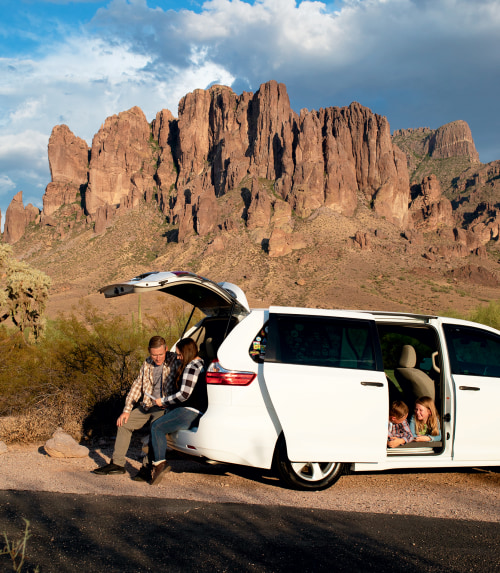 Look at the big picture.
If Heath Boomgaarden has learned anything from traveling with his family, it's that less is often more. When the 41-year-old and his wife, Kristin, hit the road from their home in Mesa, Arizona, with their two children, ages 8 and 11, they do so in a 2018 Toyota Sienna, a seemingly compact ride to sleep four people. But Boomgaarden says the outweigh the drawbacks. The minivan gets 30 miles per gallon, greater fuel efficiency than a lot of rigs, and it allows Boomgaarden to navigate backroads and byways where larger vehicles would struggle or could not go at all.
Plus, when your space is limited, you make the most of it: Boomgaarden brings along a two-burner box stove and a premium cooler that stores up to three days worth of food (they stop for ice and supplies along the way). He packs minimal cookware, and everyone brings only the clothes they need. At some point, Boomgaarden knows, the kids will outgrow it. But thanks to a clever bunk-bed setup, the van still feels more cozy than cramped. It also doubles as a roving classroom, stopping at historic landmarks and cultural attractions large and small. Broadening their children's horizons was part of the allure of van life from the start.
On their last trip this past summer, the Boomgaardens went on a 47-day excursion that took them through small towns and wilderness in Utah, Montana, and beyond. "Experiencing the kind of stuff that gets forgotten or taken for granted," Boomgaarden says, "that's something I want my kids to know—that it's not the material possessions that matter. There's a reason you'll never see a U-Haul at a funeral."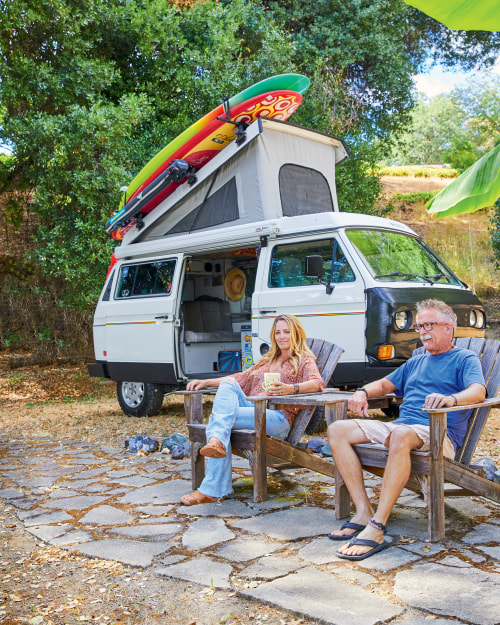 Enjoy the journey.
As a paramedic firefighter in Ukiah, California, Skip Williams, 61, does urgent work. But when he isn't responding to an emergency, he is not inclined to rush. A lifelong surfer, Williams is the owner of a 1987 Volkswagen Vanagon Westfalia, a retro-chic camper he first acquired 17 years ago to shuttle himself—and his boards—to the ocean waves. In the decade-plus since, he and his wife, Nanci, have put their "Westy" to more varied use, taking lengthy road trips across California, Nevada, and five other Western states.
Williams is handy, and with help from a mechanically inclined friend he has beefed up the Westy in all kinds of ways: better brakes, brawnier suspension, bigger engine, wider tires. Rooftop solar panels power a small fridge and heater and can charge cellphones and iPads. In the works is a Starlink satellite system, which Williams says will give him Wi-Fi if he strays from the grid.
When he first bought the Westfalia, Williams was worried that a full tank could only get him so far, sometimes not even from one fueling station to the next. Carrying gas cans solved that problem. The Westy is equipped to go almost anywhere, and that's where Williams likes to take it. Whatever travel plans he makes include wiggle room, so that he and Nanci can stay longer if they fall in love with a destination, as they did with Bend, Oregon, some years ago. "We don't drive five hours to get somewhere after dark and then pack up in the morning and head somewhere else," says Williams. "A lot of van life is about learning to enjoy the moment. Focus on the journey, not where you're going next."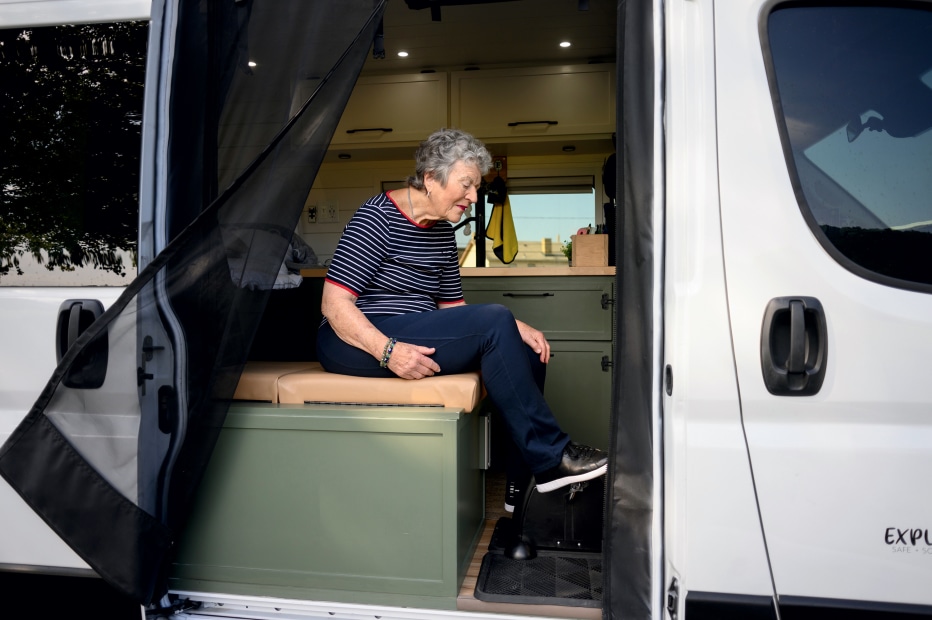 Be safe, resourceful, and respectful.
Mary Halter is hardly allergic to adventure, but as a woman traveling alone, she leaves only so much to chance. Most days, she gets rolling early in the morning—"Wherever I am, I want to see the sunrise," she says—with a clear idea of where to stop. Her small RV can fit in a conventional parking spot, which gives her lots of options, including gas stations, truck stops, and various different parking lots.
Van lifers often boondock, stationing their vehicles outside of designated areas on public lands, but for safety Halter never does. In a pinch, if she arrives after dark, she looks for a quiet neighborhood and parks under a streetlight, closing her blackout curtains. She does her best to be discreet. "I try to stay away from houses, never directly in front of them," she says. "People don't seem to notice me, because I'm not camping. I'm usually gone before they wake up."
No matter where she travels, Halter knows that resources abound in the form of websites, apps, and online forums devoted to van life. Her favorite is Harvest Hosts, a membership service that functions something like Airbnb, connecting travelers with campsites at wineries, breweries, and other attractions. There is no camping fee, but the expectation is that travelers will purchase something—a souvenir, say, or a bottle of wine—before they depart.
Like most van lifers, Halter has picked up all kinds of hacks. She keeps a Planet Fitness membership so she can shower at any of those locations, though community pools and day spas are good for that as well. Laundromats exist for obvious reasons. Starbucks locations have bathrooms for customers. And when restaurants have happy hours, they tend to be sociable places that have the added perk of discounted food. Halter sometimes turns to them when she's hungry for conversation.
On the rare occasion when the road becomes too much, when she's weary of driving and can't find a place to park, or simply craving sleep on a bed with a thick mattress, Halter is not too proud to stop at a motel.
"I don't mind a little splurge now and then," she says. "I just tell myself, 'Think of all the money you've been saving by staying in your RV.'"