For a novice like me, sitting behind the wheel of a 2003 Dodge Sprinter that has been converted into a camper van is both exciting and unnerving. I've never rented or driven anything bigger than a four-door sedan. Thankfully, owner Alex Burr is more than happy to show me the ropes. His 21-foot-long vacation home on wheels is a snug space with room for four, complete with an outdoor shower and a solar-charged electrical system (but, alas, no toilet). He lists it on Outdoorsy, an RV rental marketplace that's like Airbnb for motor homes. You find an RV that suits you, talk with its owner to see if you're the right fit for it, and then arrange for a pickup—which in my case was as simple as taking public transit from San Francisco to Burr's Oakland, California, home, where he handed over the keys.
Since the pandemic began in mid-March, demand for recreational vehicles has skyrocketed nationwide. Companies such as Outdoorsy, El Monte RV, and RV Trader are seeing record numbers of buyers and renters. In fact, RV Trader's online traffic is up 76 percent this year compared to last, according to its vice president, Paige Bouma. But if you're itching to get outside and explore the West's open roads, you're also in luck. The RV experts and full-time RVers I spoke with will help prepare you for the ultimate road trip, from learning how to drive an RV to finding the best spots in the West to bed down beneath the stars.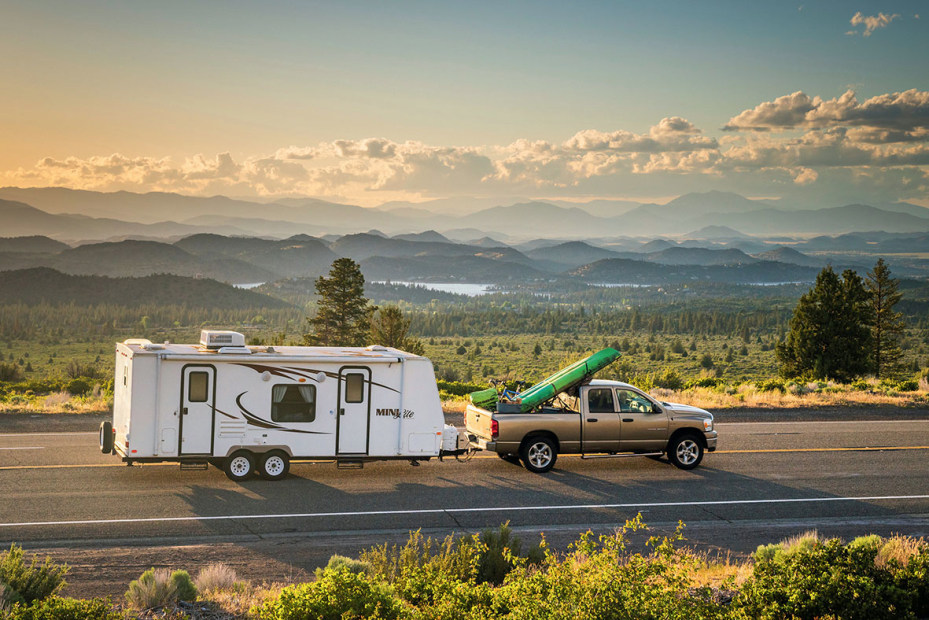 How to Prepare for an RV Road Trip
The first thing to do is to figure out the best RV for your family's size and requirements, and next ensure you have everything you need to make life on the road as convenient and comfortable as possible.
1. Choose an RV.
There are lots of makes, models, sizes, and styles of RVs to choose from. But narrowing down the selection is also part of the fun. "When you're looking at RVs, the first thing you should ask yourself is, 'What kind of person am I?'" says Heath Padgett, a full-time RVer who has been living on the road with his wife, Alyssa (author of A Beginner's Guide to Living in an RV: Everything I Wish I Knew), since 2014. The term RV refers to a motor vehicle or trailer that features living accessories and overnight lodging facilities. These range from basic camper vans outfitted with little more than a bed and a propane stove to motor homes over 40 feet long resembling houses on wheels.
There are three main classes of motor homes: A, B, and C. Averaging 33 feet in length, Class A vehicles are the largest and most spacious of the three and can typically sleep six to eight people. They're also the most luxurious, often outfitted with full kitchens and "slideouts" (extensions that enlarge the living space), though their extreme size makes handling them somewhat tricky. Class B motor homes usually run between 18 and 22 feet long and are the most compact of the three main classes. They drive much like regular passenger vans, making them ideal for first-time renters, and what they lack in space (most sleep one to two people) they make up for in convenience. Class B is usually easier to park in a regular parking space, more fuel efficient and affordable to rent, and ideal for a quick weekend getaway, either solo or with a friend or partner. "If you like being spontaneous and discovering hidden back roads and small towns, then a Class B is probably for you," says Padgett. They don't always have bathrooms, which is something to keep in mind.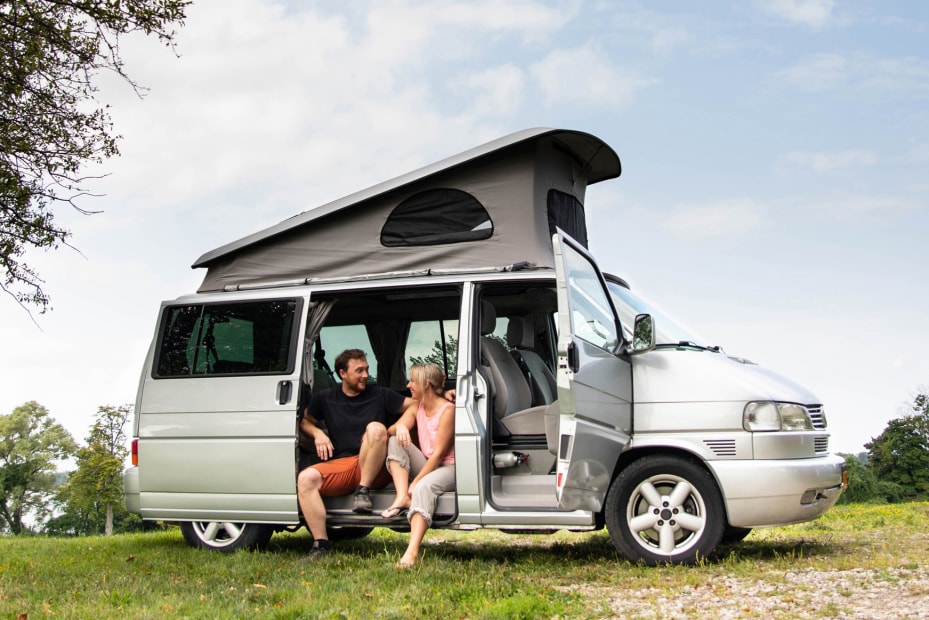 Class C is considered the Goldilocks' choice of motor homes. Averaging between 30 and 33 feet and ideal for a family of four, they make good use of their space, with features like overhead bunks or fold-down dining tables that convert into beds. If you're more of an adventurer, says Outdoorsy cofounder Jen Young, consider a lightweight pop-up trailer that's easily collapsible and that you can pull behind your car or SUV. "This way you can unhook it and head off exploring, and it will be waiting when you return," she says. Other types include flatbed campers that you can attach to the bed of a truck, and towables such as cozy teardrop-shaped campers and fifth wheels, which require a pickup truck. Another option is to have the RV experience without driving one. Sixty percent of Outdoorsy's RV owners offer delivery and pick-up. "The owner will bring it to your site, set it all up for you—like stringing the lights and filling the water tank—and then take it away when you're through," says Young.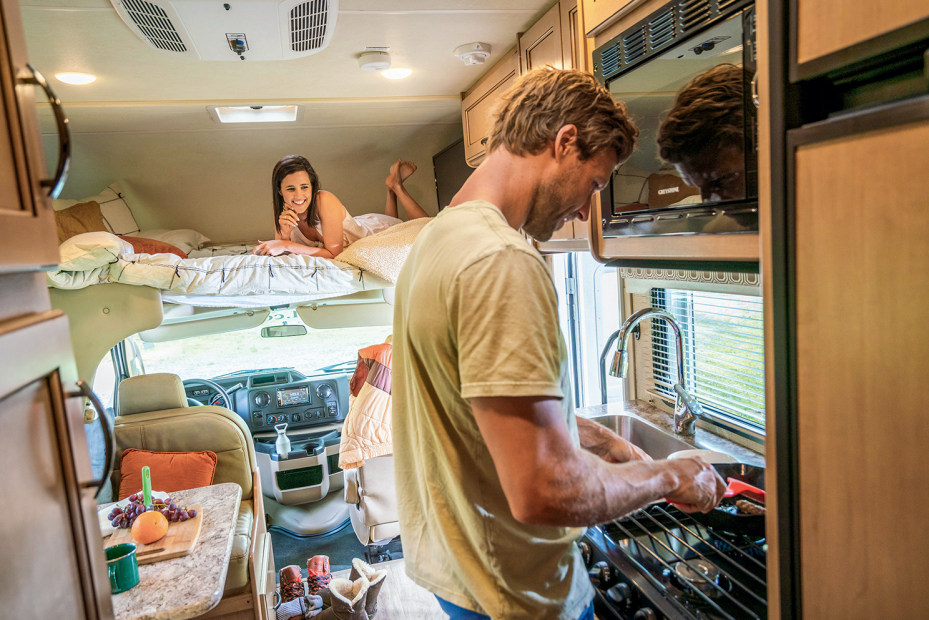 2. Select your amenities.
Once you've chosen an RV size and style, start thinking about amenities and how you're planning to use the vehicle. Will you be cooking a lot? Look for an RV with an oven, or at the very least a propane stove. Hoping to find a quiet place in the forest to nap en route to your campsite? This is called boondocking, or dry camping, meaning there's no access to external electricity and water supplies. Consider a camper with solar panels like Alex Burr's converted Sprinter or look for an RV with a deep-cycle battery included, so you can power your fan, lights, and laptop overnight if needed.
3. Make sure you're covered.
Most RV rental companies offer basic insurance with both liability protection and physical damage protection for the vehicle. Some—like Outdoorsy—provide round-the-clock live support for the duration of your trip. However, just as you would when renting a car, you want to make sure to cover your bases. Depending on what you're comfortable with, you may opt for supplemental insurance with the RV rental company itself or through your car insurer. Policies range in price and coverage, and typically depend on how you'll be using the RV; its size, age, and features; and the deductibles and add-ons you choose. Note that a Premier or Plus RV Membership with AAA includes towing.
4. Figure out the mechanics.
"When it comes to figuring out how an RV works, don't get frustrated, get educated," says Paige Bouma. In an RV, something as simple as flushing a toilet can be tricky. Her advice: Request a walk-through of the vehicle and have questions ready. How much water does this tank hold? How do I adjust the side mirrors? Does the shower have good water pressure?
RVs have separate tanks for fresh-water and black (waste) water, and often a third tank for gray (used) water. Many RV sites have dump stations for emptying black water, and there are detailed instructions online. Just be sure your RV comes with a sewer hose to make the transfer. Most RVs run on either a 30-amp or a 50-amp electrical system. You'll want to know which one your RV uses, and whether it has an adapter for converting between the two.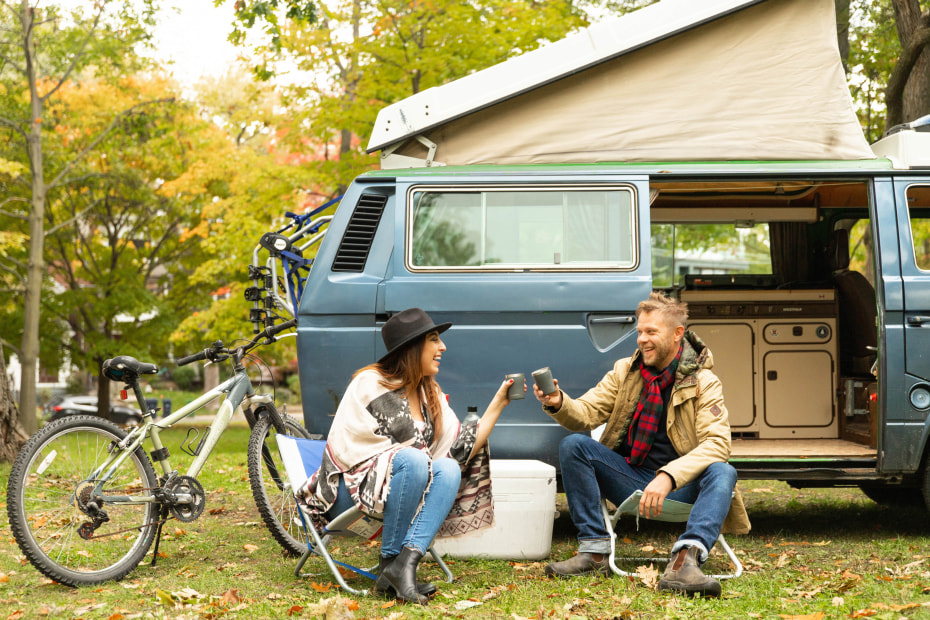 5. Create a packing list.
For the majority of RVers, the journey is as important as the destination. "When thinking about your trip, it's important to start planning from the beginning," says Bouma. If you've ever gone on a camping trip by car, you likely know the kinds of things you need, including:
Flashlights/headlamps
Extra propane and/or gas (for the stove or generator)
Camp chairs
Snack foods, including chocolate, marshmallows, and graham crackers for campfire s'mores
Local fire wood
Matches and/or lighter
Extra water (which will come in handy for flushing toilets if you're dry camping)
External chargers for your cell phone or laptop
Cell phone signal booster
Bicycles with optional panniers (for getting around the campsite and picking up groceries)
Portable propane fire pit
There are also some things that are RV specific. If you're renting, check first to see what may be included. (Also, websites like Campanda provide packing lists to make your life easier):
Linens, blankets, and pillows
Gloves for emptying waste
Movies for the DVD player (if your RV has one)
Board games
Generator
Outdoor grill
Battery jumper cables
Electrical adapters
How to Drive an RV
"An RV is not a car," says Paige Bouma, "so you have to think differently about how you handle it." Does it meet the height limitations for fast-food drive-throughs? Are there gas and diesel stations along your route that can accommodate RVs? Apps like Truck & RV Fuel Stations help ensure you're not driving around for hours looking for a place to fill up.
1. Pay attention to wind, speed, and braking distance.
Matt Kirouac and his husband, Brad, are RV enthusiasts who run Hello Ranger, a national park–themed podcast and social app. When Matt was learning to drive their 26-foot-long Class C Thor Freedom Elite, one of the first things he noticed was the wind. "It hits an RV much differently than it does a car, and you have to compensate for it with your steering, so that you're not zigzagging all over the road," he says. Driving at an average speed of 55 to 60 mph on highways helps with both vehicle control and fuel efficiency, and provides the time and space to brake when needed.
Brad advises allowing "at least five car lengths ahead on surface streets and 10 car lengths ahead on the freeway," so that you can slow down gradually, turn the wheel, and pull off to the side of the road.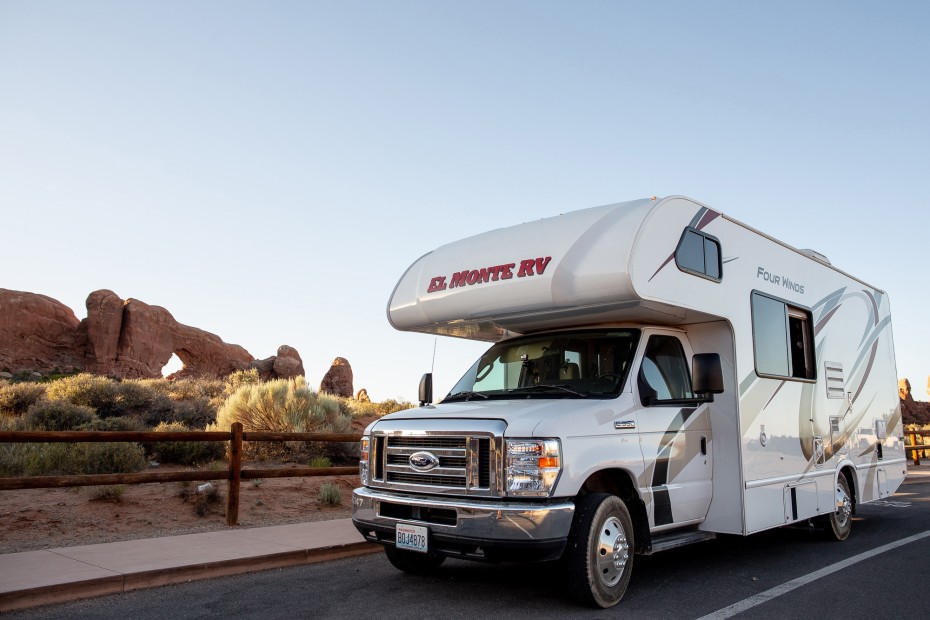 2. Practice parking.
Many national parks have designated RV parking spots that make pulling in a snap. But for those places that don't, it's important to know approximately how many parking space lengths your RV covers (in case you need to park across them), and pay attention to your turning radius when maneuvering into a spot. Don't forget, you'll eventually have to get out of the parking space as well.
3. Keep the RV running properly.
Give your air conditioning breaks whenever possible, say the Kirouacs. Opt for running fans instead, or setting your thermostat at a higher temperature to prevent the AC from running all night, which can both tax the RV's system and incur hefty fees at sites that charge for electricity. Check the oil and tire pressure regularly. The Padgetts recommend using a tire pressure monitoring system (TPMS).
4. Pay attention to blind spots.
While some RVs come equipped with backup cams, many rely solely on side mirrors for viewing blind spots. Some RVs have smaller, convex mirrors attached for maximizing wide-angle views, but with others it's simply a case of getting used to your RV's size. "I err on the side of caution when passing a vehicle," Matt Kirouac says, "and give it a wider berth than I normally would before re-entering a lane." Watch out especially for motorcycles, which can sneak into your blind spot.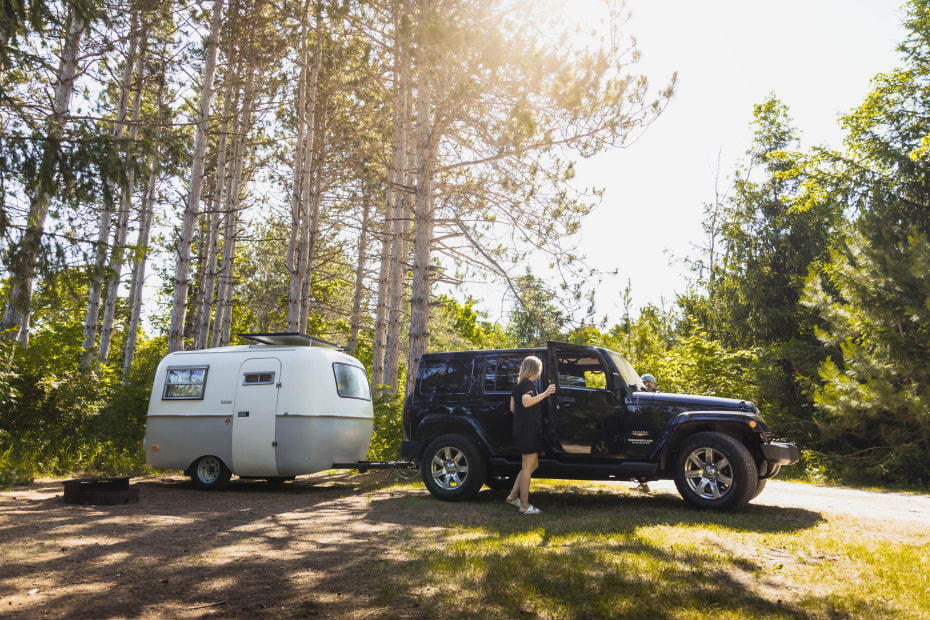 5. Get help backing up.
A good rule of thumb, especially for first-time RVers, says Brad Kirouac, is to have someone stand outside the vehicle and advise you on how much space you have behind you, any people or inanimate objects that may be hidden from view, and which direction to turn the wheel. When in doubt, ask a passerby for assistance. This also goes for backing up a trailer-style RV, which requires a bit of practice. When maneuvering a trailer, reverse slowly and, keeping your hand on the bottom of the steering wheel, turn the wheel in the same direction you want the trailer to go. For example, turn the wheel right if you want the trailer to go right. You'll be forming a V-shape between your trailer and your towing vehicle, one that can lock up or jackknife if you turn too quickly, so be sure to take your time. To straighten out, simply move forward, then start reversing again slowly until you've backed out completely.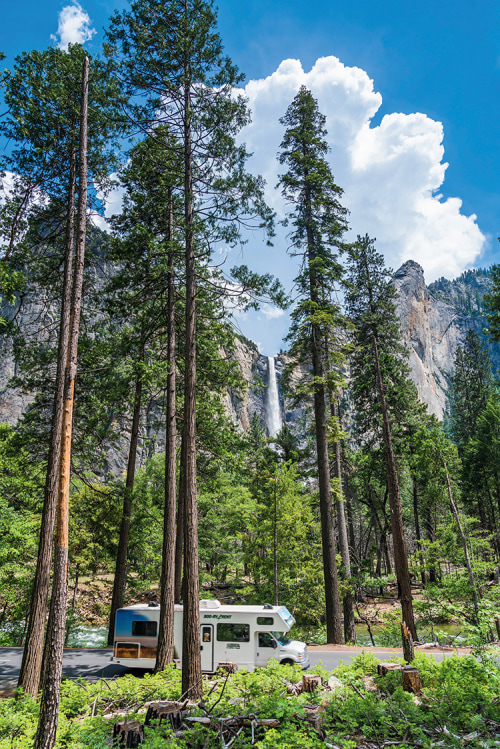 How to Pick an RV Site
RVing puts the great outdoors at your doorstep, from Bureau of Land Management (BLM) oak and pine forests that are entirely self-sustaining to the badlands of Montana's Makoshika State Park and beaches of Big Sur, California.
1. Check campground reservation sites.
Some RV sites are first come, first served. For those that aren't, reserveamerica.com provides advance reservations at both RV sites and state parks nationwide. Try recreation.gov for BLM forests and other federal lands.
2. Set your budget.
You can rent a camper van for as little as $69 a night, though $130 to $160 per night is the sweet spot on Outdoorsy. From there, costs will depend on things like insurance, driving distance, and where you'll be setting up camp. RV parks can range anywhere from $20 to $100 a night, say the Kirouacs, with state parks in the $15 to $30 per night range, though amenities such as the use of a dump station are often extra. Most parks have maximum lengths for motor homes and trailers. Plan ahead.
3. Consider different types of facilities.
If it's a national park you're after, the Kirouacs suggest "undiscovered gems" such as Northern California's Lassen Volcanic National Park ("It's like a less visited, mini Yellowstone," says Matt) or the alpine lakes and limestone caverns of Nevada's Great Basin. On average, you'll find state parks provide more space between sites than dedicated RV parks. They also tend to be more rustic, with programs like ranger-led stargazing and better access to hiking trails.
RV parks range from basic to luxe, some with simple vault toilets and others with amenities such as full restroom and shower facilities, laundry, and ping-pong tables. Subscription-based Harvest Hosts ($79 per year) connects RVers with spots across the United States—golf courses, wineries, farms, and the like—that offer free overnight parking to motor homes and trailers. Read RV blogs, listen to podcasts such as Stories from the Road, Hello Ranger, and Parklandia, and check out Campendium and other user-review sites for everything from free campsites to the best RV park views.
Two Ways to Save
AAA Members save 10 percent on rental rates at Outdoorsy and El Monte RV. El Monte RV also provides a free starter kit ($39.95 value) and 50 bonus miles per night (four-night minimum required).