Home is where you park it.
Since the advent of the Airstream in 1929, Americans have enjoyed exploring the West's nooks and crannies in campers, trailers, and recreational vehicles. Today, more than 9 million U.S. households own an RV—a number that's increased 16 percent since 2001. Pop-top and cargo vans, such as retro Westfalias and kitted-out Sprinters, have also come back into fashion.
What's driving so many people to take extended vacations on wheels and even ditch their stationary digs entirely for roving homes? Observers cite the rise of telecommuting, minimalism, and social media. All three have fueled what Instagrammers and other devotees now know as #vanlife, a movement that's inspired free spirits of every generation to hit the road for weeks, months, or years.
Here's how to roll with them comfortably without spending, say, six figures on a camper van conversion or using up your savings the first time out.
Ease into it.
Before hitting the road full-time, make sure you and your family are well-suited for the lifestyle by traveling in short bursts or long weekends.
"If you want to see what an RV is all about, you don't have to go out and buy your own right away," says blogger Bryanna Royal, who has been traveling full-time for more than four years with her husband, four kids, and two dogs. "Instead, you can rent an RV from an owner through a company such as Outdoorsy or Mighway. Those companies are like Airbnb for RVs and a great way to see if this lifestyle is right for you before purchasing your own."
Lengthen your stay.
The amount of time you spend in one place can help reduce your overall campground fee, says blogger Andi Fisher, who spent a year and a half traveling in an RV with her husband before they settled in Arizona.
"The longer you stay at an RV park or campground, the cheaper it is. Most places have weekly and monthly rates," she says. "You may find that reserving for a week and only staying four days or reserving for a month and only staying three weeks will actually be cheaper than a reservation for your exact dates."
Setting up camp for longer stints can also help you slow down and deeply explore an area. You'll save on gas, too, because you won't be driving to a new spot every couple of days.
Go wild.
Boondocking—or going off the grid and camping for free in the wilderness—is a rite of passage among longtime RVers and vanlifers.
"After you've had your RV awhile and you feel comfortable with how it functions, one of the best ways to save money is by boondocking," Fisher says. "This type of wild camping allows you to get closer to nature and be away from the crowds. You won't have water, electricity, or sewer, but you will have more money in your wallet, because boondocking is free."
Royal agrees. "You can find many free boondocking locations out West and throughout the country on Bureau of Land Management land. There is some prep and planning that goes into this … but it's totally doable, and there are some really amazing places you can stay."
The Bureau of Land Management oversees a tenth of the land in the United States—or 245 million acres—a map of which is available on the BLM's website. You can also stay for free in National Forest dispersed campsites and along many National Forest roads.
Before setting up camp, always ask a ranger about the best sites in the area, current road conditions (finding out too late that there's nowhere to turn around your 40-foot rig is not the best introduction to boondocking), and any restrictions that may be in place, such as a campfire ban. Before going off the grid, you'll also want to make sure you have ample water and enough power to get you through your days away. Many of the best boondocking locales are remote—in other words, there's no cell service—so be prepared for anything. Pack an emergency kit of first aid, navigational, and roadside tools. You are also responsible for carrying all of your own trash out and leaving without a trace.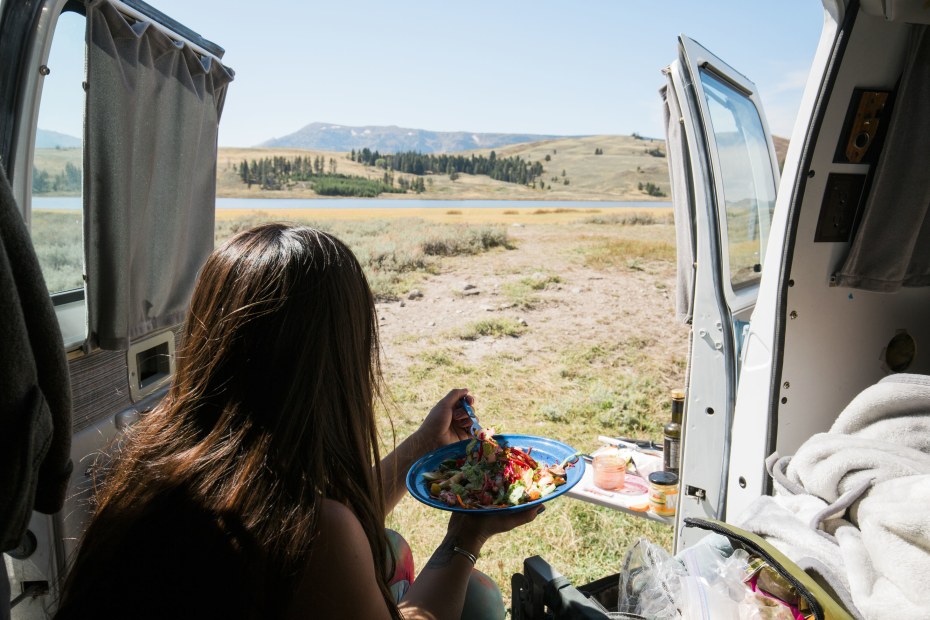 Clear away the clutter.
Part of adopting a roaming lifestyle is getting rid of anything that's not a necessity, an approach that will help prevent you from overloading your RV.
"You can save lots of money and heartache in the long run by not being overweight," Fisher says. There are weigh stations and certified CAT scales at truck stops and diesel gas stations across the country, and often, full-timers will invest in their own portable RV scale.
"Overloaded and overweight vehicles not only use more fuel, but if you're in an accident and your RV is found to be overweight, it will null your [insurance] policy," Fisher adds. "Once out on the road, you'll quickly find that you need far fewer personal possessions than you ever imagined. The point is to get away from it all, not take it all with you!"
Focus on free or cheap activities.
When traveling long-term, you can save money by cooking in your camper or on a gas camp stove instead of eating out, and by finding free or low-cost activities that you and your travel companions enjoy. Royal advises not getting lured into the mentality that you're constantly on vacation—because, ultimately, you're not.
"The hardest part about budgeting while traveling full time is realizing you aren't on vacation, even though it kind of feels like it," she says. "You can't go do every attraction or try every restaurant when you visit a new location."
Pick and choose where you'll spend your money at each stop. Look for the free things to do nearby, such as hiking or playing in local parks that don't charge an entry fee. Royal also suggests keeping an eye out for restaurants at RV parks and resorts that serve regional specialties at subsidized prices.
Take advantage of memberships.
On her 18-month trek around the U.S., Fisher also used her AAA Membership to save money. "We received AAA discounts at nearly all the RV parks we stayed in," she says. "If you don't belong to an RV Club, which may be expensive, this is the best way to get a campground discount. And at Kampgrounds of America, the AAA discount was usually on top of the one we got with our KOA card, so more savings!"
Your AAA Membership can also help you save at major attractions like museums and cut costs on vehicle repairs and roadside service. Additionally, the U.S. National Park Service sells an America the Beautiful pass, which allows a family into every park for $80 a year. The NPS also provides discounts for seniors and free annual passes for U.S. military and their dependents so you can visit more places for less.