For most travel lovers with a 9-to-5 job, the appeal of a weekend getaway can't be overstated. Making the most of those quick jaunts, however, is sometimes easier said than done—even spontaneous adventures might require a measure of planning.
The best way to make your trip feel more indulgent is to extend your stay, but remember you aren't the only person trying to take advantage of a three-day weekend. To be sure you're making every precious minute of your weekend count, you might need to change the way you travel. Read on for a dozen insightful tips—including special AAA Travel Member benefits—that will make you see long weekends in a whole new light.
1. Stay in the center of the action.
While you might save money by booking accommodations just outside a city center or national park, you could spend too much vacation time shuttling between your room and all the things you want to see and do. Splurge a little on your hotel, and you'll have more time for fun while cutting out wasted time in transit.
2. Go where the (last-minute) deals are.
If you don't care where you're going (so long as you go), you can take advantage of sales on items like unsold hotel rooms and under-booked flights. When you're itching to get out of town, check out AAA's last-minute hotel deals. AAA Members can take advantage of additional savings, too, making weekend trips even more appealing.
3. Make reservations in advance.
Yes, stumbling onto a charming café is a splendid vacation memory—when you've got time to meander while looking for a lunch spot. With limited time, minutes spent deciding what to do next or what everyone wants for dinner are unlikely to feel very relaxed. Book as much as you can before you leave home—accommodations, tours, activities, restaurant reservations—to maximize time enjoying yourself. Get to know AAA Travel Vacation Experts who can help you plan and book ahead of your departure.
4. Know what's open when.
Just when you think you've got your whole weekend planned, you arrive at the museum's door only to find today is the one day of the week it's closed. Before you finalize your itinerary, find out the open hours of every attraction you might visit. AAA Members can save up to 30 percent on admission to many attractions when you purchase entrance tickets in advance.
5. Fly carry-on only.
Not only is a weekend trip short enough that you shouldn't need more than a carry-on bag, not checking a bag means no wasted time loitering by the baggage carousel waiting for your luggage to get unloaded.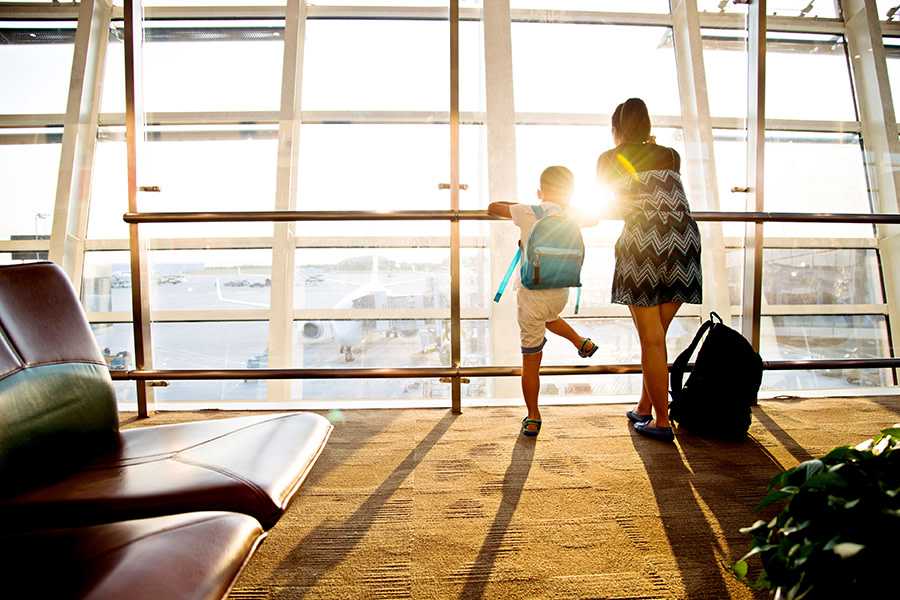 6. Extend business trips.
When that conference ends on Thursday and your company is paying for airfare, arrange to come home on Sunday night instead of Thursday. Then, as soon as the last session is over, you're already in your weekend getaway destination—no additional travel needed. Yes, you might have to burn a vacation day (depending on the business trip schedule and your employer), but it's worth it.
7. Think about timing.
Don't leave for your road trip just as rush hour approaches peak crawl. Avoid busier times at the airport to minimize waits in the security line. Fuel up the car the day before so the first stop on your adventure isn't the gas station queue. Pack your bags ahead of time and depart right from your office. Choose a destination that doesn't require more than a half-day just to get there.
8. Travel in a shoulder season.
Shoulder season—the period of time nestled between peak and off-peak travel seasons—usually means you'll save money, which is nice, but smaller crowds should also mean shorter lines at any attraction you want to experience.
9. Make your own (virtual) map.
Having a list of recommended restaurants, shops, and attractions is fine, but when you're in an unfamiliar city, a list of addresses isn't much of a time-saver. Plot the whole list on a map you can access from your smartphone—create a custom Google Map, use a purpose-built app like TripDoc, or build your own map or TripTik for free with the AAA Mobile app. When you're hungry or you've just left one museum and want to know what's next, open the map and the blue dot will tell you what's nearby in each application.
10. Be direct.
It probably goes without saying that choosing direct flights for short weekend trips is the way to go (layovers are enormous time-sucks), but being direct is about more than flying. You might otherwise be inclined to use local transport to get around, but hitting all those bus stops before finally arriving at yours keeps you from enjoying the city. Spend a little more on a taxi (or a private ride share) from the airport to your hotel and any longer trips during your stay.
11. Adjust your work schedule.
If you've got a job that allows for some scheduling leeway, see if you can come in on a Saturday in exchange for taking the next Friday off (for instance). That way, you get both a three-day weekend and the ability to leave Thursday after work, thereby avoiding Friday evening traffic jams.
12. Don't think of weekend trips as inferior.
The fastest way to be disappointed by a weekend getaway is to think of it as something other than a "real" trip. Sure, you'd get to see and do more if you had two weeks instead of two days, but a 48-hour getaway is better than no getaway at all. Prioritize what you want to get out of your weekend away, and plan to pick up where you left off the next time you visit.