During my family's most recent trip from California to Florida, we disembarked from our nonstop flight and stood at Orlando International Airport's baggage claim area, waiting patiently for our bags. We'd packed them with everything we would need for a cruise to the Bahamas, plus the theme parks and national parks on our kid-focused itinerary thereafter. 
We stood at the carousel watching everyone else roll away with their bags, until we were the last ones standing. We finally walked into the dreaded Baggage Service Center to find out what we already knew: Not one of our three bags had arrived in Orlando. The service agent told us that he couldn't track where our bags were, then handed us a case of overnight toiletries and emailed me a code that would send $150 into my bank account ($50 for each missing bag) to cover the basics while they tried to find our stuff. Our cruise was scheduled to leave the following day. 
As many travelers have experienced, airports and airlines fell into chaos over the summer. After two-plus years of being pent up, Americans simultaneously decided it was time to travel again, overwhelming a rusty system. According to Allianz's annual Vacation Confidence Index, more Americans are traveling in 2022 than since the survey began in 2009. And it hasn't been smooth flying for everyone. Within a single weekend this past June, more than 27,000 flights were delayed.
Travel industry experts expect the chaos to subside this fall, as airports and airlines adjust schedules and ramp up hiring, but air travel may become more challenging again as we head into the holidays. 
With that in mind, here are the things you can do to avoid common travel mishaps and airport stress.
Prevent lost luggage.
Over the first three months of 2022, 6.5 out of every 1,000 checked bags on U.S. airlines were "mishandled," according to the U.S. Department of Transportation (DOT)—up 12 percent from 2019, the Wall Street Journal reports. So what can you do to help ensure your bags arrive at your destination when you do?
According to the experts, we did well by traveling nonstop. "Connections add lost luggage risk," says Gary Leff, who cofounded InsideFlyer and runs the popular View From the Wing blog. But we got dinged because we couldn't fit our bags in the cabin with us. "The best way to prevent lost luggage is to fly carry-on only," says Matt Kepnes, the travel blogger better known as Nomadic Matt. "While it may be impossible for some—such as those traveling with children—the best way to prevent lost luggage is to avoid giving it to the airlines in the first place." (Carrying on helps you save on baggage fees too.) Consider investing in a backpack or carry-on roller bag that is designed to help you fit a full vacation's worth of gear into the overhead bin. 
If you must check bags, don't pack anything crucial in them (e.g. passports or medication), label them with your full contact information, and arrive at the airport at least two hours before departure for a domestic flight and three hours before for an international trip. Overlooking that latter point was likely our undoing. Though we made it through the security line and onto our flight with time to spare, we checked our bags right at the one-hour cutoff. If TSA agents don't have enough time to screen your bags before your flight departs, they'll place them on a later flight. And, if your outcome is like ours, your bags may be off on a trip of their own, landing in completely different destination cities than the one you chose for your vacation.
Which is why you should always keep the tracking piece of your bag tag. To go a step further, Kepnes advises placing an AirTag in each bag that you check, so that you can track them yourself, no matter where they end up. Finally, "make sure that your luggage stands out to avoid someone accidentally taking yours," recommends AAA Travel product marketer Roberta Christman.
Sidestep cancellations and delays.
During 2022's peak summer travel season, 2.6 percent of flights across the U.S. were canceled, according to data from AirHelp, a passenger rights company.
To avoid flight cancellations, delays, and missed connections, advanced planning is crucial. "Book flights that leave earlier in the day, since early flights are less likely to be impacted by delays," says Leff. "Don't book short connections, such as less than an hour. And book your travel to arrive sooner than you actually need to get to the destination, so that later flights can still get you there in time in case of delay or cancellation."
Airports tend to be less busy on Tuesdays, Wednesdays, and Saturdays, Leff adds, so book for those days, if possible. Then, check in online instead of at the airport, as lines can be long at airline counters. You may also be able to check your bags curbside or at self-tagging kiosks.
"Airline on-time records are posted online, so check in advance," Christman says. "But you can't avoid inclement weather, mechanical issues, or staffing challenges. So if it's important that you don't miss an event that you're traveling for, plan to leave the day before."
According to Kepnes, the best way to avoid frustrating rebooking hassles after a delayed or canceled flight is to book directly with the airline: "That way, if something happens, they're obligated to find you a new flight and you don't need to communicate through a third party. Additionally, use the website AirHelp.com [for flights in the EU] if you're delayed, as you may be entitled to compensation."
Know your travel rights.
Even if you've taken all the precautions, your flight might still get canceled. So what can you do when that happens? Secretary of Transportation Pete Buttigieg sent a few tweets after his flight was canceled, informing Americans: "Sometimes an airline will offer you points or miles as compensation, but you are entitled to a cash refund when your flight is canceled… That's a requirement that we will continue to enforce." He also pointed the public to the DOT's Aviation Consumer Protection website, which lists passengers' rights under the law and shares the necessary forms to file a complaint.
Beyond that, you'll need to reschedule your flight. "Don't rely on the airline to tell you what's available," Leff says. "Search for available flights to purchase and ask to get rebooked on one of those. If you need help rebooking, you may have tremendous difficulty getting through on the phone, and lines at the airport may be long. Delta has a special phone number for travel within 48 hours that has short phone hold times (855-548-2505); for American Airlines, try English-language foreign call centers like Sydney and the U.K. for shorter wait times." 
The minute you find out your flight is canceled, Christman adds, "Check alternate area airports, and see if your airline has a lounge that allows you to buy a day pass," or a USO if you have a military ID.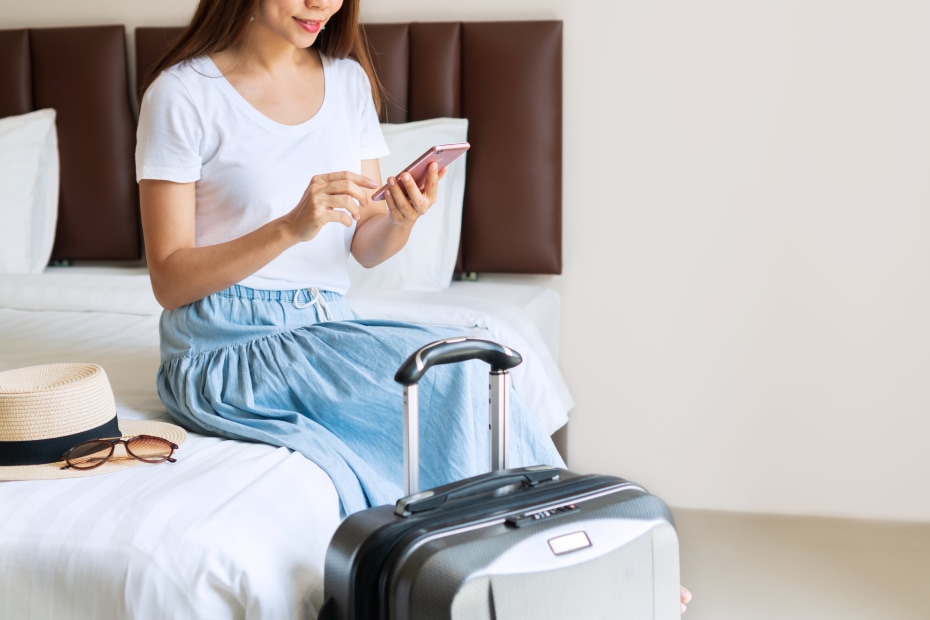 Consider insurance and other forms of coverage.
Travel insurance can cover lost luggage, Christman points out, as well as your airline ticket. Kepnes is another proponent of buying travel insurance before you go. He advises taking a picture of your luggage and what you've packed so that you can send it to your insurance company if you need to make a claim.
If you do decide to protect your trip, the U.S. Travel Insurance Association has additional tips: 
Read and understand your policy before you travel;
know the entrance requirements of your destination and point of return;
bring your travel insurance information with you on your trip;
include all relevant documentation if you need to file a claim;
and consider filing your claim online, since travel insurance providers are inundated with phone calls and filing online can save time and expedite the processing of your claim.
Smart Tip: AAA Plus and Premier Members have worldwide lost baggage coverage (up to $250 and up to $500, respectively) included in their membership.
The credit card that you used to buy your ticket may come with delayed luggage coverage, Leff points out, usually $100 per day for expenses up to five days. Some credit cards also rebate the cost of airport perks, such as TSA PreCheck and CLEAR, both of which let you speed through security with minimal hassle.
Focus on a happy ending.
In the end, we were reunited with all of our bags before boarding our cruise. In retrospect, I wish we'd arrived at our departure airport earlier, but I'm grateful that everyone involved was able to remain civil, look on the bright side, and keep things in perspective. (Hey, we were still on vacation, right?). I'm also grateful that we arrived in Florida a day and a half before our ship was scheduled to sail, and that staffers for the cruise line took it upon themselves to track down our bags and manage their safe and timely delivery. 
But let our saga serve as a warning. Do everything you can to prevent air travel mishaps so that you can stay focused on the important parts of your trip, whether it's meeting Micky aboard a cruise, spending time with loved ones, or making it to the client meeting.