Gearing up for the holidays means different things to different people, but anyone who lives far from family knows that part of the season's prep involves travel plans. And few things spoil the holiday spirit more than hours-long waits at security checkpoints, over-booked flights, or sky-high airline ticket prices.
Best Days to Fly for Thanksgiving
Thanksgiving is often decried as the worst time to travel, and for good reason. Specifically, the Tuesday and Wednesday before Thanksgiving make for not only the biggest airport crowds but also some of the highest ticket prices. If you don't love long lines at security, that means avoiding flying on November 22 and 23 this year. Fares on these days average $577 and $656 respectively.*
To avoid the worst of the crowds, choose the Monday before Thanksgiving (November 21) or even Thanksgiving Day itself (November 24), both of which experience lighter traffic levels. As an added bonus, those days typically have some of the lowest prices on tickets around the Thanksgiving holiday, averaging $523 and $475 respectively.
If your primary concern is crowds and not the cost of the ticket, the Sunday before the holiday (November 20) is routinely the least busy day at the airport during Thanksgiving week. You'll pay for the lack of crowds, though, with tickets costing $643 on average.
Best Days to Fly for Christmas
Unlike Thanksgiving, the day of the week on which Christmas falls changes each year. Despite that, the busiest pre-Christmas travel days are generally two to four days before the holiday, regardless of what days they are. This year, that means December 21 to 23—Saturday, Sunday, and Monday—will be the busiest.
In particular, December 22 is the busiest travel day of the Christmas season, with high fares to match. The highest ticket price of the holiday, however, belongs to the day after Christmas—December 26.
Expect crowds at their lightest and ticket prices at their lowest on Christmas Eve.
Note that this year the last night of Hanukkah falls on December 26—one of the most expensive travel day of the month. The timing is something to consider if you're planning a trip for the Festival of Lights and want to avoid the travel crowds and high fares.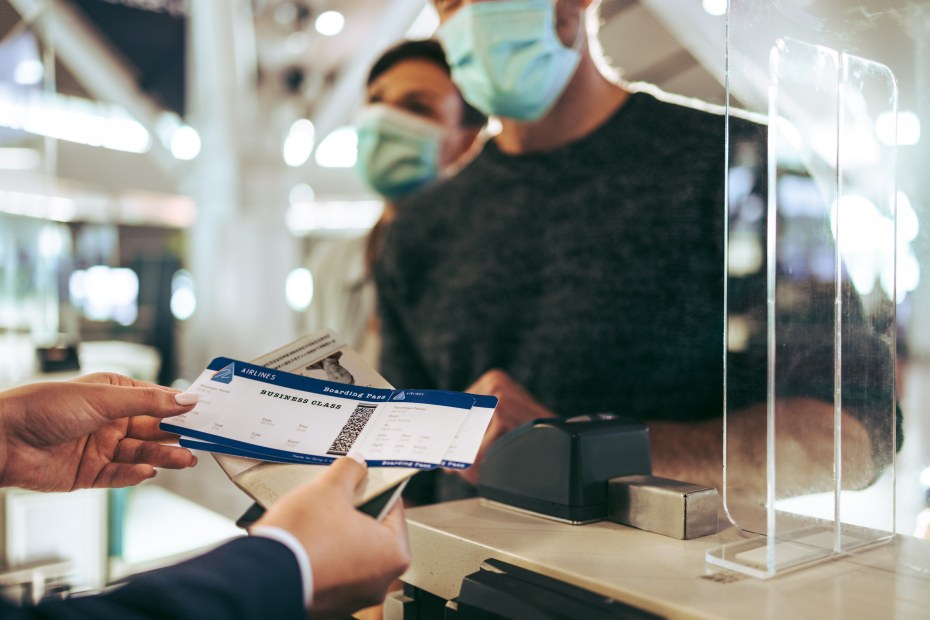 When to Buy Tickets for Holiday Air Travel
Anyone who's bought plane tickets for holiday travel knows that airlines often make holiday trips part of their "blackout" dates, meaning frequent flyer miles can't be used and discounts are unlikely. In fact, it's not unusual for holiday flights to have surcharges attached. Travelers can't get around those blackout dates or surcharges but educating yourself about the best time to buy tickets may save you money—and stress.
Generally speaking, booking well in advance affords travelers with a greater number of schedule and flight options, but early purchases come with higher prices. On the other hand, booking at the last minute can mean paying some of the lowest fares for holiday trips but flight options will be limited. Most travelers book 28 to 60 days ahead of the holiday. This year, that's September 24–October 26 for Thanksgiving trips and October 26–November 27 for Christmas travel.
For Thanksgiving travelers, tickets booked during this popular window will average $543. If you wait until the last minute to make your purchase, 7 to 14 days ahead of time (November 10–17), you'll see the lowest prices, at an average of $474.
For Christmas, prices are better for travelers who book 61 to 90 days ahead (September 26–October 25). As with Thanksgiving travel, expect the lowest fares on tickets booked 7 to 13 days before the holiday (December 12–18).
In most cases, says AAA's Julie Hall, "The best option is to find a happy medium." Booking a couple weeks before your holiday trip may save you a small amount of money, but availability will be extremely limited. Booking well in advance gives you the pick of the litter in terms of flights, but you'll pay slightly more for that privilege. Hall says that for most travelers, it's about finding the balance between "optimal availability and moderate fares."
Regardless of when you book your Thanksgiving or Christmas flights, AAA recommends travelers get to the airport at least two hours before departure—holidays at the airport always mean longer lines. To streamline the process, enroll in a trusted traveler program like TSA PreCheck or Global Entry.
Smart Tip: When booking winter air travel, avoid the last flight of the day, says Doreen Loofburrow of AAA Travel. Blizzards, ice storms, and other wild weather events lead to delays and cancellations, meaning night flights can get pushed to the next day. An earlier flight provides a cushion, ensuring that you actually start your trip on the day you intended.
*All fare averages based on airline tickets purchased by AAA Members for the 2019-2021 November/December holiday travel windows.