Gone are the days when anyone with an airline ticket could check a bag (or two!) for free. Today, traveling with luggage is considered a perk, one that most passengers pay additional fees for—especially when flying in coach. Those seemingly small charges really add up. Baggage alone brings in nearly $5 billion a year in revenue for the top U.S. airlines, according to the U.S. Bureau of Transportation Statistics. 
 
Luggage fees come in three basic forms: checked bags, overweight bags, and carry-on bags. Most airlines charge basic economy-class passengers to check a bag. (Premium flight classes often get at least one checked bag for free.) Most airlines also charge passengers extra for checked bags over a specific weight. Some discount airlines also charge for carrying on a bag that's larger than a personal item (a purse or small backpack).
 
What's a budget-conscious traveler to do? Here's how to outsmart baggage fees, no matter which airline and destination you choose.
1. Know the rules.
Check the airline's baggage allowance rules before you book your fare (see list at the bottom, read the airline's website, or call the customer-service center). Charges may vary by destination and change frequently. In addition to fees, the baggage policy will also spell out the bag size and weight limits for your personal item, carry-on, and checked luggage. Rules and fees for special items such as sports equipment or musical instruments will also be listed. The typical U.S. passenger pays about $30 per checked bag, on average, plus $75 or more for overweight cargo, per way. 
 
Bag size and weight limits are fairly standard, as follows:
Checked bag (domestic and international): Bags must be no larger than 62 linear inches (which is calculated by adding together the height, width, and depth measurements, for example 27 x 21 x 14 inches) and weigh no more than 50 pounds for domestic and international flights.
Carry-on bag (domestic): The standard size limit for bags that fit in most overhead bins on domestic flights is 22 x 14 x 9 inches (or 45  linear inches), including the handle and wheels. Airlines don't list the dimensions for bags that would fit under the seat in front of you, though sometimes you'll see size limits listed for a personal item or in-cabin pet carrier. Most domestic airlines don't have a weight limit for carry-on bags.
Carry-on bag (international): Carriers typically have the same 45 linear-inch limit as domestic carriers, but the maximum height tends to be slightly shorter than 22 inches including wheels, handles, and pockets. Budget carriers in Europe may have smaller allowances—Ryanair, for example, has a maximum of 15.7 x 9.8 x 7.9 inches for a free carry-on item. A weight limit of 22 to 25 pounds is common among international and European carriers.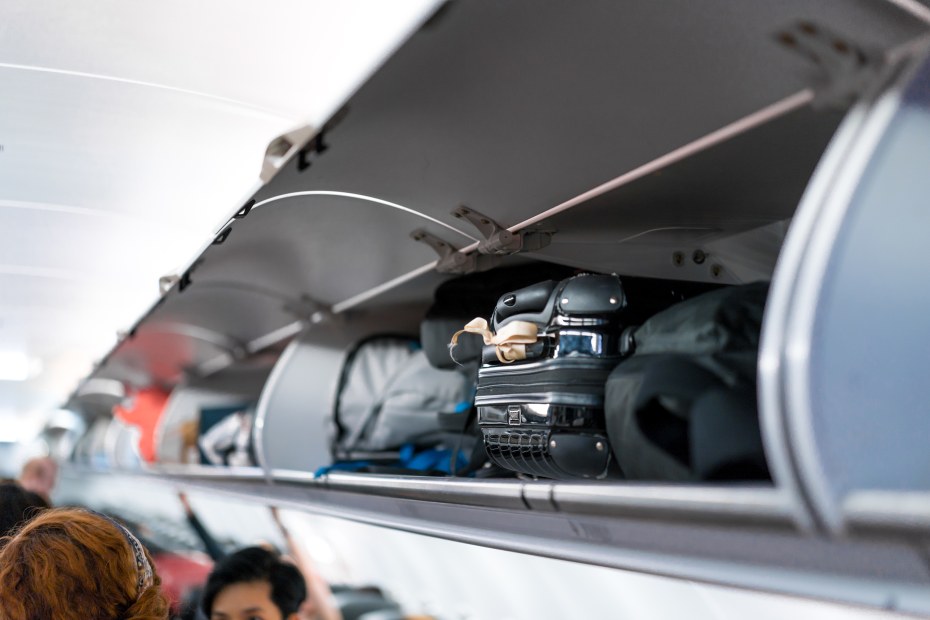 2. Weigh your bag options.
Your opportunity to avoid luggage fees occurs before you start packing. "The physical weight of the bag when empty makes a difference," says Mary Chong, executive editor of online travel magazine CalculatedTraveller.com. "I've seen 'lightweight' carry-on luggage weighing in at almost eight pounds, whereas others weigh four pounds." Imagine what you could pack with four pounds to spare.
Spending a little more on a well-made, lightweight bag can save you money in baggage fees. This is especially true for checked luggage: larger bags can weigh more than 11 pounds empty. It can also apply to carry-on bags. "If you don't keep your eye on the scale, your carry-on can quickly go over the weight limit [where applicable], and you could be forced to check your luggage," Chong says.
"Lightweight" is a relative term. When shopping for luggage, check a suitcase's weight (usually listed on the tag or under "specifications" online) before you buy. Check its dimensions too. If you're shopping in person, bring a tape measure.
Keep in mind that bags can expand past the allowance when full, advises Tom Wahlin, founder of Pack Hacker, a gear review and travel advice site. Measure your bag after you pack it, every time, as well.
Regardless of size, pay close attention to a bag's materials and number of wheels. Hard-sided luggage, while often seen as more secure, is typically heavier than soft-sided luggage. Soft-sided bags are also more malleable, which makes them easier to squeeze into tight spaces. And although four wheels may make a bag easier to maneuver, two wheels weigh half as much. Duffels and backpacks without wheels can be exceptionally lightweight. They also have the added benefit of keeping your hands free, says Wahlin, who traveled full time out of a 40L backpack for a year and a half.
3. Choose airlines and ticket classes wisely.
Southwest Airlines is the only major domestic airline that still offers free checked bags with every ticket. However, other airlines often waive the checked baggage fee for non-economy tickets, and a few offer discounts if you pay when booking or checking-in online rather than waiting until you get to the airport. 

 

Although seemingly counterintuitive, a pricier fare may help you cut costs. For instance, if you'd pay a $45 fee to check one bag with a basic economy ticket but only $30 more for a premium economy ticket that includes one checked bag, the upgrade is a better deal. What's more, premium tickets often come with other perks, such as being able to choose your seat or getting priority boarding.
4. Use an airline credit card or join a frequent flyer program.
Loyalty goes a long way with airlines. Passengers who either carry an airline's co-branded credit card or have a certain status level with the frequent flyer program often get perks such as free checked bags, including your travel companions. If loyalty alone doesn't get you a free bag, try using frequent flyer miles to upgrade to a class that offers a checked bag or two with your ticket.
"A free checked bag is a standard perk on airline credit cards, regardless of what class of ticket you bought," says Scott Keyes, co-founder and CEO of Scott's Cheap Flights. "For a family of four with four checked bags, an airline credit card could save $240 in bag fees on a roundtrip flight," which pays for the yearly fee—typically $75 to $250—on most airline credit cards if you travel at least once a year on that airline.
Some non-airline credit cards offer an annual airline credit that you can use to offset the price of checking a bag. Chase Sapphire Reserve, for instance, lets you use a yearly $300 travel credit to reimburse purchases such as bag fees and airline tickets. However, with a $450 yearly fee, you only come out ahead if you are a traveler who accrues—and uses—points, would pay foreign transaction fees with any other card, or would otherwise pay for things that are free with the card, such as airport lounge access, Global Entry, or TSA PreCheck.
In general, when is a travel rewards credit card worth the annual fee? If you use a card that gives points for daily purchases such as gas, groceries, and meals out, you can likely accrue enough points to offset the fee—or make your whole trip free—according to Matthew Kepnes, author of New York Times best seller How to Travel the World on $50 a Day and the writer behind Nomadic Matt.
"In the end, the best travel card for me might not be the best one for you, so you'll want to do some research to make sure you're optimizing your results," says Kepnes. "I know it can seem like a hassle, but a free trip is worth the work, isn't it?"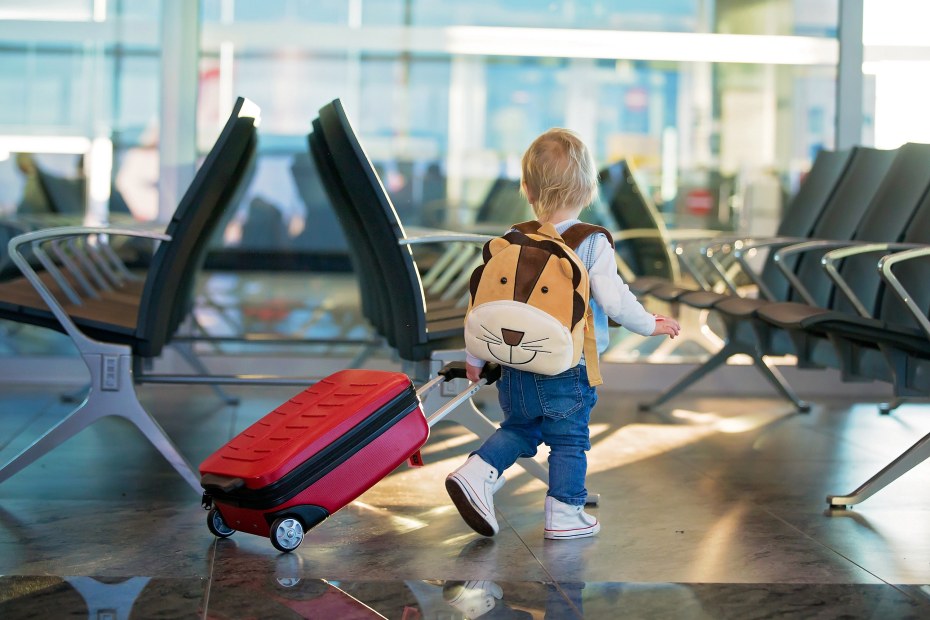 5. Know what flies free.
The Air Carrier Access Act of 1986 requires airlines to allow travelers to bring medical devices (CPAP machine, breast pump, etc.) and supplies on board without counting toward their carry-on limit. If it's equipment that can be safely stowed, then it can be checked for free. Bonus: Packing those items separately can reduce the weight of your other bags. Check this TSA list of medical devices you can travel with in carry-on or checked bags, and review your airline's baggage policy for specifics.
Strollers and car seats are also typically free to check or bring on board with any ticket, and some airlines don't count a diaper bag against caregivers' carry-on baggage limits. "If you're checking a car seat, you're allowed to have it in a carrier bag, which can be oversized and have enough room for liquids, larger items, or even a small bag," Keyes says.
Many airlines also allow active or retired military members to check at least one bag free. Military members traveling for duty usually have a higher baggage allowance: For example, Alaska, Delta, and JetBlue allow you and your traveling dependents five bags each with no fees. For personal travel, most U.S. airlines allow two free bags each. Contact the airline directly for more information on military discounts and booking.
6. Check carry-on bags at the gate.
Airplane interiors haven't changed much over the past couple of decades, and the lack of an update to the overhead bins is particularly noticeable these days.
"Because of basic economy restrictions, more and more people are carrying on their bags," says Keyes. "As a result, more often than not, space runs out in the overhead bins and the remaining bags will have to be checked. When the gate agents anticipate that will happen, they offer in advance to check any carry-on bags for free to the final destination, something that would previously have cost $30."
Smart Tip: Make sure your carry-on contains only things you can carry on.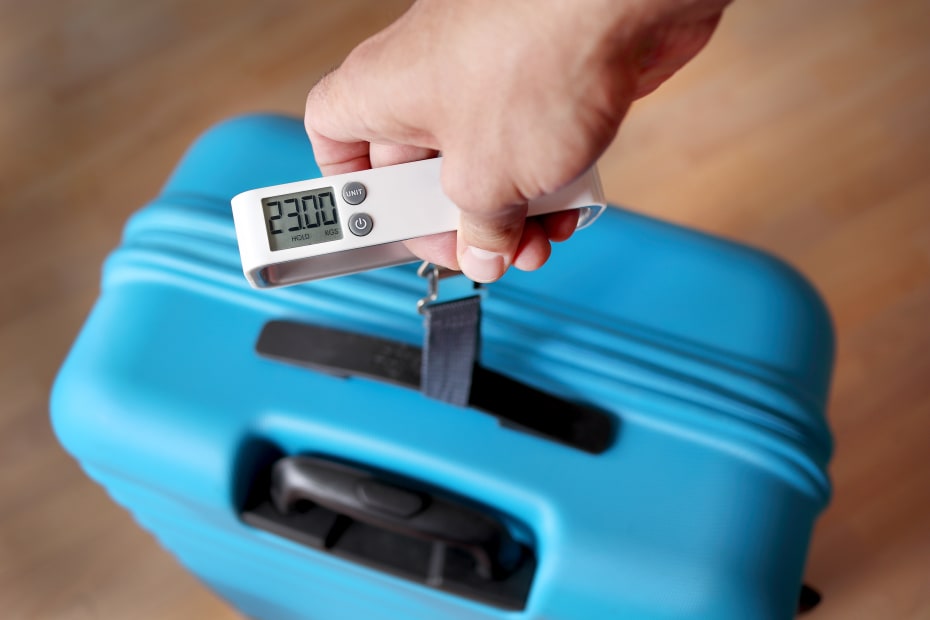 7. Carry a small scale.
Before you leave home, you might use a bathroom scale to weigh your packed bag and adjust if it's overweight. On the road, however, you'll need a portable solution. Most luggage scales have a hook or strap to carefully lift and weigh your bag. These small scales take up little room and can save you from both overweight bag charges and frantic last-minute repacking in the middle of the airport. When you're not traveling alone, divvy up items on the heavier side among all the bags so you don't overload one.
8. Wear heavier items.
If it's cold at your destination, wear your bulky shoes and carry your coat onto the plane rather than putting these items in your suitcase—even if it's warm in your departure city. This will save space and likely reduce the overall weight of your luggage. Just wait until the overhead bin is full before you squeeze your coat or second layer on top of the carry-on bags.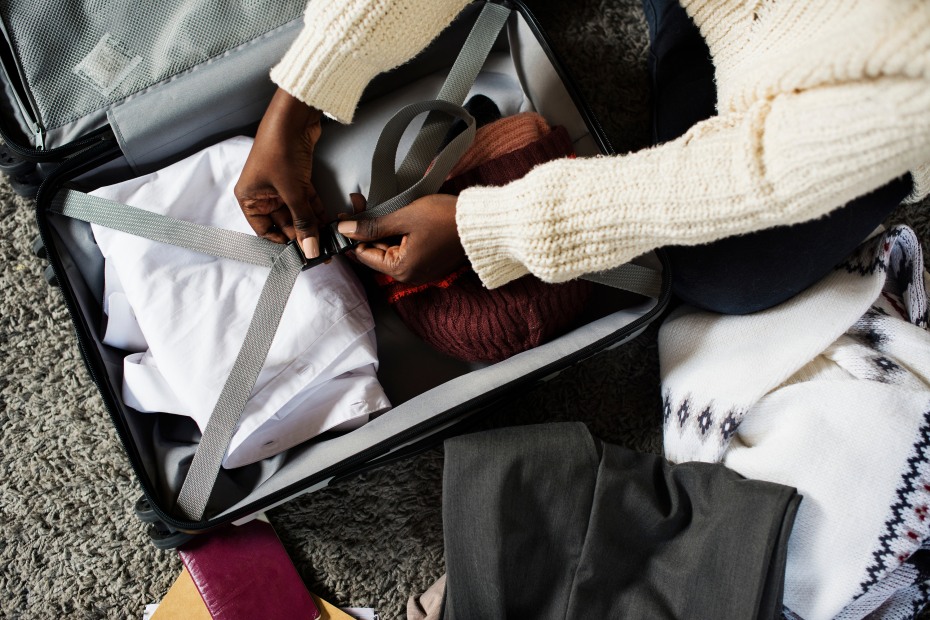 9. Bring less and pack smarter.
Pack dual-purpose clothing made out of fabrics that travel well, don't need to be washed frequently, and dry quickly. Taking an extended vacay? Plan to do laundry while you are away to cut the amount of clothing you need to pack. (Five to six days of clothing and two pairs of shoes is enough for a monthlong trip for most adults if you wash on the go, according to various experts.) Decant large personal care items into smaller, refillable containers, and look up the amenities where you are staying before loading up the hair dryer or steamer.
"Be mindful of what you use daily, and make sure you're not bringing an item along for no reason," Wahlin says. "If you haven't worn that shirt in the past month, you likely won't wear it on your trip." Always check the weather before packing, and resist the urge to add last-minute "but what if" items.
Packing less means you can embrace carry-on only travel. "You never have to worry about the airline losing your luggage, and if your bag is small enough to fit under the seat, you don't have to worry about getting on the plane early or hunting for overhead bin space," Wahlin says. Plus, "when you reach your destination, you don't have to wait an extra 15 to 20 minutes—or more!—in baggage claim. You can just go."
10. Ship souvenirs or your bags.
If your luggage is at the weight limit when you leave on your trip, it's likely it'll be a little over on your return trip when you've added souvenirs. Rather than incurring an overweight bag fee or paying to check a second bag, "I mail things home in countries where postage isn't expensive," says digital nomad Abbie Synan of SpeckOnTheGlobe.com.
Synan sends these packages to her parents and picks them up when she visits, but you can just as easily mail items to your home address. If you ship them early into your trip and there's a chance they will beat you home, ask a neighbor to keep an eye out for the package and bring it in for you. Or you can ship it via the United States Postal Service and put a hold on your mail until you return, so it won't get delivered to an empty house.
You can also ship your luggage to your destination instead of bringing it with you on the plane. However, the price can vary and for trips with one or two checked bags, paying the airline fee will likely be cheaper. When flying with more than two checked bags per passenger, it may be cheaper to ship additional luggage in advance rather than check them on every flight. A third bag on Alaska costs $100, and Delta charges $150 for a third and $200 each for additional bags. For a trip from San Francisco to Las Vegas, for instance, it would cost $100 to ship a regulation, 50 pound checked-bag in five days with Luggage Forward or just under $50 for two-day ground delivery with FedEx. However, with most destinations you will pay well over the airline fee to get your bag within a day or two. With such a wide variance in costs based on your destination, it's important to do the math before you choose to ship rather than check your bags. 
Smart Tip: Flying for the holidays? Consider sending online purchases straight to your destination.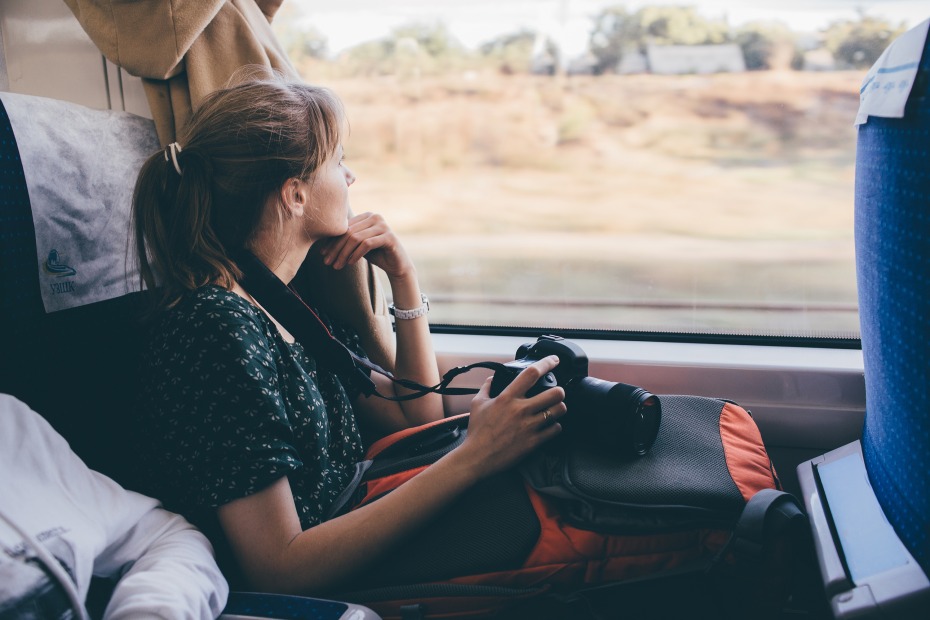 11. Pick another way to travel.
Driving or taking the train eliminates baggage fees entirely and can save a big chunk of your travel budget if you're traveling with a group. Amtrak's baggage allowance includes two bags the size of a domestic airline's checked bag and two personal items per passenger. If there's an additional checked baggage option on the train, passengers can stow two additional bags for free.
 
On European trains, there is rarely a weight limit or fee for luggage, says Mark Smith, who runs the train travel website Seat61.com. Most major rail lines, including Renfe-SNCF, Eurostar, and Thalys allow a personal item in addition to two larger items, and some also include oversized items such as skis and bikes within that allowance. When budget airlines in Europe offer such temptingly low fares, it may make you think twice about taking the train—but those little planes usually come with bag fees and strict luggage restrictions.
Which Airlines Have Luggage Fees
The following airline fees reflect November 2019 policies. Check the airline websites for updated baggage fees and weight and size restrictions every time you fly.
Aeromexico (flying from the U.S.)
Checked Bag: Fee for economy tickets; free for premium tickets
Carry-On: Free
Personal item: Free
Air Canada (flying from the U.S.)
Checked Bag: Fee for basic and standard economy tickets; free for premium tickets
Carry-On: Free
Personal item: Free
Air France (flying from the U.S.)
Checked Bag: Fee for "Light Fare" economy tickets; free for standard and premium economy and premium tickets
Carry-On: Free
Personal item: Free
Checked Bag: Fee for economy tickets; free for premium tickets, some airline credit card holders, some loyalty program members, active duty U.S. military
Carry-On: Free
Personal item: Free
Checked Bag: Fee for basic economy tickets; free for premium tickets, some loyalty program members
Carry-On: Free
Personal item: Free
Copa Airlines (flying from the U.S.)
Checked Bag: First bag free across all classes; premium tickets and some loyalty program members have a higher baggage allowance
Carry-On: Free
Personal item: Free
Checked Bag: Fee for basic economy, main cabin, and Delta Comfort tickets; free for premium tickets, some airline credit card holders, some loyalty program members, active duty U.S. military
Carry-On: Free
Personal item: Free
Checked Bag: Fee for basic tickets; free for travelers who pre-purchase amenity bundles
Carry-On: Fee for basic tickets; free for loyalty program members and travelers who pre-purchase amenity bundles
Personal item: Free
Checked Bag: Fee for economy tickets; free for premium tickets, active duty U.S. military
Carry-On: Free
Personal item: Free
Checked Bag: Fee for basic economy; free for premium tickets, airline credit card holders, loyalty program members
Carry-On: Free
Personal item: Free
Lufthansa (flying from the US)
Checked Bag: Fee for basic economy; free for premium tickets, some loyalty program members
Carry-On: Free
Personal item: Free
Checked Bag: Two bags free for all tickets
Carry-On: Free
Personal item: Free
Checked Bag: Fee for all tickets
Carry-On: Fee for all tickets
Personal item: Free
Checked Bag: Fee for economy tickets; free for premium tickets, some airline credit card holders, some loyalty program members, active duty U.S. military
Carry-On: Free
Personal item: Free
Virgin Atlantic Airways (flying from the U.S.)
Checked Bag: Fee for basic economy tickets; free for premium tickets, some loyalty program members
Carry-On: Free
Personal item: Free
Volaris Mexico (flying from the U.S.)
Checked Bag: Fee for basic economy tickets; free for premium tickets and some airline credit card holders
Carry-On: Free
Personal item: Free