National Historic Trails offer immense insight into our country's past. Created to honor routes of trade, migration, exploration, and historical events that helped shape the United States, they also provide a great starting point for exploring America's vast natural scenery and discovering local culture. Here are five favorites.
Also known as the Seward to Nome Mail Trail, Alaska's approximately 1,500-mile-long Iditarod Trail follows a series of Native American trails repurposed during the region's early 20th-century gold rush, when dog mushers used them to deliver mail and supplies across frozen tundra. The best way to truly experience the overall trail—which runs from Seward to Nome but was most often utilized in segments—is via dog sled, ski, or snowmobile, though an auto variation of the trail is accessible year-round. Local museums highlight life along the trail with historic photographs and artifacts; and you can still visit the Cape Nome Roadhouse, the last of dozens of historic Iditarod Trail roadhouses remaining. For a truly memorable experience don't miss the Iditarod Trail Sled Dog Race: a grueling competitive event commemorating the life-saving role that mushers and their dogs played in Nome's 1925 diphtheria outbreak.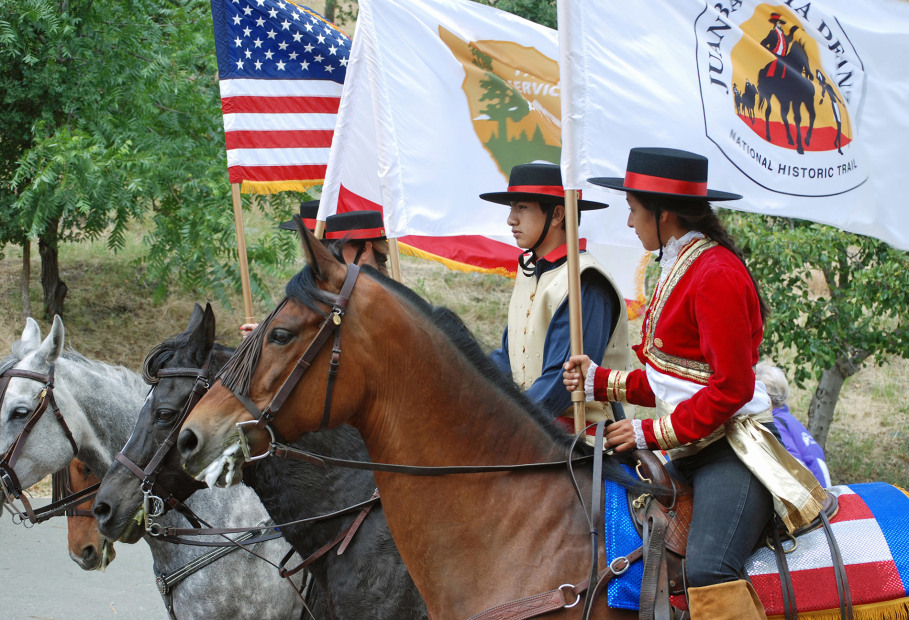 The Juan Bautista de Anza National Historic Trail honors New-Spanish explorer Juan Bautista de Anza's 1775-76 journey from Arizona to California. De Anza led a group of about 250 people en route from Nogales, Ariz., along the Mexican border to California's San Francisco Bay to establish both a mission and presidio. Though well marked, this historic corridor is now inaccessible in places where it crosses military bases and private land. However a 1,200-mile parallel auto route offers plenty to explore. Sites along the way include Arizona's Yuma Quartermaster Depot State Historic Park—where De Anza's expedition crossed the harrowing Colorado River—and Martinez's John Muir National Historic Site, home to the only permanent exhibit dedicated to the trail.
In 1877, nearly 3,000 Nez Perce (Nimiipuu) people attempted to escape U.S. soldiers, traveling what is now known as the Nez Perce (Nee-Me-Poo) National Historic Trail. The route runs approximately 1,170-miles through four states: from Eastern Oregon's Wallowa Valley to Montana's Bear's Paw Mountains, 40 miles from the Canadian border. This sacred trail crosses over Idaho's Snake Canyon River, winds its way through Montana's Bitterroot Valley and across the Continental Divide, and includes portions of Hells Canyon National Recreation Area and Yellowstone National Park. A correlating auto route highlights the Nez Perce's arduous journey with 38 stops along the way, including the sites of skirmishes and historic battles.
Hawaii's only National Historic Trail, the Ala Kahakai National Historic Trail (the name means shoreline trail in Hawaiian) is a non-continuous path that runs 175-miles along the Big Island's coast, from Pu'ukohola Heiau National Historic Park to Hawaii Volcanoes National Park. The route incorporates ancient fisherman's trails and hundreds of indigenous Hawaiian settlements, though is most accessible from within the island's national parks. Today, the Ala Kahakai trail helps protect sacred sites and celebrates both ancient Hawaiian culture and the Big Island's natural geography—such as the ecologically diverse anchialine pools that prevail along Hawaii's Kona Coast. Something else you may spot while navigating the trail—Indigenous `a`ama crabs, reddish spider-like crabs that play an important role in the local ecosystem.
Running approximately 2,700 miles from Santa Fe, New Mexico, to Los Angeles, California, the Old Spanish Trail is largely considered to be the most strenuous pack mule route in Western history. Traders originally established the trail (a combination of many well-used trails) for commercial purposes, though horse thieves, slave traders, and U.S. military expeditions soon found use for it. This legendary and historic trade route fully embodies the Western spirit, crossing through canyons, across rushing rivers, and into the vast Mojave desert as it makes its way toward California's Mission San Gabriel. Auto accessible add-ons include the Armijo Route, which meanders near Utah's Glen Canyon National Recreation Area, and the North Branch that travels alongside Colorado's Great Sand Dunes National Park.