October's deadly wine country fires left a swath of devastation in their wake: a tragic number of lives lost, homes destroyed, and businesses burned and damaged. Thankfully, in a region known for its fertility, regrowth and rebirth has come swiftly. Tasting rooms, dining rooms, and cherished cultural organizations are back up and running—and ready for some love.
In the spirit of onward and upward, well-established wineries such as Napa's Hess Persson Estates, Far Niente in Oakville, and Sterling Vineyards in Calistoga are rolling out unique wine, food, and art experiences for aficionados. St. Helena's Clif Family winery is expanding its popular food truck's offerings to include a weekly international street food menu. And early November also marked the grand opening of Ashes & Diamonds, a new Oak Knoll winery and tasting room housed in a striking, mid-century modern design.
A number of wineries, including Honig in Napa and Kendall-Jackson in Sonoma County, have pledged a portion of their sales toward fire relief, and the hospitality industry likewise stepped forward with tremendous support for victims and first responders. Established resorts, such as the Fairmont Sonoma Mission Inn & Spa and Napa's Meritage Resort & Spa, offered accommodations to first responders and deep discounts and community space for the displaced. Even the newly opened Astro Motel in Santa Rosa stepped forward with room donations. 
These businesses, so generous to their communities through the tragedy, are ready for their regular harvest-season, wine-loving guests to return. So, too, are the many restaurants in both counties that prepared and served meals for those in need. While many hotels are offering discounts or special packages to entice visitors to the area, Napa Valley Restaurant Week (January 21–28) provides a great excuse try some of wine country's best restaurants.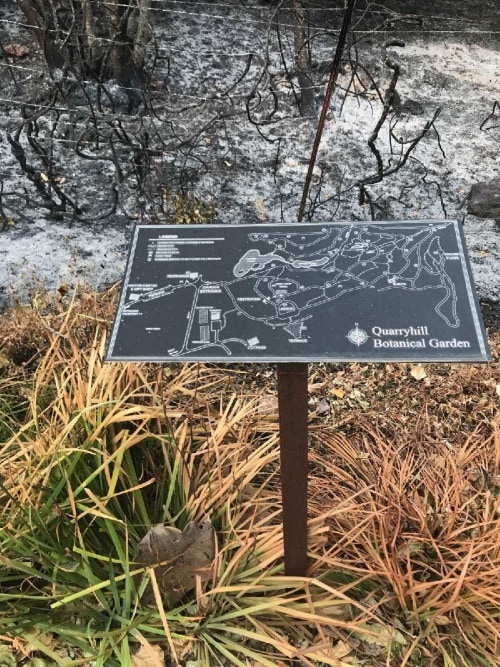 In Santa Rosa, the hospitality industry took a particularly hard hit with the loss of well-loved and familiar establishments like the Fountaingrove Inn, the Hilton Sonoma Wine Country, and the Cricklewood Restaurant. But downtown areas such as Courthouse Square and Railroad Square are open for business and eager to reignite the buzz that has been building around the city's culinary scene these last few years. Russian River Brewing Company, one of Santa Rosa's top breweries, remains a downtown draw, but there's more to do elsewhere in town, too. 
Though fire sadly claimed the family home of Peanuts creator Charles M. Schulz, his namesake museum in Santa Rosa was undamaged—and recently reopened to the public. Also in Santa Rosa, the community is celebrating the reopening of the Luther Burbank Center for the Arts, which suffered partial damage and was closed for nearly a month for clean up and safety assessment.
"There were some nail-biting moments in the first few hours and that first day," said Luther Burbank Center Director of Marketing and Patron Services Anne Abrams. Indeed, flames did destroy some of the outer buildings and a sculpture garden, but the main theater remained intact. And thanks to what Abrams called "an outpouring of support from the community," the reopening came ahead of schedule, with only seven shows canceled in the interim. Tickets are on sale now for a full slate of holiday shows and more, including a performance by Tony Bennett on December 5 and Moscow Ballet's Great Russian Nutcracker on December 18.
Fire whipped straight through the quaint hamlet of Glen Ellen, along Highway 12 in Sonoma County, but somehow stopped just short of the Quarryhill Botanical Garden, a wild Asian woodland environment and one of the town's hidden treasures. Executive Director Bill McNamara explained, "Quarryhill miraculously escaped major damage from the devastating fires that ravaged our beautiful valley." In gratitude for this good fortune and as an offering to the people of the affected communities, Quarryhill will be open free to visitors through the end of December. Make it your last stop after a day spent touring, tasting, and—most importantly—spending in wine country.