Mount Hood Sights and Events
The six galleries in the Mt. Hood Cultural Center and Museum highlight the region's European heritage, natural history, and more. A collection of vintage mountaineering gear will renew your appreciation for Gore-Tex.
One day a year, half a dozen of master craftsman Henry Steiner's hand-hewed dwellings open to the public for a self-guided Steiner Cabin tour. Hosted by the Mt. Hood Cultural Center and Museum, the event gives history and architecture buffs a rare chance to explore some of the roughly 100 log cabins that Steiner built between 1928 and 1953, all classic examples of Oregon rustic style. Tickets often sell out quickly. 
A masterpiece commissioned by the Works Progress Administration, Timberline Lodge was dedicated in 1937 and is preserved by a coalition of organizations. As a guest, you may be lucky to join an alpine walk with Heidi or Bruno, the lodge's popular and photogenic Saint Bernards. Later, dive into the heated swimming pool, then grab a pint at the Blue Ox Bar and settle into an Adirondack chair on the deck to watch the sun tint the mountain's crags blue, gold, and pink. A concert on Labor Day features a variety of folk, blues, and Celtic bands.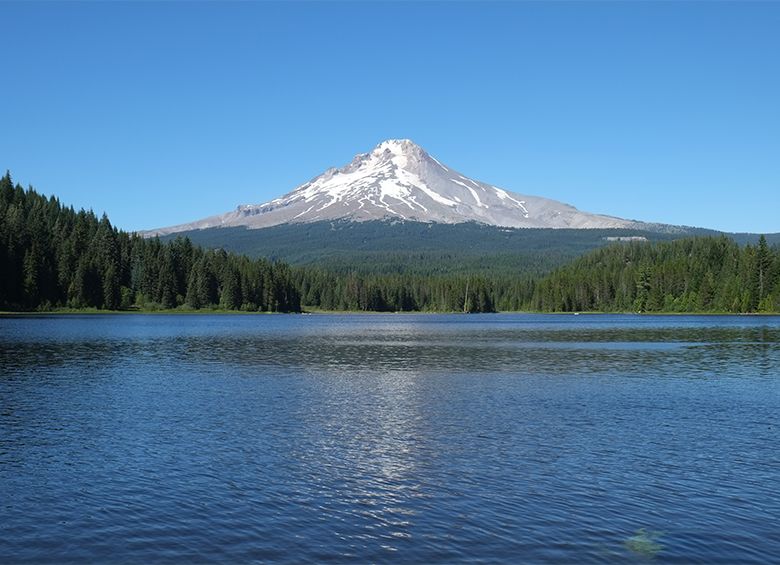 Outdoors Around Mount Hood
The easily accessible, 2.1-mile round-trip Mirror Lake Trail rewards visitors with mountain and valley views at each turn. After looping for half a mile around the lake, it culminates in a steep segment for a vista of Mount Hood reflected in the water, similar to that at nearby Trillium Lake. The trailhead is adjacent to Mount Hood Skibowl when heading west along Highway 26 near Government Camp.
Flip on a bungee trampoline, fly over the mountain on an 800-foot-long zip line or a sky chair, careen down a tubing hill, or float on an alpine slide at Mt. Hood Adventure Park at Skibowl. The park's Bike Learning Center and lift-assisted mountain-biking park also provide cyclists a chance to improve their skills. AAA members get a discount. 
Huckleberry-foraging trips and happy summer hikes begin with a visit to the Zigzag Ranger Station, where rangers provide free picking permits as well as tips and maps to the best spots for picking and exploring. One popular nearby hike is the family-friendly, 1.9-mile Old Salmon River Trail, a gentle riverside stroll through an old-growth forest.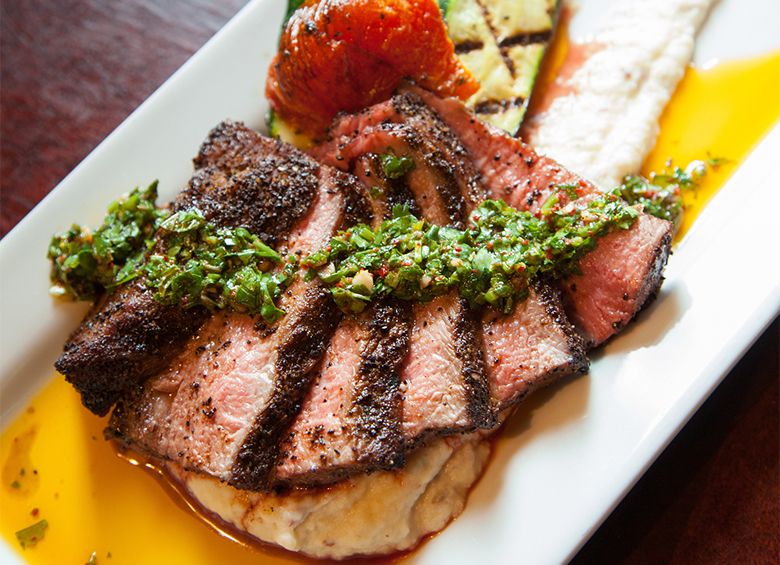 Mount Hood Eats and Drinks
Snag a big booth and order hot wings with chile-apricot sauce, some pub fry poutine (made with a pound of fries), and icy pints of lavender ale, and you'll see why Mt. Hood Brewing Company has been a favorite with locals and visitors since 1991. 
Meals at the Rendezvous Grill celebrate the Pacific Northwest's bounty. Don't miss out on the wild salmon special, prepared with ingredients grown or foraged locally. On weekends, leave room for boccone dolce, a dessert of hazelnut meringue, chocolate ganache, berries, and almond chantilly cream. 
The welcoming decor in the Skyway Bar and Grill makes it feel like Mount Hood's living room. Every surface is decorated with artwork and memorabilia collected and created by the owners and their friends. The restaurant may be best known for its barbecue, but folks also flock to the annual Crawdad Fest in August. 
The crispy bacon, flaky biscuits, sausage-flecked gravy, and fluffy boysenberry pancakes at the family-owned Zigzag Mountain Store and Cafe make the perfect fuel for a day of outdoor adventures.