Sights and Events
Take a self-guided audio tour of the Big Art Outdoor Gallery, 20-plus sculptures and paintings by artists from the Pacific Northwest and elsewhere installed around downtown. Discover kinetic abstractions, whimsical fish, and more with the free tour app.
Starting in early April, the orchards along the 35-mile Hood River Fruit Loop are blanketed with white and pink blossoms. The route meanders among acres of wineries and farms; on a clear day, they provide one perfect photo op after another, with Mount Adams and Mount Hood as backdrops. Around the same time, farm stands, antique shops, and tasting rooms begin to spring to life after the sleepy winter.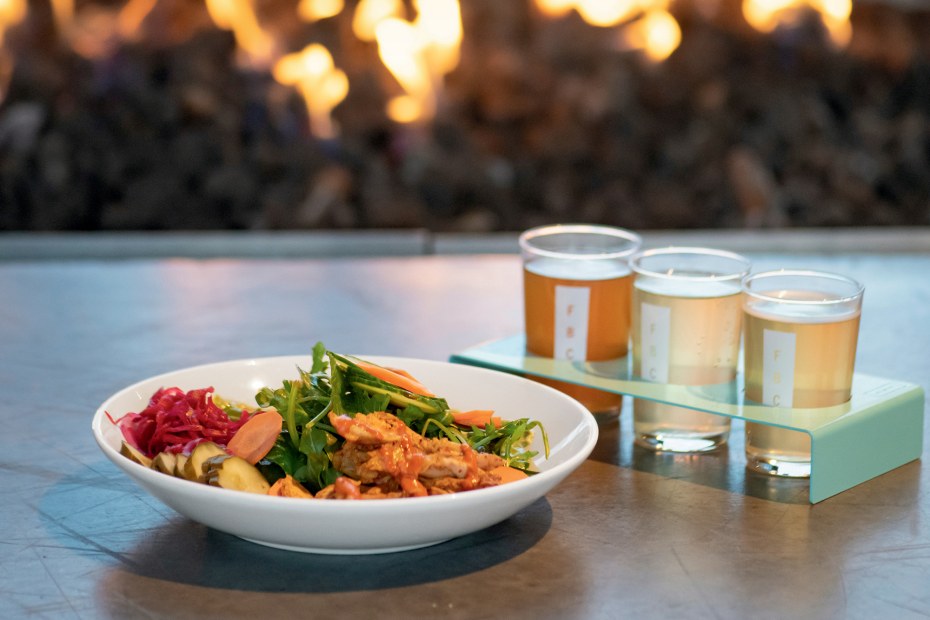 Where to Eat
For takeout on the Fruit Loop's south end, grab a rack of dry-rubbed ribs from Apple Valley BBQ, a low-slung, bright blue- and-red roadside joint redolent of smoldering cherrywood from nearby orchards. You can also opt for smoked meat loaf topped with a shallot demi-glace or a meatless version slathered in sweet barbecue sauce.
The waterfront Ferment Brewery Company makes more than excellent beer. Nosh on wraps, salads (such as local greens topped with falafel), and seasonal house-made pickles and other fermented snacks while watching kitesurfers do their thing on the Columbia River from the second-story patio, where there's plenty of room to spread out.
Set along the Fruit Loop amid 100-year-old apple trees at Mt. View Orchards, the Grateful Vineyard Tasting Room is the place to go on warm days for artisanal pizza (Bosc pear, Gorgonzola, and bacon is one specialty) served outside on a huge lawn. On rainy days, you can sip a glass of estate cider while you warm up next to your own fire pit in the tented seating area.
Outdoors
The views along the 72-mile Historic Columbia River Highway State Trail stretch from stunning basalt formations to vibrant balsamroot and lupine blossoms in spring. This chunk of the old highway above the Columbia River—abandoned when Interstate 84 opened—has been transformed into a car-free paved trail. Park at the Starvation Creek trailhead for easiest access to waterfalls in Viento State Park.
Locals use the Indian Creek Trail system to travel between the lower and upper parts of town. The oldest section of the path meanders over three miles, with pretty views above the creek. Find the trailheads near Third Street and Hazel Avenue or 12th Street near Pacific Avenue.
Shops
Art on Oak, a well-stocked downtown artists' collective, carries distinctive goods including leather-wrapped journals, kitchen towels hand-painted with regional flora and fauna, and delightfully spiky metal cattails for beautifying a garden.
Sports enthusiasts should head to Doug's Hood River for new water or snow gear. Make an appointment online for a personalized fitting with a boot expert. Want to give kitesurfing a try or cruise the Fruit Loop on an electric bike? Doug's offers rentals, too.