While elsewhere in the U.S. is blanketed in clouds, heavy snow, and blustery winds, the sun is shining most days in Arizona. In many places, winter temperatures are finally mild enough for full days of outdoor adventuring, and there are plenty of events and destinations to fill up your schedule for the season. Consider adding these nine activities to your winter to-do list, from sleigh rides and frosty hikes to baseball and shining lights.
1. Catch a glimpse of the snow-dusted Grand Canyon.
The list wouldn't be complete without a visit to the state's most renowned national park and one of the seven wonders of the world. December in the Grand Canyon can get crowded, but the trails and viewpoints are much less traveled during the other winter months. Storms typically bring several inches of snow, which dust the tops of the plateau, ridges, and red rock features. The North Rim is closed through May 15, but you can still get to locations in the South Rim like the Yavapai Museum of Geology, Mather Point, Bright Angel Campground, Desert View Drive, and Canyon Rim Trail. Look for mule deer and elk hopping through the snow, but be careful when walking because the ground can be icy.
2. Ski Arizona Snowbowl in Flagstaff or Sunrise Ski Park in Greer.
At higher altitudes in Arizona, there's enough snow for skiing, snowboarding, sledding, and snowball fights. Arizona Snowbowl Ski Resort in Flagstaff has 55 runs, with the longest snaking for two miles. From mid-November to late April, the high-speed chairlift takes riders up more than 2,000 feet of vertical elevation, where you can see panoramic views of the area. Bonus: Kids 12 and under can ski for free by signing up for a Power Kids Season Pass. Near Greer, Sunrise Park Resort is spread across 1,200 acres and three mountains: Sunrise Peak, Cyclone Circle, and Apache Peak, which tops out at 11,100 feet. With the most runs and acreage in the state, Sunrise is able to offer ski biking (also known as skibobbing), tubing, and cross country skiing. Both destinations offer rentals and lessons.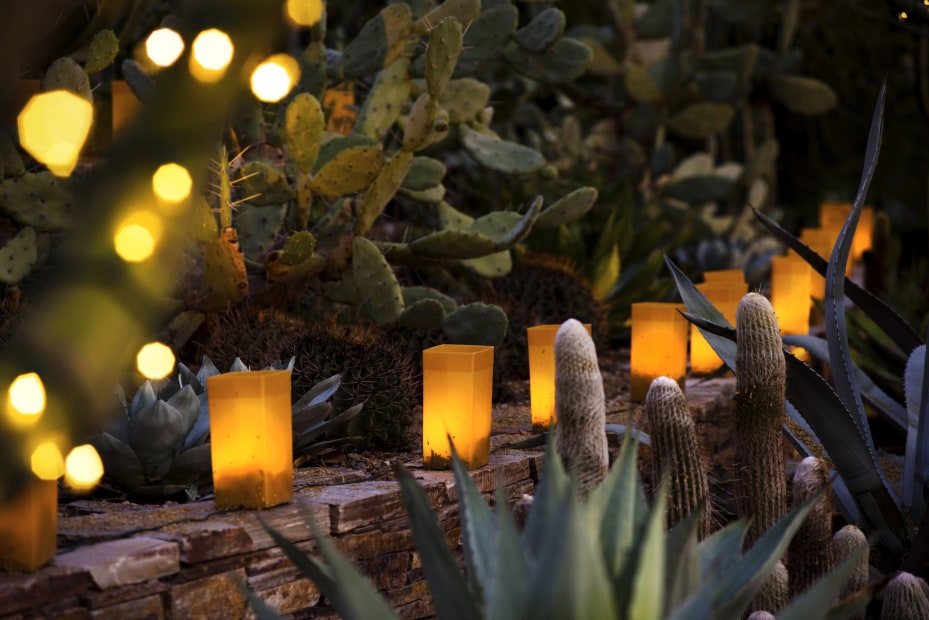 3. Celebrate Las Noches de las Luminarias in Phoenix.
In December, the Desert Botanical Garden in Phoenix shines with hand-lit luminarias that glow among the cacti and agave. From December 3 through 31 (with the exception of Christmas Eve and Day), visitors can wander through the garden, enjoy live musical performances, and memorialize loved ones with tribute bags. During Winter Solstice, on Dec. 21, the garden will host a silent night for self-reflection and rejuvenation. This year will also feature the exhibition of Chihuly in the Desert, with large-scale colorful glass sculptures installed both along the trails and in the gallery at Dorrance Hall. Face masks are required.
4. Ride the Polar Express Train in Williams.
Every holiday season, the Grand Canyon Railway creates a magical experience for families to board The Polar Express. The 90-minute ride winds through the Williams wilderness to the North Pole, where Santa Claus and his reindeer await to gift every child a keepsake present. While listening to the reading of the classic story, partake in hot cocoa and cookies. Tickets are available most of December, including Christmas Eve, and prices start at $38. Make a reservation ahead of time to guarantee your seats. Other festivities at the railway include story time with Mrs. Claus, pictures with Santa, the naughty or nice meter, and holiday lights.
5. Go on a hay ride at the Winterhaven Festival of Lights in Tucson.
Since 1949, the community has decorated the city with festive lights and impressive displays, each year better than the last. Thousands of dazzling lights will stay on every evening from December 11 to 26, and visitors are encouraged to bring donations for the Tucson Community Food Bank. Make reservations for a 40-minute hay ride tour of the lights in a wagon pulled by a historic propane-powered Jeep. Each seat costs $10 to $20, and rides depart every night from 6 to 9 p.m. on the hour, including Christmas Eve and Christmas Night. Reservations are recommended. Tours on a bus trolley and 15-passenger pedal-powered bike are also offered.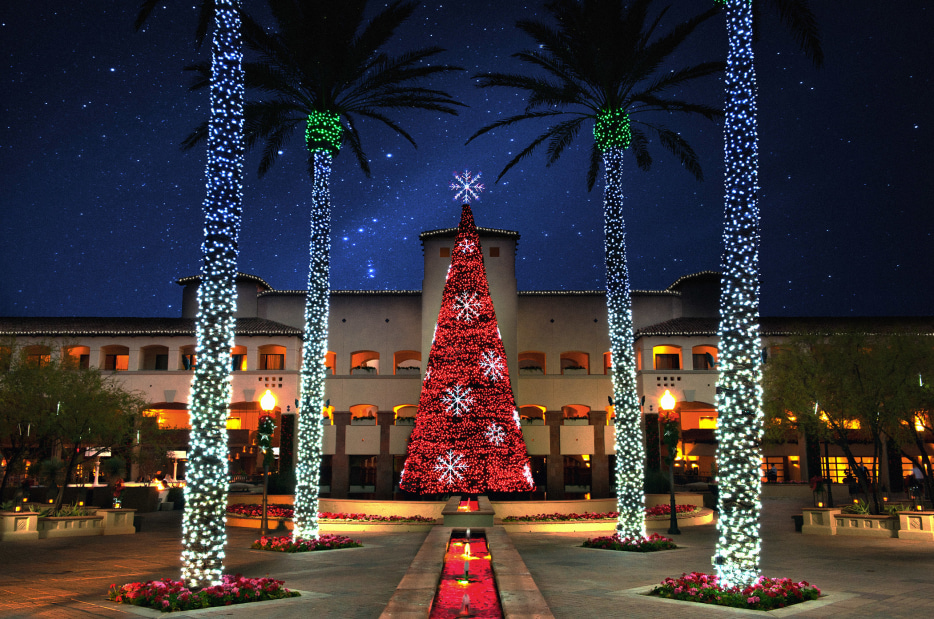 6. Skate and play at the Princess in Scottsdale.
The whole property at Fairmont Scottsdale Princess Resort transforms into a jolly wonderland through January 2. Twirl, slide, and figure eight on real ice at the resort's 6,000-square-foot rink. Take photos with Santa before riding on the Princess Express Train through the lagoon lit with 4.5 million bulbs. Roast s'mores during live music and animated light shows at the village, and take a trip down the Snow Mountain Ice Slide and up Frosty's Ferris Wheel. With the purchase of an Ice Pass for $40 per person, you can skate an unlimited amount on the Desert Ice Skating Rink and Alpine Skate Trail.
7. Catch a game at Cactus League Spring Training in Phoenix.
Once the holiday season is over, you can look forward to baseball fanaticism descending upon Phoenix from February 26 to March 29. During Cactus League Spring Training, 15 major league teams play more than 200 games across the valley, including at Goodyear Ballpark and Surprise Stadium. Pick a team, print the schedule, and snag tickets early by calling the respective stadiums. Take a peek at the 2022 schedule to start planning.
8. Go on a mellow, snowy hike in Sedona.
When snow falls over Sedona, this already mystical place enthralls with piles of powder on the steep orange stone walls, agave plants, and the trails winding through them. Bundle up and pick from numerous calm hikes with glorious views. Try the leisurely 2.4-mile Fay Canyon Trail, which is family friendly and inviting for all skill levels. Or circle the Bell Rock on the 2-mile pathway that loops around the feature. Don't forget to wear shoes with good traction and pack your camera. Temperatures can drop to the 30s, but it can feel warmer when the sun is out.