Still looking for a fun and festive way to ring in the New Year? Here are eight options throughout the West for those of us who didn't plan ahead. They're also easy on the wallet and (mostly) family friendly.
Heavenly Holidays Gondola Ball Drop, South Lake Tahoe, California
Ring in 2020 with a combo gondola "drop" and fireworks show, performances in ice sculpting and fire dancing, and thousands of fellow revelers. The night's festivities begin at 7 p.m., and culminate at 9 p.m. with the drop and fireworks display to coincide with New York's midnight celebration in Times Square. If you're child-free, head to one of the area's casino nightclubs afterward to keep the celebration going. Free entry. 
Mt. Hood Skibowl 32nd Annual New Year's Eve Extravaganza, Oregon
Night skiing, a downhill torchlight parade, and two separate fireworks displays are all part of the fun at Mt. Hood Skibowl's 32nd Annual Extravaganza, which also includes plenty of dancing—as well as the world's only cosmic tubing, complete with laser lights and music. Free entry.
First Night Monterey, Monterey, California
Booze-free and entirely family friendly, First Night Monterey kicks off at 3 p.m., with an opening ceremony followed by activities such as hat making and face painting. A twilight procession—with stilt walkers and giant puppets—completes the kid-centric portion of the evening, though a First Night button ($25 for adults, $15 ages 6–15, free for 5 and under) offers access to dozens of citywide performances all evening long, from high-energy bluegrass to traditional Irish tunes. 
Christmas in the Park, San Jose, California
Spend an afternoon enjoying San Jose's beloved holiday display of decorated trees and animated exhibits, then stick around to ring in the New Year with performances by comedy magician Robert Strong and the South Bay's own The Houserockers—whose R&B repertoire includes hits by everyone from Earth, Wind & Fire to the legendary Stevie Wonder. Free entry.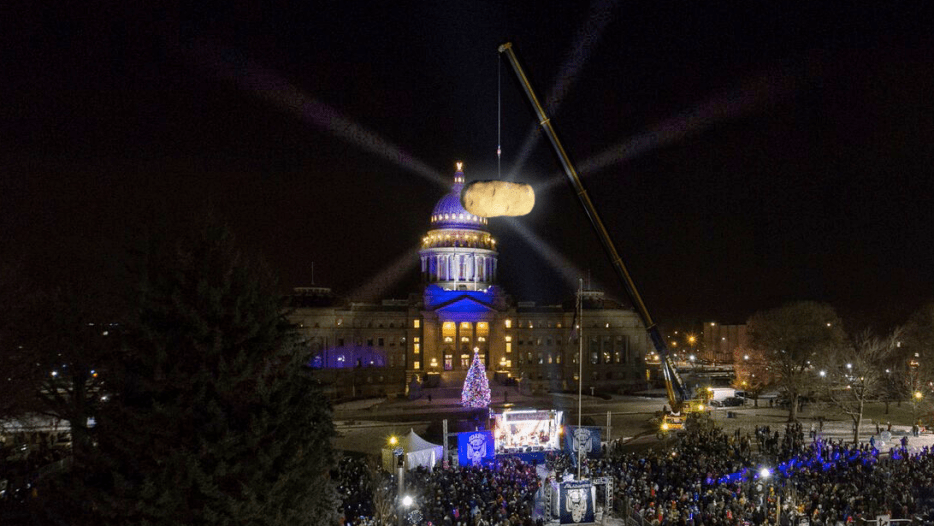 Idaho Potato Drop, Boise, Idaho
Gather with the masses to watch a giant spud descend its way into 2020 at this downtown, one-of-a-kind event. In addition to the "Glowtato" drop, see ice carving in action or cheer on local athletes at the Big-Air Rail Jam. Festivities run from 3 p.m. through 1 a.m., with plenty of purchasable food and drink on hand, as well as a VIP live music and dance experience ($100–$150 per person), complete with sweeping city views. Free entry. 
Last Hurrah, Salt Lake City, Utah
Salt Lake City's holiday celebration includes an all-ages game room filled with giant versions of Jenga and checkers, a 21-and-over craft beer and cocktail pop-up lounge, and live performances by rock group The Backseat Lovers and Provo-natives The National Parks. Midnight fireworks help ring in 2020. Free entry. 
New Year's Eve Celebration at Kirkwood Mountain Resort, Kirkwood, California
Avoid the Tahoe crowds further north while partaking in an iconic NYE tradition: Kirkwood's annual torchlight parade followed by a spectacular fireworks extravaganza. Get in a run down the slopes, or catch a snow cat to the mountaintop to watch the show from above. Stick around afterward for the resort's dance parties with complimentary appetizers that runs right up to the New Year. Free entry. 
2020 Flannel Ball, Phoenix, Arizona
Peruse the transformed backyards and alley-turned-art-gallery of Phoenix's Roosevelt Art District while sporting your best '90s-inspired plaid at the Flannel Ball. Catch live music, nosh on food truck eats, sip brews at an onsite beer garden, and engage in various lawn games such as cornhole. The obligatory midnight countdown ends with a champagne toast and piñata drop. Tickets are $15 until December 24, $20 until December 30, and $25 the day of event.