Tired of the same old tree lightings, the same old carols, the same old ham? Banish the bah-humbugs with one of these extraordinary holiday-themed events taking place across the West. These far-from-hum-drum happenings are fun, festive, and guaranteed to re-charge your seasonal spirit. 
Holidays at the Disneyland Resort, Anaheim, California
Let's face it: Disney does the holidays right. And the festive fairy dust is sprinkled liberally throughout the Happiest Place on Earth. At Disney California Adventure, Santa and his elves make daily appearances at Redwood Creek Challenge Trail until Christmas Day, when Goofy Santa takes over for the big guy. The Disney Festival of the Holidays trumpets a multicultural array of holiday traditions including Kwanza, Hanukkah, and Diwali with special musical performances and entertainment (including the popular Disney Viva Navidad! street party celebration) and global eats at the Festive Foods Marketplace. The park's 50-foot tree is decorated with 1920s-era vintage ornaments and lit nightly.
In Disneyland Park, the daily A Christmas Fantasy parade features Mickey, Minnie, and other favorite Disney characters, while the 60-foot tall Christmas tree in Town Square is decked out with some 1,800 ornaments. Several popular attractions receive seasonal makeovers, including "it's a small world" Holiday; the Haunted Mansion Holiday (inspired by Tim Burton's The Nightmare Before Christmas); and Sleeping Beauty's Winter Castle. Don't miss the famous evening fireworks show erupting nightly over the castle, capped off by a snowfall finale. Holiday events at both parks take place through January 6, 2020. 
Lights of the World, Phoenix, Arizona
Lights of the World draws its inspiration from the quaint, ancient tradition of Chinese lantern festivals—and cranks the dial up to 11. This event at Phoenix's Arizona State Fairgrounds, running November 22, 2019 to January 12, 2020, bills itself as the largest light and lantern festival in North America with more than 10 centerpiece exhibits and 75 brilliant, brand-new light displays—some up to 60 feet tall—showcasing different cultures and civilizations around the globe. If the 10 million-plus lights don't hold your attention, you can enjoy dozens of free-after-admission carnival rides and games, delicious eats (including a bounty of authentic Chinese fare), daily live performances by acrobats, dancers, musicians, and more, and even a sea lion show.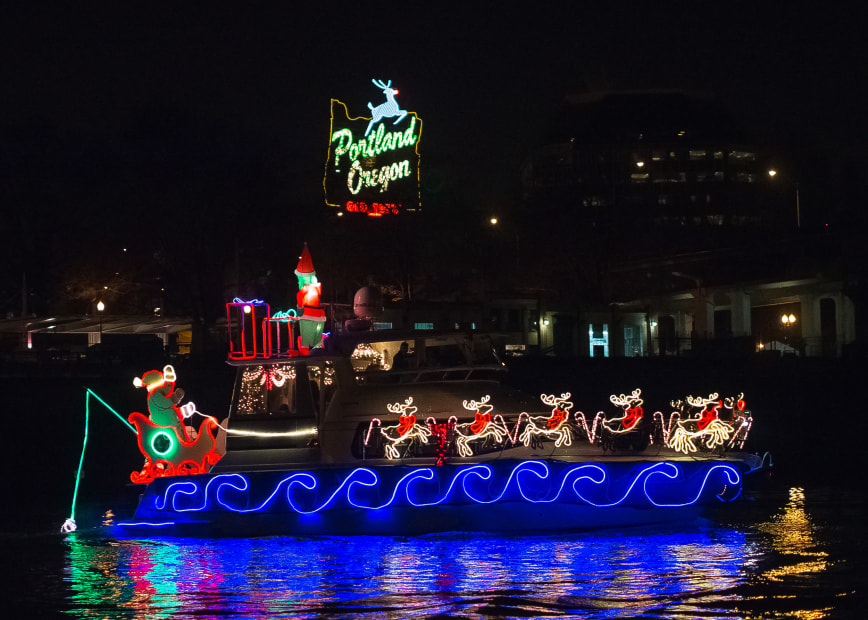 Christmas Ship Parade, Portland, Oregon
It started in 1954 with one lone sailboat decked out in a green bow and ribbon. Sixty-five years later, the Christmas Ship Parade has become a beloved annual spectacle in Portland, with some 60 boats festooned with increasingly elaborate holiday displays patrolling the city's Columbia and Willamette rivers. You can see the boats up close and chat with their big-hearted volunteer skippers at meet-and-greet events at the public dock near Riverplace on December 21 and 22. Catch the lit-up flotilla nightly from December 5 to December 22.
Christmas on the Comstock, Virginia City, Nevada
Picture Santa Claus with a 10-gallon hat, and you'll have an idea of what the holidays are like in Virginia City. The historic Gold Rush–era mining town celebrates in vintage style for the entire month of December, with activities like a Grinch Made Me Do It saloon crawl, authentic steam train rides on the V&T Candy Cane Express, and the annual Comstock Cowboys Christmas in the Sierra concert at Piper's Opera House. Other events include a festive parade of lights, holiday craft fairs, and caroling around town.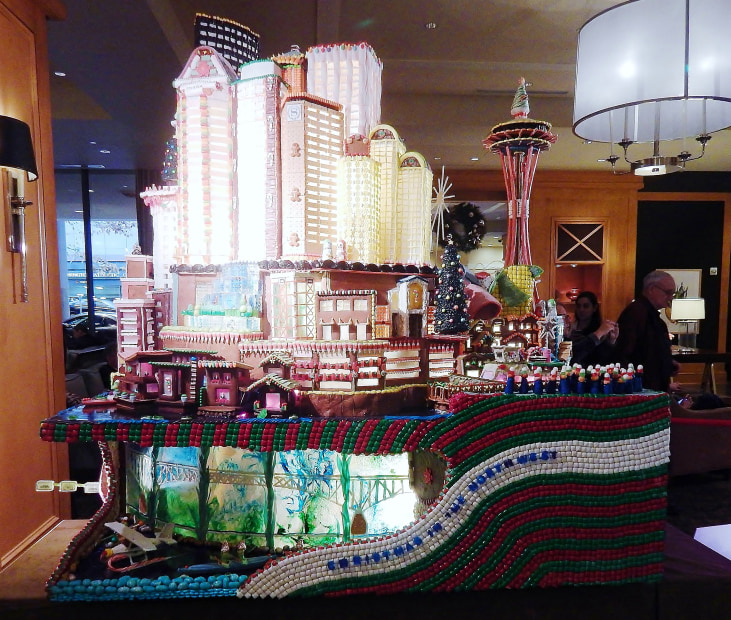 Sheraton Seattle Gingerbread Village, Seattle, Washington
These aren't your typical modest gingerbread homes. No, for the Sheraton Seattle's annual Gingerbread Village, local architecture firms and building trade associations team up with hotel culinary staff to create edible engineering marvels. An estimated 1,200 pounds of dough, 800 pounds of icing, 200 pounds of white chocolate, 250 pounds of almond paste, and hundreds of pounds of candy are used to create these elaborate displays, which are accessible to the public daily and completely free (although donations are welcome and benefit local diabetes research). The Gingerbread Village is open November 12, 2019, to January 1, 2020, 9 a.m. to 9 p.m.
Oakland Interfaith Gospel Choir Holiday Concert, San Francisco Bay Area
We can all use a little unity these days. The Oakland Interfaith Gospel Choir offers exactly that with its uplifting annual holiday concerts. Led by Emmy-winning director Terrance Kelly and comprised of singers and musicians of wide-ranging races, cultures, and faiths, the group's mission is to inspire "joy and unity among all people through black gospel and spiritual music traditions." Catch this acclaimed holiday performance on December 7 at Downtown Oakland's art deco–era architectural marvel Paramount Theatre, as well as additional performances throughout December in San Francisco, Oakland, and the South Bay.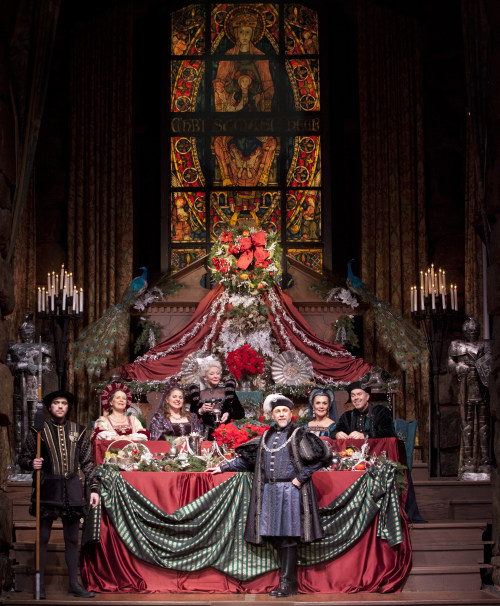 Bracebridge Dinner, Yosemite, California
The Bracebridge Dinner is an experience almost as remarkable as the vistas outside. For more than 90 years, the Ahwahnee has been hosting this elaborate theatrical holiday production in the Yosemite Valley. During a gourmet seven-course feast in the historic hotel's grand dining room, guests are transported to 18th-century Old England via a musical staging of author Washington Irving's "Squire Bracebridge," depicting Christmas festivities with Lord Neville of Bracebridge and more than 100 guests, family, and household members. This year the production takes place every other night December 11 through 21.
Coeur d'Alene Resort Holiday Light Show, Coeur d'Alene, Idaho
Talk about making the most of your location. The resort along scenic Lake Coeur d'Alene in northwest Idaho boasts the largest on-the-water holiday light display in the United States, with more than 1.25 million lights strung on and around the property. Meanwhile, families can hop aboard cruise ships bound for the North Pole, aka resort owner Duane Hagadone's 32,000-square-foot home transformed into Santa's toy workshop complete with elves and St. Nick himself. Open November 16, 2019 through January 1, 2020.
Ethel M Chocolates Holiday Cactus Garden, Henderson, Nevada
Just outside the neon glitz of the Las Vegas Strip, Ethel M Chocolates lures visitors with a different bright spectacle: Over one million lights strung up throughout its three-acre botanical cactus garden. Guests can mingle with from Santa on weekend evenings, and take instantly Instagram-able photos around the garden. If that's not sweet enough, factory chocolate-tasting experiences are available every hour on the hour until 6 p.m. The display runs through January 5, 2020.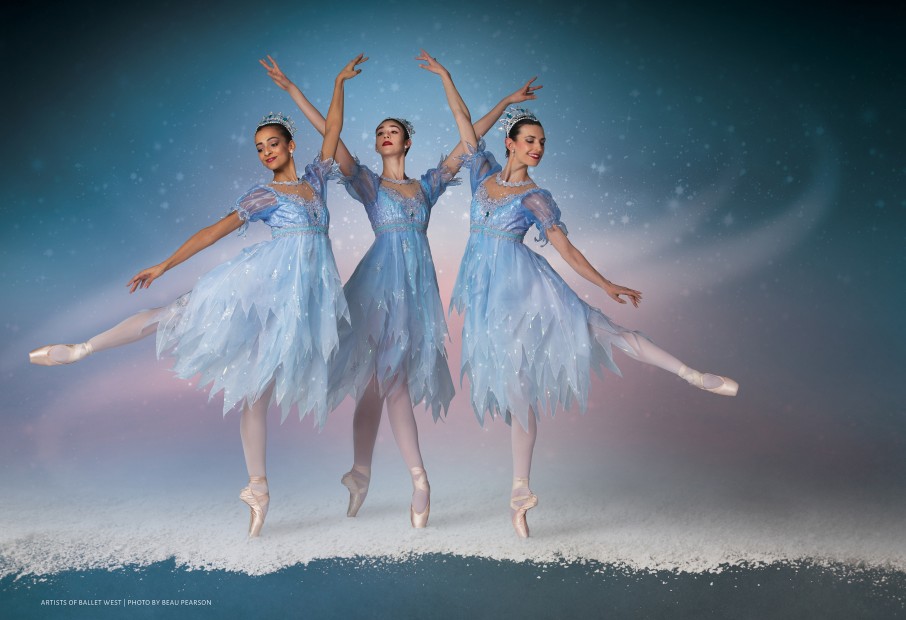 Ballet West's Nutcracker, Salt Lake City, Utah
Now in its 63rd season, Ballet West's production of the Nutcracker is the longest running staging in the United States. But rather than rest on its laurels, the acclaimed Salt Lake City company unveiled brand-new sets, costumes, and special effects in 2017, the culmination of a three-year, multi-million dollar project to breathe fresh life into the classic holiday show, featuring Willam Christensen's historic choreography and Tchaikovsky's famous score. This year, the show runs December 7–26. 
Great Dickens Christmas Fair, Daly City, California
It's safe to say that author Charles Dickens would feel right at home at this Great Dickens Christmas Fair. The annual holiday tradition is truly impressive in scope, as visitors to the Cow Palace south of San Francisco are magically transported to Victorian-era London populated by upwards of 800 period characters ranging from haughty lords to hardscrabble chimney sweeps. The goblet overfloweth with entertainment at this event, which includes craft activities, dozens of themed live performances, and ample opportunities for shopping, eating, and drinking, courtesy of more than 100 food and retail vendors. Get in on the action any weekend from November 23 to December 22.