When it gets dark early and the chill stretches across the day, it's easy to stay curled up at home. But winter in the West is a prime time to get outside and participate in the fun. Snow glitters from mountaintops, low temperatures create unique natural features, and the stretch of holidays enhance the enchantment. Crawl out of hibernation for these eight can't-miss activities, from ice castles and light phenomenons to outdoor festivals, best enjoyed December through February.
Aurora Winter Train in Alaska
Traveling between Anchorage and Fairbanks, the Aurora Winter Train winds through the Alaska backcountry, blanketed in thick snow from mid-September through mid-May. From the comfort of a cozy railcar, watchful passengers can spot Denali, the Susitna River, and moose in the wild through large picture windows. When the weather and solar conditions align, the aurora borealis dance above Fairbanks, the final stop. A one-way trip takes 12 hours and makes stops in Wasilla, Talkeetna, Hurricane, Healy, and Nenana. Make it a weekend getaway: Tour the area's trail network on skis, and stay and dine at the Talkeetna Roadhouse*. Tickets for a confirmed seat start at $218 per adult, and rides include for-purchase dining services and freedom to move between cars. Other train packages are also available. *Editor's note: Talkeetna Roadhouse is temporarily closed for renovations and is expected to reopen in summer 2023.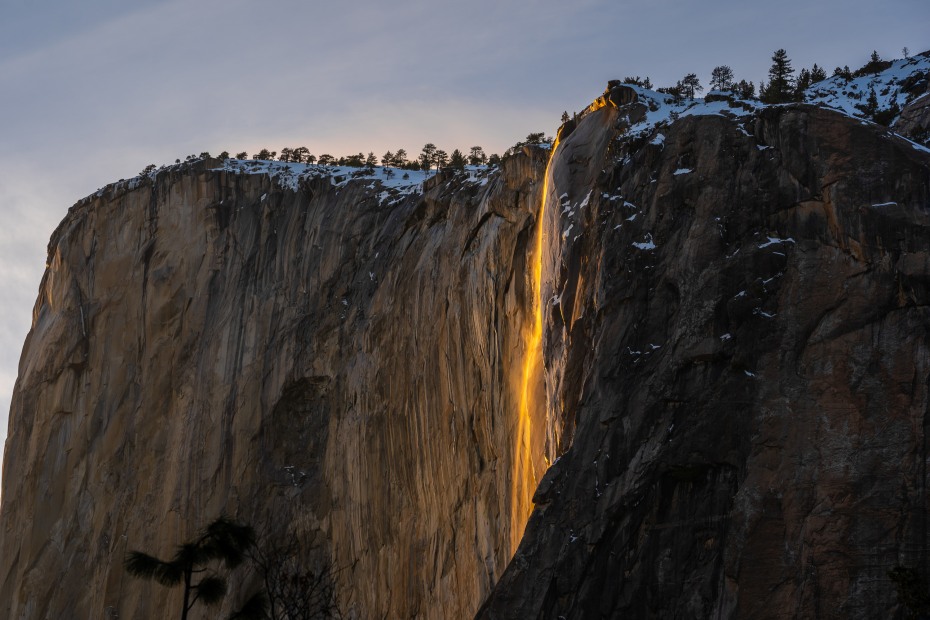 Horsetail Fall Firefall Phenomena in Yosemite, California
Flowing over the eastern edge of El Capitan only in winter, Horsetail Fall is usually one of the smaller and less fawned over waterfalls in Yosemite Valley. But on rare occasions in mid- to late February and into March, this strip of water can glow orange when it's backlit by the sunset on nights clear of haze and clouds. It's a magnificent and rare photo opportunity. During this time, the National Park Service enforces special parking, driving restrictions, and entry permits because the area can get crowded. When the weather isn't cooperating or if you happen to visit Yosemite outside the timeframe, you can take in the spectacular sights along the plowed Badger Pass Road from mid-December through early April. Lower Yosemite Fall, Bridalveil Fall, Mirror Lake, and Artist Point are also all accessible.
Aurora Ice Museum near Fairbanks, Alaska
Detailed ice sculptures greet visitors at the Aurora Ice Museum outside of Fairbanks, Alaska, the world's largest ice environment. Based at the Chena Hot Springs Resort, this year-round destination was created from 1,000 tons of ice and snow, and stays chilled to 25°F no matter the season. Inside the domed building, visitors can sip crisp drinks at the ice bar, meander through the polar bear bedroom and two-story snowball observation tower with a circular staircase, and admire the jousting ice knights and giant ice chess set—all while staying toasty in a provided parka. Tours are available throughout the day, and the hot springs and pool house are only steps away for warming up after. Tickets from $15.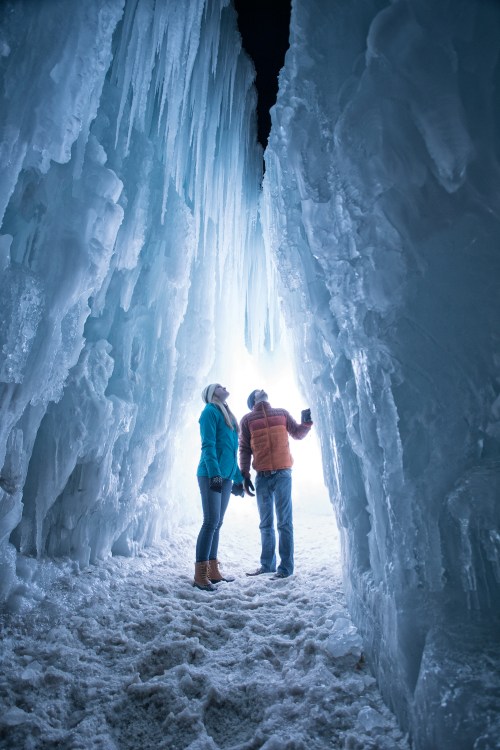 Ice Castles in Midway, Utah
Using hundreds of thousands of icicles, professional ice artists build astonishing castles every year in Midway, Utah. The Utah Ice Castles reopen in January 2023, and run until early February for visitors to explore every crevice of the intricate structures. Colorful LED lights illuminate ice sculptures and other formations, including frozen thrones, caverns, archways, and fountains. Walk or crawl through the tunnels, wander through the maze, take a trip down one or all of the ice slides, and book a sleigh ride through the forest behind the castles. For a private VIP experience, reserve the Arctic Alcove, a secluded room that's the ideal setting for special occasions. Masks are recommended. Tickets for children start at $12 and adults at $18.
Fire and Ice Winter Festival in Ely, Nevada
Since 2003, the rugged outdoor mountain town of Ely, Nevada, has been home to the Fire and Ice Winter Festival, a celebration of art, winter sports, and the community of White Pine County. Residents and visitors embrace the cold together from January 13 to 15, 2023. Skiers race for first place during the cross-country skiing events. Other activities include fireworks displays, bonfires, train rides, ice skating, guided hikes, snow shoeing, and ice bowling.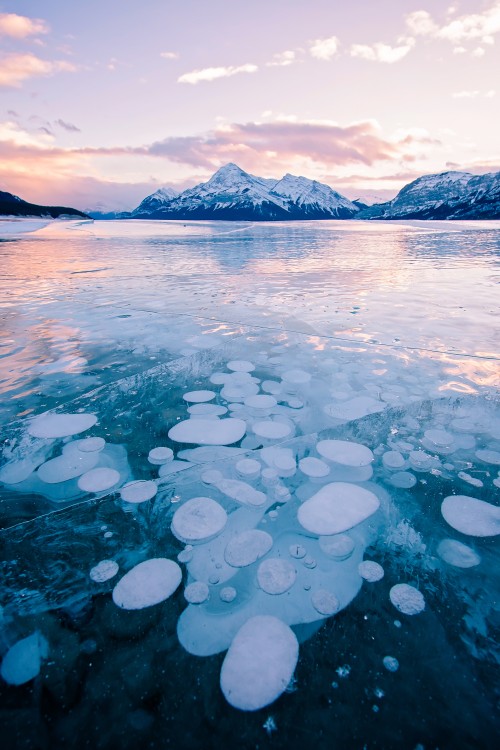 Abraham Lake Ice Bubbles in Alberta, Canada
Once freezing temperatures take hold in the Canadian Rockies, Abraham Lake in Alberta fills with jewel-like features that can be spotted just under the surface. These natural spectacles suspended in time are actually pockets of methane surrounded by ice. The gas forms when bacteria munches on the decaying plants and tree limbs along the bottom of the lake. The best time to see the formations is from mid-January to mid-February, when the ice is thick and layered with bubbles. Other lakes within the region also boast beautiful bubbles, but Abraham Lake tends to have the highest concentration.
Smart Tip: Go with a guide who can help you make sure the ice is at least 4 inches thick before you step onto the surface for a photo.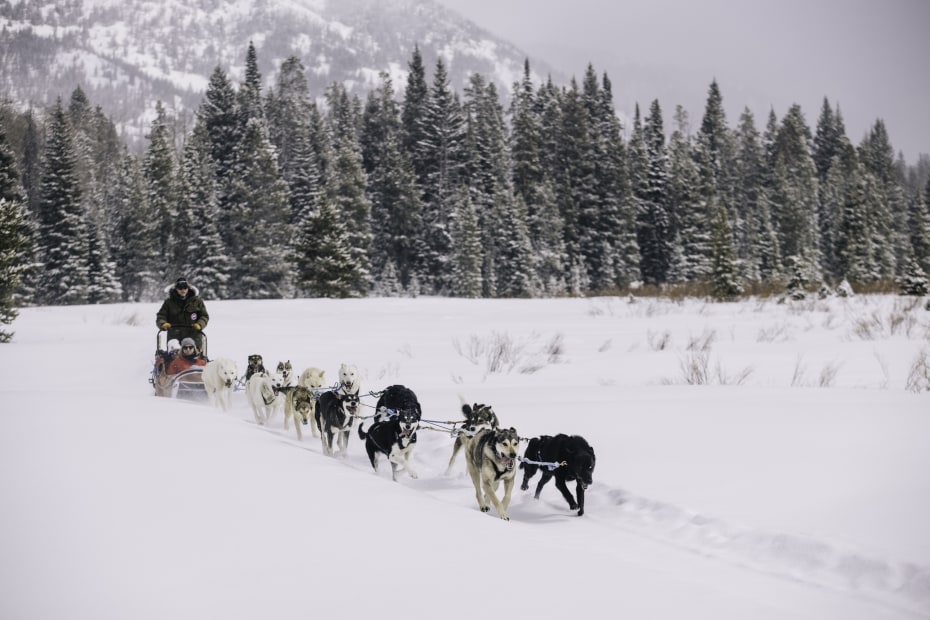 Dog Sledding near Yellowstone, Wyoming
Explore the trails in Park Bridger-Teton National Forest at the speed of a team of sled dogs. Continental Divide Dogsled Adventures offers half-day trips into the forest to the east of Grand Teton National Park from December through the end of March. Each sled can accommodate up to two guests nestled up front, and they are pulled by 14 canines through snow fields and frosted trees. Ask your guide for a chance to safely steer the sled and pet the friendly pack. From $250 per person.
Hot Springs in Mammoth Lakes, California
The Long Valley Caldera near Mammoth Lakes is one of the Earth's largest calderas, formed by volcanic and glacial activity dating back 760,000 years ago. Because of the extensive hydrothermal system, this area is ripe with natural hot springs, some of which are safe for soaking in. Finding them is a bit of an adventure, but you can purchase the Eastern Sierra Hot Springs guidebook at the Mammoth Lakes Welcome Center to find your way. Warm up and relax in these naturally heated pools, including Rock Tub and Whitmore Pool. Always use a thermometer to check the temperature before dunking and use caution around the slippery edges. When visiting these sensitive areas, always follow guidelines to leave no trace and recreate responsibly.