You don't have to fly to Egypt or sail to Greece to see globally significant World Heritage Sites selected by the United Nations Educational, Scientific, and Cultural Organization (UNESCO). You may be surprised to learn that there are 24 sites in the United States, and the West is home to 13 of these natural and cultural wonders. Stand in awe of temperate rainforests, soak up the history of Indigenous cultures, and marvel at some of the world's longest glaciers at these 10 must-visit spots.
Kluane, Wrangell-St. Elias, and Glacier Bay in Alaska and Canada
These three protected areas along the Canadian-Alaskan boundary contain the world's largest non-polar ice field and some of the world's longest glaciers. Rich in plant and wildlife biodiversity, the environment is an important corridor for wildlife migrations from the coast to the interior. In Glacier Bay, a daily boat tour in the summer offers passengers close-up views of the glaciers. At Kluane, the 6-mile round-trip King's Throne Trail ascends to an alpine cirque above Kathleen Lake. And at Wrangell-St. Elias, ranger-guided interpretive talks and tours are an accessible introduction to this remote 13.2-million-acre park.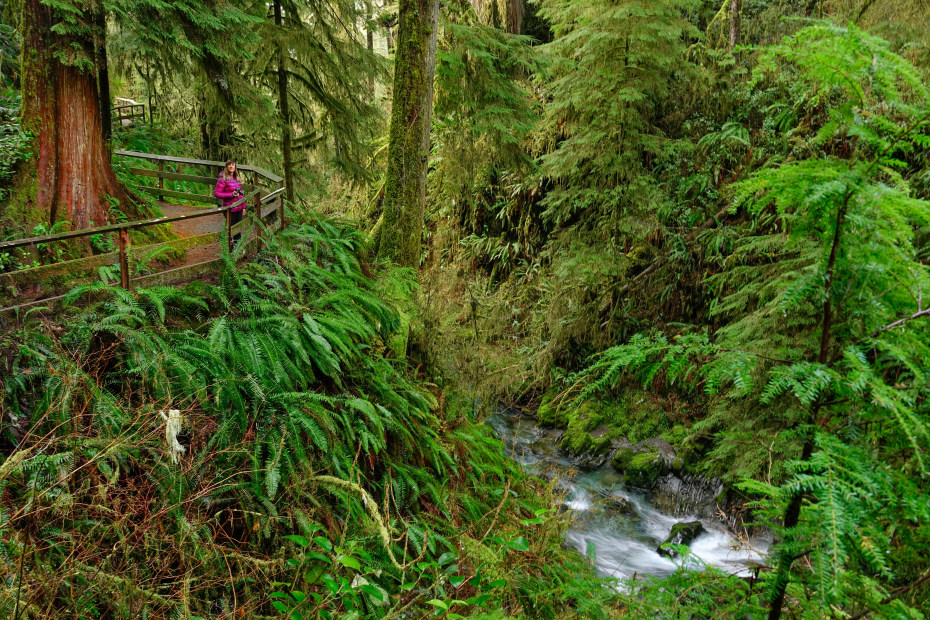 Olympic National Park in Washington
In the northwest corner of Washington, Olympic National Park is the largest protected area in the temperate region of the world that contains six biotic communities: coastal forests, lowland forests, temperate rainforest, montane forests, subalpine, and alpine. From seashore to glacier, its nearly 1 million acres, with an incredible range of precipitation and elevation, can take a lifetime to explore. Highlights include hiking through the Hoh Rainforest, driving up to Hurricane Ridge, walking along Mora and Rialto Beaches, and admiring the moss beneath the cathedral of Douglas firs in Staircase.
Redwood National and State Parks in California
Bordering the Pacific Ocean, this area's ancient coast redwood forests are some of the tallest and oldest remaining trees in the world. But Redwood National and State Parks also protect prairies, oak woodlands, wild rivers, and 40 miles of coastline. Scenic drives are the quickest way to see the most, especially if you stop at the lookouts along the way. Howland Hill Road is a 10-mile, one-way unpaved stretch, while the mostly-paved Coastal Drive loops 9 miles along the bluffs. Hiking, kayaking, camping, cycling, and tidepooling are also accessible activities.
Yosemite National Park in California
From towering Half Dome to glowing Horsetail Falls, Yosemite National Park is esteemed for its beauty and geological wonders. Its deeply incised valleys and soaring cliffs are evidence of repeated glaciation over millions of years. Open year round, Yosemite Valley is your basecamp for hiking, camping, and sightseeing. Pick at least one of the meadows to walk through, attend a ranger-led program, or take a scenic drive. In the village, the Ansel Adams Gallery is a celebration of the park's enduring inspiration for artists.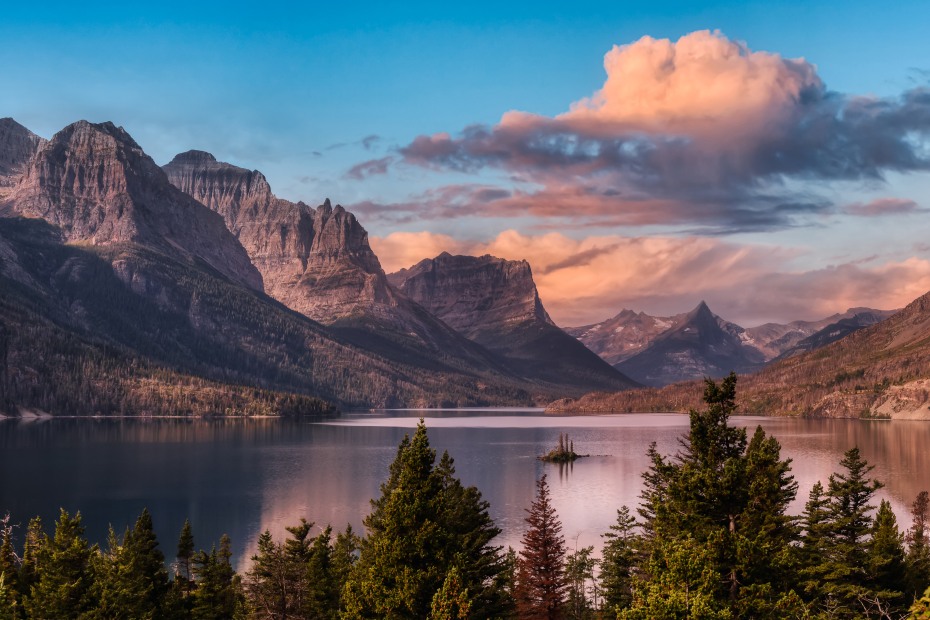 Waterton-Glacier International Peace Park in Montana and Canada
On either side of the border, Waterton Lakes National Park in Alberta, Canada, combined with Glacier National Park in Montana are the world's first international peace park. This area is considered a centerpiece of the Crown of the Continent transboundary ecosystem, which ensures the long-term survival of plant and animal species. For things to do, Going-to-the-Sun Road winds around mountain sides for Montana's best views, and the historic Swiss-Chalet-style Lake McDonald Lodge is a worthwhile stop for picturesque scenery.
Yellowstone National Park in Wyoming
This 2.2-million-acre spectacle became one of the world's first national parks in 1872. Equally famous for its bison and grizzly bears, Yellowstone National Park is also home to half the world's known geothermal features and the largest concentration of geysers. Old Faithful Geyser is perhaps one of the most famous in the world, erupting around 20 times a day right outside the Old Faithful Inn. Take a walk through the paint pots and fumaroles on elevated boardwalks, plan a hike based on your difficulty preference, or join other photographers at Lookout Point or Artist's Point for a view of the Grand Canyon of Yellowstone.
Grand Canyon National Park in Arizona
Once you've seen this massive split in the earth's surface, you understand why it's a World Heritage Site. Not only does the Grand Canyon's horizontal strata reveal two billion years of geological history, it contains prehistoric traces of human adaptation. This park is a geological spectacle, with fossils and bones dating back to the Pleistocene era. For miles of views, walk for as little or long as you want along the flat and paved Rim Trail to lookouts like Yavapai Point. Or venture below the rim on a number of steep trails, such as South Kaibab or Bright Angel on the south side.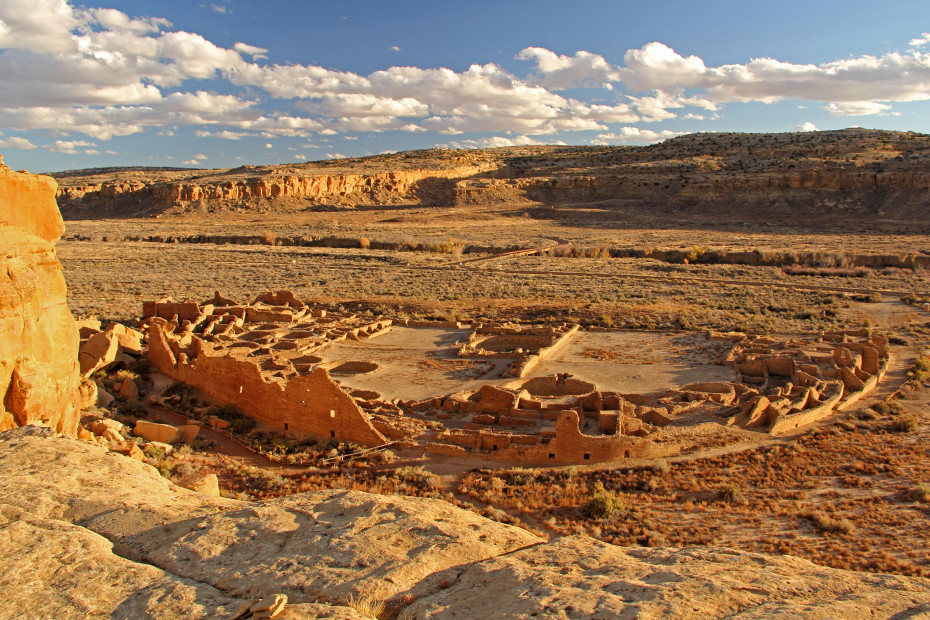 Chaco Culture National Historical Park in New Mexico
For a unique window into the past, Chaco Culture National Historical Park offers a glimpse at the Ancestral Puebloan people's way of life between 850 and 1250 AD, with the remaining buildings displaying their craftsmanship and engineering skill. Within the park, Una Vida is a Chacoan multi-storied building seen from a 1-mile trail that also features petroglyphs. Then there's the Pueblo de Arroyo, another example of ancient architecture. Four hiking trails in the park range from three to eight miles round trip and offer sweeping mesa views. As an International Dark Sky Park, nighttime is prime for stargazing.
Mesa Verde National Park in Colorado 
In Mesa Verde National Park, the 600 still-standing cliff dwellings made of sandstone are a testament to the Ancestral Puebloan's building expertise. This great concentration of structures is considered an archeological laboratory for understanding the rich cultural history of the Pueblo people in the southwest part of Colorado. Take either a self-guided tour of Wetherill Mesa or a ranger-led tour through even more of the architectural masterpieces, such as the Cliff Palace and the Long House. You can also enjoy the park on one of the many hiking trails, such as the easy Knife Edge Trail or the strenuous Prater Ridge Trail.
Hawai'i Volcanoes National Park in Hawaii
This island park's landscape is constantly shifting, which can be attributed to two of the most active volcanoes in the world, Mauna Loa and Kilauea. Ongoing eruptions can be viewed safely from overlooks within the park, where you can catch glimpses of lava. Day hiking and scenic driving are also popular, with many trails and routes to choose from. Venture for 1.5 miles round trip through the lush rainforest to reach Nāhuku, or the Thurston Lava Tube. Or travel Crater Rim Drive and Chain of Craters Road for a tour of the lookouts. Learn more about volcanic activity, giant ferns, and rare birds and endemic species at the visitors center. Editor's note: As of publication, the main park remains open, but Mauna Loa and the summit caldera are closed due to the eruption that started on November 27, 2022. Please check park conditions before visiting.