Europe's Greatest Hits
The Parthenon, Greece
Athena may have sprung fully formed from the head of Zeus, but building a Greek temple in her honor was a slightly more complicated undertaking. Construction of the Parthenon began in Athens around 447 B.C. and employed every optical trick in the book—from tapered Doric columns to a convex floor—to create an unparalleled vision of balance and beauty. Sculptor Phidias contributed the pièce de résistance: a 40-foot-tall statue of Athena in ivory and gold.
This treasure failed to survive the Athenian Empire's decline and the temple's eventual conversion to a church, then a mosque, then a storage space for munitions. But many of the original marble sculptures can be viewed in Athens's Acropolis Museum. Visitors from the United States may find the Parthenon itself familiar, given that it served as the inspiration for everything from the Lincoln Memorial to New York's Federal Hall. Not a surprising connection, considering the temple's close association with another Greek classic: democracy. —Kristina Malsberger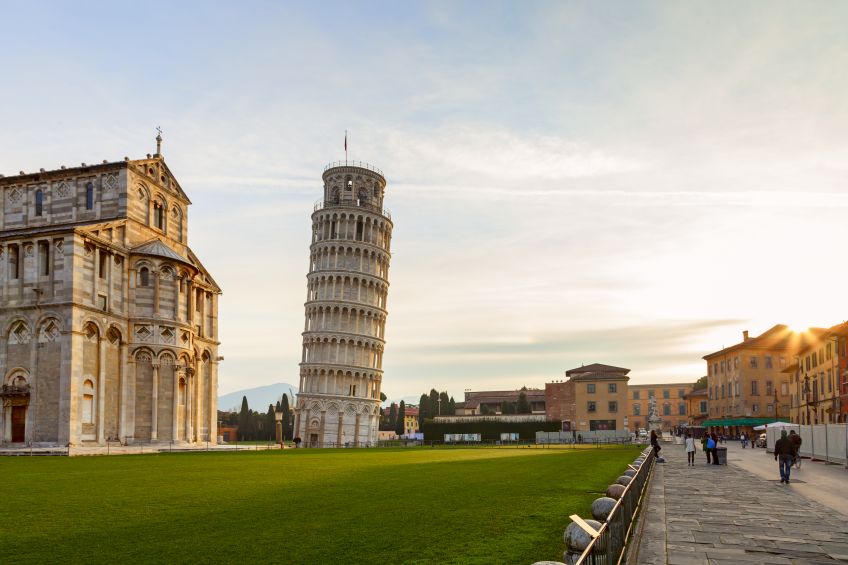 Tower of Pisa, Italy
Poor Torre di Pisa: When the Italian bell tower's foundation was laid in 1173, it was unwittingly placed atop a bed of sand and clay inclined to shift and sink. Before even the third level was finished, the structure was listing ominously; by its completion around 1350, it had lurched a drunken 15 feet from vertical, with no sign of stopping. And thus was born the world's greatest photo op—a grinning tourist propping up the tower with an outstretched arm.
When studies predicted an eventual collapse, the tower closed in 1990 for more than a decade of stabilization efforts. Ironically, it was feared that the tower might lose its lean. Engineers struck the perfect balance between safe and slanted: Today, visitors can once again climb the tower's 294 narrow steps to gaze down from a monumental mistake that's unmistakably amazing.—Kristina Malsberger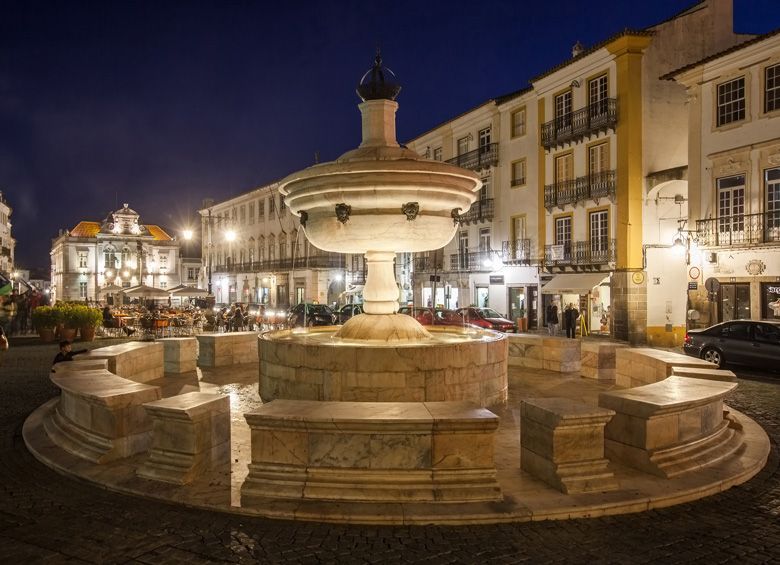 Evora, Portugal
If walls could talk, the towering ramparts surrounding Évora would speak of centuries. Romans conquered the Portuguese city in the 1st century B.C.; years later, medieval kings and Renaissance artists called it home. Stroll the city's cobbled streets today, and you'll enjoy a day that spans millennia.
The town's centerpiece is the Templo de Diana, a Roman shrine with a foundation that's still standing strong after 2,000 years. The temple has survived earthquakes as well as invasions by Visigoths and Moors. Fourteen intact Corinthian columns frame the sanctuary, a dozen of them capped with carved flora that have barely worn since the days of the Caesars. The temple now shares the city center with the castlelike Sé Cathedral and the gothic Church of St. Francis, famed for its Chapel of Bones. Outside, locals and tourists lounge over wine and almond cakes at sidewalk cafés in Praça do Giraldo, the central square that was once a Moorish marketplace. A Unesco World Heritage site, Évora has changed hands many times over the years and yet, somehow, its soul remains untouched.—Chris Woolston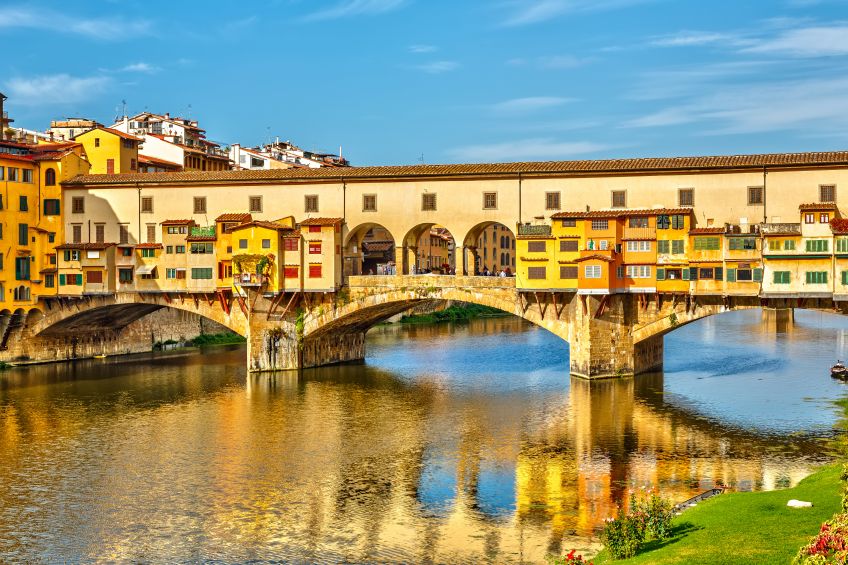 Florence's Ponte Vecchio, Italy
Walk across the Ponte Vecchio and you'll feel like you've traveled farther than the width of Italy's Arno River. The medieval stone-arch bridge bustles with shops and bargain hunters, just as it did in the 1300s. Back then, the trades ran toward hide tanning and fish mongering. Today, you'll find leather handbags and diamond brooches. (Some bargains are relative.) Street musicians perform night and day for the crowds. Part of the Vasari Corridor, an elaborate covered passageway built for a Medici grand duke, runs along the top of the shops and connects the Pitti Palace, now a famed art museum, to the Uffizi Gallery, home of Botticelli's Birth of Venus. To get the best view, find a vantage point along the bank. You'll see the bridge for what it is: a marketplace over the water, with history all around.—Chris Woolston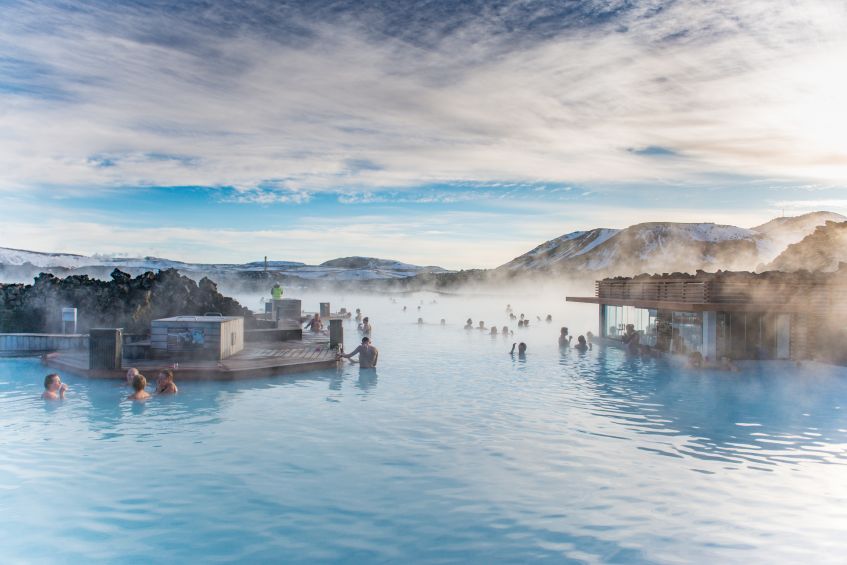 Blue Lagoon, Iceland
Ice gets top billing in the country's name, but locals and visitors can attest that Iceland really runs on steam. Naturally heated water bubbles up at many hot spots in the country, most notably the Blue Lagoon, a human-made pool and spa carved out of a lava field not far from Keflavík International Airport.
The self-cleansing water here, milky from silica and other minerals, glows a near-tropical shade of turquoise in the sunlight. Don't bother with goggles or underwater cameras: The pool is so cloudy that everything beneath the surface disappears.
Thanks to heat from underground magma, the water always hovers around a relaxing 100 degrees no matter how chilly the air. In winter, the blue water steams and shimmers against a stark backdrop of rocks and snow. Bathers can swim up to a poolside bar for a cocktail or splurge on an in-water massage or a silica mud mask.
Reservations are required, and a luxury hotel opened in 2017, so you may not find much solitude at this world-famous destination. But you'll leave with warm memories and a new appreciation for steam power.—Chris Woolston
Insider's Tip: Travelers driving the Ring Road can make their way to the less crowded Myvatn Nature Baths in the North on their way to Akureyi or Húsavík.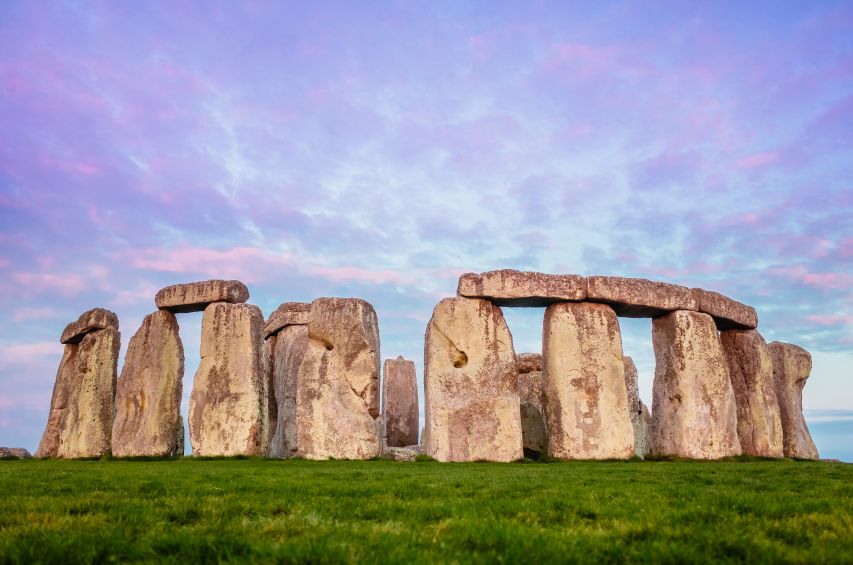 Stonehenge, England
Forget the Beatles and the Rolling Stones—Britain's biggest rock stars are the megaband of monoliths known as Stonehenge. We're talking off-the-charts huge: The largest pillar weighs nearly 50 tons and towers 24 feet. The monument's purpose remains a mystery. We know Stonehenge was built between 3000 and 1600 B.C., but archaeologists still debate whether it was used as a burial site, a healing center, or an astronomical calendar.
The reclusive supergroup resides a two-hour drive from London on the grassy Salisbury Plain. The stones are roped off from their fans, but diehards can schedule closer access in the early morning and evening—or join druids, neopagans, and New Agers for far-out solstice celebrations. Whatever the season, you'll first need to get to England. Stonehenge never tours.—Kristina Malsberger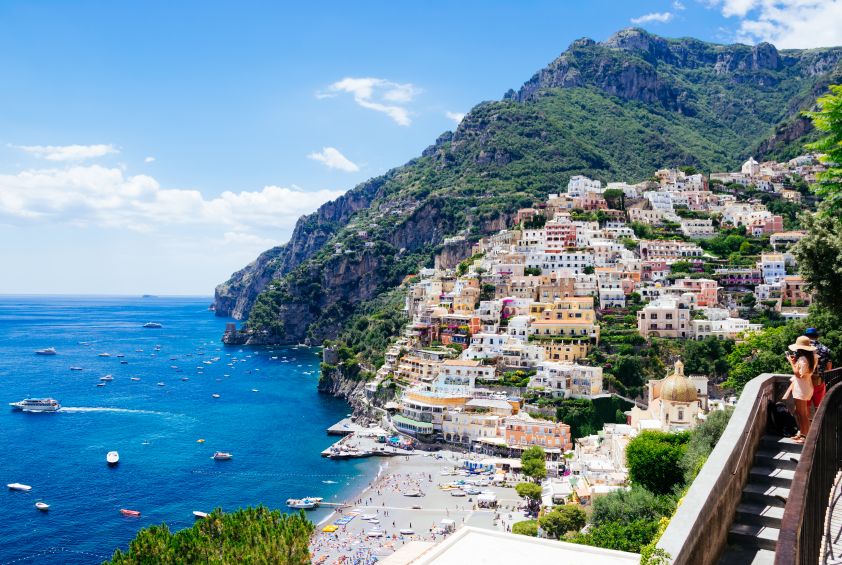 Amalfi Coast, Italy
Odysseus may have withstood the call of the Sirens near here long ago, but few modern travelers can resist the allure of 13 candy-colored villages clinging to a sinuous Italian coastline. An hour south of Naples, this is the Italy of dreams: timeless churches overlooking sun-drenched piazzas, fragrant lemon groves awaiting a limoncello afterlife, fishing boats bobbing brightly on the sapphire sea.
Visitors can shop for ceramics and custom-made sandals in pretty Positano, follow in the footsteps of D.H. Lawrence and Ingrid Bergman in romantic Ravello, or rent a convertible and live out a James Bond fan­tasy along the Amalfi Coast drive, a legendary 34-mile stretch with more twists than a plate of fusilli. Local buses offer sightseeing without the white knuckles; better yet, hop a coastal ferry for panoramic views of turquoise coves and yacht-dotted harbors that would make even a Greek hero drop anchor and swim for shore.—Kristina Malsberger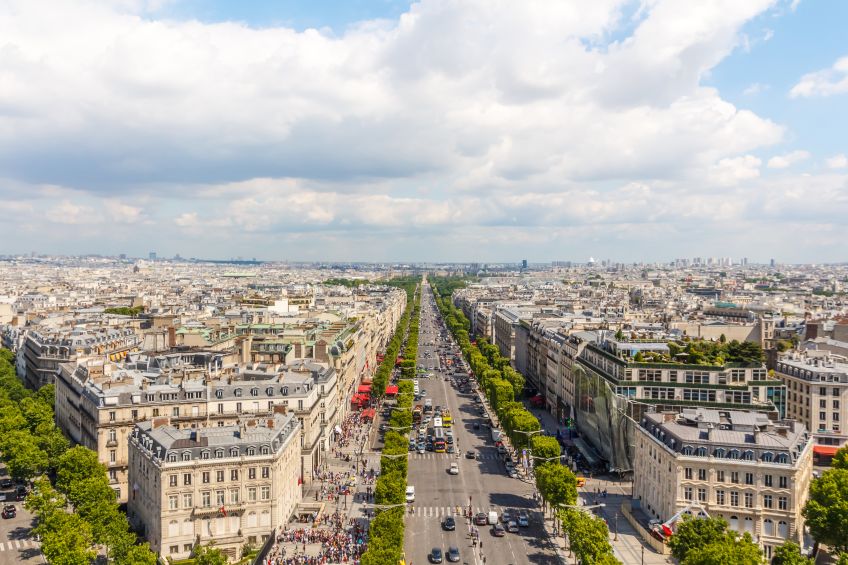 Champs-Élysées, Paris
The wide stretch of Parisian pavement connecting Place de la Concorde and the Arc de Triomphe is more than a thoroughfare. The Avenue des Champs-Élysées is France's main artery. Just over a mile long, the boulevard passes art galleries and museums, cinemas and boutiques, bronze statues of French heroes, and manicured horse-chestnut trees.
On this fashionable street, you'll wander past high-end shops that live up to their prestigious addresses as well as sidewalk cafés where locals sit for hours nursing a single coffee. Pop into Swarovski to see crystal jewelry at diamond prices, plus trinkets that range from reasonable to "you don't want to know." Or stop by the Peugeot showroom to browse all manner of flashy cars—modern, vintage, and toy—as well as unexpected items such as precision-made pepper mills.
And there's no better place for people-watching. From one end of the avenue to the other, you'll see socialites, fashion models, and lucky visitors just like you.—Chris Woolston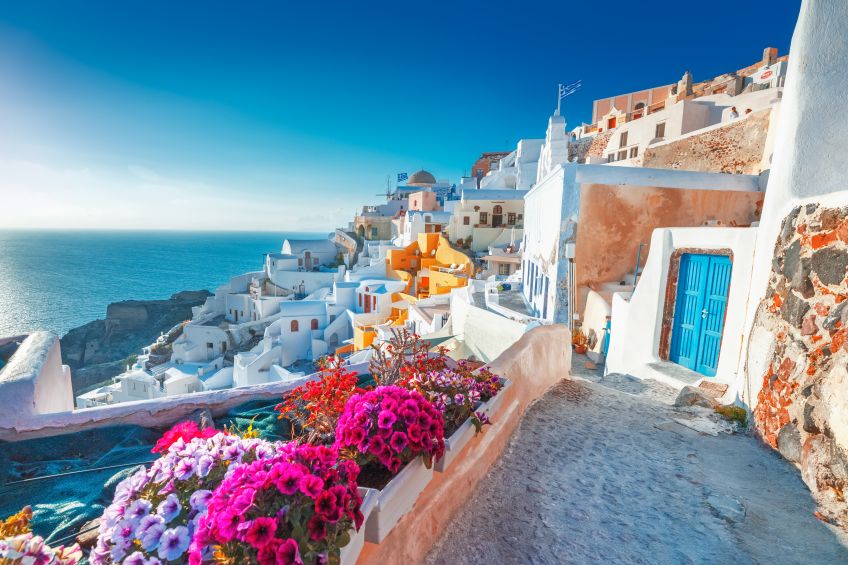 Santorini, Greece
If you have a mental image of a Greek isle, it likely includes a labyrinth of alabaster buildings clinging to a cliff above impossibly blue water. That scene has a name: Santorini.
This don't-miss island surrounded by the Aegean Sea is renowned for villages perched atop the rim of a still-active volcano. (Fear not—it hasn't erupted since 1950.) Stairs and walkways lead visitors to spirited taverns, seafood cafés, and photo-mandatory vistas. The orange light of sunset against the domed turquoise roofs in the hamlet of Oia could be a lifetime highlight.
The Greek sun bakes bathers along the island's rocky and rugged shore, including the black pebble beach at Kamari. The uncovered remains of Akrotiri, a town buried in ash more than 3,600 years ago, add to the timeless mystique of the island. Those long-ago residents had to flee Santorini in a hurry, but you'll enjoy the luxury of lingering.—Chris Woolston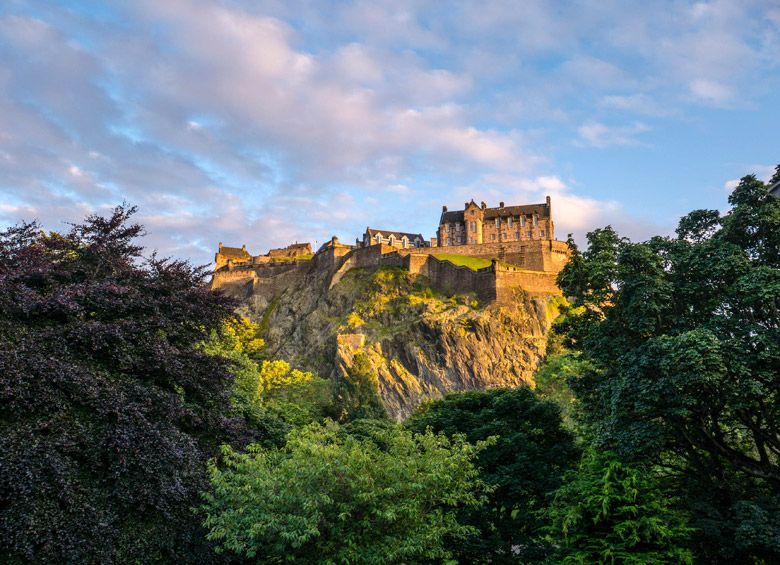 Edinburgh Castle, Scotland
Looking out from the great granite battlements of Edinburgh Castle—an ancient fortress that withstood years of wars, blockades, and royal regime changes—you feel witness to Scotland's legacy of turmoil and perseverance. Mary, Queen of Scots endured a two-year siege here in the 1570s. Nearly 80 years later, Oliver Cromwell walked triumphantly through the portcullis gate after his own takeover.
Today, visitors may stroll through that same imposing entrance, then range freely about the grounds. You might marvel at the stained glass in the sandstone sanctuary of St. Margaret's Chapel, the oldest building in Edinburgh. Or perhaps you'll head for the heart of the palace, where swords and suits of armor stand beneath the soaring ceilings of the Great Hall. Nearby, the Scottish crown jewels—a silver-gilt scepter, the yard-long Sword of State, and a red crown once worn by the Queen of Scots—shine brightly in the Crown Room, whispering of the glory days of yore. Though the castle's battles may be over, you'll see why it was worth fighting for.—Chris Woolston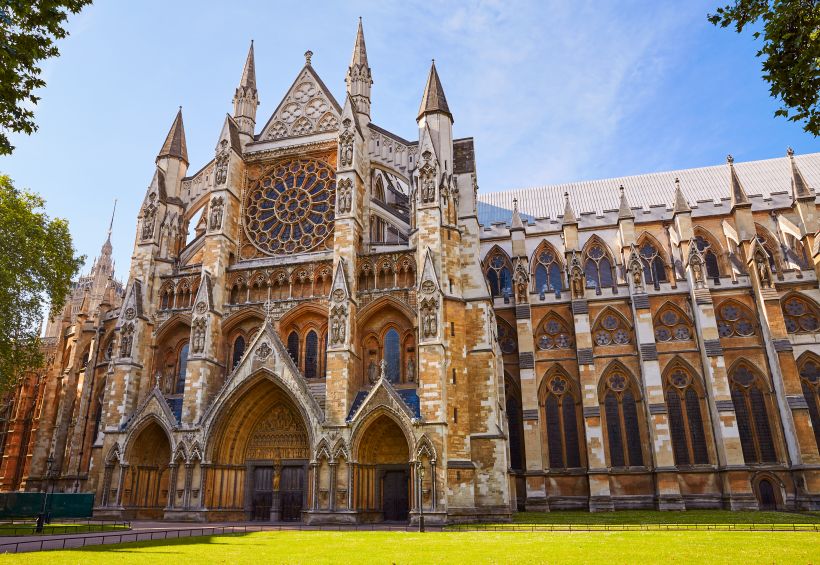 Westminster Abbey, England
The wedding of Britain's Prince William and Catherine Middleton was merely the latest chapter in this Gothic treasure's 1,000-year life. The site, first used by Benedictine monks in the 10th century, has served every British coronation since 1066. Henry III began the modern building in 1245; other royals expanded and renovated it over the next 500 years. The Abbey contains the graves of 17 monarchs as well as those of magnificent commoners including Geoffrey Chaucer, Charles Dickens, Rudyard Kipling, and Sir Isaac Newton. A staggering sweep of history in a timeless building: What better combination for those seeking the heart of England?—Jason Turbow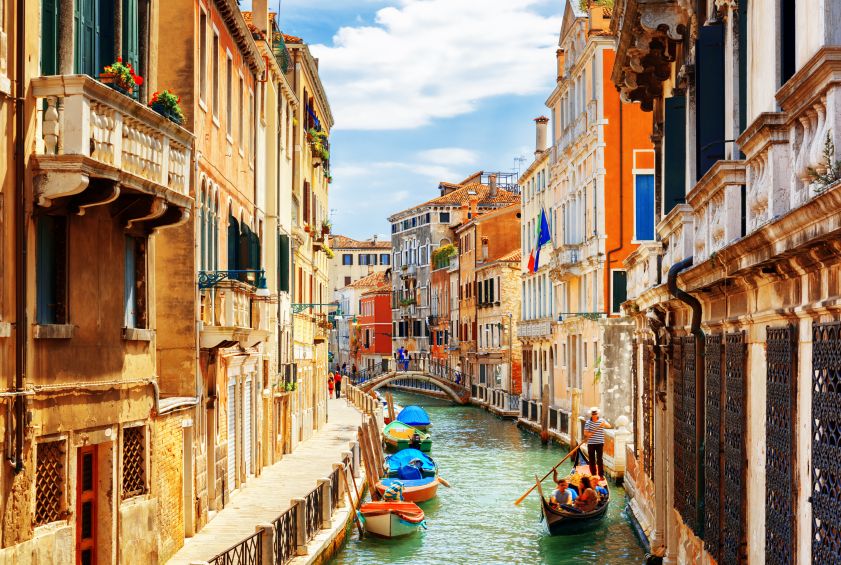 Venice, Italy
Few who have been there would dispute the writer Luigi Barzini's fond description of Venice as "undoubtedly the most beautiful city built by man." It was not always so. Scholars say its settlers chose the place in the 5th century for its swampy bleakness as they sought to escape the reach of rampaging Huns. (Who, after all, wants to pillage a bog?) Later generations built on logs pounded into the mud, and Venice has been sinking even as its fortunes have risen. A century ago, high tides flooded the iconic plaza of St. Mark's Basilica about nine times a year; today, the figure is closer to 100 times a year. The beauty of the city's neighborhoods and grand structures gathers ever greater poignancy as Venice is threatened by the very waters that once protected it.—Jason Turbow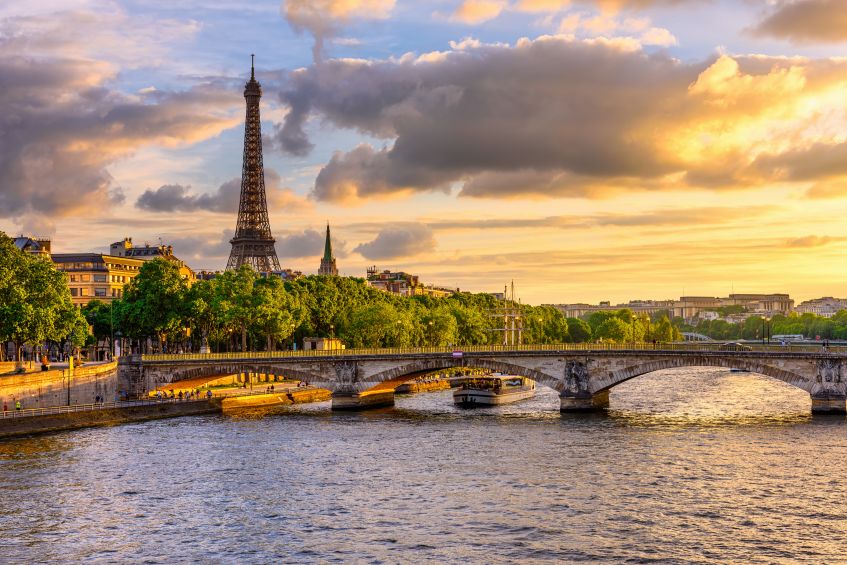 The Seine in Paris, France
There is no finer place than the Seine from which to view the gems of Paris: Notre-Dame, the Louvre, the Grand Palais—even the Eiffel Tower, appearing around each sinuous curve as the river winds northwest toward the sea.
More than 2,000 years of Parisian history have flowed along these shores, beginning with the pre-Roman settlement on the river's Ile de la Cité and stretching to the Belle Époque and beyond. The blood of the French Revolution, Napoleon's Battle of Paris, and World War II has colored these waters, but such darkness seems impossible when you see the city's lights reflected on the world's most romantic river. Lovers, look no farther: You have found Paris's liquid heart.—Kristina Malsberger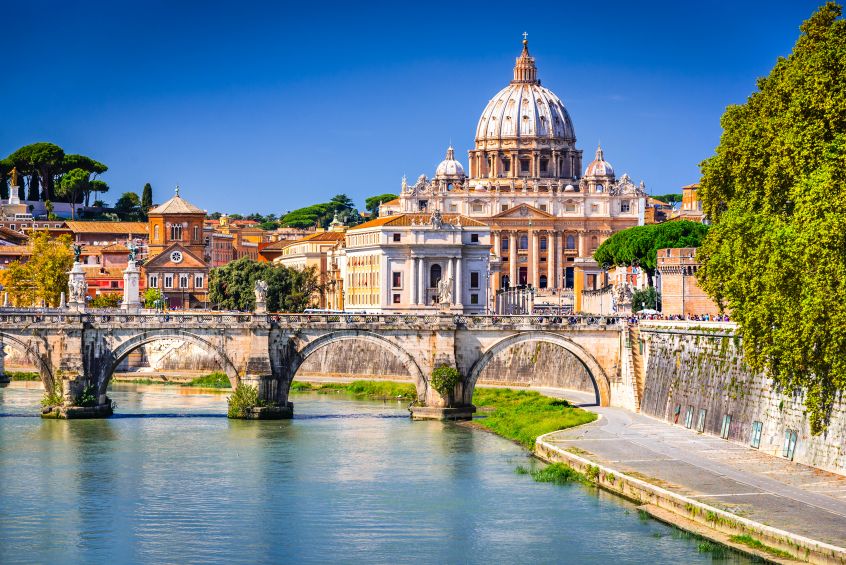 Vatican City
Here's a divine paradox: The world's tiniest nation is just 80 years old, yet its artworks were created by the masters of the Renaissance. It claims only 450-odd citizens but has its own train station, post office, phone service, and bank. It is completely surrounded by Italy but is guarded by Swiss soldiers in striped knee pants.
Still, the real awesomeness of Vatican City lies in its attractions: Saint Peter's Basilica accommodates some 20,000 worshipers above the ground and nearly 150 departed pontiffs below. Make the climb to its dome for heavenly views of Saint Peter's Square, where Pope Benedict XVI regularly addresses the faithful. Next door, the Vatican Museums wind for nine labyrinthine miles past Egyptian sarcophagi, Greek statues, and works by Giotto and Bernini, culminating in the Sistine Chapel and Michelangelo's great frescoed ceiling. Say a prayer to the patron saint of aching feet as you admire the world's most beautiful polling place: The College of Cardinals gathers here to elect the pope, leader of 1.1 billion Catholics worldwide and ruler of a fascinating 109 acres.—Kristina Malsberger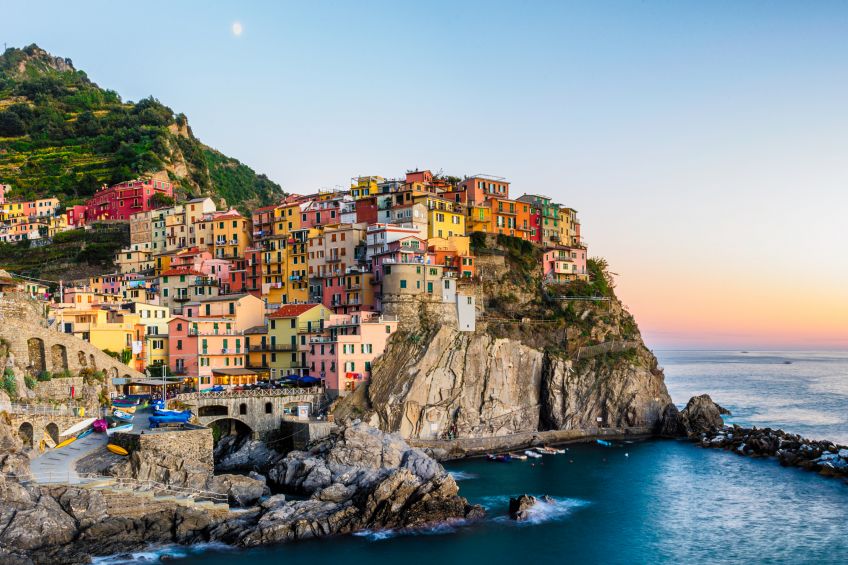 Cinque Terre, Italy
The five medieval villages of the Cinque Terre (Five Lands) on the Italian Riviera some 55 miles southeast of Genoa draw their rough beauty from the nearly vertical cliffs and canyons that kept them secluded for 900 years. Until the railroad arrived in the 1870s, the only ways in and out were footpaths* and the sea. Even now, when you step off a train (all the village centers ban autos) you enter a community that invites you to slow down and leave the outside world out.
Italy's pizzazz can wait. Here there are no world-class museums, no grand cathedrals, no traffic—just the earth and the elements and what people have done with them.—John Poppy
*As of fall 2018, many paths in the area are closed due to storm damage. Check current trail status before booking.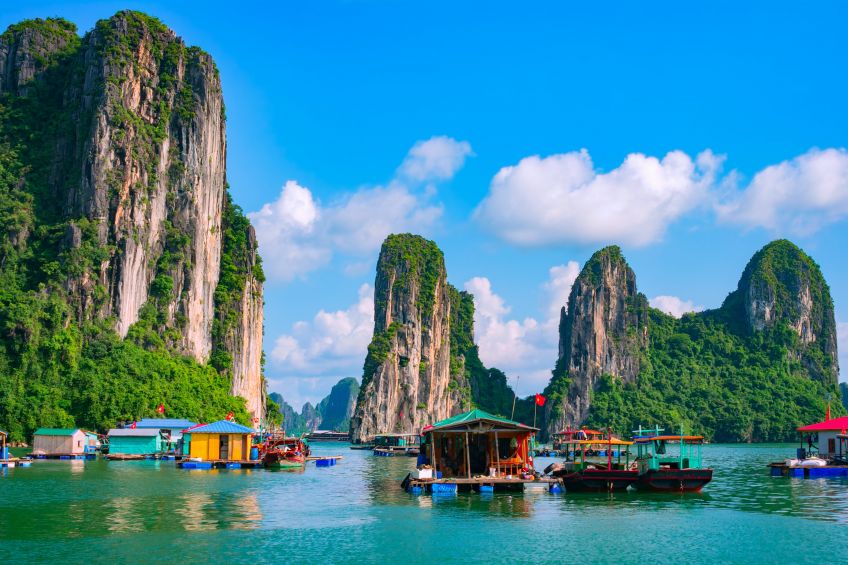 Places to See in Asia and Southeast Asia
Ha Long Bay, Vietnam
A towering rock garden set in a blue ocean, or a dreamworld where islands somehow float? Ha Long Bay, Vietnam, is an impossible vision you can visit in real life.
Whether you're traveling by kayak or cruise ship, you could spend days darting among at least 1,500 islands and islets and not come close to seeing them all. These limestone outcroppings, along with caves and grottoes that dot the region, draw sightseers from around the world.
Many of the rocks sport patches of rain forest complete with red-haired monkeys and other wildlife. One of the region's largest islands, Cat Ba, is home to Cat Ba National Park, a refuge for endangered langur monkeys, civet cats, hornbill birds, and 29 different species of bats.
On Bo Hon Island, tour groups walk past the giant stalactites of Sung Sot cave as sunbeams pour through a natural skylight. Along the shores of many islands, you can see the red-tiled roofs and brightly painted wooden houses of traditional floating fishing villages. A Unesco World Heritage site, Ha Long Bay will beckon generations of island hoppers to come.—Chris Woolston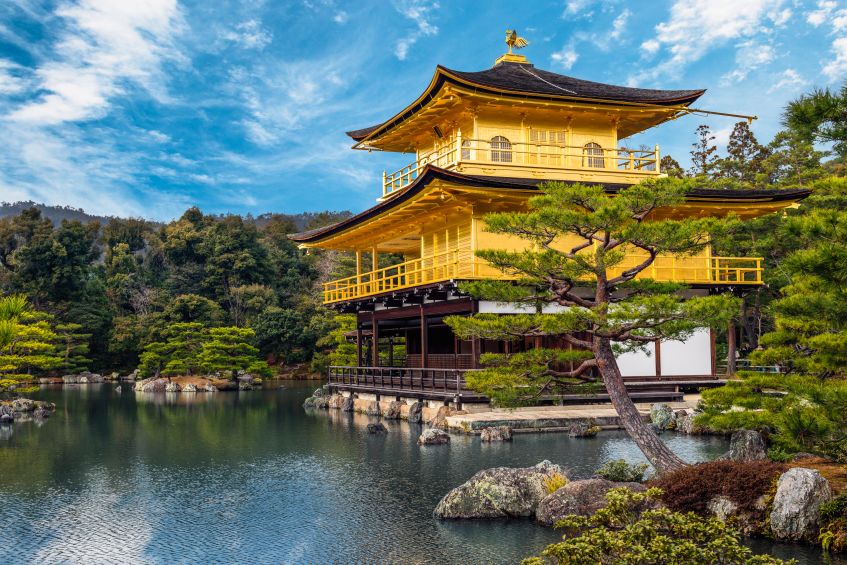 Golden Pavilion (Kinkaku-ji) of Kyoto, Japan
Here's a Zen riddle: How can a Buddhist temple that's less than 60 years old feel timeless? Japan's famous gold-plated, three-story Kinkaku-ji in Kyoto, rebuilt in 1955 after a fanatical monk burned down the previous incarnation, answers by shining with ancient serenity.
The outside of the temple's upper two floors is coated top to bottom in gold leaf, creating a sense of both opulence and purity. In fall, blazing red Japanese maples add even more color to the scene.
The first temple was built on the site in the 1300s, and the surrounding lush gardens have hardly changed with the passing of centuries. Also within the temple grounds, the restored Sekka-tei teahouse, originally built in the 17th century, offers a glimpse of Japanese life during the Edo period.
Visitors aren't permitted to enter the temple itself—part of a Unesco World Heritage site—but may view it from across the aptly named Mirror Pond, an ideal place for reflection.—Chris Woolston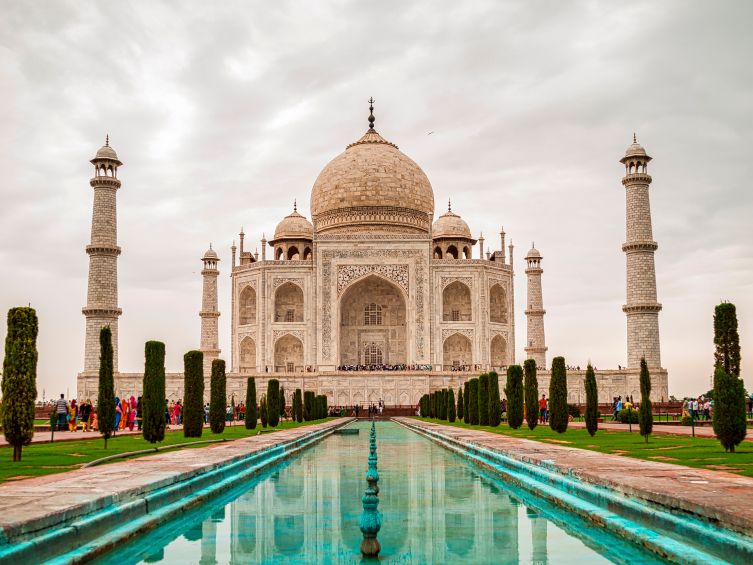 Taj Mahal, India
Some amorous souls write poetry. A few compose love songs. Emperor Shah Jahan took romance to another level, building one of the world's most exquisite structures in tribute to his favorite wife, Mumtaz Mahal, who died giving birth to the couple's 14th child. Begun in 1631, the project took 17 years to complete and required more than 20,000 laborers—not to mention the 1,000 elephants that delivered marble, jade, and other precious materials from across Asia.
Every year some 2 million travelers journey to the Taj Mahal in Agra, India, to admire the building's decorative calligraphy, graceful minarets, and imposing onion dome. Those in the know arrive at sunrise, when the mausoleum's translucent white marble glows rosy pink, or during a full moon, when semiprecious stones in the exterior shimmer in the moonlight. Even if the effect lasts only a moment, the emperor's message of eternal love stays with you for a lifetime.—Kristina Malsberger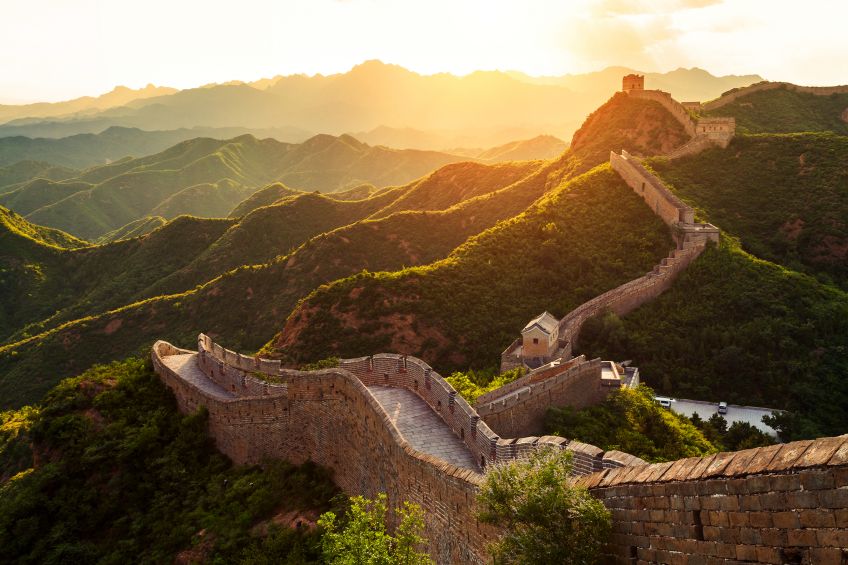 The Great Wall of China
You've got to love a monument that comes with its own honorific. It's the Great Wall of China—and for good reason. The edifice is ancient: Construction began in 221 B.C. at the start of the Qin dynasty when walls between formerly warring states were replaced with a single perimeter. Inside: China. Outside: northern tribes eager to invade. The wall continued to expand over the next 1,500 years, with the epic version we know today built during the Ming dynasty (1368–1644). Roughly 4,000 miles in length—long enough that it could stretch from Beijing to Moscow—it snakes over mountain passes and across a river. No, you can't see it from the moon (a beloved myth), but you can climb one of its watchtowers and gaze out over an enduring empire. A great experience? Always.—Kristina Malsberger
Hoi An, Vietnam
Japanese, Chinese, Dutch, French, Portuguese—at its height in the 17th century, Hoi An was a cultural melting pot of international traders. In later years it was largely spared the ravages of the Vietnam War, its brightly hued Ancient Town of wooden homes, temples, and pagodas still preserved. Today's traders are veteran tailors customizing perfect bespoke suits, and chefs serving steamed shrimp dumplings and cao lau noodles. During full-moon festivals, the streets are lit with silk lanterns and filled with traditional music, dancing, and the ghosts of the past.—Kristina Malsberger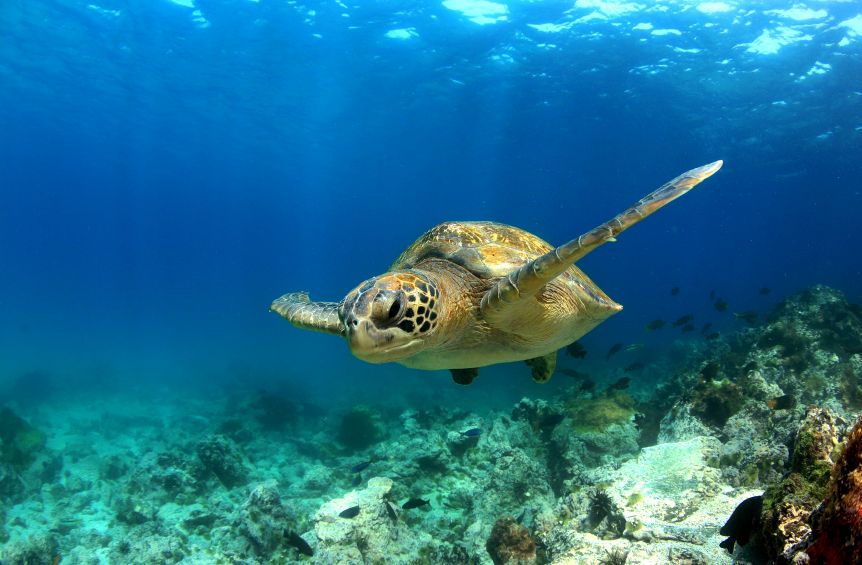 North and South American Highlights
The Galápagos Islands
Hermits, castaways, Howard Hughes—spending a lot of time alone can lead to strange behavior. Case in point: the Galápagos Islands, an isolated archipelago over 600 miles west of Ecuador where the resident animals—salt-sneezing iguanas, bloodsucking vampire finches—are like no others on the planet. "A little world within itself," Charles Darwin called it after arriving in 1835 as the naturalist aboard the HMS Beagle. He left with enough notes and specimens to inspire his theory of evolution and the landmark treatise On the Origin of Species.
Today, visitors to what is now Galápagos National Park may feel as if they've stumbled into a casting call for Animal Planet. Blue-footed boobies perform goofy, elaborate mating rituals; 500-pound giant tortoises mosey across the sands; flightless cormorants stay put. The lack of natural predators also means many creatures are amazingly fearless. Curious sea lions may amble up to investigate: "Hmmm, tennis shoes, shorts, baseball cap—another Turisticus americanus." Let's just hope they can consider our species highly evolved.—Kristina Malsberger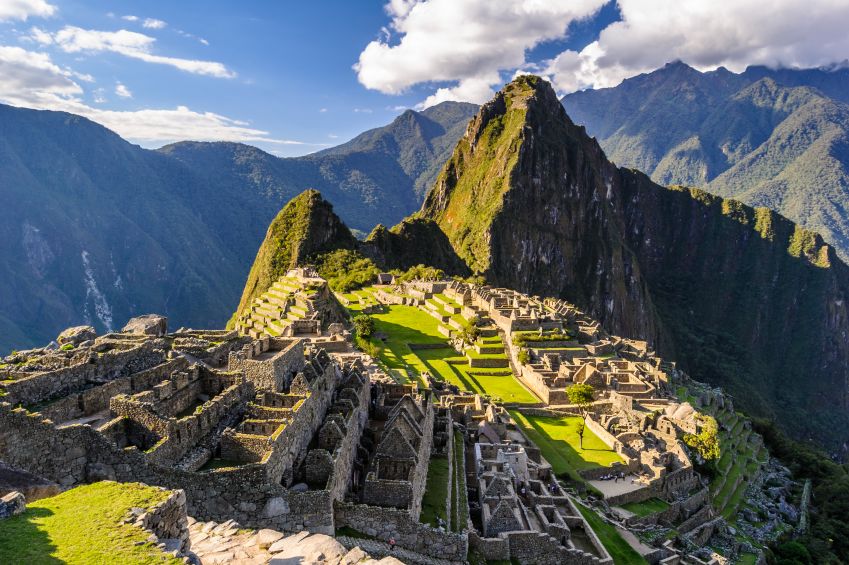 Machu Picchu, Peru
Spanish conquistadores searched high and low for the most magnificent city in the Inca Empire, but apparently they never combed the clouds. Perched at roughly 8,000 feet atop a ridge in the Peruvian Andes, Machu Picchu (Old Mountain) escaped detection—its temples and terraced fields remained untouched by the invaders—even after it was abandoned in the late 16th century.
In 1911, Yale archaeologist Hiram Bingham arrived at the site and promptly crowned it the Lost City of the Incas. Many have long argued whether Machu Picchu functioned as a defensive citadel, a royal retreat, or even the home of the Virgins of the Sun cult, but one thing is certain: The "lost city" has decidedly been found. Most of the half-million annual visitors arrive from Cuzco, 50 miles to the southeast, by train and then bus, but some hardy types spend four days trekking up the Inca Trail to play king of the mountain.—Kristina Malsberger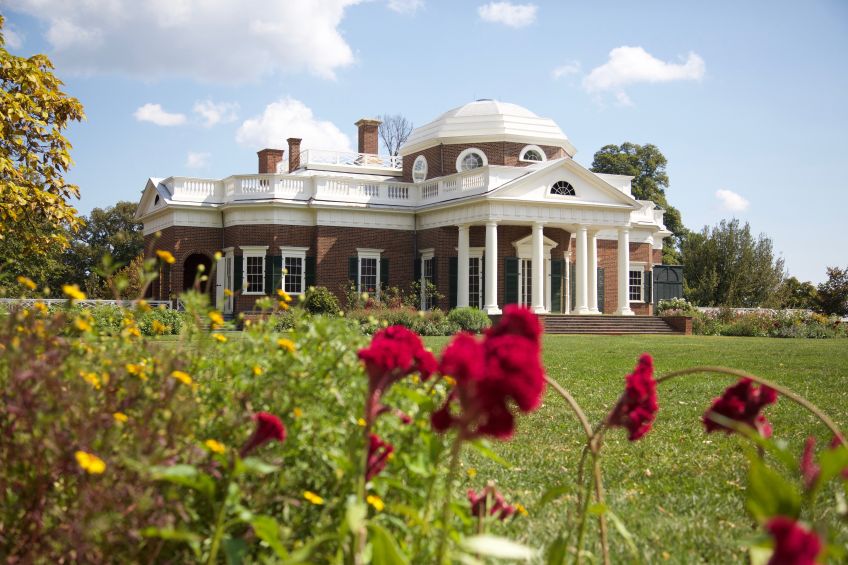 Monticello, Virginia
Monticello, known primarily as the retirement estate of Thomas Jefferson, might be the most widely depicted residence in U.S. history; it adorns the back of nearly every nickel minted since 1938, as well as two-dollar bills dating between 1928 and 1966. Jefferson designed the neoclassic building, which has become as much of an anomaly as the third U.S. president himself. The man was an outspoken opponent of slavery, yet owned slaves. His home, a World Heritage site considered to be a treasure of Virginia, was built partly by slave labor, and living quarters for slaves once dotted the estate. It's history that makes Monticello as complex as it is beautiful—at once wonderful and sorrowful and fascinating.—Jason Turbow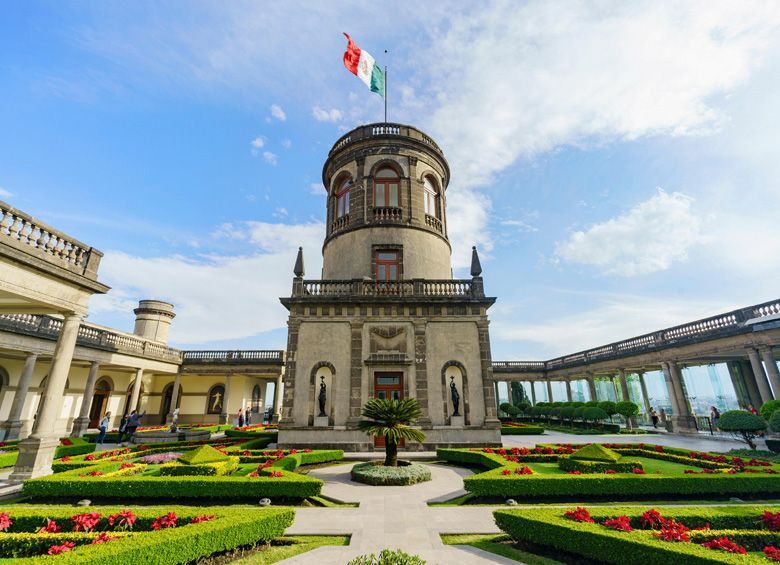 Bosque de Chapultepec, Mexico City
It ranks among the world's largest metropolises, a seemingly infinite cityscape where 20 million people buzz about skyscrapers, souvenir shops, mercados, and Michelin-starred restaurants. But behind a fence in the heart of town, Mexico City catches its breath at Bosque de Chapultepec, a 1,695-acre park (twice the size of New York's Central Park) and the country's centuries-old playground.
Long considered sacred by inhabitants such as the Toltecs, Acolhua, and Aztecs—who erected altars, palaces, and temples here—the park has such a rich pre-Columbian history that archaeologists are still excavating parts of it. Glimpse that history at the Moctezuma Baths, a set of stone pools where the 15th-century emperor once entertained. To dive deeper into the past, head north to the National Museum of Anthropology. One of the park's nine museums, it is home to intricate Maya murals and 50-ton Olmec stone heads.
History lives outside, too: Ahuehuete trees planted by the Aztecs still shade the trails, which wend their way through the woods to the botanical gardens, amusement park, and zoo. Trek uphill to the 18th-century Castillo de Chapultepec, a palace with marble staircases and arched entryways, to snag a sweeping view of the park and the surrounding city in all its glory.—Marie Salcido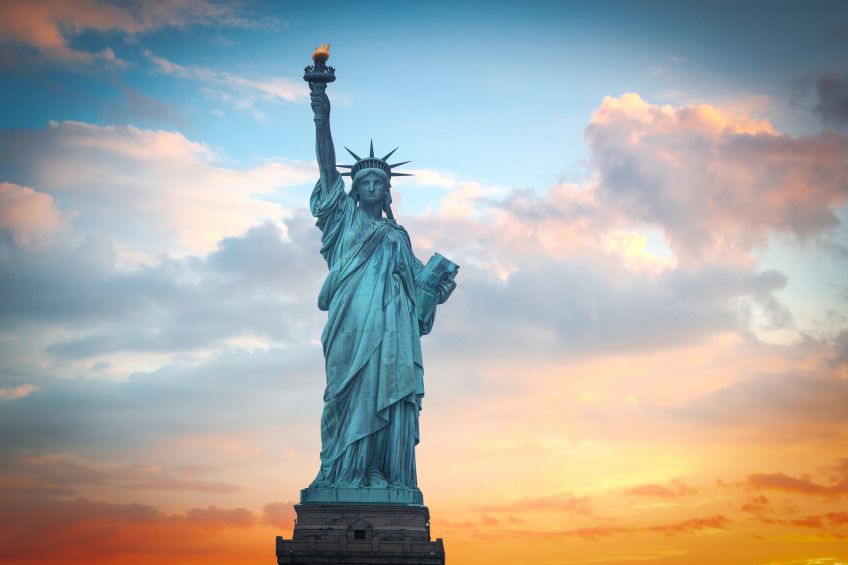 Statue of Liberty, New York
She's our national cover girl, a gift from France to celebrate democracy, a 151-foot-tall supermodel prowling the New York Harbor catwalk in robes that are always in vogue. Consisting of 310 pieces of hammered copper assembled around an iron skeleton, Liberty Enlightening the World (Lady Liberty's official name) was dedicated on October 28, 1886—in plenty of time to greet Albert Einstein, Irving Berlin, Cary Grant, and 12 million other immigrants who arrived at nearby Ellis Island.
That she has survived countless lightning strikes and the indignities of a deodorant commercial is surprising for a woman of such thin skin, thin enough—3/32 of an inch, the height of two stacked pennies—to allow her to sway as much as three feet in strong winds. But that's Liberty for you: bending to the forces of opposition but still standing strong.—Kristina Malsberger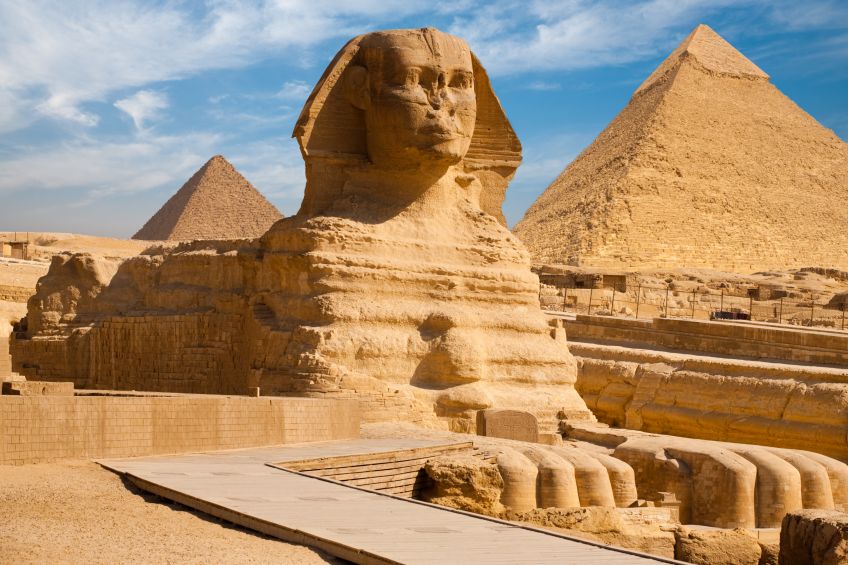 Classics in Africa and the Middle East
Great Sphinx of Giza, Egypt
Who built the Sphinx, and when, is unknown. Prevailing theory holds that this sculpture, carved from a single block of limestone, is more than 4,000 years old. Its features have crumbled before wind-whipped desert sands and the hands of vandals (evidence suggests that its nose was pried off; historians finger the culprit as a religious fanatic in the 1300s upset that people were praying to the monument). For centuries, the Sphinx's body lay buried under drifts, only its head exposed. Its excavation in 1905 wrote the latest chapter in one of history's oldest tales. Here in the sands it seems as if the Sphinx will live forever.—Jason Turbow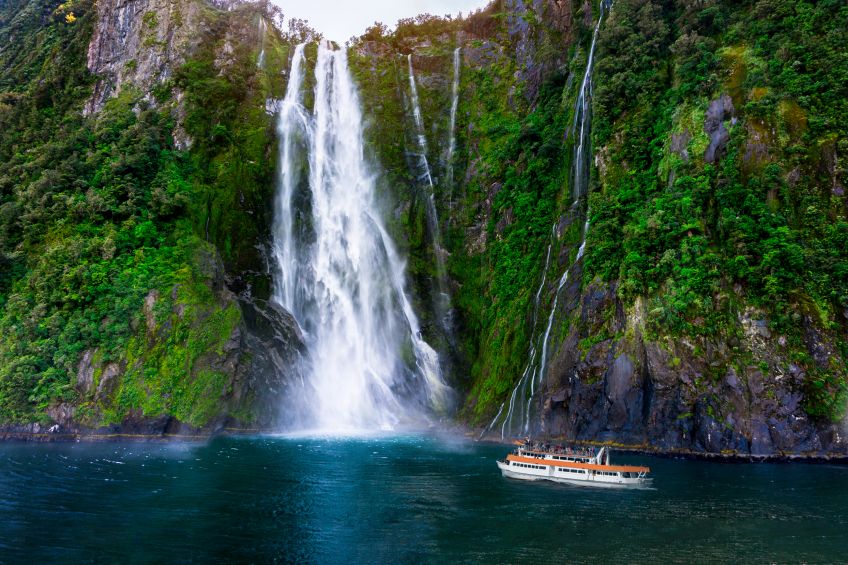 Oceania
Milford Sound, New Zealand
New Zealand is the land of Hobbits, but there's nothing diminutive about one of its most famous attractions. Milford Sound, on the South Island's remote southwestern edge, is raw, rugged, and epic, its soaring peaks and plunging chasms carved by the grind of glaciers through what is now Fiordland National Park. Viewed from a flightseeing plane, it's like a Nordic supermodel, all chilly beauty and chiseled angles. Kayakers see its teeming wildlife: bottlenose dolphins, fur seals, and crested penguins. Most visitors opt for a cruise, with captains gleefully steering beneath waterfalls. Just protect your camera: Photos of the 5,560-foot Mitre Peak and Stirling Falls will prove you visited the land of giants.—Kristina Malsberger