With a twist of the key, the rental car sprang to life and my honeymoon began—a three-week tour of New Zealand, crisscrossing the North and South Islands. My husband and I chose to drive for several reasons: the country's purportedly great roads, the lack of flights or trains to remote attractions, and the allure of following our hearts and whims, unfettered by bus schedules.
I took the first shift driving on the left side of the road. I white-knuckled my way through Auckland, then relaxed as we left the city for a smooth motorway that hugged the green hills of Hobbit country. Soon we arrived at Waitomo Caves, where we floated in inner tubes down an underground river lit by thousands of glowworms.
Weather thwarted our hiking plans the next day, but we shrugged and shifted our itinerary, making our way to the geothermal area surrounding Rotorua. We drove between colorful hot springs and bubbling mud pots before heading to a nearby "holiday park" to stay in a cozy trailer.
By the time we reached the South Island, we were pros at left-side driving. Fellow visitors seemed equally at ease. We passed countless camper vans journeying out to the fjords of Milford Sound or following the coastline to the Fox and Franz Josef Glaciers. Parked at Fox, we encountered the country's most serious threat to motorists: the kea, a sharp-beaked parrot known to eat rubber off unattended cars.
Our vehicle survived unscathed, but all too soon we bid it good-bye. Four wheels had proved perfect for exploring this long, laid-back land. As for left-side driving, the only near mishap occurred back in the States, when I made a turn and found myself on the wrong side of the yellow line. I realized with a start—and a pang of disappointment—that I was no longer in New Zealand.—Kristina Malsberger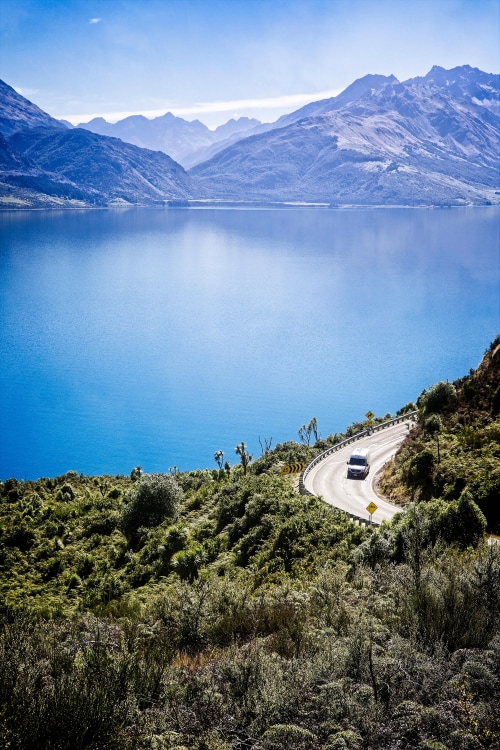 Top Tips for Planning a Road Trip in New Zealand
1. Get comfortable.
To soothe left-side-driving nerves, get up to speed before you get behind the wheel, says AAA Travel counselor Tonya Powell. Learn the laws (New Zealand Automobile Association has visiting driver tutorials at aa.co.nz) and get a demo from the car rental company.
2. Embrace the other side.
Many opposites apply: Look right, then left, then right again at intersections; drive clockwise through roundabouts; and yield to passing traffic on the right.
3. Start slow.
Limit driving the first couple of days, especially in the city, to give yourself time to get used to driving on the left—and shake off the jet lag. Above all, take your time. "You're on vacation," Powell says. "Relax. Enjoy the ride."
4. Keep it short.
Try to drive no more than three hours each day to give you plenty of time to explore along the way and at your destination.
5. Unplug.
Before you go, pick up a map of New Zealand from your local AAA branch. There are relatively few routes to get most places, so you can comfortably decline the pricey GPS that comes with your rental and travel analog instead.
6. Map it out.
Road conditions can change quickly, and it's not uncommon for major thoroughfares to be closed in the shoulder seasons for repairs. Stop by the nearest travel information center for free advice on the best route to take and for insider knowledge on where to stop along the way. Most agents are more than happy to mark the route right on your map, and they can alert you to the current road conditions better than a GPS.
7. Add time.
Drives that appear to be short can easily take twice as long as you expect. Road conditions can change rapidly, even during summer, and most routes feature winding roads that encourage you to take it slow. The general rule of thumb is to nearly double the amount of time Google Maps thinks it will take you to reach your destination.
8. Extend your stay.
Despite its size, a week is not enough time for a sweeping road trip in New Zealand. You can comfortably see the North or South Island in two weeks or so if you keep a slim itinerary. Three weeks or more is ideal for driving both.
9. Check ferry prices.
Going to drive both islands? Good on ya! Check ferry prices before you book your car to see if it's cheaper to drive on or pick up a new rental on the other side.
10. Go against the grain.
Call or email rental companies ahead of time to see if they will offer a discount on a rental depending on your direction of travel. During the summer, many companies will reduce the rate if you will help them bring cars back to one island or the other.
11. Keep your camera out.
You never know when you will need to (safely) pull over to capture a baby sheep trying to run or the skies clear over Lake Wakatipu.
12. Be efficient.
Fuel is undoubtedly expensive in New Zealand. Paying for a smaller, more efficient car like a hybrid may add up to big savings.
13. Think outside the car.
Camper vans may be more expensive upfront, but they can give you more freedom to roam and change your plans on a whim. They may also help you cut costs—free and affordable campsites are available throughout the country.
14. Detour.
Make turns on a whim, explore side streets, and visit towns that aren't on any of the "must-see" lists. You won't regret seeing something different and lesser-known.
15. Park it and walk.
You would be remiss to spend most of your time in this gorgeous country in a car. From unbelievable day hikes to world-renowned multi-day treks, no road trip through New Zealand is complete without getting some kilometers under your feet. And you can hike without worry. Many vehicle relocation companies like Trackhopper will drive your car from the start of your trek to the end so you can go straight from the trail to the road with ease.—Mandy Ferreira