You've seen it in the movies—a land so beautiful that it seems almost fictional. No wonder director Peter Jackson cast it as Middle-earth in his fantasy trilogies The Lord of the Rings and The Hobbit. Jackson shot footage all over New Zealand, but he set some of the most luminous scenes on the South Island amidst the magical terrain of the Central Otago region. The crystalline Southern Alps touch clear blue sky; glaciers flow through alpine rock and tussock to beech forest below; lakes and rivers glow turquoise from glacial dust. Vistas like these can feed your soul for a lifetime.
For your more earthy side, consider this: Central Otago has emerged as a flourishing wine territory. Since the 1980s it has been producing wines prized for their purity and intensity, in varieties from delicate riesling to finicky pinot noir. At a latitude of 45 degrees south, the climate in this most southerly of all winemaking regions—hot, dry summers and cool, sunny autumns in the October-to-April growing season—matches conditions along the Northern Hemisphere's 45th parallel, the wine world's magical latitude that crosses France's Bordeaux, Italy's Piemonte, Oregon's Willamette Valley, and other hallowed appellations.
France and Italy can look back at thousands of years of winemaking, but the terroir of Central Otago is still revealing itself. Vines planted during the gold rush of the 1860s died off after the gold ran out, and more than a century passed before growers put down new roots. In mineral-rich, free-draining soil on hillsides and in glacial gorges, vines have to work hard. The results are small yields and mouth-filling flavors.
Pinot noir, the region's flagship grape, is a touchy one, temperamental and prone to several kinds of mold. But Kiwis don't shy away from a challenge. Queenstown, in Central Otago, sits on stunning Lake Wakatipu and has some 220 forms of adventure tourism—paragliding, skiing, white-water boating, and bungee jumping, to name a few. The world's first commercial bungee site opened here in 1988. So why not embrace the adventure of making premier vintages?
Among the populace, there's no wine snobbery. During a hike, a bike ride, or a drive, visitors can drop in at a tasting room—called a cellar door in New Zealand. Two wineries, Peregrine, 17 miles east of Queenstown, and Rippon, 45 miles to the north, are a feast for the eyes. Peregrine's stunning building evokes the wing of a falcon in flight. Rippon, which holds a huge concert every other summer (February), is located next to picturesque Lake Wanaka.
Other Central Otago wineries, such as Amisfield, Mt Difficulty, and Gibbston Valley Wines, sport fine restaurants that can turn a short visit into a deliciously lazy afternoon. Dining and taking in heavenly views while sipping something divine creates a sensation that any traveler can cherish: the feeling you've been let in on a special secret.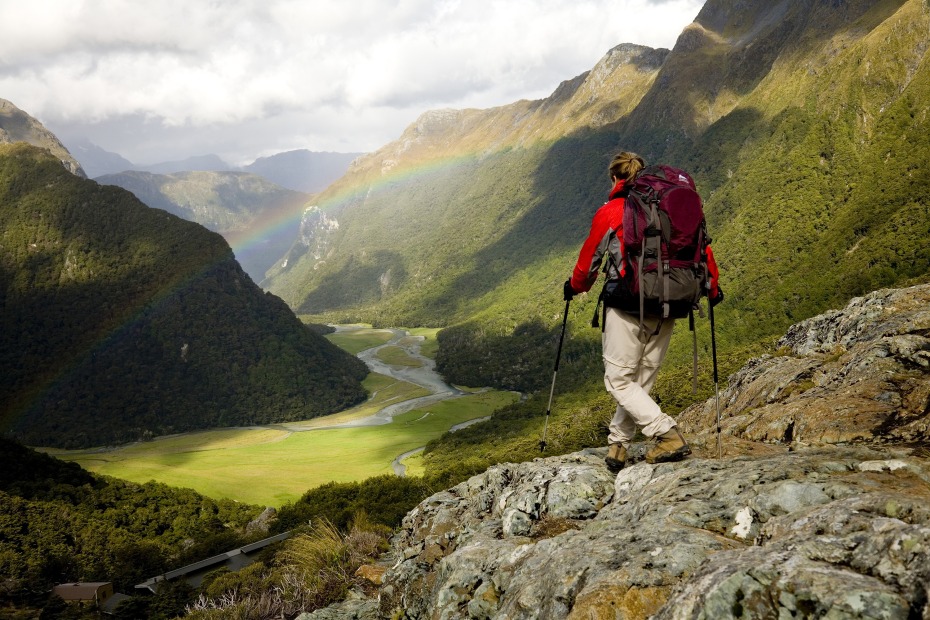 Where to Wine Taste in New Zealand
Central Otago's gorgeous, sparsely populated countryside shelters more than 80 wineries. A few favorites: Sip pinot noir and aromatic whites at Amisfield's winery and bistro about 15 minutes from Queenstown overlooking Lake Hayes. Gibbston Valley Wines released the first commercial Central Otago pinot noir in 1987 and houses New Zealand's largest wine cave and the Gibbston Valley Restaurant. The Cellar Door restaurant at Mt Difficulty, located in Bannockburn, sits on a rocky outcrop and looks across the Cromwell Basin to Lake Dunstan. Once a sheep station in the Gibbston region, Peregrine focuses on pinot noir, pinot gris, and riesling. Rippon, a biodynamic winery, takes its relation to the environment seriously.
Where to Find Outdoor Adventure in New Zealand
Hiking About one-third of the South Island is protected in reserves or parks, and Central Otago is laced with trails ideal for tramping (hiking) and mountain biking. The breathtaking Earnslaw Burn Track starts near Glenorchy and leads to the Earnslaw Burn Glacier. Rob Roy Glacier Track, located in Mount Aspiring National Park, boasts waterfalls and hanging glaciers that take your mind off the steep climb. Linking Mount Aspiring and Fiordland National Parks, the Routeburn Track is a three-day hike for serious trekkers, who can overnight in huts along the way. Trails near Lakes Wakatipu, Wanaka, Dunstan, and Hayes offer numerous day hikes, less ambitious but no less astonishing. 
Biking Otago Central Rail Trail Of the many great bike paths in Central Otago, perhaps the most popular is this 94-mile former rail route that cyclists can dip into for shorter rides. As if the landscape weren't motivation enough, you'll be tempted by the pubs and cafés along the trail. 
Bungee Jumping Queenstown is home to three bungee sites, including the original one at the Kawarau Bridge, where thrill seekers trust a springy cord to stop a long fall just before they hit the ground. Every company's pitch contains the same words: "Safe? We invented safe." Still feeling uncertain? Swings are a more recent and slightly less nerve-racking addition.
Jet Boating Another adrenaline rush invented in New Zealand, jet boats speed up or down rapids and turn circles in only a few inches of water. Excursions zoom up the scenic Shotover, Wakatipu, Matukituki, and Dart Rivers. Thrilling jet boat trips allow passengers to explore hidden hiking spots, see Lord of the Rings and Hobbit film locations, and take in awe-inspiring views of hanging glaciers and peaks in Mount Aspiring National Park, part of a Unesco World Heritage Site.