International travel can teach us a lot about cultures unlike our own, and help us appreciate different ways of experiencing or relating to the world. But trips abroad can be costly, time-consuming, and complicated—especially given the current pandemic restrictions and testing requirements. Fortunately, if you live in the western U.S., you don't have to go very far to learn about America's varied heritage, expand your perspective, or celebrate our beautifully diverse communities. Here are six great places to start.
Portland
Portland's first Japanese immigrants arrived in the late 1800s, when thousands of people settled here. They established a small yet bustling Nihonmachi, or Japantown, which flourished until the mass internment of Japanese Americans during World War II.
Today, the Northwest Portland neighborhood is known as New Chinatown/Japantown Historic District and Old Town Chinatown. Visitors can pay their respects at the waterfront Japanese American Historical Plaza, where cherry blossoms bloom every spring, and a stone memorial inscribed with poetry shares the two nations' somber joint history. A few blocks away, the Japanese American Museum of Oregon (tickets available by reservation only) provides further insight into how the Japanese have rebuilt their communities in Portland. On display through the end of 2021, the "Grace, Grit and Gaman" exhibit reveals how Japanese American women across multiple generations persevered and the challenges they faced.
Founded in 1963, the Portland Japanese Garden in Washington Park offers 12 acres for exploration, including eight garden spaces known for their harmonious balance and a tea house that was crafted in Japan and reassembled in the garden. For a literal taste of Japanese culture, superb restaurants and izakayas (casual drinking establishments) abound around town: Slurp the signature, citrusy Yuzu Shio (salt broth) ramen at AFURI Izakaya, the inaugural outpost of the Tokyo-based chain, and choose from a selection of 90 varieties of sake at Zilla Sake, Portland's first-ever bar dedicated to the Japanese alcohol made from fermented rice.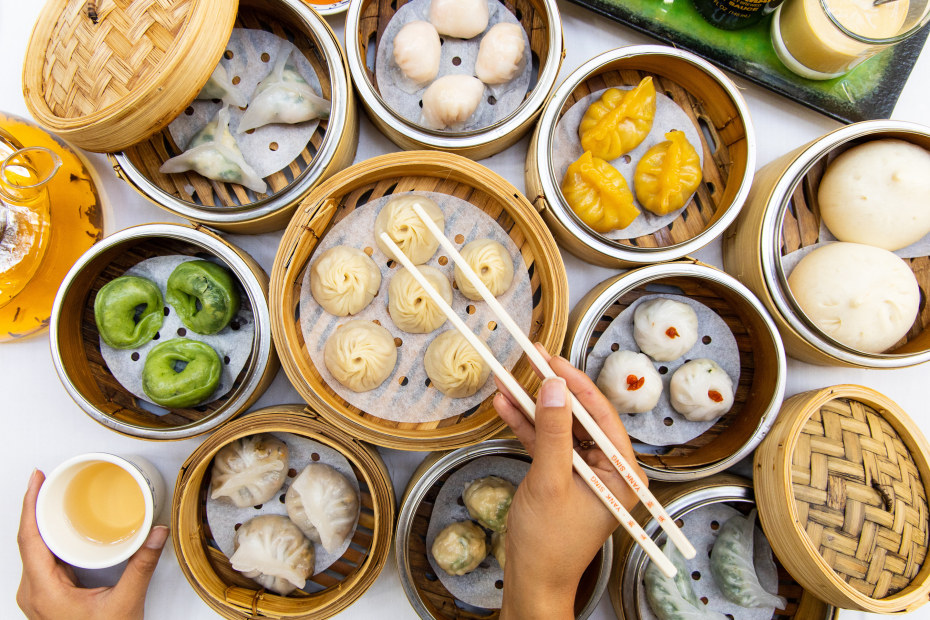 San Francisco
The first Chinese immigrants stepped foot in San Francisco in 1848, looking for economic opportunities. Today, the city's Chinatown is the oldest in North America, and tasting traditional fare from South China is one of the most compelling—and delicious—motives for visiting. Dim sum reigns supreme: Don't sleep on the steamed BBQ pork buns at Yank Sing or the to-go shrimp dumplings at Good Mong Kok Bakery. For a sweet treat that is less traditional, but equally yummy, take fate into your own hands at the famed, family-run Golden Gate Fortune Cookie Factory.
Founded in 1963, the Chinese Historical Society of America museum promotes understanding of Chinese culture nationwide. CHSA is currently closed for the installation of its "We Are Bruce Lee" exhibition, which is scheduled to open this winter. In the meantime, you can join CHSA on September 11 for a virtual screening of "The Chinatown Files," a documentary that chronicles how McCarthyism impacted the Chinese American community in the 1950s.
Phoenix
Coffee-making is an elaborate Ethiopian custom, a tableside ritual that involves pan-roasting the beans, grinding them with a mortar and pestle, and then brewing the coffee in a clay pot called a jebena. So it's no surprise that A.T. Oasis Coffee & Tea Shop in Phoenix—home to a growing population of Ethiopian immigrants—serves some of the best java around. Owner Aisha Tedros sources her beans directly from Ethiopia's Sidamo and Yirgacheffe regions. Although the indoor coffee ceremony is temporarily on hold due to the pandemic, customers can order an aromatic cup of hot joe with ginger to go.
Slow down and connect with friends or family over a full meal at Abyssinia Restaurant and Cafe. Diners here gather around woven-grass tables and use their hands to eat doro wat, Ethiopia's national dish of spicy chicken stew, with spongy injera flatbread. You might start with an order of flaky sambusas stuffed with green lentils and peppers. Inspired to bring the Ethiopian dining experience home? Stop by Bati Bazaar, where hard-to-find spices such as berbere and other imported goods line the shelves.
San Jose, California
Mexican-American culture and history are woven into the very fabric of San Jose. Labor leader Cesar Chavez organized for the rights of agricultural workers and others while living here. Today, his memory lives on through several landmarks, including downtown's Plaza de Cesar Chavez, an urban oasis with a water fountain display, and San José State University's The Arch of Dignity, Equality, and Justice, a 25-foot-tall plaster arch that commemorates Chavez's ideals and beliefs.
A must-stop is Movimiento de Arte y Cultura Latino Americana (MACLA), a contemporary art space that highlights emerging Latino visual, performance, and literary artists. See California culture and its ever-changing landscape in a different light through the All Our Senses exhibit, which features work from artists Dimebag Darla, Felix Quintana, and Wulffvnky while exploring family, intersectionality, and an ever-changing landscape.
Afterward, head to Dia de Pesca for tacos filled with fresh halibut (breaded or grilled) or to Luna Mexican Kitchen for a sizzling, two-person parrillada plate loaded with carnitas, grilled chicken, or steak fajita and served with arroz verde, charro black beans, and their labor-of-love, handmade nixtamal corn tortillas made by soaking corn in an in alkaline solution overnight before it's rinsed and stone ground into masa.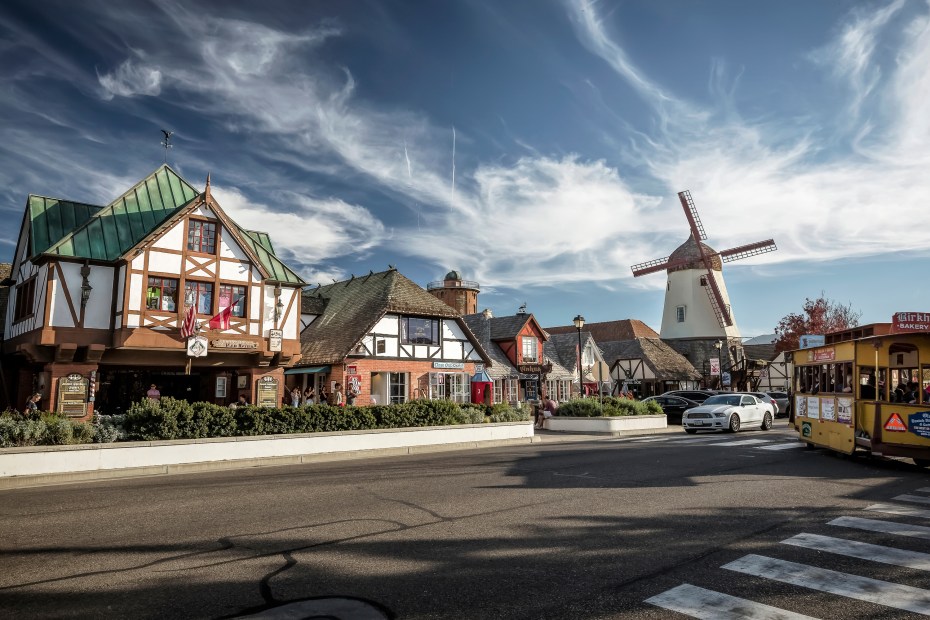 Solvang, California
Solvang means "sunny field" in Danish, and visitors to this idyllic town in Santa Barbara County may feel like they've arrived in Denmark. Founded by three Danish immigrants in 1911, Solvang pays homage to its roots with Scandinavian architecture, boutique shopping, and even Belgian horse-drawn tours from Solvang Trolley & Carriage Company. Bring the fairytale setting to life at the Hans Christian Andersen Museum. Tucked above The Book Loft, the museum details Andersen's life and the stories that have long captured children's (and adults') imaginations. For a happily ever after of your own, peruse the latest reads from Denmark and the rest of Scandinavia on your way out.
Sweeten the experience at Solvang Restaurant with a heaping order of Æbleskiver, a delightful treat traditionally made from a pancake-like batter with apple slices nestled inside and cooked to spherical perfection. Don't forget to look up when walking the town: A symbol of good fortune, life-size wooden storks "nest" on many of the half-timbered roofs. Harder to miss are the four Danish-inspired wooden windmill buildings lining downtown. Still hungry? Located within one of the windmills, Solvang Brewing Company offers heartier eats such as a sausage sampler with medisterpølse, a Danish specialty made of spiced pork, and fresh-baked pretzels ready to be dunked in housemade ale cheese fondue and stout mustard.
Los Angeles
Koreatown, a roughly 3-square-mile district in Los Angeles that's far more diverse than its name suggests, draws visitors with its reputation for putting an L.A. spin on some Korean favorites.
Brave songbirds can belt out K-pop into the wee hours at the Line Hotel's super-hip Break Room 86, which features a hidden entrance (go through the loading dock) to transport guests back to the '80s with cassette-lined walls, karaoke rooms, and classic arcade games. Far from pitch-perfect? Devour all things spicy and fermented, from sundubu-jjigae (soft tofu soup) at Surawon Tofu House to galbi jjim (braised short ribs) at Sun Nong Dan, and don't forget to order plenty of fresh banchan (small side dishes).
The next day, scrub your worries away at a Korean day spa. At Hugh Spa, massage treatments use acupressure, which employs finger pressure to stimulate healing and relaxation.