Like beautiful, headstrong sisters in a pot-boiler novel—one a rosy-cheeked English aristocrat, the other a purring Gallic seductress—London and Paris have vied for centuries to be crowned queen of the European capitals. Each has soaring cathedrals and treasure-filled museums, a marquee river and an iconic tower, and enough shopping and dining to occupy fashionistas and foodies alike for months.
For most veteran travelers, a substantive comparison is what matters when you're deciding which of the two cities to visit. And that's where things get tough.
"They seem similar on paper, each with a famous river, tower, cathedral, museums, and parks," author and Europe travel expert Rick Steves says. "But look deeper, and it's clear that London and Paris have absolutely distinct personalities." London's Thames River, for example, flows broad and majestic, a grand avenue of maritime traffic sweeping past the clear-eyed solemnity of architect Sir Christopher Wren's 1710 masterpiece, St. Paul's Cathedral, and the imposing, fortress-like Tower of London with its stash of royal jewels.
In Paris, the Seine River is more intimate, lined with waterside walkways that draw strolling lovers past the Gothic gargoyles of Notre Dame. And Paris's tower, the Eiffel, couldn't be more different, woven of gossamer—or so it seems at a distance—and sparkling at night like champagne bubbles. "There is something enduring about London," observes Steves, "and endearing about Paris."
For U.S. travelers, there are practical differences as well. London speaks English, making it a snap to enjoy the city's thriving theater scene, whereas Yanks in Paris need to be linguistically adventurous—though both Steves and Pauline Frommer, co-president of FrommerMedia and editorial director of Frommer's guidebooks, point out that more English is spoken in Parisian shops and restaurants than ever before.
Cost, too, is a factor. Neither city is une bonne affaire, a great bargain, but hotels, meals, and public transit will generally set you back less in Paris. As for sightseeing cost, a 2014 British survey showed London neck and neck with Paris as Europe's most expensive city for big-name cultural attractions, despite free admission at many London museums and at Paris heritage sites such as Notre Dame.
Is food an important component of your travel? Steves and Frommer both give the nod to Paris in that department, whether you're talking a flaky croissant from a corner bakery or North African couscous in the emerging neighborhood of Belleville. But both experts agree that London has upped its dining game in recent years and now boasts plenty of gastropubs and Michelin-starred restaurants.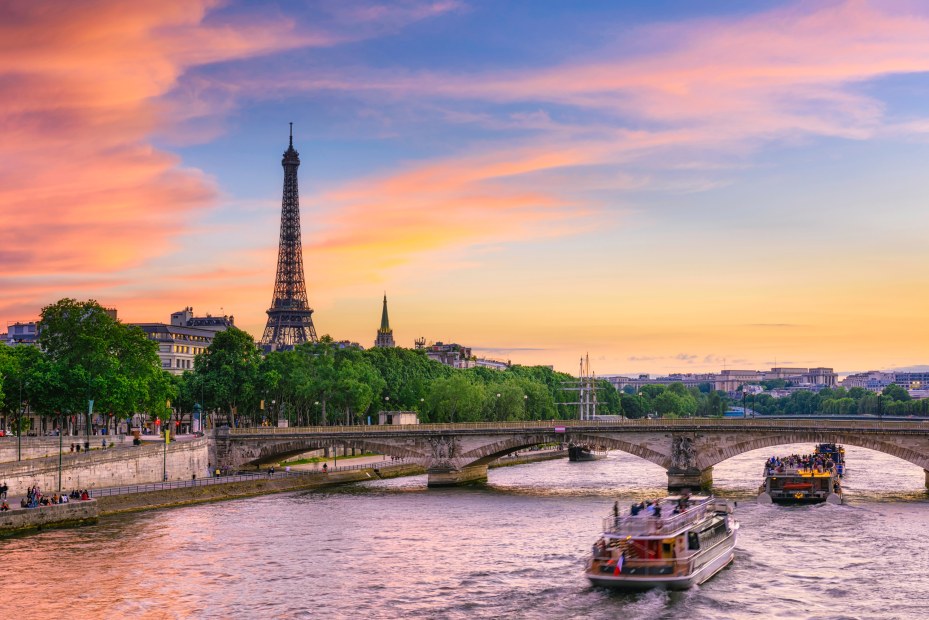 Yet London and Paris offer surprising contrasts beyond their differing personalities and practicalities. You expect, and get, a massive dose of pomp and circumstance during the changing of the guard at London's Buckingham Palace, but nothing in that honored tradition prepares you for the city's clutch of audacious skyscrapers with crazy nicknames like the Gherkin and the Cheesegrater, or the boisterous street life of the East End, a once hardscrabble neighborhood where trendy boutiques and restaurants now sit alongside Bangladeshi curry shops. In Paris, famed for its intellectual traditions and the formal beauty of its historic boulevards and squares, up to 35,000 exuberant roller skaters, rollerbladers, skateboarders, and cyclists course through the city en masse every Friday night. Come summer, beach volleyballers set and spike in sand courts put up in front of the dignified City Hall for several weeks during the annual Paris Plages, which transform the right bank of the Seine into a car-free pedestrian playground.
So, which would it be—London or Paris—if someone offered you a free 10-day trip? For Frommer, who visits first cousins in Paris and dear friends in London, Paris wins on beauty points. "Paris grabs my heart," she says. Steves, a self-professed Francophile, takes a more Solomonic approach. "I'd visit both by hopping a Eurostar train that connects them in about two hours."
American suitors can decide for themselves regarding these two fetching rivals. Flirt and dance with London, if that's your fancy, or with Paris. Or, like Rick Steves, play the field and savor the charms of each one, declaring, "Vive la différence!"