California
1. Find a taste of Denmark 30 miles north of Santa Barbara in the windmill-adorned village of Solvang. Colorful storefronts house stylish home design shops and cozy eateries serving aebleskivers with raspberry jam.
2. Time your drive to have lunch at Rancho Nipomo BBQ, where you can sample Santa Maria Valley's renowned barbecue, a staple since the region's early ranching days. The signature sandwich features heaps of seasoned tri-tip, traditionally smoked over red oak.
3. You needn't stay in one of its fantastically themed rooms to enjoy the kitschy delights of the Madonna Inn in San Luis Obispo. A pit stop reveals vivid pink interiors while you nosh on Rat Pack–era grub at the Gold Rush Steak House.
4. Highway 101 runs close to most of the surviving 18th-century missions, which afford a peek at California's Spanish and Mexican past. San Juan Bautista State Historic Park is an especially rich example, with a plaza full of adobe and Victorian structures and a mission that Hitchcock fans might recognize from Vertigo.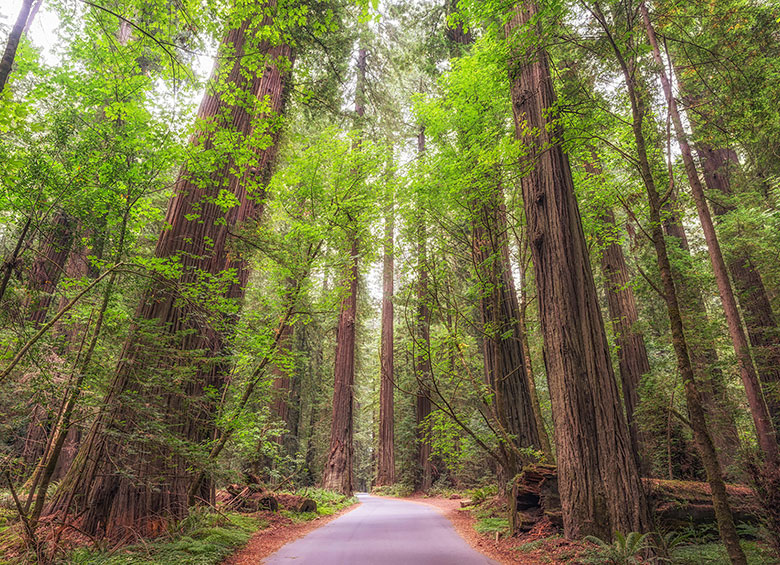 5. In Humboldt County, exit to cruise the Avenue of the Giants, which meanders 33 miles through lush redwood forests. Stretch your legs on the half-mile trail at Founders Grove and look for the Dyerville Giant, which shook the Richter scale when it fell in 1991.
6. In Klamath, brake for a waving, 49-foot-tall Paul Bunyan who stands alongside Babe the Blue Ox, chatting up the crowd at roadside attraction Trees of Mystery. The fabled pair are part of the oversize fun, which also includes a redwood nature walk and a gondola ride.
Oregon
7. You can glimpse southern Oregon's Samuel H. Boardman State Scenic Corridor as you speed by, but stepping outside the car quadruples the seaside splendor. Spy arched rock formations at Natural Bridges, or relish the sight of migrating whales from the 1.3-mile Cape Ferrelo trail.
8. The bayfront town of Newport is known for its seafood. Mo's dishes up one of the state's most famous clam chowders, which has lured diners since 1946 and even garnered honors from the Smithsonian.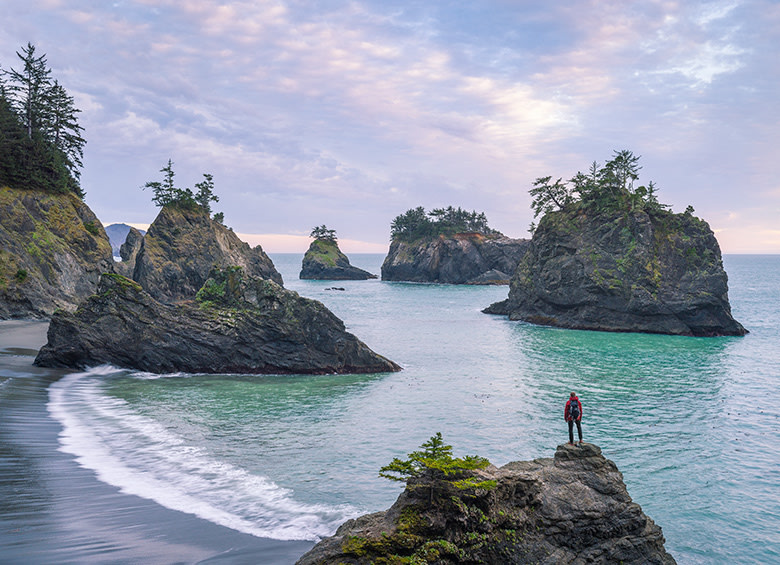 Washington
9. Ruby Beach is a showcase for the Olympic Peninsula's wild landscape. Studded with sea stacks, tide pools, and driftwood, the marine preserve gets its name from the ruby-red crystals that subtly color its shores.
10. Set alongside the scenic Hood Canal in Lilliwaup, Hama Hama Oyster Saloon features a rustic, fire pit–warmed patio where you can feast on roasted oysters and steamed clams. At the annual Oyster Rama fest, try oyster ice cream from local fave Olympic Mountain.