You can't miss it: The hot pink neon sign beckons from the side of Highway 101 in San Luis Obispo, pointing the way toward the Madonna Inn. The blush and white exterior is only mildly indicative of what's inside: flamboyant floral carpeting, trinkets tucked into every nook and cranny, and an explosion of flamingo-colored decor rivaling Barbie's dream house. It's over the top, but that's the point. Embrace the kitsch, and settle into one of the 110 unique guest rooms, each decked out in a different theme.
But once you check into the Madonna Inn and post some colorful Instagrams, what's there to do? Besides the on-site amenities (a beach-entry outdoor pool, spa, and several restaurants), there's all of San Luis Obispo just waiting to be explored beyond the pink walls.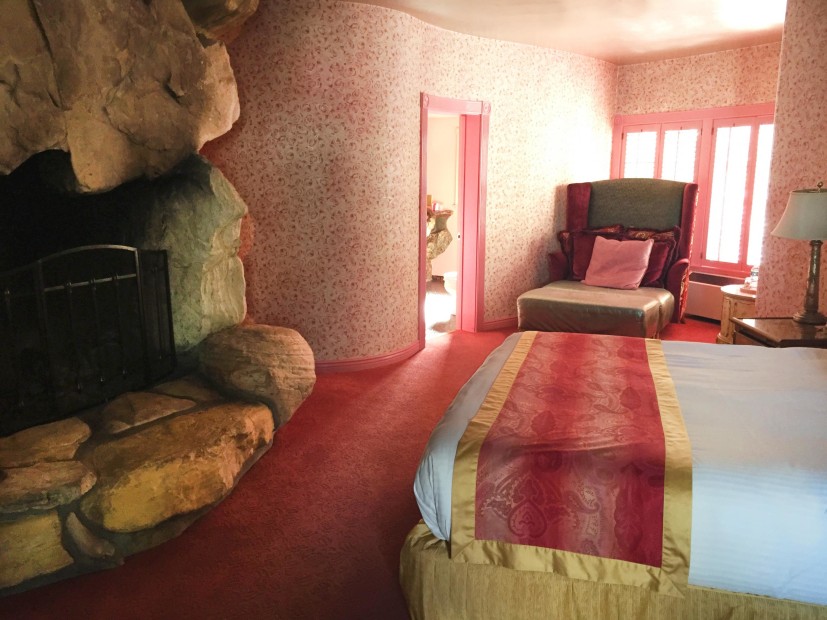 Eat in San Luis Obispo
High Street Deli and Gus's Grocery: The best sandwich in San Luis Obispo is a much-heated debate among locals, but you can't go wrong with either deli. Both boast fresh ingredients, a great beer selection, and outdoor patios for enjoying your meal al fresco. So which 'wich reigns supreme? You decide.
Firestone Grill: Central California is known for its tri-tip. The cut of beef is rumored to have originated in nearby Santa Maria. Regardless of the cut's origin, many flock to San Luis Obispo from afar to sample Firestone's juicy tri-tip sandwiches as well as the restaurant's barbecue and burgers. Don't let the line deter you; it moves quickly.
Novo Restaurant: The romantic riverside patio is reason enough to make a dinner reservation here, but the mouthwatering food will keep you coming back for more. Novo features an eclectic mix of Brazilian, Mediterranean, and Asian flavors on its menu, and offers something for everyone with gluten-free and vegetarian options clearly labeled.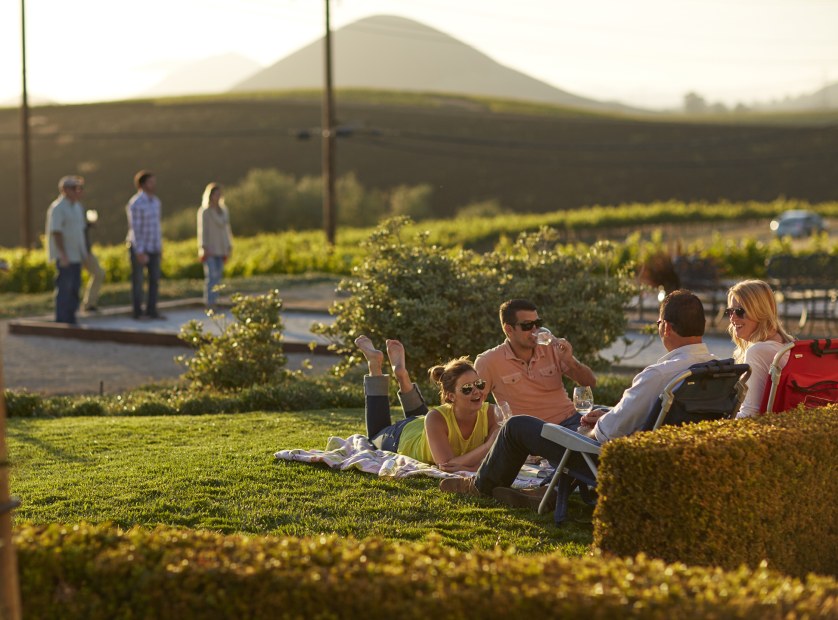 Play in San Luis Obispo
Wine Tasting
There are many different wine trails in the area, but you can't go wrong with the Old Edna & Biddle Ranch Road trail, the heart of San Luis Obispo wine country. The Edna Valley wine region is best known for its pinot noir and chardonnay wines, and tasting rooms are surrounded for miles by these beautiful vines.
Personal favorites include Baileyana, where you can enjoy the winery's S-BAR chardonnay and pinot noir in a historic schoolhouse followed by a game of bocce ball at the outdoor courts, or Edna Valley Vineyard, which boasts a newly remodeled tasting room and an exceptional selection of chardonnay. At Tolosa Winery, discover the flagship Primera pinot noir in a modern and classy facility with comfortable indoor and outdoor tasting areas.
Hiking
Looking to walk off some of that delicious wine? San Luis Obispo is home to the Nine Sisters, a chain of ancient volcanic peaks that stretch to the Pacific. A short five-minute drive from Madonna Inn, the Lemon Grove Trail is an easy 2.2-mile loop on the eastern flank of Cerro San Luis (aka Madonna Mountain) and offers splendid views of downtown.
For more of a challenge, venture 15 minutes north to the top of Highland Drive, where you can access the Bishop Peak trailhead. The 3.5-mile round-trip hike leads you to the summit of Bishop Peak, the tallest of the Sisters.